Chainsaws are helpful for many tasks, like cutting logs for firewood, chopping down damaged branches, pruning, and doing other jobs at home.  You can get the extra power you need with a compact, lightweight chainsaw. The options available to homeowners are numerous. You can choose from different brands, whether you want battery or petrol, professional-grade or home use.
The company Stihl manufactures chainsaws in the United States and is one of the most common brands for chainsaws. This brand is reliable for safety and durability and the technical innovations of its chainsaws.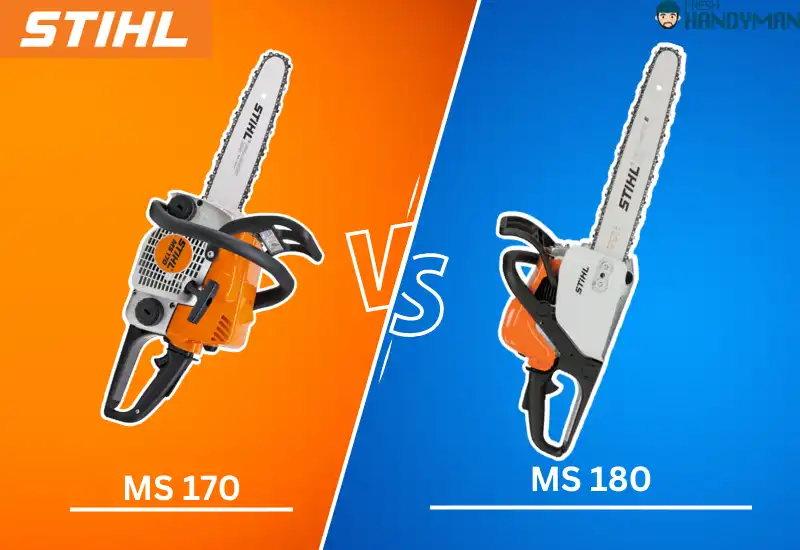 I own a Stihl chainsaw, and I wouldn't be without one. Here I'm going to discuss the two popular models, the Stihl MS 170 and 180, how they differ, what features they have, and which one you should use based on your job.
Let's dive right into it.
Quick Comparison Between Stihl MS 170 Vs 180
STIHL MS 170 Gas Chainsaw

Weight (Dry): 8.6 lbs
Chain Oil Capacity: 4.9 Oz
Engine: 1.3 KW
Displacement: 30.1
Power Source: Gas
Fuel Capacity: 8.5 Oz
Anti-vibration: Yes
Guide bar measurement: 16 in

STIHL MS 180 Gas Chainsaw

Weight (Dry): 8.6 lbs
Chain Oil Capacity: 4.9 Oz
Engine: 1.5 KW
Displacement: 31.8
Power Source: Gas
Fuel Capacity: 8.5 Oz
Anti-vibration: Yes
Guide bar measurement: 16 in
>>Stihl MS 170 Chainsaw<<
What Can I Use the MS170 For?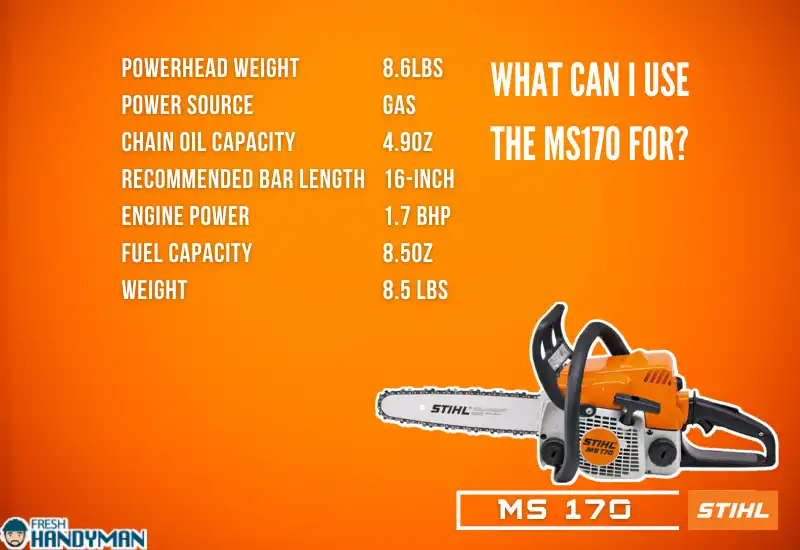 With great performance at an affordable price, Stihl's MS170 offers excellent value. The chainsaw is easy to start, runs smoothly, efficiently cuts wood, and is suitable for tasks such as cutting wood for a fire or cutting branches. Furthermore, the power-to-weight percentage of this product is exceptional.
Due to its size, this one is best used for smaller projects such as trimming and felling small trees or cutting down wind-damaged branches. The gas chainsaw also has a low tendency to kick back, making it easy to handle. In the event that you possess the necessary equipment, you can make the bar height smaller by decreasing it from 16 inches to 12 inches.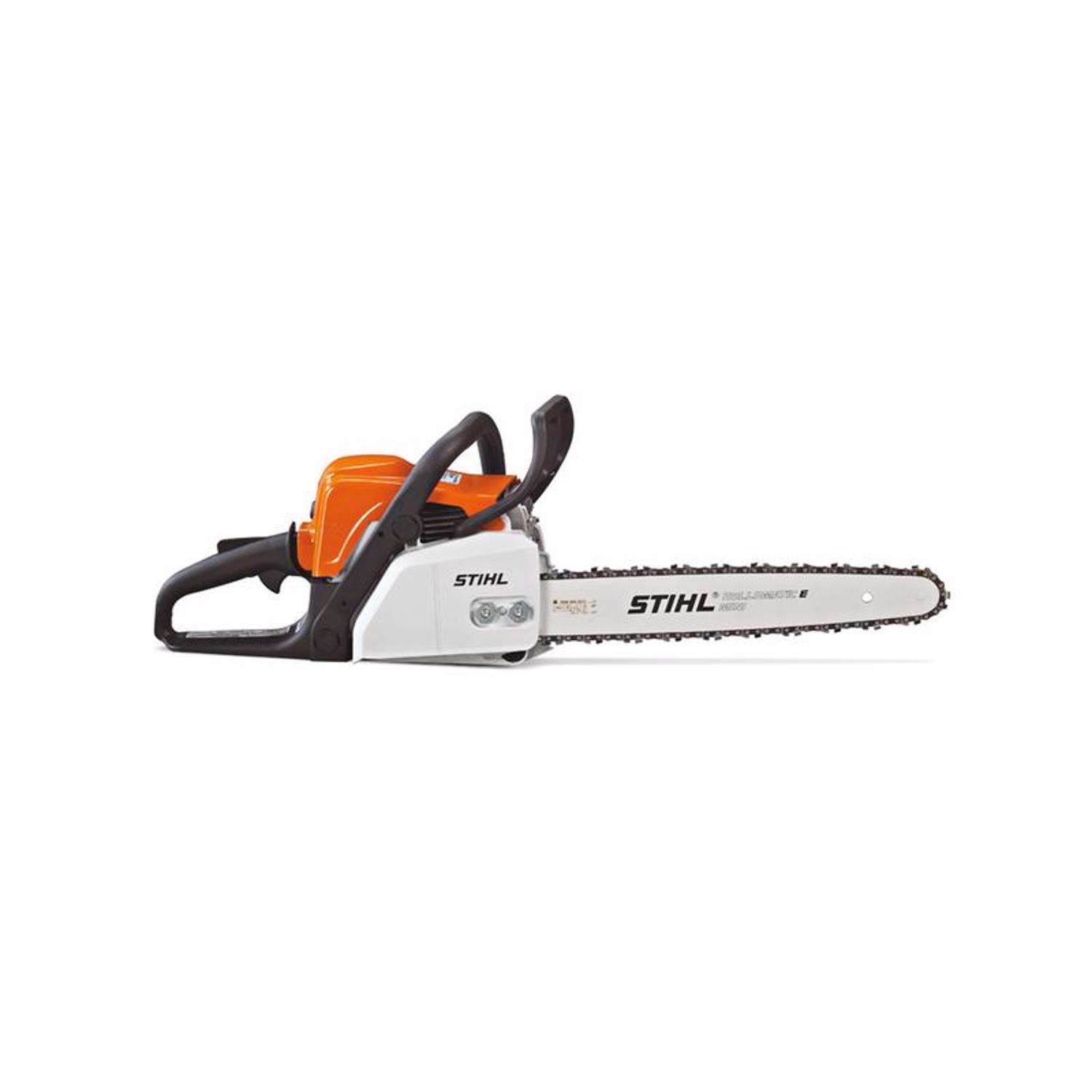 Stihl MS 170 Specs
Powerhead Weight: 8.6lbs
Power source: Gas
Chain Oil Capacity: 4.90z
Recommended Bar Length: 16-inch
Engine Power 1.7 bhp
Fuel capacity:8.50z
Pros and Cons Stihl MS 170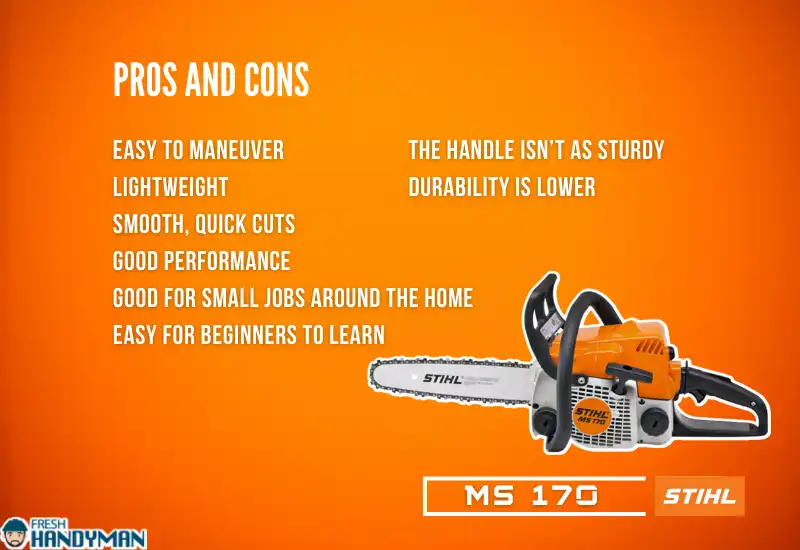 Pros
Easy to maneuver
Lightweight
Smooth, quick cuts
Good performance
Good for small jobs around the home
Easy for beginners to learn
Cons
The handle isn't as sturdy
Durability is lower
---
>>Stihl MS 180 Chainsaw<<
What Can You Use Stihl MS 180 For?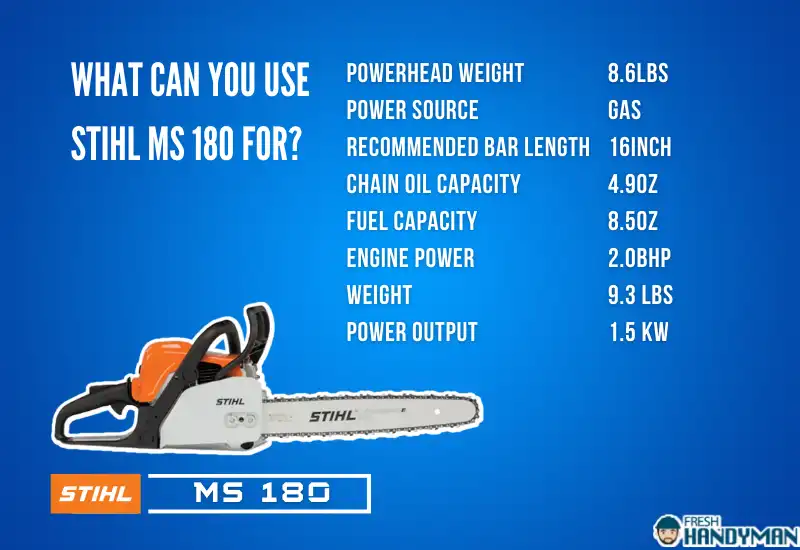 Suppose you occasionally need a chainsaw for falling small trees and chopping up smaller logs for firewood collection. In that case, the Stihl MS 180 chainsaw can be an excellent entry-level chainsaw. The chainsaw is quite powerful, and on the side of it, you will find a chain tensioner which is essential for ensuring the chain stays taut.  
Furthermore, the saw is equipped with a 35cm/14-inch bar, which makes it capable of handling branches of a larger diameter. Its 2-MIX engine is more environmentally friendly and economically beneficial than its predecessor.
Stihl has recognized this need, and the MS 180 has been designed to meet these needs. While it is more traditional than modern electrical methods, the overall robustness makes up for its older age.
Moreover, you will be impressed by the weight of the MS 180, both the saw and the body. A total of 9.3 pounds are contained in this item. Consequently, it will be easy to handle and control.
Stihl MS 180 Specs
Powerhead Weight: 8.6lbs
Power Source: Gas
Recommended Bar Length: 16inch
Chain Oil Capacity: 4.90z
Fuel Capacity: 8.5oz
Engine Power: 2.0bhp
Weight: 9.3 lbs
Power Output: 1.5 kw
Pros and Cons Stihl MS 180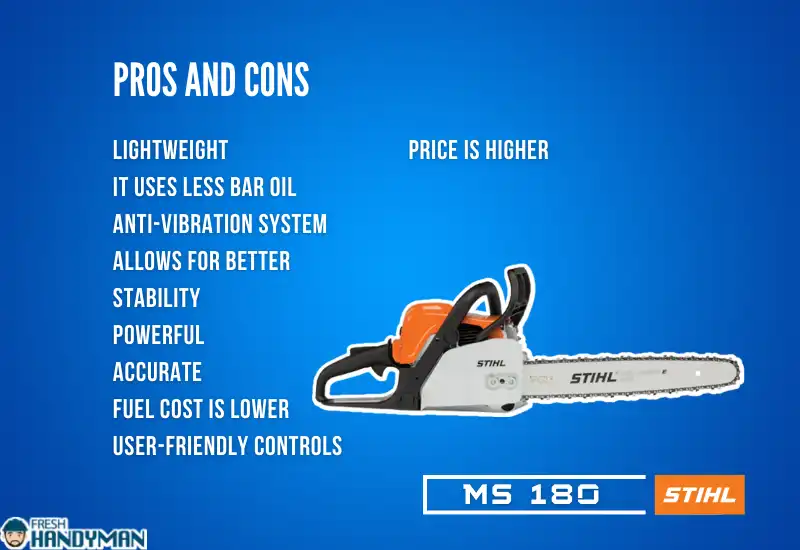 Pros
Lightweight
It uses less bar oil
Anti-Vibration system
Allows for better
Stability
Powerfull
Accurate
Fuel cost is lower
User-friendly controls
---
>>Features of Stihl MS 170 and 180<<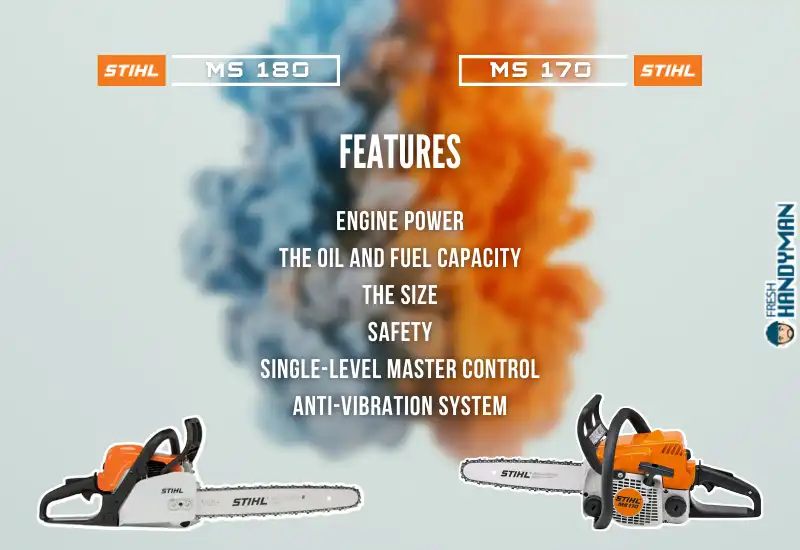 Engine Power
First, we will now discuss the engines on both chainsaws. The Stihl MS 170 delivers a power output of 1.3 kW compared to MS 180, which produces 1.5 kW, just slightly higher.
There is little difference between the two models; however, the MS 180 has a bit more power. This variation is generally only noticeable in some applications, however.
The Oil and Fuel Capacity
We need to consider the fuel and oil capacity when comparing and deciding on a chainsaw; I know I did. You should remember them as you make your choice in today's comparison.
There is an 8.5-ounce capacity for fuel in the MS 170, enough for any woodworker's needs.
Concerning chain oil storage, there is a slight difference. The MS 170 can contain 4.9 ounces of oil, whereas the 180 can store as much as 5.1 ounces. It isn't a huge difference, but for some, that extra storage is perfect.
The Size
12 x 16 inches is the size of a Stihl 170. It's a small compact device with a lot of performance. When it comes to chainsaws, if you've never used one before, you might find this model suitable. The machine is easy to use and can cut firewood and remove branches from woody areas. Compared to the 170 models, the 180 is a little smaller. However, its improved design makes it ideal for home woodworkers with more challenging projects.
Each is relatively light. Both sizes are easy to transport and maneuver, whether working in the yard or the workshop. So for the size, either one would do the job.
Safety
Operator manuals for both chainsaw models are very similar. Regarding safety, the first thing to do is to read the manual so you know you are putting the oil and fuel where they should go, and that you have installed the chain properly. Doing so can help reduce injuries and malfunctions. 
As a preliminary step towards determining which chainsaw model is most suitable for your needs, it's recommended first to work out what you want to do with them. Comparing the two chainsaw models, one is similar to the other. While the 180 can handle more extensive and complex projects, it has a greater capacity.
>>Single-Level Master Control<<
MS 170 
There is no complicated way to start the MS170. It requires pulling one level, and that's it. However, you do need to pull the throttle before you adjust the control lever. 
MS 180 
All critical engine operations are controlled by a single lever, such as starting, choking, and shutting down the engine, making it an easy chainsaw.
>>Anti-Vibration System<<
MS 180
There is a minimal amount of engine vibration and saw chain vibration due to the front and rear handle buffer zones that have been carefully calculated. Therefore, chainsaw performance has been significantly enhanced. With this technology, users can work longer while using less energy. 
MS 170 
The MS170 comes with anti-vibration technology which makes it more comfortable to use, and tiredness is reduced.
>>Chainsaw Tips for Stihl MS 170 and 180 Models<<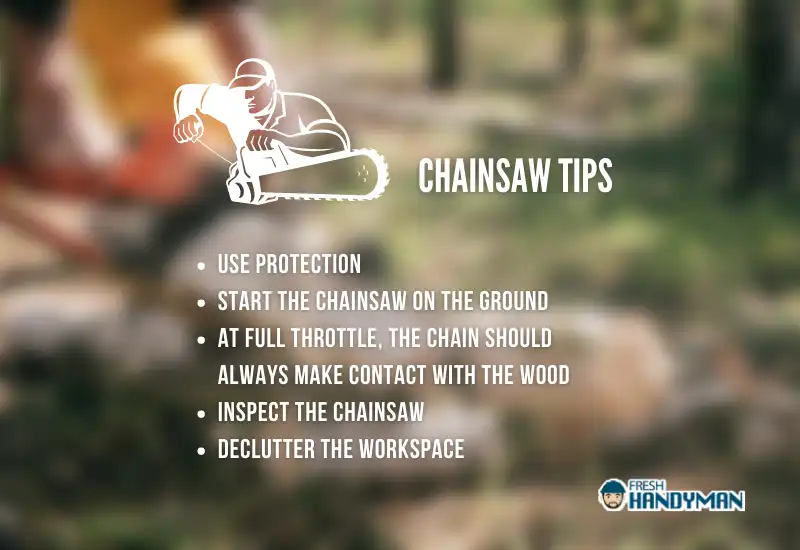 Use Protection
Your head, ears, eyes, hands, and legs need protection with the proper safety equipment. It's highly recommended that you wear safety glasses, earplugs, chaps, or trousers with protective padding and steel-capped boots with good traction. When branches are at risk of falling, a safety helmet is recommended.
Starting the Chainsaw
Starting your chainsaw on the ground is the safest way. Drop-starting a chainsaw can cause injury and is very unsafe. Instead, you must apply the chain break, adjust the starting controls, and pull the lever to start the engine. 
Using Full Throttle 
At full speed, the chain should always make contact with the wood. However, overly slow chain speeds can throw you off balance by pulling you in toward the wood.
Inspect the Chainsaw
Before starting your chainsaw, ensure the chain brake works and check the chain tension and sharpness. Keep your chainsaw in peak condition with regular services from a chainsaw specialist.
The manufacturer recommends servicing your Stihl as you would for your car yearly. I use my chainsaw frequently, so I get a service done each year before the firewood season starts.
Declutter the Workspace
Before cutting, ensure there are no trip hazards in the area. For example, using a sawhorse when cutting firewood; will save you from bending over and running your chain into the dirt, blunting it, and shortening its lifespan.
>>FAQ<<
Is There Such a Thing as a Professional Chainsaw?
You turn to professional-grade chainsaws with engines that deliver higher horsepower and torque for consistently higher output. Because professional saws must channel and contain a great deal of power, their machines feature parts built to handle extended periods of use, such as heavy bearings.
Can I Use the Stihl MS170 as a Professional-Level Chainsaw?
If you're looking for a professional-grade chainsaw that delivers power and utility, the Stihl MS170 is for you.
Is the Stihl MS180 a Professional Chainsaw?
The MS180 is an entry-level chainsaw better for home maintenance, like cutting small firewood and branches around your property. It has the same reliability feature as the professional grades; it doesn't have as much power and torque.
Can an 18-inch bar be added to a Stihl 180?
Almost all Stihl models are available in a variety of bar sizes.  For the 180, it's best to use the 12, 14, or 16 inches. It is not recommended to use the 18-inch.
Is the Stihl MS180 a Good Saw?
Those looking for a solid and easy-to-use chainsaw will find the Stihl MS 180 a fantastic choice. In addition, it has a system for air filtration and engine cooling. As a result, it allows you to perform more consistently on the job, making tree trimming and small tree clearing easier and faster.
Can You Put a Bigger Bar on a Stihl MS170?
If your bar needs to be bigger, consider a bigger saw. The bar I use on mine is 16″. My recommendation is not to go over that, though. Oilers aren't designed for longer bars, and the saw doesn't have the power to handle them.
It's not so much spinning the chain on a small saw that becomes a problem, but it will bog down at some point. Keeping it lubricated is the problem. An MS170 won't maintain an oil supply large enough to grease a large bar such as the 18, 20, and 24 inches. 
What Is the Expected Lifespan of a Stihl MS170?
Chainsaws from Stihl have a runtime of about 2,000 hours. Therefore, you could use the saw for at least 5.5 years before it stops working. But, of course, it also depends on how hard you work the chainsaw, how often you use it, and whether you properly maintain it.
Stihl 170: What Is Its Cubic Capacity?
>>Which Model is Better?<<
How do you decide between the two? Both are great chainsaws, but each serves different purposes better than the other. You should consider the type of application you are looking to perform before making a decision.
If you are looking for a chainsaw that is suitable for household tasks like pruning trees and cutting wood, the MS 170 is an excellent choice.
Stihl MS 170 Gas Chainsaw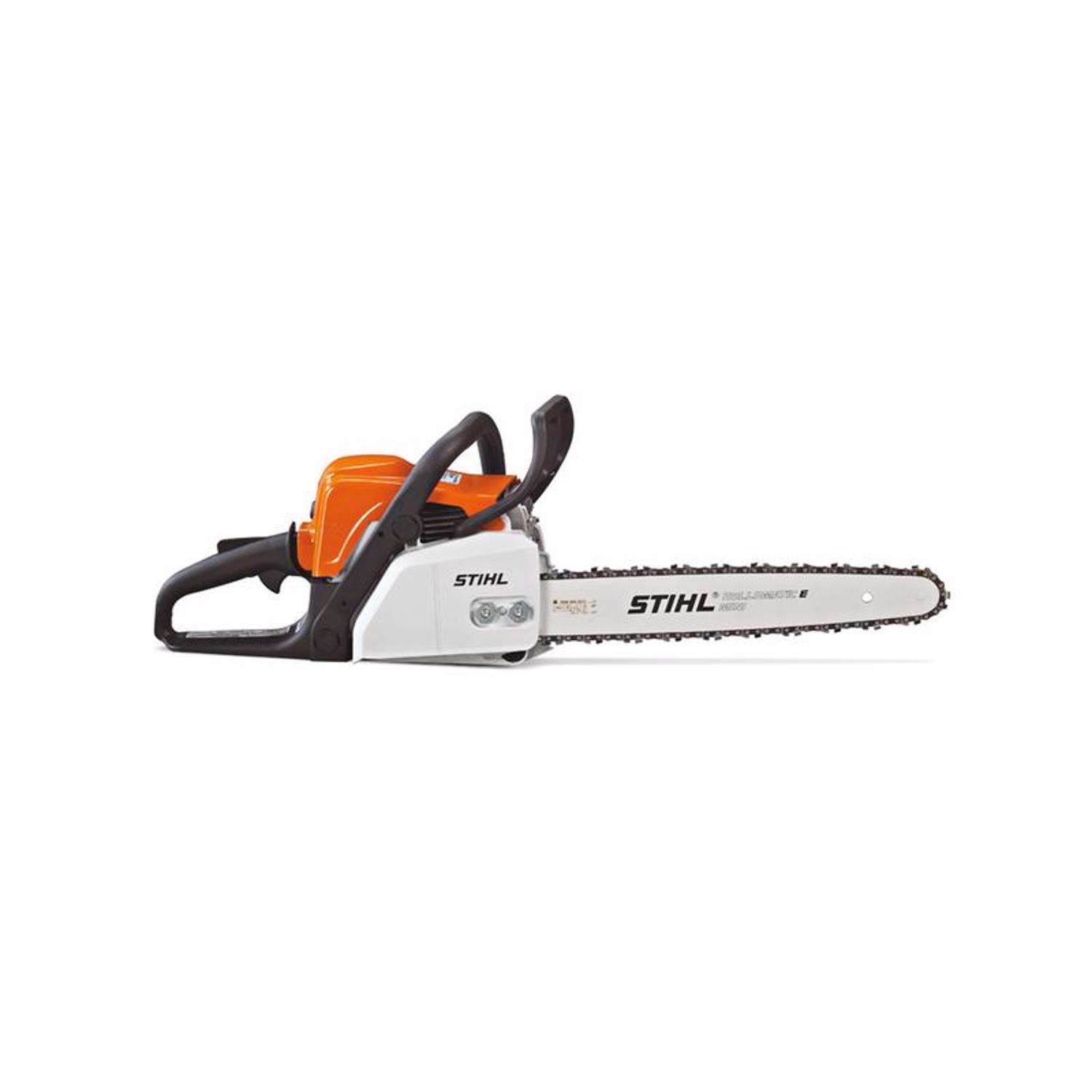 [Winner]
Powerhead Weight: 8.6lbs
Power source: Gas
Chain Oil Capacity: 4.90z
Recommended Bar Length: 16-inch
Engine Power 1.7 bhp
Fuel capacity:8.50z
In case you need a chainsaw with plenty of features for more complicated and difficult tasks, you should consider the MS 180.
Conclusion
The comparison guide helped you decide whether to buy the MS 170 or 180 chainsaw. Both are great chainsaws with similar features. In the end, both products are priced virtually the same. 
You shouldn't be afraid to choose what you like best. For more juice and storage, upgrade to the 180. If not, then the 170 will be suitable enough.