Art comes in different forms and shapes. People conceptualize the idea of art in many ways. To some, it is a piece of painting and for others, it is a prized sculpture.
I believe creation is true art. Whatever we create with the combination of our minds and hands is art. In that sense, woodworking is also art, don't you think so too?
Now, art isn't something that comes out of the blue. Every artist starts from somewhere. Only by inspiration and practicing do they master the true form of art.
Similarly, if you want to be a woodworker, you'll also have to start practicing your skills. However, the question is where do you start and what projects are more suitable to your skills and needs. This is where I come in and drop the mike with 101 woodworking project ideas.
Once you check out the ideas, I have stored for you, it is certain that you'll find the inspiration you need to start your first or next woodworking project. So, what are you waiting for? Start scrolling down because it is a very long list.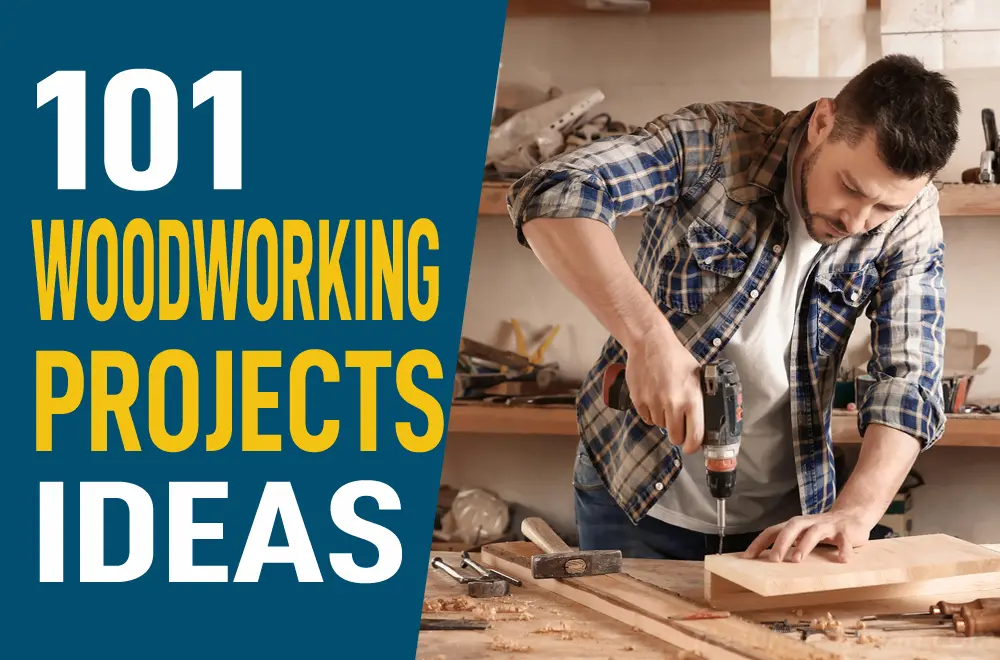 101 DIY Woodworking Projects
Here is a huge list of DIY woodworking projects that you can complete as an intermediate or as a beginner woodworker.
---
1. Sofa Sleeve and Cup Holder
If you are a couch potato like me who often forgets to finish his hot beverage because of utter laziness, then this is the perfect woodworking project for you. It is a task suited for beginner DIY enthusiasts, who are still in their learning curve.
The tools required for the project can be found in any hardware store and are quite cheap. The only item that will cost a bit is the hole saw. When you have all the tools and know what to do, it will only take around an hour to finish the job.
Project Details: abeautifulmess.com
---
2. Simple Wall Shelf
The greatest quality of a DIY enthusiast is his/her ability to make the best of any good/bad situation. My house has this small space, which was pretty much a waste; however, I took advantage of the bad situation and turned it into a wall shelf.
Making wall shelves is quite easy. If you have basic woodworking skills, necessary tools, a 7-1/4 sliding miter saw and some free time to kill, then crafting wall shelves is a walk in the park. So, don't sit around and go do something about that empty space.
Project Details: twofeetfirst.net
---
3. Candle Holder
Making a candle holder out of an old chunk of wood is probably the easiest among all the woodworking projects unless you opt for a designer candle box. If you are not aiming for a designer holder then you'll only have to do some nailing and drilling. Pretty simple stuff and will take about an hour or so.
Nevertheless, if you're thinking about adding some design, then the first thing you'll need is a top-notch band saw. Crafting designer candle holders can be tough; so, if you are still a beginner, I suggest you stick to the normal one.
Project Details: suncatcherstudio.com
---
4. Easy Timber Bench
One of the easiest woodworking and beginner-friendly woodworking projects is the easy timber bench. It is, as the name suggests, easy when it comes to making and also when it comes to using. Such benches are the ones you see in parks or in backyards.
It requires minimum effort and time. The only few things you need to complete the job are some pieces of wood, nails and a track saw. Once you are done constructing the bench, you can smoothen it up with sandpapers or use some stain to give it a beautiful look.
Project Details: familyhandyman.com
---
5. Outdoor Table
Nobody prefers to leave things incomplete and the same goes for me. It infuriates me when I see something unfinished. Having an outdoor easy timber bench without an outdoor table is something that I call leaving things incomplete.
These two pieces of furniture are parts of a whole and they complement each other smoothly. So, if you have already made a bench for your backyard then the next thing you should build is an outdoor bench. The process is almost the same and the tools you'll need are also the same.
Project Details: ana-white.com
---
6. Modern-Style Birdhouse
I don't know about you guys, but I'm fond of birds. I always wanted to have a birdhouse in my backyard and after doing some research, I learned that it is very easy to build one. I had a cedar fence board lying around in my storeroom, which costs like $2 on the market.
With a handsaw, a drilling machine, some drill bits, and some other common tools, I was able to transform the board into a full-fledged birdhouse. So, if you love hearing the lovely singing of birds around your house and want to practice your woodworking skills, building a modern-style birdhouse can be a good start.
Project Details: diy.dunnlumber.com
---
7. Raised Planter
Gardening is more or less appreciated by everyone. Some do it as a hobby whereas some do it for a living. Whether you are doing it out of passion or for economic reasons, having something like a raised planter can only assist you in your gardening work.
It requires more than average skills to build a raised planter. Therefore, it is a good project to enhance your woodworking skills. A circular saw is a must for the project; so, make sure you are packing one.
Project Details: thediynuts.com
---
8. Garden Closet
Once you are planning to go on a gardening journey, you'll obviously need tons of stuff like a rake, shovel, fertilizers, and etc. If you don't want a rake on the face like Tom, the cat often has while chasing Jerry, the mouse, I suggest you build a garden closet at your earliest convenience.
It will take some time and effort to pull it off; however, if you follow the instructions properly, I see no reason why you can't make it happen. Make sure to bring a circular and miter saw, because you'll need them for the job.
Project Details: extremehowto.com
---
9. Cornhole Boards
We all look for something interesting to do with our family and kids in our spare time. Surely, you must've thought about it as well, and what could be better than bean bag toss? If you heard about bag toss, you should know it's a fun activity and you only need some cornhole boards.
These boards are very easy to craft. Keep a jigsaw, circular saw, and some other tools in handy and you are good to go. I prefer my cornhole boards made up of hardwood. If you want to do the same, remember to keep a circular saw blade for hardwood in your backpack.
Project Details: hgtv.com/design/make-and-celebrate/handmade
---
10. Wooden Media Box
Similar to how a charger gives juice to a cell phone, a living room gives juice to people. It is practically a recreational zone where we go to take our minds off from worldly matters. So, it is important that we make this room livelier in every way possible.
Adding different furniture can boost the aesthetic value of a living room. Having a wooden media box can be a great addition as it has practical value and a beautiful appearance.
Project Details: myoutdoorplans.com
---
11. Scrap Plywood Candle Holders
Recycling is the best way to save both money and the environment. Sometimes recycled items become even better than the original unit. A good example of recycling is making candle holders out of scrap plywood.
Even you know that you won't have any use of those scrap plywood. So, why not set aside a few hours and make something useful out of them. It can be a great way to practice your woodworking skills and you don't need costly tools for the project either.
Project Details: modpodgerocksblog.com
---
12. Tree Swing
During my childhood, I've always cherished the idea of having a tree swing on our lawn. It never happened and eventually, I grew tired of asking my parents for a swing.
Nevertheless, I couldn't deprive my children of the same joy that I never got to taste. So, the first thing I did after buying a house is make them a tree swing.
When I look back at the past, I wonder why parents never bought or made us one. It's pretty easy to build a tree swing on your own. Some ropes, clamps, glue, pieces of wood, and screws are all you need to build a swing.
Make sure to trim the branches or they may get stuck with the ropes. You can take up a ladder to trim them manually or use a gas pole saw. I went with the latter option because it was much easier.
Project Details: abeautifulmess.com
---
13. DIY Wine Rack
I believe every single one of you prefers to have a glass of wine or a bottle of beer after a very long day. If so, storing these bottles in a suitable place from where you can easily access them should be a concern for you.
See, I'm a guy who loves to keep his prized bottles in a well-decorated rack and if you are even a little bit like me, you must want the same. In the interest of wanting the same, I think we all need something like a wine rack in our houses.
It requires basic woodworking knowledge to build it. Furthermore, you can always improve these racks when you gain the skills and feel like doing it.
Project Details: luckybelly.com
---
14. Lazy Susan
I've already established that I'm a couch potato and a guy who would let his coffee go cold because the table is just too far away. For a guy like me, lazy Susan is a blessing from the heavens.
The moment I got to know that lazy Susans are easy to build, my inner laziness disappeared and I hopped right into making one.
To create a lazy Susan, you'll need to spend a total of $9-10 excluding the saw. If you buy one from the market, it will cost you nearly $100. That is $90 you are never getting back.
Project Details: theartofdoingstuff.com
---
15. Triangle Mirror
If you want to spice up your rooms, make them stand out in front of your friends and family, then triangle mirrors are something that you should look into. Ordinary square or rectangular mirrors are pretty common these days and decorated ones are quite costly.
So, a budget-friendly way of making your home look stylish is to make and set up triangle mirrors across the rooms. It will take an hour or less to build one and the material cost is also very low.
Project Details: diyinpdx.com
---
16. Basic Drawer
Now, a drawer is the unspoken hero of a room. Basically, every room has or needs a drawer. You keep almost every single one of your necessary items there. Hence, having a drawer or learning how to make one never goes to waste.
Building a basic DIY drawer isn't that tough. I used plywood to build my one. It usually takes more than a few hours to make a drawer; however, you can reduce the time significantly with a simple trick. The secret is to use a miter saw stand to cut the wood precisely. Even though it sounds ridiculous, this is how I reduced the entire project time to less than 2 hours.
Project Details: build-basic.com
---
17. Storage Box
Building a storage box is a beginner-level woodworking project, which you can do to develop your craftsmen skills. It is straightforward and a simple video on the internet can guide you throughout the entire process.
Despite being easy to build, a storage box comes with many advantages. One of the biggest benefits is that you can store your precious items or documents in it, provided you set up a strong lock.
Project Details: apieceofrainbow.com
---
18. Treasure Chest Toy Box
Now, making a treasure chest toy box will require quite a lot of effort, time, and costly tools. Yes, the building process is almost the same as the last one, but if you plan on making it perfect and stylish, you'll need to put in some energy.
If you are aiming for a simple treasure chest toy box, you'll only need a handsaw. However, if you want to make it like professionals, meaning the ones that kids prefer the most, you'll have to bring in a table saw. Don't worry, a table saw under 1000 will also do the work.
Project Details: housefulofhandmade.com
---
19. Wooden Fall Sign
Recently, I visited a decoration shop and there I saw different beautifully decorated wall signs. I wanted to buy one but they were too rich for my blood. Afterward, I've decided to make one for myself and I chose the theme 'fall'. (Fall as in the season)
It didn't take me long to build one and the materials required for the job were also budget-friendly. Now, I have a lovely wooden fall sign at the top of my gate, telling passersby, my friend, the weather's gonna be chilly.
Project Details: hertoolbelt.com
---
20. Tiered Plant Stand
The major difference between a raised and tiered planter is that the latter has multiple sections, making it look much better than the former. Tiered plant stands can hold quite a few flower pots at the same time. Once you fill them with flower pots, they will look like mini flower gardens.
If your woodworking skills are more than average, then it'll take you about 45 minutes to an hour to build a tiered planter. Yes, adding decorations will consume more time but that is not necessary.
Project Details: howtospecialist.com
---
21. Garden Arbor
As the phrase goes, the first impression is the last impression. Although first impressions can change over time, it still matters a lot in most cases. And, what can be better than having a sick arbor in front of your house that makes a lasting first impression.
Building an arbor requires more than average woodworking skills. So, make sure you follow all the steps properly. Garden arbors are usually tall; thus, if you ever have to redecorate the top, you'll need to use a manual pole saw.
Project Details: bhg.com
---
22. Butterfly House
Honestly, I don't like bugs; however, when it comes to butterflies you can't help but be charmed by their beauty. A few months ago, I saw a few butterflies in my garden and got totally smitten by their exquisiteness. This is when I decided to shelter them with a stunning yet very easy-to-build house.
It takes about an hour or so to create a butterfly house. This can be a suitable project for beginners who are still learning the ways of woodworking.
Project Details: sawsonskates.com
---
23. Backyard Boardwalk
Now, building a wooden boardwalk is a challenging assignment. It requires a couple of days' worth of effort. Nonetheless, it is much easier and cheaper than building marble or stone paths.
If you want to take your crafting skills to the next level, I suggest you try decorating your backyard with a lovely wooden boardwalk. A piece of advice, don't try to do it alone because it will be exhausting. Try to involve at least one or two people in the job.
Project Details: diy.dunnlumber.com
---
24. Umbrella Table
Nothing beats the joy of relaxing under a patio umbrella and having a few sips of your favorite cold drink on a warm summer day. The very idea of the moment soothes the mind and makes you wonder, would it be so hard to build an umbrella table?
Well, the answer to your question is yes! You'll need average skills to finish the project. The overall cost will depend on the materials you are using. Make sure, the tutorial you are following is legit and if it is, then follow the steps accordingly to avoid mistakes.
Project Details: housefulofhandmade.com
---
25. Wooden Bench for Less
Nothing is more beginner-friendly than making a wooden bench for less. If you are starting from the bottom, I suggest you try out this project as it involves minimum skill, effort, time, and tools.
During the assignment, you'll need to cut angles which requires you to use a circular saw. If you are not handy with one, check out my article on how to use a circular saw for beginners. It has the basic aspects that you need to know and follow in order to operate the power tool.
Project Details: familyhandyman.com
---
26. DIY Garden Cart
Recently, garden carts are gaining quite popularity due to their effectiveness in gardening and farming. Now, many people prefer a garden cart over a traditional one-wheeled wheelbarrow.
The former is easier to balance as it comes with two wheels. Furthermore, the axle is situated near the middle of the cart, allowing it to distribute the weight of the load evenly.
You can also add a tool rack near the handle to make it more efficient. It will allow you to carry your tools and the load simultaneously.
Project Details: motherearthnews.com
---
27. Backyard Privacy Screen
Somehow or someway, we've all been a victim of the judgmental stares of our nosy neighbors. Sometimes, it gets excessively annoying when you feel or knows that your neighbors are watching every single one of your activities. At one point, you start tiptoeing in your own home, which is as bad as it can get.
So, if you are as bothered as me by the people around you, make yourself a DIY-friendly wooden privacy screen to stop their nosiness once and for all. It will take some hard work to complete the job but trust me, it feels amazing to finally be able to sit on a rocking chair without your neighbors staring at your face.
Project Details: decoratedlife.com
---
28. Folding Chair
Folding chairs are extremely handy as you can just wrap them up and shove them at the corner when you are not using them. In a way, they are more convenient than regular chairs because of their portability. It doesn't take much to build a folding chair and you can get the entire job done with some simple carpentry tools.
It will cost you about 20$-$100 worth of material, excluding the prices of the jigsaw and table saw. You can try using cedar, pressure-treated wood, or Cypress fir to make a folding chair.
Project Details: openbackyard.com
---
29. Self-Watering Planter
I know how it feels when you come back home from vacation just to see your precious vegetables or worse flowers withering. It happened to me a lot of times; so, I decided to do something about it once and for all. This is when I came up with the idea of making DIY-friendly self-watering planters.
If you are a beginner, you'll need some learning to do before taking on the project. There will be some wood cutting, piping, stapling, and other stuff. As you are in the woodworking business, you probably know how to operate a saw, but you may not know the methods of stapling. If you don't, then you should take a look at this.
Project Details: growagoodlife.com
---
30. Campfire Bench
What can be better than sitting with your friends around a campfire, playing the guitar, singing, and barbequing? Sounds magical, right? Well, I can vouch for it because it is amazing. So, why not make some campfire benches around your personal fire pit or barbeque space and enjoy the chilly weather of Fall having fun.
Campfire benches are a lot like typical timber benches. The only difference is that the legs are burrowed under the ground for a better grip. This way you can enjoy without worrying that the bench may trip and fall on the fire pit.
Project Details: abeautifulmess.com
---
31. Adirondack Chair
The textbook way of relaxing does exist and you can also do it, once you own an Adirondack chair. Its curvy ergonomic design aligns perfectly with your back, wide armrests let you keep your hands and drinks, but best of all you can stretch your legs and just take a short nap outdoors.
Even if you are a beginner woodworker, it shouldn't take you more than a day to build an Adirondack chair unless you plan on decorating it. A few saws and some simple hardware tools can help you finish the job.
Project Details: thisoldhouse.com
---
32. Garden Tool Storage Chubby
I've already told you about garden closets, but those are meant for big tools like shovels, rakes, spades, etc. What about small tools like trowels or materials like fertilizers and stuff? Nobody in their right mind would want to load everything up together and take the risk of ruining your tools or fertilizers.
Therefore, it is best to have a small storage box near your garden just for the small stuff. A storage chubby is a small unit and can be built in only a few hours. The overall cost will depend on the wood you choose.
Project Details: balconygardenweb.com
---
33. Blanket Ladder
You realize the importance of a ladder only when you don't have one. Even I suffered a lot when I had to trim the trees on my lawn. Thank the lord that I had an electric pole saw or else it would've been impossible for me.
Nevertheless, I had to get a ladder because it was still impossible for me to fix or paint the ceiling of my house. When I checked the price of a blanket ladder on Pottery Barn, I saw that it was around $249.
I couldn't afford to spend so much money on a ladder; so, I decided to make one for myself. Much to my surprise, it cost me only $10 to build a blanket ladder.
Project Details: heytherehome.com
---
34. Hanging Garden
You may not always have the space to make a garden on your lawn, you may not even own a place with a lawn, but does that mean you leave your hobby of gardening? I don't think so.
There are many ways to continue gardening without proper space and one of them is making a hanging garden.
It is extremely easy to build a DIY hanging garden and it would take you about $50 to finish the project, depending on the type of wood you plan to use. Once you have a hanging garden, you can grow plants by your front door, kitchen, or even on the balcony.
Project Details: diynetwork.com
---
35. Bar Stool
These are the most commonly used chairs in kitchens and bars. They are compact, making them very useful for small rooms. Nowadays, people are using stools as an alternative to chairs. It could be because they are portable and easy to store.
Building a bar stool is a job for beginners. Most of the tools you need are probably in your storage closet. The task time will depend on the design of the stool. For instance, an ordinary bar stool takes an hour or two to make but if you put backrests, it will take an hour more.
Project Details: home.howstuffworks.com
---
36. Shiplap Wall install
We are always looking for ways to improve our precious homes. A fine way of doing it is to install shiplap planks on an entire room or an accent wall. Shiplap walls give an authentic historical touch to your rooms and make them look classy.
Once you purchase shiplap planks, make sure you don't start the project instantly. Give it at least 10 days for the planks to adjust with the humidity level of your house.
Project Details: lowes.com
---
37. Pet Bed and House
At the moment, I have a pet husky (male) and I'm planning on getting a partner for him. His old bed and house are relatively small; therefore, he often sleeps on the couch or wherever he feels comfy. It's going to be impossible for him and his partner to sleep together if I don't change the house soon.
So, I decided I will show my love by making them a pet house with my own hands. I've done all the research and came to the conclusion that it will cost me significantly less if I build them a house rather than purchasing one. On the plus side, I'll get some practice too.
Project Details: hillspet.com
---
38. Planter Pot with Wooden Base
Making planter pots with a wooden base is an excellent way to enhance your pottery and woodworking skills. It's like hitting two birds with one stone. So, you get to improve two types of skills with one project.
The clay molding will come first. It means you'll need to make the pot first, then the wooden base. This is to adjust the wooden base's size to the pot's. A bandsaw is a must for the job, as you have to use it to shape the base.
If you are a beginner at using the saw or want better accuracy and results, try using an aftermarket bandsaw fence. It will significantly improve the effectiveness of the saw, which will result in precise and accurate cuts.
Project Details: woodshopdiaries.com
---
39. Bowling Lane
It is a project that will take some serious time, effort, and money. However, when you finish it, you'll have a sick bowling lane in your own house. Now, I haven't met anyone who doesn't enjoy bowling, it is a fun game suitable for people of almost all ages.
The first thing you'll need to check before making a bowling lane is whether you have enough space or not. It will take about 90-100 feet of space.
Try to use maple as your primary material. The total cost to complete the lane will be near $2000 without a ball-return mechanism and pin-setter.
Project Details: sportsrec.com
---
40. Wooden Arrow
Only an archer knows the true value of an arrow, especially if he/she crafts his/her own arrows. There are some perks to crafting your own arrows:
Your arrow you know the best
You are more familiar with the design
You can adapt and improve it
Improves your craftsmanship.
I guess I've made my point.
Project Details: archery360.com
---
41. Side Table
A side table is necessary for every single room. Whether it is your bedroom, living room, or office room, you need a side table to stash your daily stuff. Now, you can always buy a side table, but I assure you it will cost you some good money.
So, why not save some extra cash and build it yourself. The effort and time, you need to put in making a side table depend on the design of the furniture. For instance, if you give extra compartments and add some design, you'll need an entire day.
Project Details: addicted2diy.com
---
42. Wooden Door
Don't you ever think of having that perfect door at the entrance of your house? Like the one that'll make your guests wonder, WOW! Where did they get the door?
I certainly thought about it a lot. So much so that I checked out a thousand shops only to realize that it would cost me a fortune to buy a designer door.
My only option was to build a door. So, I started practicing and the first few ones were not good-looking. However, as I kept making, I became better and understood the ins and outs of a door. It is also when I realized that a circular saw blade for cutting doors helps out a lot to build a designer door.
Now, I have a grand door in front of my house. You can also do it with enough practice.
Project Details: domesticimperfection.com
---
43. Coat Rack
Leave behind the days of having to open your closet every time you need to put or take your coat. Make your life easy by crafting some wall-mounted coat racks.
It is one of the easiest woodworking projects you'll ever find and you'll only need an hour to finish the job.
Project Details: truevalue.com
---
44. Scrap Wood Wall Art
A DIY-friendly way of making your empty walls look gorgeous is to put some scrap wood wall art. I suggest it to all my friends and family, who want to decorate their living room walls without having to exceed their budget.
It costs like $20 worth of material to make a scrap wood wall art and once you put it, you see a major difference in your living room.
Project Details: hometalk.com
---
45. Wooden baby gym
So, a few months ago my best friend had a baby. I wanted to give them something special from the bottom of my heart. After weeks of brainstorming, I came up with the idea of giving them a wooden baby gym.
I looked it up online and found some baby gyms, which were around $100. I would've bought them a wooden gym but it was costly and I didn't like the designs.
Therefore, I took up my handsaw and made them a wooden baby gym myself. It saved me quite a few bucks and felt very personal. Now, I'm planning to make some for my kids as well.
Project Details: diy.dunnlumber.com
---
46. Drink Caddy
I've always been a little socially awkward. I feel shy to ask people for favors. So, whenever I used to go for outdoor sports like golf or baseball, I never knew what to do with my drink. Should I keep it on the ground? Should I ask someone to hold it? It was really confusing.
A few years earlier I came up with a solution. A solution that will last for a lifetime. And, it was to build a drink caddy. After making a drink caddy, I never had to stand awkwardly for someone to come and help me hold my drink. Whenever I'm taking a shot, I simply put my drink there.
Project Details: instructables.com
---
47. Cedar Chest
A storage unit like a cedar chest can never go to waste. You'll always find a use for them. You can use it as a storage box to keep blankets, precious ornaments, passing it down to your kids as a family heirloom or even as a gift to your friend.
Project Details: amishhandcrafted.com
---
48. Wood-framed signs
I've always been a fan of huge wooden framed signs, which you see at the front of those cool Instagram houses. However, my throat dried up when I saw some of the prices. So, as a woodworker, I know what I had to do. It was time for me to show off my craftsmanship.
It had cost me way less when I made the sign by myself. I've used plywood, a reciprocating saw for the frames, brad nailer, paint, adhesive vinyl, three different paint colors, and some other tools and materials for the project. Took me a while but it was completely worth it.
Project Details: theturquoisehome.com
---
49. Floating Shelves
Most of us already have floating shelves in our house and as you may they are not difficult to make. However, if you take it up a notch and decide on making seamless floating shelves, it will get a bit tricky.
From the outside, it will seem as if the shelves are thick, but they are actually hollow from the inside. For the top, bottom, front, and side bevel edges, I've used a hybrid table saw. Afterward, I used a miter saw to cut and trim the board.
After the first two steps, the rest of the process was relatively easy. I had spent about half a day on the job, it may take more or less for you. The overall cost depends on the wood, you'll be using.
Project Details: woodshopdiaries.com
---
50. Wood Wall Art
Wooden wall arts can be a great addition to your living or bedroom. It is a project suitable for novice woodworkers; therefore, if you are still learning the ways of carpentry, I suggest you try making wood wall art.
The art will go perfectly with your rooms, you will have something to show off to your friends and family and you gain some experience in the process.
Project Details: hgtv.com
---
51. Bird Feeder
Bird feeders usually don't have practical value unless you have pet birds. Well, you can make them for wild birds out of passion but still no real-life value.
Nevertheless, bird feeders are one of the easiest woodworking projects out there. So, even if the item has no practical value, you can still build it to enhance your carpentry skills. And, if you do have pet birds, the decision of whether to make it or not becomes much easier.
Project Details: practicallyfunctional.com
---
52. Outdoor Wood Steps
Making outdoor wood steps is rather difficult as it requires you to get your hands dirty. First of all, you'll have to excavate an area, followed by grading the area. Afterward, you'll need to cut the wooden steps and secure them to the area.
It is a lengthy process and most of your work will be centered around the outdoor area you've chosen. So, if you use something portable for slicing the materials such as a cordless circular saw, the task of cutting and shaping the wooden steps will become much easier.
Project Details: diynetwork.com
---
53. Wooden Spice Rack
As they say, a happy wife means a happy life. And a great way of lightening up your wife's mood with your woodworking skills is to make her a spice rack. These small spice racks won't take much of your time and effort. Moreover, the overall cost is insignificant than the convenience they provide.
You can choose from two options. Either you can make a minimal spice rack or a hanging one. The former will cost you less, but if you have toddlers running in your house then they can easily reach the rack. The latter is more convenient with kids around as the spice bottles will remain on a high level.
Project Details: housefulofhandmade.com
---
54. Barrel Planter
Making a barrel planter is by far the easiest project I've ever seen and done in my life. It requires minimum effort and only a barrel.
First of all, you'll need to cut the barrel in half or more than that. Add some drainage holes at the bottom. Fill the barrel with pebbles and soil. Put the flowers you love into the barrel and you are done. As I said, the easiest woodworking project ever.
One last piece of advice, make sure the flowers you choose need the same amount of sunlight.
Project Details: hometalk.com/diy
---
55. Three Tier Planter
If you are planning to save some space and astonish your guest, try building a three-tier planter. It is an excellent woodworking project to take on as it is suitable for beginners and you'll get the chance to learn the use of some basic tools in the process.
Three-tier plant stands come in handy when you don't own a lawn or big space for gardening. As the planter comes with three tiers, it can hold many plants without consuming a big space.
Project Details: getbusygardening.com
---
56. Potting Bench
Wouldn't it be nice to have all your plants and gardening tools in one place? Imagine how organized your gardening projects will be if you have a bench that'll keep everything you need for your plants at a close distance.
Although it sounds too good to be true, it is possible if you have your own potting bench. Most of your small plant pots will remain on the bench and the small tools will be on the side hooks.
It will take a few days to make a potting bench and some hard work. However, once you build it, gardening will become much easier and more enjoyable for you.
Project Details: thisoldhouse.com
---
57. Porch Trellis
A trellis can be a great addition to your front porch. It will not only offer you some privacy but also make the entrance of your house look classy and elegant. However, building a porch trellis is a difficult project; so, I suggest you don't take it on unless you are an experienced woodworker.
The overall cost will be around $50 to $100, depending on the wood you are using. Mine is made up of cedar. One last tip, keep a cordless pole saw in handy if for some reason you need to trim the top edges. You may think it's not necessary but bad weather can rough up the edges easily.
Project Details: homesteadandchill.com
---
58. Kitchen Planter
Having a kitchen planter is useful because it lets you grow some herbs and, in the process, makes your kitchen look green and fresh. It can be the perfect thing for your countertop or window sill.
The best thing about kitchen planters is that they require minimum effort and money. If you buy pre-cut woods, then all it remains is glueing, drilling, and nailing. However, cutting the wood by yourself is also a seamless task and it shouldn't take much of your time.
Project Details: diynetwork.com
---
59. Garden Trellis
Alongside a porch trellis, a garden trellis can also be a nice addition to your wonderfully decorated home. You can place it on your lawn and let some climbing plants like roses and vines grow there. It would look lovely to see a gorgeous wooden piece covered with green plants.
The project should take a day or two to finish and you'll have to spend around $100 to $250, depending on the type of wood you are using.
Project Details: homesteadandchill.com
---
60. Wooden Tree Bench
If you have an unused tree on your lawn and want to make something useful around it, like a place for resting, then try building a hexagonal bench around it. It will upgrade the overall appearance of your lawn and give you a lovely place to rest when you feel tired after working in your garden.
Before building a hexagonal bench make sure to trim the branches of the tree or it may put you at risk of accidents. You can use a pole saw for the job or do it manually with a ladder.
Project Details: myoutdoorplans.com
---
61. Backyard Lounger
Another woodworking project that is suitable for both beginners and intermediate woodworkers is a backyard lounger. These chairs are perfect for relaxing as they keep your back in an ergonomic position, making you feel comfy all the time.
As your backyard loungers will remain outside the house, make sure to use woods that are resistant to weather effects. You can use a jigsaw to cut the materials but it will take forever; so, it's best if you use a corded circular saw. Keep an extension cord and rip guide because you'll probably need them for the task.
Project Details: instructables.com
---
62.
Build a Pergola
Pergolas can offer a touch of luxury and elegance to any garden space. It comes with a marvelous appearance, which can make even the dullest of gardens look heavenly.
During the day, it will protect you from the glare of the sun and work as a shade. If you plug some fairy lights at the top, it can be the perfect place for having a romantic dinner with your loved one.
Building a pergola will require heavy work. If you want to complete it within a few days, then have some friends help you out. Finally, make sure to stain and paint the pergola as it will be exposed to UV rays and rain.
Project Details: diynetwork.com
---
63. Large Planting Box
It is also referred to as a raised garden bed. A large planting box can be the ultimate solution to gardening. It keeps your crops protected from pests, comes with complete drainage, and gives you easy access.
If you use pre-cut woods, you won't have to carry a saw. If not then use a miter or circular saw for the job. Keep in mind that you'll need to set up drainage for the garden bed. Hence, you'll need to cut PVC pipes and place them accordingly around the box. It is best if you use a cordless reciprocating saw for cutting the pipes.
You can do it manually but it'll be tough. If you are not sure about it, then I suggest, you stick to my advice.
Project Details: sunset.com
---
64. Simple Workbench
The most important item for all woodworkers is a workbench. This is where you'll set your plans, cut and drill the wood, hammer stuff, glue things together, etc.
So, a woodworker without a workbench is the same as a policeman without a gun. If you don't have one means you don't own the most essential tool of a woodworker. Hence, the first thing you should build as a carpenter is a workbench. This is where you'll complete your next projects and become a master woodworker.
I believe every person who plans to become a professional woods person or DIY woodworking enthusiast should take on the task of making a workbench as their project.
Project Details: jenwoodhouse.com
---
65. Chess Board
A wooden chess board is easy and fun to build and it can be an excellent gift for your friends or family. On the other hand, if you like playing chess, then wonder how it'll feel to play on a board that you've built with your own hands.
It is a suitable project for beginners and takes minimum effort and low-budget materials to make. Once you are done with the crafting section, make sure to give it a nice finish with varnish, oil, and mineral spirits. That'll give the chest board a classy hand-rubbed appearance. If you want to bring out the color even more, then I suggest you apply some bamboo veneer.
Project Details: generaltools.com
---
66. Wooden Wagon
Sometimes, a garden cart may not be enough for your gardening needs. If that is the case, then you should try building a wooden wagon. Buying a wagon would take a big bite out of your wallet; so, it is best you stick to making it.
Even if you are making a wagon instead of buying one, it will still cost you a good amount of money. You'll need a drilling machine, drill bits, miter saw, jigsaw, wheels, wood for the wagon's structure, and a few more tools and materials.
Speaking from experience, it'll be better if you use a worm drive saw instead of a jigsaw, or else the project will take much longer to finish.
Project Details: howtospecialist.com
---
67. Pub Table
I've always been a fan of high round pub tables. They are stylish, look aesthetic, and give a modern touch to a room. So, whether you are planning to open a home bar or feel like adding something artistic to your home, a pub table can be a good choice for your next woodworking project.
As you may have already noticed while hanging out in bars, pub tables go best with high stools. So, consider making some high stools for the pub table. That way the overall set would look more appealing.
Project Details: foter.com
---
68. Bookshelf
A nice-looking bookshelf can be a great birthday gift for your kid. He/she is sure to love it, especially if you add some cool designs and give it a stylish finish with some paint.
A similar designer bookshelf will cost you twice more than what you'll have to spend on building it. So, why waste good money when you can DIY your way through?
This way you won't have to break your bank and your kid will consider you as his/her hero for making a lovely shelf. But we both know that you were just trying to save some extra cash (wink).
Project Details: adventuresofadiymom.com
---
69. DIY Nightstand
Do you think it's finally time to upgrade your bedroom and get rid of that old discolored nightstand? If you do, then start by planning to build a DIY-friendly nightstand. The small furniture is easy to make and takes less than a day to finish, depending on woodworking skills.
If you are an average woodworker, it shouldn't take more than a day; however, if you are new to this, it'll take an entire day or two. In any case, it can be a nice addition to your bedroom. You can keep your cell phones, wallets, a night lamp, and some other necessary items there.
Overall, the project will help you boost your DIY skills and you'll have a lovely nightstand beside your bed.
Project Details: lilyardor.com
---
70. Wall Wine Holder
It is basically the small version of a wine rack. Wall wine holders are much easier to build than a rack. Furthermore, if you have some basic tools (which you should as a woodworker) and some scrap wood, it should cost you close to nothing.
Wall wine holders are amazing housewarming gifts. I've given them to some of my friends and they were very happy to receive them. Little do they know that I didn't have to spend a penny to make them. This is the beauty of a DIY wall wine holder; you don't have to spend much but it looks great. If you give it a nice finish by adding stain and paint, it looks like a $100 item.
Project Details: rogueengineer.com
---
71. Wooden Arrow Tutorial
Cutting angles is tricky and if you want to improve that skill, I suggest you start with this project. A single wall-mounted wooden arrow has two 45-degree angles; therefore, to make one you'll have to be using a miter saw and cutting wood at a 45-degree angle.
The wooden arrow tutorial project will not only help you to improve your angle cuts but also teach you how to use a miter saw properly. Moreover, when all comes to an end, you'll have a stunning trinket ready to be mounted on your wall. So, you are the one who is benefiting here from every possible angle.
Project Details: cherishedbliss.com
---
72. Hanging Basket Stand
A hanging basket stand is a lot like a hanging garden, except for the fact that it is more attractive but smaller and can hold only one plant. Now, some people prefer design over mass planting. If you are one of those people, then going for a hanging basket stand can be a great choice.
On the other hand, if you prefer to grow a lot of plants in a small area, then I suggest you build yourself a typical hanging garden. Anyways, a hanging basket stand can add a lot of character to a balcony, porch, or kitchen. It can make an empty space look lively.
Project Details: shanty-2-chic.com
---
73. Serving Tray
It always feels nice to amaze your guests with your own creations. This is exactly what I did a few months ago while serving food to a few guests with a wooden tray I've built with my own hands. The moment they laid their eyes on the tray, they knew it was handmade and authentic, which it was.
You don't need to go through a ton of work to make a wooden serving tray. The process is pretty simple and cheap. Even a beginner woodworker can complete the project in a few hours unless you give it a smooth finish with a stain.
A serving tray is usually small and you can build it with any type of wood. If you are planning to cut the wood by yourself, then try using circular saws, which are suitable with small blades. For best results use a saw that accepts a 7-1/4-inch circular saw blade.
Project Details: foxhollowcottage.com
---
74. Napkin Holder
Once you are done making serving trays, why not impress your upcoming guests even more with handmade napkin holders? The simple ones are very easy to build and even your children can take part in the project.
If you are looking to spend some quality time with your kids and teach them the ways of carpentry, building napkin holders together can be a suitable task. I
You can also turn the difficulty level up a notch by making different types of napkin holders. For instance, wooden napkin rings are smaller than the normal ones but require better skills. Now, it's up to you to decide, which type of holders would you and your kids prefer to build.
Project Details: hubpages.com
---
75. Oak Log Chair
If you are stumped and don't know what to do with the oak trees or logs in your property, might I suggest you try making chairs out of them? Now, it may sound unorthodox but it is a good way to make something out of those unused logs and learn how to maneuver a chainsaw.
Most of us have chainsaws lying around in our storeroom and it is high time we start using them for something else than cutting logs. However, if you don't have one you can always borrow or buy one. Nowadays, you can get a chainsaw for under $200, which is quite durable and efficient in slicing down logs.
However, if you have the budget then I'll suggest you go for a chainsaw under $300 because it is significantly better than the former. Once you have a chainsaw, making a chair out of an oak log is a piece of cake.
---
76. Wooden Supply Tray
A messy workspace can reduce your productivity or worse lead to accidents. Therefore, I believe every workspace should have at least one office supply tray. It makes the space organized and lets you have easy access to your tools.
Now, I know you can buy an office supply tray without denting your wallet, but as a DIY enthusiast and a professional woodworker, I think it would be a shame to purchase one rather than making it yourself.
And above all, why should you waste money on a project that takes only an hour to complete. Strap on your goggles and get it done already.
Project Details: build-basic.com
---
77. Lap Desk
Back in the day, I used to work with the laptop on my thighs. The heat was unbearable and I used to get up from work with my thighs half fried. Day in and day out I had to suffer the same way. Finally, I decided to do something about it and this is when I got the idea of making a DIY folding lap desk.
Since then, working on my laptop has become more comfortable. I could lie half down, stretch my legs and work like a king. Moreover, the foldable legs make the lap desk compact and portable.
Project Details: jenwoodhouse.com
---
78. DIY Danish Modern Coffee Table
It is high time you upgrade your living room with new furniture. If you have an old tabletop lying in your house, take it up and turn it into a Danish modern coffee table. The task is pretty simple and you won't even need to use a saw if you have some spare table legs.
The trick here is to make the tabletop look shiny and brand new. For that, you'll have to apply 3-4 coats of epoxy spray paint. Make sure to wait 30 minutes after each coat and an hour after the final one. Once, you have the tabletop ready, attach the legs and witness the miracle.
Project Details: francoisetmoi.com
---
79. Hammer Coat Rack
Show off your woodworking skills with this beautiful coat rack made out of old hammers. It is an excellent way of recycling your old hammers and you can finish the project within an hour only. The task is suitable for beginners and you can complete it using a few dollars.
Project Details: thekimsixfix.com
---
80. Candy Dispenser
There is no such thing as an age when it comes to candy. We all enjoy having some sweet candies whenever we get an opportunity. So, why not make that moment more enjoyable with a candy dispenser?
If you have the budget, you can make a candy dispenser with polished wood. It is simple but you'll have to spend a few bucks. But don't worry, even if you are running low, you can complete the project using cardboard.
Project Details: luckybelly.com
---
81. DIY Bike Rack
You won't know the pain of falling flat on your face until you trip on your kid's bicycle in the middle of the night. I lost count of how many times it happened to me. If you want to escape the same fate, I suggest you prepare yourself to build a bike rack.
Once, you make a DIY bike rack, the days of falling face-first will come to an end, plus your kids are going to love it.
Project Details: heatherednest.com
---
82. Wooden Doormat
When I finally became bored of using plastic and rug doormats, I tried to think out of the box. This is when I had the idea of making a DIY wooden doormat.
It is an excellent project to take on as you can complete it using scrap wood lying in your garage. If you want to spice it up a bit try crafting the doormat with cedarwood. That way, the end result will be much more appealing to you and the people who come to visit your house.
Project Details: domesticimperfection.com
---
83. Bathtub Tray
I love taking baths as it offers peace and tranquility, which is very hard to find these days. However, lying in your bathtub for an hour becomes dull unless you have a book, your iPad, or a glass of wine to keep you busy.
Now, you need a place to keep these things, right? You won't want to go out of the tub every time you feel the need to have a sip of wine. So, the ultimate solution to this problem and to enjoy a comfortable bath is to have a bathtub tray.
Project Details:
84. Key Holder for Walls
Most of the time, people get late for their office or meetings just because they can't find their car keys or wallets and sometimes both. I'm pretty sure you've been late for the same reason too.
If you are looking for a convenient mode of keeping your keys in a secure place where you won't lose them in a time of crisis, I suggest you try making a wall key holder. You can add a few extra compartments to make it more useful. That way, you can keep your wallet, purse, jacket, scarf, or even your umbrella there.
Project Details: loveandrenovations.com
---
85. Wooden Spoon
I know most of us are accustomed to using aluminum kitchenware, especially when it comes to spoons. But, won't it be nice to have some wooden spoons for a change? I believe it will be amazing because it'll give you a sense of accomplishment. Imagine having soup with a spoon that you've made with your woodworking skills.
That is not all, there are other benefits to wooden spoons as well. For instance, they don't retain heat and you can put them in a microwave without blasting them. Hence, if you are looking for a new project to take, try making some wooden spoons.
Project Details: suncatcherstudio.com
---
86. Wood Stars
Stars are a symbol of beauty and they look fantastic almost everywhere, whether it is on your kid's exam paper or on the wall of his room. Stars also give a holiday vibe, making us feel happy and juvenile.
So, this holiday, try building some wooden stars to decorate your house. If the holidays are far away, then make a wooden star for every star your kid gets in his/her exam papers. It is sure to keep him motivated. Don't worry, they are easy to build and will cost you only $5 each.
Project Details: jaimecostiglio.com
---
87. Log Sculpture
Log sculptures are very appealing and they go perfectly with big lawns. It can give a classic mid-century look to any place. There are some great benefits to building a log sculpture.
One of them is that you'll get the opportunity to learn the ins and outs of a chainsaw and the other is that you won't need any other tools for the project except for a chainsaw.
Nonetheless, log sculptures aren't that difficult to make, especially if you are using a top-handle or arborist chainsaw. Usually, chainsaws are tough to maneuver as they are quite heavy; however, a top-handle chainsaw is much lighter and you can even operate it with one hand if needed.
If possible, wear chainsaw chaps during the project. It can keep you safe from accidents and protect you from losing a leg.
Project Details:
---
88. DIY Chalkboard
A chalkboard is a very important thing to have, whether it is for your kid or personal use. You can note down your plans for a project on a chalkboard and hang it in your garage. By doing so, you can always be aware of your next move.
A DIY chalkboard is also useful for a kid. He/she can unleash his creativity there, and it may allow him to come up with something great. Chalkboards are easy to build and take only a few hours to finish. Moreover, the materials don't cost much either.
Project Details: addicted2diy.com
---
89. Pallet Lamp
I believe you can never have enough lamps in your house. So, even if you have 10 or 20 lamps in your home, you'll find a way to make use out of them. Even, I lost count of how many lamps I bought, made, and broke over the years.
Well, the good thing is that you can make a pallet lamp without putting in much effort. Just a few basic tools, an Edison bulb, and any type of saw will do the trick.
Project Details: palletuniversity.com
---
90. Pallet Wall Shelf
You will love how easy it is to make a rustic pallet wall shelf. So, if you are a novice woodworker who is slowly climbing his way up to the top, then you should take on this project.
Yes, the job will become a little tricky if you need to use a Sawzall for cutting the pallets. However, if it doesn't come to that, then the entire thing should go smoothly. It should take you about an hour to complete the project unless you plan on giving it a nice finish.
Project Details: palletuniversity.com
---
91. Pallet Coffee Table
If you have a few pieces of pallets lying around in the basement, it's time to take them out and turn them into a vintage coffee table. You may or may not have checked out the price of an industrial classical coffee table on the market, if you haven't then let me tell you that it costs over $200.
Now, I don't know about you, but I sure wasn't going to spend so much on furniture that I can build. Making a DIY-friendly vintage pallet coffee table costs less than half of what you have to pay for it on the market. So, I'll let you decide whether you'll build it or buy it.
Project Details: instructables.com
---
92. Mason Jar Storage
As I have already said, a happy wife equals happy life, and what can be better than making her a DIY mason jar storage out of pallets to make her glad. You can set it up in the washroom or near her dressing table where the Mrs can keep her makeup essentials.
Even if you don't have a Mrs there are always other ways, you can make use out of the storage. You can use it to store daily essentials, spices, small tools, or whatever you feel will stay inside the jars.
Project Details: skinnymeg.com
---
93. Pallet Beer Opener
I know how it feels to lose your beer opener, especially after a long day of work when you just want to sit down, relax and have a cold beer. There were many times, I couldn't find the opener and it used to drive me crazy.
Finally, when I found the opener shoved inside the kitchen cabinet, I decided to turn it into something permanent. I took out a big pallet plank from the basement, brought my tools, and turned the opener and plank into a big pallet beer opener. Never again do I have to turn my house upside down to have a beer.
Project Details: instructables.com
---
94. Wood Slice Cutting Board
Whenever I get the chance, I try to visit Pottery Barn, IKEA, and woodworking shops that can give me an idea for my next project. One blissful day, I've been to IKEA and saw these adorable wood slice cutting boards. Right that moment, I knew I had to make them.
There was an old tree stump sitting in my backyard. I had to cut it into slabs but back then, there was only a milling chainsaw in my garage. It worked like a charm and once I had the slabs the rest of the process was a piece of cake.
Project Details:
95. Reclaimed Wood Tote
If you have some fence boards and a spindle from an old chair sitting idly in your basement, it's time to gather them and build a wooden crate.
It can be a lovely addition to your dining table. Moreover, it is extremely easy to make and you may have most of the materials and tools in your house already.
Project Details: confessionsofaserialdiyer.com
---
96. Murphy Bar
Nothing feels better than the summer breeze gently touching your skin and putting you into a state of tranquillity. This is why most of us enjoy spending our days outside the house during summer. The sweet experience of summertime fun can be doubled with an outdoor Murphy bar.
It can turn your deck or back patio into an extension of your house, where your family and friends can enjoy a lovely time. A murphy bar works like a prep station on which you can store some wine bottles and make cocktails for your guests.
Project Details: ehow.com
---
97. DIY Cooler
With the right tools and design in mind, you can turn an ordinary Styrofoam cooler into an elegant wooden cooler, which is also resistant to changing weather.
Buckle up your seatbelts because this project is going to take some hard work, especially if you plan on making the Styrofoam cooler as well.
However, you can reduce the workload by a bunch if you buy the cooler from a store. I suggest you do that instead of going through the entire thing. Go ahead, try it out.
Project Details: shanty-2-chic.com
---
98. Coffee Bar
Coffee is like fuel to us. A sip of coffee energizes our nerve system and right at that moment, we know it's time to move. Naturally, a coffee bar is the fuel station of a house. We go there, grab a cup of coffee and recharge ourselves.
You may think it would be a waste of space and money to build a coffee bar. However, it is not. You can build it in the unused space of a kitchen. For instance, near the fridge or at the corner.
You can also put it near the window or if you lack space, then in the cabinet. If nothing works, you can always make a portable coffee bar with wheels.
Project Details: eatwell101.com
---
99. Wood Clipboards
A wooden clipboard can be a nice gift for your kids or something to add life to your empty walls. It is one of the easiest woodworking projects I've ever done.
If you have the right size wood, you won't even need to use a saw. Wooden clipboards are practical and can come in handy at certain times.
Project Details: oldhousetonewhome.net
---
100. Patio Planter
Gardening can get a little annoying because most of the time you'll need to fiddle with dirt. Some people, especially germophobes wouldn't want to get dirty after working in their garden.
For them, a patio planter is a lifesaver as it lets you store pre-potted plants. So, there is no need to get your hands dirty when you have a patio planter.
Furthermore, you have the option to change the plants whenever you feel like it and you can also change the location of the planter easily as the pots are very easy to remove from the unit.
Project Details: lowes.com
---
101. Phone Stand
I would like to conclude the woodworking ideas with a simple DIY phone stand. Everyone owns a smartphone these days and most of the time, we are using it either for communication or for entertainment.
Holding your phone for hours is tiring and annoying. Life will become much easier for your hands if you don't have to hold them for so long. A phone stand will allow you to have a hands-free mobile operation. So, this project can benefit you in more ways than one.
Project Details: rogueengineer.com
---
Time to Work!
Woodworking can either be your hobby or profession. It started for me as a hobby but as I kept moving forward, it became my profession. Honestly, I enjoy building stuff out of literally nothing, it gives me a certain pleasure, which I can't describe in words.
I believe you find the same thrill in woodworking as well. Of course, you do or else why would you take the time to read my colossal article about 101 woodworking project ideas.
Anyways, I think you've already made up your mind for the next project. Just stop procrastinating and start working. Start with something small and eventually climb your way up to the ladder. It may come to you as difficult at first, but once you build a few things with your own hands, the rest won't seem as challenging.
Bring out that inner woodworking master to the field. Now, go break a leg