Stihl is a popular brand for manufacturing chain saws. So, there's an inclination to the brand and that's why it's crucial to know the nuances of each model for informed purchase.
Since both of the model are from the same model, there will have lots of similar and brand new features.
That's why in the comparison Stihl ms171 vs ms180, I will discuss ins and out. If you think you need help on this, feel free to keep reading.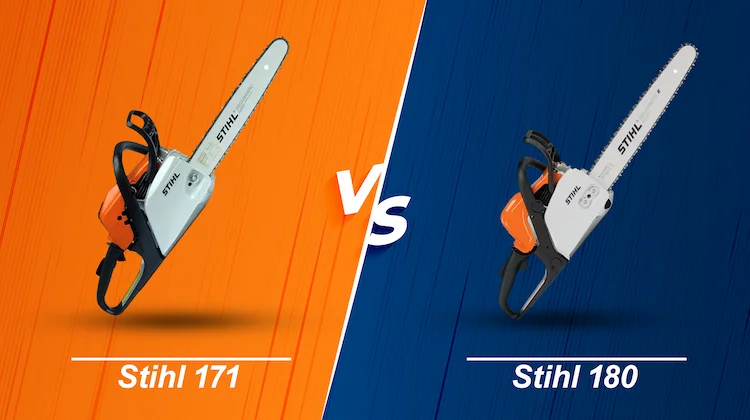 Comparison Table of Spec Between Stihl MS171 Vs MS180
| Key Factor | Stihl MS 171 | Stihl MS 180 |
| --- | --- | --- |
| Power Source | Gas | Gas |
| Engine Power | 1.7 bhp | 2.0 bhp |
| Fuel Capacity | 9.1 oz. | 8.5 oz. |
| Chain Oil Capacity | 6.1 oz. | 4.9 oz. |
| Guide bar (length) | 16 inches | 16 inches |
| Displacement | 31.8 cc | 31.8 cc |
| Price | CHECK CURRENT PRICE | CHECK CURRENT PRICE |
What are the Features of Stihl MS171 and MS180?
In this section, you will get to know about all the features of the two models. I will discuss each and every feature of the two and convey my competitive notes on the model. So, let's begin.
Learn more: Stihl 192 vs 193: Which is better?
Stihl MS 171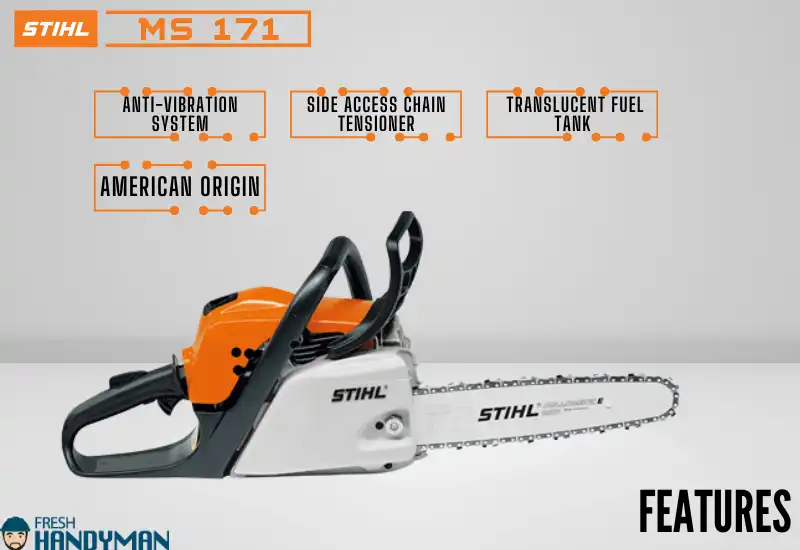 1. Anti-vibration system
Vibration is the enemy of woodworkers and an anti-vibration system is their best friend for them. The amount of energy and productivity vibration kills is insane. That said, it's so important for having an anti-vibration system in the chainsaw.
And, STIHL has developed a world-class anti-vibration system for minimizing vibration in handheld outdoor equipment. The anti-vibration system will decrease fatigue and increase efficiency and productivity.
2. Side access chain tensioner
It's annoying to use a bar wrench to change the guide bar of the chain tensioner every time. But, that day has gone. You are no longer required to manually do it. 
Enters side-access chain tensioner. The tensioner turns the manual process into an automatic process and saves tremendous time and effort.
Also read: Stihl 311 vs 391
3. Translucent fuel tank
The model comes with a translucent fuel tank. So, what are the features of this kind of fuel tank?
Well, translucent fuel tanks allow the operator to easily check before starting work. This helps avoid any inconvenience in the midway of your work.
4. American origin
Since Stihl is an American company so no question about its production quality.
---
Stihl MS 180
Now, let's see the features ms 180 has to offer. Before starting, keep in mind that you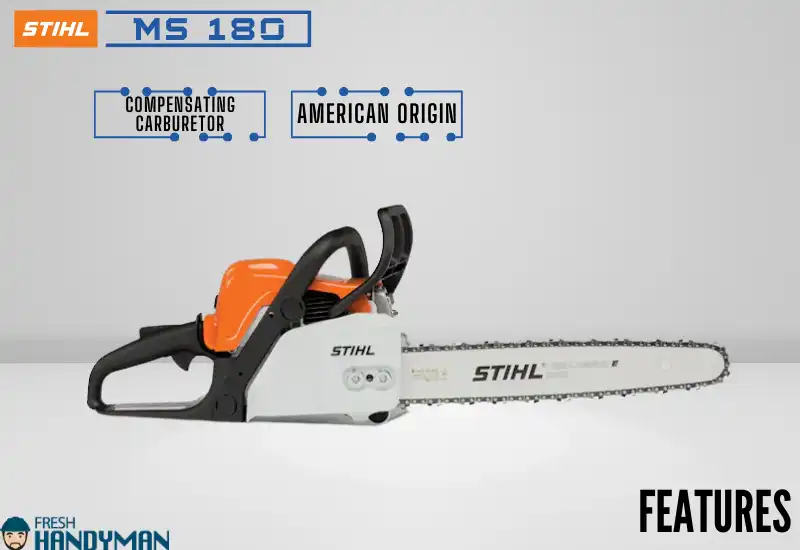 1. Compensating carburetor
The IntelliCarb compensated carburetor maintains the engine's correct RPM when the air filter is restricted or partially clogged by automatically adjusting the air/fuel ratio. 
In order to control the diaphragm and the flow of fuel, the carburetor uses air from the clean side of the air filter.
Whenever the air filter becomes dirty, the IntelliCarb system adjusts the fuel flow in order to compensate the lack of air available to the carburetor. The air in the air box is usually obtained from the "dirty" side, which is not the case with carburetors.
2. American origin
Stihl is an American brand and their quality chainsaw is popular among the woodworker.
So, there's no scope to question about the quality.
Stihl MS171 Vs MS180: Which Is Better?
In the preceding section, I've illustrated all the features that either of the models offers. So, this section would be all about comparison. Based on the features I will compare them and share my take on them. And, finally I will share my overall notes on it.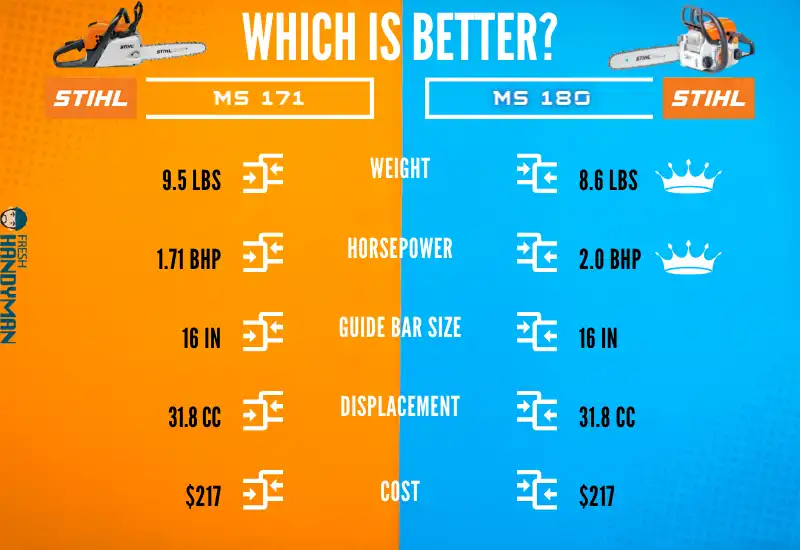 Also read: Stihl MS 171 Vs 170
1. Weight
I don't like carrying heavy-weight chainsaws and heck nobody likes it. Why should they?
So, while designing chainsaws engineers had to add features keeping weight back in the mind leaving them in a tightrope.
Lightweight may enhance the user comfort but that doesn't mean its always good. Saws made for professionals and heavy work comes with tons of features which can't be done without sacrificing weight.
Anyway, Stihl ms171 weight is 9.5 lbs and 8.6 lbs for ms 180. That means, the latest model improved the weight.
Winner: Stihl MS180
---
2. Horsepower
Horsepower is a unit to determine the power. In case of auto engine brake horsepower (bhp) is used instead.
The higher the horsepower the higher the power of the engine will be. That said, engine with greater horsepower is considered good.
I see the engine of Stihl ms171 comes with brake horsepower of 1.71 compared to Stihl ms180's 2.0 bhp.
You see in the event of engine horsepower comparison stihl 180 wins.
Winner: Stihl ms180
---
3. Guide bar size
Standard size for guide bar is 16-20 inch. Which bar size would be best for you depends on which purpose you will use the chainsaw.
For instance, 6-14 inches guide bar are great for cutting and pruning small bushes.
Stihl ms 171 and 180 both the tool come with 16 inches guide bar length. So, you see both of the tools offer 16 inches of guide bar which falls under the standard category. So, with this length guide bar you can easily handle medium size tree felling and firewood cutting.
Winner: Tie
---
4. Displacement
Displacement is another measurement of power. So, the higher the displacement will the better.
Stihl ms 171 and ms 180 have the same displacement. So, here both of the tools are on the same page.
Winner: Tie
---
5. Portability
If you can't carry it and take heavy teeing up for cutting this tool might not help you, right?
So, you need to choose a chain saw which is not big enough in size and weight so that you carry it anywhere with ease.
---
6. Cost
Whatever features you get, you can't neglect the cost as it heavily dictates your purchasing decision, we need to see which of these costs are lower and provide better features than others. 
Because that's the win everyone is up for cheap products with great features. If I compare between these I don't see any significant deal that backs others ahead.
Stihl ms171 and ms180 both the chainsaws is very affordable. The price of Stihl ms 171 is $217 while it's $217 for Stihl ms 180.
So, you see there's no significant difference in price between these.
Winner: Tie
Stihl MS171 Vs MS180: Which Chainsaw Is Best
So, in the end, taking everything into account I can conclude that Stihl MS180 is slightly better than its previous model 171.
But, keep in mind there's no way we can say one is clearly better than the other since the difference is not that significant.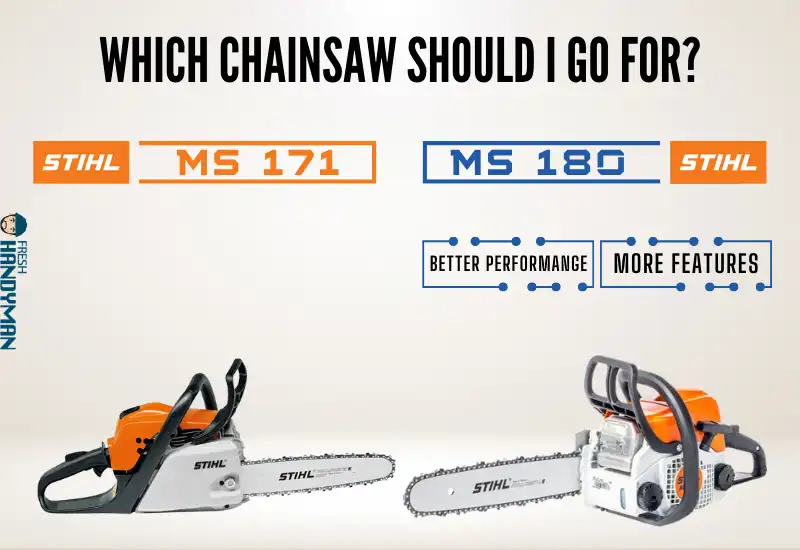 Stihl MS 180 [WINNER]
Conclusion
Stihl 171 and 180 are part of the same series "ms". So, both of the models offer the kind of same types of features and don't offer anything extremely deviating from past models.
In this post, I compared Stihl ms171 vs ms 180 and discussed their features as well as tried to illustrate a complete analysis of those features. Last but not least, I explained why one is better than the other based on the features and picked the winner.
Anyway, I would say the choice is completely yours and either of the tools can easily handle any kind of household woodworking task.