Stihl MS 170 and 171 are two consecutive editions of the ms series. Because MS 171 is just an updated model of MS 170, they will have many of the same features and are closely related.
And, exactly this is the problem woodworkers face as they don't know which model will be a great deal for them.
But, if you know the similarities, differences, and unique features of either model, it will be quite easier for you to choose one.
So, in this post, I'll show you all the differences between Stihl ms170 and 171, features, and finally, show a side-by-side comparison of Stihl MS170 Vs MS171.
If you're interested make sure you stick around the end.
Comparison Table of Specs Between Stihl MS170 VS MS171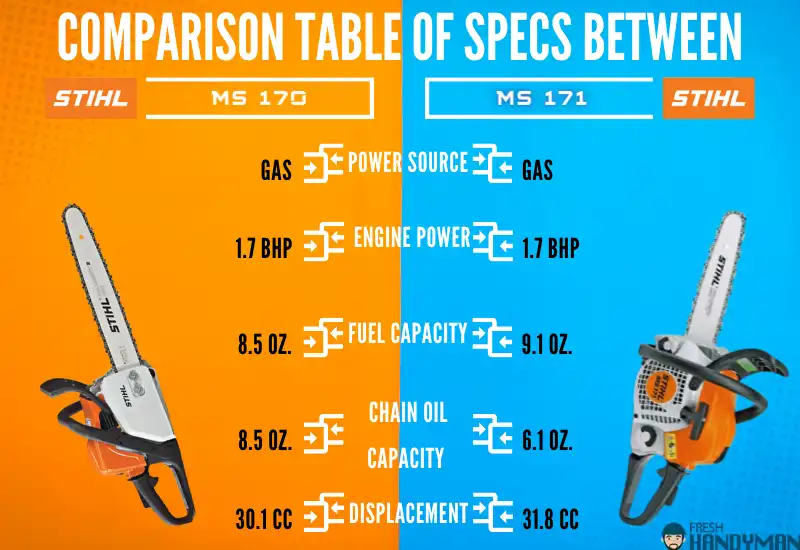 | Key Factor | Stihl MS 170 | Stihl MS 171 |
| --- | --- | --- |
| Power Source | Gas | Gas |
| Engine Power | 1.7 bhp | 1.7 bhp |
| Fuel Capacity | 8.5 oz. | 9.1 oz. |
| Chain Oil Capacity | 8.5 oz. | 6.1 oz. |
| Displacement | 30.1 cc | 31.8 cc |
| Price | CHECK LATEST PRICE | CHECK LATEST PRICE |
Features Of MS 170 and MS 171
You buy things based on which feature it comes with and what benefit you will get out of them. So, in this section, I'll start with the features each of the brands offers.
So, let's get started.
Read Also: Stihl MS 171 Vs MS 180
Stihl 170
Stihl ms 170 is a great chainsaw for light use. It's a really handy tool for homeowners for carrying out small woodworking tasks. You can cut bushes, small trees, fallen limbs, or branches of trees. And, it just comes with the amount of power it requires.
The feature it comes with is no less to compete with other pricey items on the market.
Why not check out those features?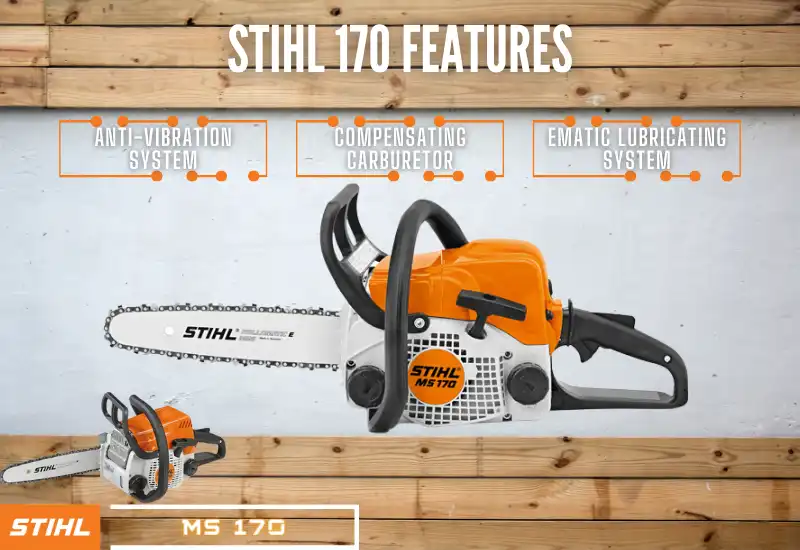 Anti-vibration system
This is a flagship feature most of the Stihl's chainsaw comes with. If you got previous woodworking experience you know the importance of these features.
Since the chainsaw revolves, it creates so much vibration that causes discomfort and fatigue for operators.
As Stihl 170 comes with a built-in anti-vibration system, it produces less amount of vibration which decreases operators' fatigue and increases productivity.
Compensating carburetor
The carburetor is designed in a way that can automatically adjust the air and fuel ratio in the engine. This can be particularly helpful when an engine has become partially restricted or clogged. It also facilitates maintaining the correct RPM of the engine.
Compensating carburetors' intelligent system controls the diaphragm and flow of fuel by using air from the clean side of the air filter. When the air filter becomes dirty, it restricts the airflow to the carburetor. The intelligent system of compensating carburetor can adjust the airflow ratio automatically in such inconvenience and compensate the airflow supply.
Ematic lubricating system
Chainsaw requires chain oil to run smoothly. In past, it was a manual process and even if you attempt it do it, it overwhelms you. This automatic method also utilized the fuel more efficiently and cut the lubricating oil costs.
The ematic lubricating system makes the process easier for you through its ematic lubricating system.
Stand-alone this system can reduce chain oil costs by a whopping 50 percent.
Learn more: Stihl MS 250 vs MS 271
Stihl 171 Features
Stihl 171 is the next version of 170 in Stihl's ms series. So, there will be lots of similar features in it like ms170.
Likewise 170, ms171 is a lightweight chainsaw making a great choice for homeowners to carry out necessary woodworking tasks like cutting branches of trees, bushes, and fallen limbs by storm. 
Besides, it comes with fuel-saving technology. Its exhaust system is also built on emissions-free technology which is why this chainsaw emits fewer emissions.
Furthermore, the MS 171 features STIHL's pre-separation air filter, which can prolong filter life five times.
It's time to share the features stihl171 offers.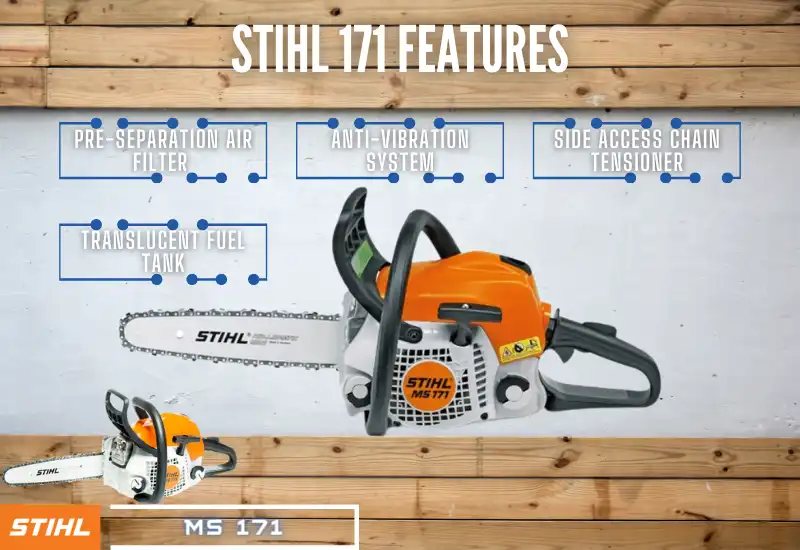 Pre-separation air filter 
Stihl ms 171 comes with a pre-separation air filter. The pre-separation air filter takes the bigger particles of the dirt out of the way from being filtered in the filtration chamber.
This keeps the air filter clean and saves from being dirty frequently. This saves you from manually cleaning the air filter over and over. Isn't that amazing?
Anti-vibration system
ms 171 offers an anti-vibration system that keeps the vibration in balance. And, in outdoor items, Stihl's technology is pretty good as considered to others.
Stihl's anti-vibration system minimizes fatigue resulting in increased productivity and comfort.
Side access chain tensioner
In comparison to the typical location of the guide bar adjustment screw, the side-access chain tensioner is much more convenient for adjusting the saw chain with a bar wrench.
Translucent fuel tank
It's a nice and handy feature Stihl rolling out in their latest products. A translucent fuel tank allows checking the fuel level easily. This keeps the operators informed about the fuel level.
Stihl MS179 VS Stihl MS171: Which Is Better?
It's hard to say which one is better than the other since ms170 and 171 are successive models of each. That means, there will be no such significant improvement over the features that can make or break the quality.
That said, it's hard to come to conclusion between these two models. Anyway we have to select the best one because you need to buy one, right?
Although both are successive models, they are different model actually and differs in many features.
So, this section would be about the features that distinguish each other separately and makes one stand out. And this way, it will be easier to pick the winner from each feature set.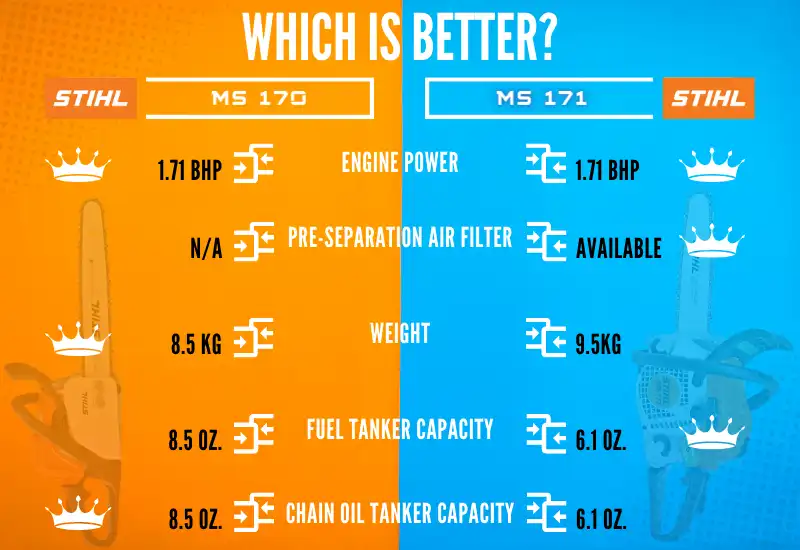 Engine power
The efficiency of a cutting saw is primarily determined by the power of an engine. The higher the power, the more the saw can rotate or move. And when this becomes possible, more saws can be placed into the chainsaw, which will increase its capacity even to cut a whole tree from the root.
The engine power of ms171 is 1.71 bhp which is equal to 170. That means Stihl hasn't made any changes here.
Winner: Tie
---
Pre-separation air filter
The pre-separation air filter takes the bigger dirt particles out of the way from being filtered in the filtration chamber. This keeps the air filter clean and saves from being dirty frequently. This saves you from manually cleaning the air filter over and over.
That being said, it's a pretty important feature nowadays. 
We see Stihl ms170 lacks these features while added on ms171.
Winner: Stihl ms171
---
Weight
The weight of a chainsaw is a great deal since it's directly correlated to the operator's comfort.
The weigher the chainsaw would be, the more difficult it would be for the operators to operate it.
Both chainsaws differ in weight, although both are lightweight and made for homeowners in mind who can do small cutting jobs.
The power head weight of ms170 is 8.5 kg, and ms171 is 9.5kg. So, the importance of ms171 is at least one kg higher than ms 170. This means stihl ms170 is more lightweight and would be comparatively easier to operate.
Fuel tanker capacity
Both models differ in their fuel tanker capacity. Generally, the more fuel an engine can carry, the better it's considered.
Stihl ms170 can carry 8.5 oz of oil, while 171 can carry 9.1 oz. So, Stihl ms is superior in terms of fuel capacity.
Winner: Stihl ms171
I've used the data and facts to pick the winner, and you see ms171 wins in most features. That made it apparent that Stihl ms171 is better.
---
Chain oil tanker capacity
Chain oil is important to lubricate the chainsaw. The more the oil tanker carries, the longer it can lubricate the chainsaw and keep the saw functioning properly.
Sthil ms 170 comes with a giant oil tanker with a weight of over 8.5 oz. At the same time, the ms171 weight is only 6.1 oz.
Probably Stihl was trying to cut the weight as it is already higher than ms170, so they might have done this to keep the weight in check.
Winner: Stihl ms170
---
Is Stihl a good brand?
So, you are pondering whether Stihl is a reliable chainsaw brand.
Well, Stihl is a good and popular saw manufacturing company based in the US. It was founded in 1974 and currently has 1900 employees working for them. Stihl has more than 10,000 retail dealers throughout the USA. Their product is sold in over 90 countries worldwide.
The Final Thoughts
With that, you have almost reached the end of the Stihl ms171 vs. ms170 comparison. Both models are great in terms of handling light woodworking projects. So, if you are looking for a chainsaw for small, lightweight tasks, you can choose one of them.
Throughout the post, I've shown you an in-depth comparison of the features each of the brands offers. Although it's hard to say one chainsaw is better than the other, I had to pick one.
So, if you are confused about getting a chainsaw from either of the items, go for Stihl ms171.