Stihl chainsaws are well known for their modern design and quality chainsaw. The brand comes with a wide range of chainsaw models.
Each model has something unique in them and lots of similarities also. So, if you don't know the nitty-gritty about both models you can't distinguish the differences. Which will lead you to take bad buying decisions.
And, you don't want so, right? It is for this reason that you want to compare Stihl ms250 vs ms271.
In this article, I'll go over each of the specs of both saws and illustrate which features each other distinguishes. Finally, I will share my thoughts on which might be better for you.
So, if you're interested, read on.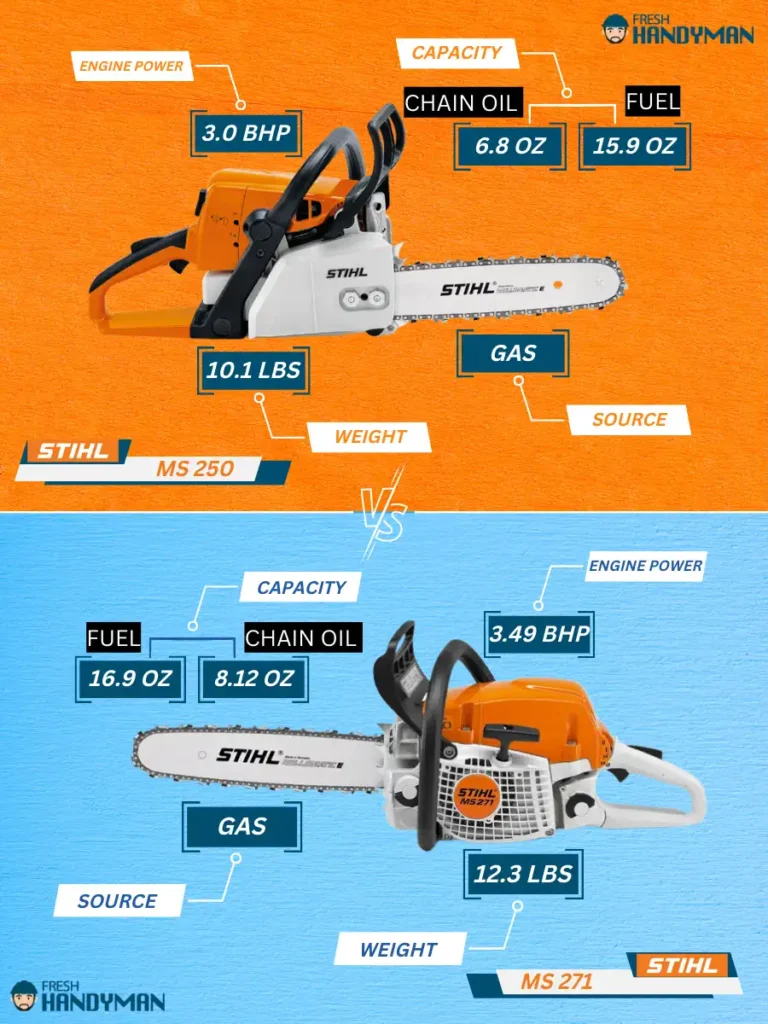 Comparison Table with Specs Between Stihl MS250 and MS271
| Key Factor | Stihl MS 250 | Stihl MS 271 |
| --- | --- | --- |
| Power | 3.0 bhp | 3.49 bhp |
| Weight | 10.1 lbs | 12.3 lbs |
| Source | Gas | Gas |
| Chain Oil Capacity | 6.8 oz | 8.12 oz |
| Fuel Tank Capacity | 15.9 oz | 16.9 oz |
| Price | CHECK LATEST PRICE | CHECK LATEST PRICE |
Stihl MS250- Features
Ms250 is one of the famous chainsaws from Stihl made in the USA. In this section, we will go in-depth about its different features.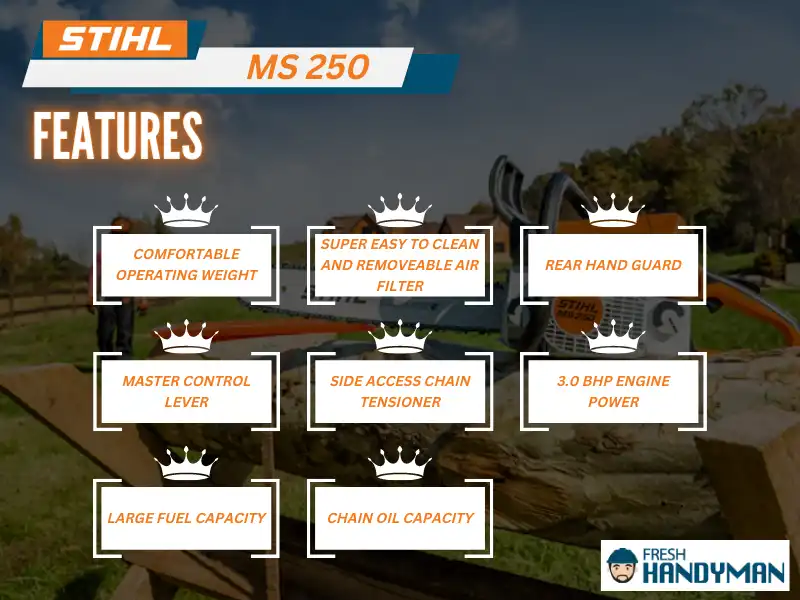 Weight
The weight of ms250 is 10.1 lbs. The MS250 is an older model, and it also weighs less than the MS271.
The weight of ms250 is lower than ms271 and this implies that the saw of this model will be lighter. So, it's apparent that ms 250 will be more comfortable to operate.
Air filter
The model comes with an air filter, which is super easy to clean and remove. 
Rear Hand Guard
Rear hand guard ensures safety while operating. Since you are using a chain saw which is a high-speed precise cutting tool, you must have to be alert while using it.
Stihl ms250 comes with a rear hand guard which ensures your hand doesn't get in touch with the chainsaw.
Master Control Lever
The master control lever act as a central role to control the throttle and switch.
It's an easy-to-use single lever, that operates the choke, starting throttle lock, and on-off switch. The operator must pull the throttle trigger before moving the master control lever to the choke position.
Side Access Chain Tensioner
If you think you want to adjust the chain saw with your bar wrench, guess what you have to do?
You need a side-access chain tensioner that will allow you to adjust your chainsaw without having to tweak the guide bar adjustment screw.
Power
The greater the engine power, the higher the cutting efficiency would be. So, why its important to have chainsaws with high engine power.
Stihl ms250 has an engine with a power of 3.0 bhp. This is not bad, although there are other chainsaws that offer more horsepower. But it's definitely not a bad deal.
Fuel Capacity
A larger fuel capacity in the engine is always a plus. It is more convenient and enjoyable to work with the saw when the capacity is high since you do not have to refill the tank frequently.
Chain Oil Capacity
Chain oil is so important for a chainsaw as they keep the saw up and running. Chain oil keeps the different parts of the gas-powered chainsaw functioning.
Ever start the automatic oiling, chain oil capacity becomes a great feature to consider.
When automatic oiling was not introduced, oil had to be put into a chainsaw manually, which was a tedious process.
Stihl MS271 Farm Boss- Features
In this section, you will get to know all the significant features Stihl ms271 offers. Since ms271 is a comparatively latest model than its successor, there will be a lot of features added or removed here.
Want to learn them all?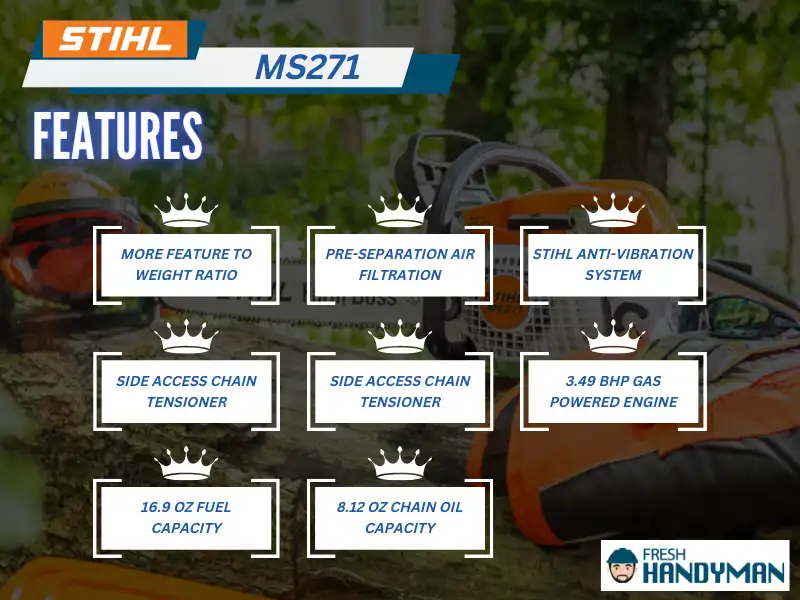 Weight
The weight of the Stihl ms271 is greater than ms250. With a weight of 12.3 lbs.  it offers more features than the other model.
However, higher weight will increase the operator's fatigue and results in decreased comfort.
But probably the brand thoughts about adding more features by sacrificing the weight.
Air Filter 
Ms 271 offers pre-separation air filtration. What's the benefit will it beget?
Well, it will save you from tireless cleaning of the filter over and over.
Taking advantage of this technology doubles the time between air filter cleanings by boosting the efficiency of the engine's filter system. Before it reaches the air filter, the air drawn into the engine undergoes centrifugal separation, which separates the heavier dirt particles.
As it separates heavier particles before the air filter, it captures less dirt and decreases your cleaning effort.
Anti-Vibration
Outdoor power equipment handheld by STIHL is designed to minimize vibration levels. With STIHL's anti-vibration system, you can work more comfortably and reduce fatigue.
Vibration in chainsaw increases fatigue level and decreases productivity.
Side Access Chain Tensioner
You see this is a common feature both of the models come with. This is a handy feature that allows changing the chainsaw just using a bar wrench.
Power
Sthil ms271 is a gas-powered chainsaw. The engine power of this chain saw is 3.49 bhp which is pretty decent.
And the power is sufficient enough for smooth woodworking operations.
Fuel Capacity
Everybody hates repeating the same task, and if that is refueling in a close interval, that's more annoying.
So, you can understand the importance.
And the fuel capacity of ms271 is 16.9 oz which is a great amount. Unlike other chainsaws in this range, this model comes with a higher fuel tank capacity.
Chain Oil Capacity
The same goes for chain oil tankers. In the event of oiling on the chain saw manually is not a relaxed idea, right?
So the oil capacity of ms271 is enough? Yes, the capacity of the ms271 chain oiler is 8.12 oz. which is enough in this range.
Stihl MS250 VS Stihl MS271: All the Differences
So far, we have learned the different features of Stihl ms250 and ms271 in detail. But, what do they differ from?
Stihl ms250 is an older model, and ms271 is a new model, so it's obvious that there will be something unique in the latest model. Also, since both models are a part of the same "ms" series, there shouldn't be a drastic change in features.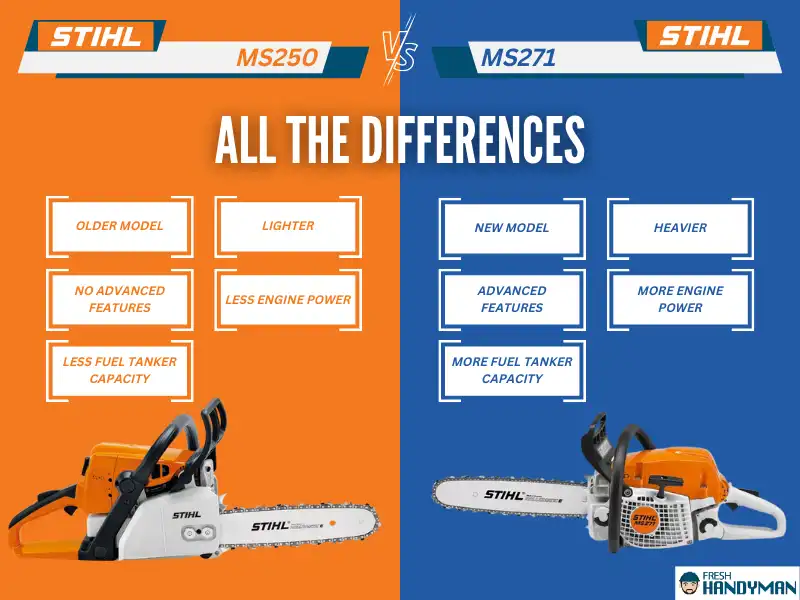 Let's analyze it bit by bit. First comes weight. You see, the weight of the older model is lower than the latest model, which is a good point for user comfort operating the chainsaw. 
In hindsight, the ms250 is lightweight and lacks some advanced features. While mss271 weighs more, it will be less comfortable to operate than ms250 but will be more featureful as it weighs more.
And, what about power? There is a substantial difference in the engine power. Of the models ms250 and ms271, the older one lags. The new model of the ms series ms271 stays ahead of ms250. ms271 has an engine power of 8.12 oz. Whereas 3.0 is for the other.
There is a difference in the fuel tanker capacity also. The new model also wins here. The fuel capacity of ms271 is greater than ms250.
Despite their differences, they share many similarities as well. For example, both models offer air filters, anti-vibration, and side-access chain tensioner features.
MS250 VS MS271: Which Is Better?
So, you are looking for the best one. Well, it's tough to say any of these are better than others because both models come from the same brand.
But since you are hellbent I must have to pick the one from the two. So, let's break down each feature point.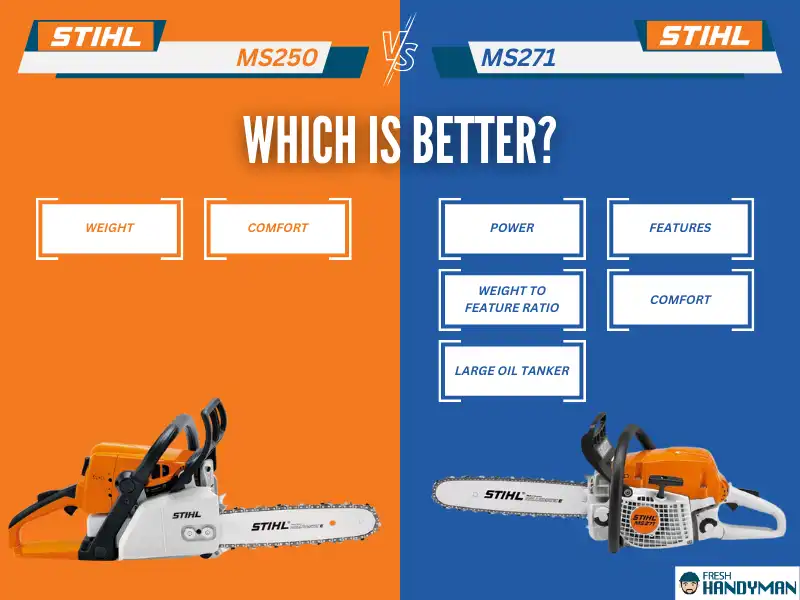 Power
If the engine power is low it won't be able to cut big trees and the cut won't be precise either.
Of both models, ms271 offers a superior engine. With a BHP of 3.49, it surpasses its previous model of the series.
Winner: MS 271
---
Features
How many features a chainsaw offers can be a great quantitive measurement to compare.
We see here again the latest model surpasses the proceeding model with a whopping dozen of features.
Winner: MS 271
---
Weight
The heavier the chainsaw would be hard it would be to operate. It also hinders portability. So generally, higher weigh chainsaws are not pleasant if it has no special features.
In the event of these two, ms250 is lighter than the counterpart making it easier and more comfortable to operate.
However, ms271 weighs more because it comes with tons of features which made it a little bit higher. If I take that into consideration, it's fair to adjust such little difference in weight.
Winner: Tie
---
Comfort
If you can't use a product with ease, there's no point in using that. Because you can't make use of that comfortably, right?
If I analyze this, I see both of the models are easy to operate and got no such things that hinder operating comfort.
Although ms271 weighs more which is negligible.
Winner: Tie
---
Oil tanker
There are two types of oil tanker in chainsaws. One is an oil tanker and the other is a chain oil tanker.
ms 271 has more capacity in either of the tankers. ms 271 has a capacity to carry 8.12 oz in chain oil tanker and 12.8 oz in fuel tanker whereas ms250 can carry at least 4oz less than these at both tankers.
Winner: MS 271
---
Also Read: Stihl MS 171 Vs MS 170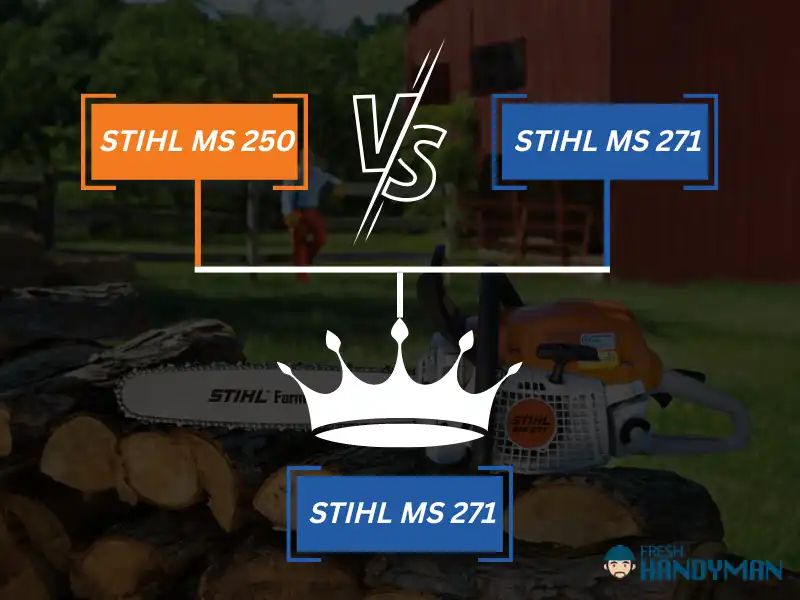 FAQs
Is the Stihl Ms 250 a Good Saw?
Yes, undoubtedly, ms250 is a good saw. In fact, in many features, it's really better than some latest models.
Who Makes Stihl Chainsaws?
Stihl International GmbH is a US-based manufacturing company that makes Stihl chainsaws.
The Final Verdict
I don't know how you manage to come along the way, but since you did I'm assuming you read the full post. In that case, I am sure you have got a thorough idea of the Stihl MS250 vs MS271 comparison.
From the comparison, I can't say one is substantially better than the other. Both of the chainsaws are great. But, if you ask me to pick one from the two, I'd definitely go for the latest model MS271.