At first glance, I was unable to see any differences between the MS 391 and 362 chainsaws. However, as I dug deeper, I found that these two chainsaws are clearly different in quite a few ways.
The Stihl 391 and 362 chainsaws differ primarily in displacement, engine power, and weight. Moreover, the 362 unit is more of a professional saw compared to its competitor MS 391.
In the article, I will describe the differences between these products, point out some similarities, and answer relevant questions.
Let's get started, shall we?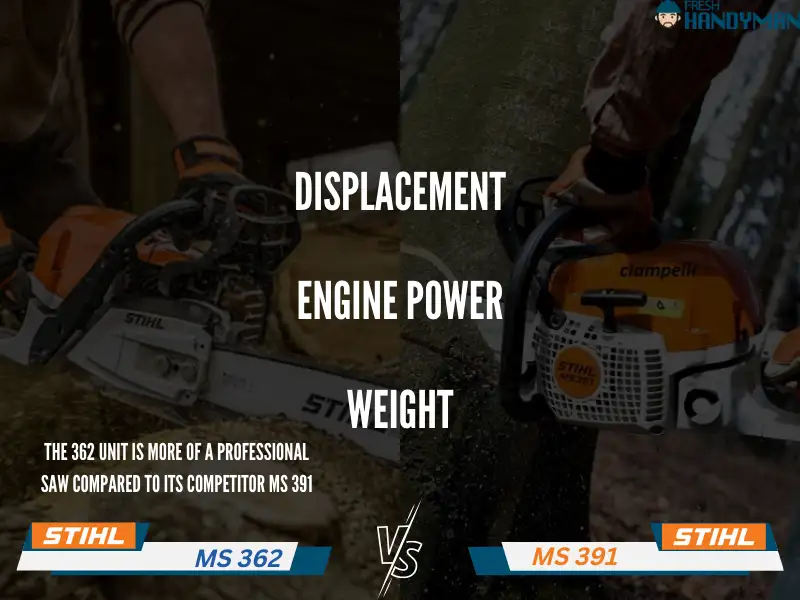 Stihl 391 Vs 362 Specs and Comparison Table
| Key Factor | Stihl MS 391 | Stihl MS 362 |
| --- | --- | --- |
| Weight | 13.67 lbs | 12.3 lbs |
| Displacement | 64.1 cc | 59 cc |
| Compensating Carburetor | Available | Not Available |
| Decompression Valve | Not Available | Available |
| Price | CHECK LATEST PRICE | CHECK LATEST PRICE |
Differences Between MS 391 and MS 362
Here are the five most notable differences between the Stihl 391 and 362 saws.
1. Weight
Weight is a crucial factor to consider when buying a chainsaw. The heavier a saw is, the more effort is needed to handle it.
With a weight of 13.67 lbs, the MS 391 is quite heavy. Compared to that, the MS 362 is slightly lighter, weighing 12.3 lbs.
As you can see, there is around a 1.5-pound weight difference between them. Although it is a small number, it may seem overwhelming when you are bucking a tree for hours on end.
For example, the MS 391 will cause your hands to get fatigued faster.
Moreover, if moving the chainsaw often is part of your tree felling routine, the MS 362 will allow you to do that easily, thanks to its lightweight.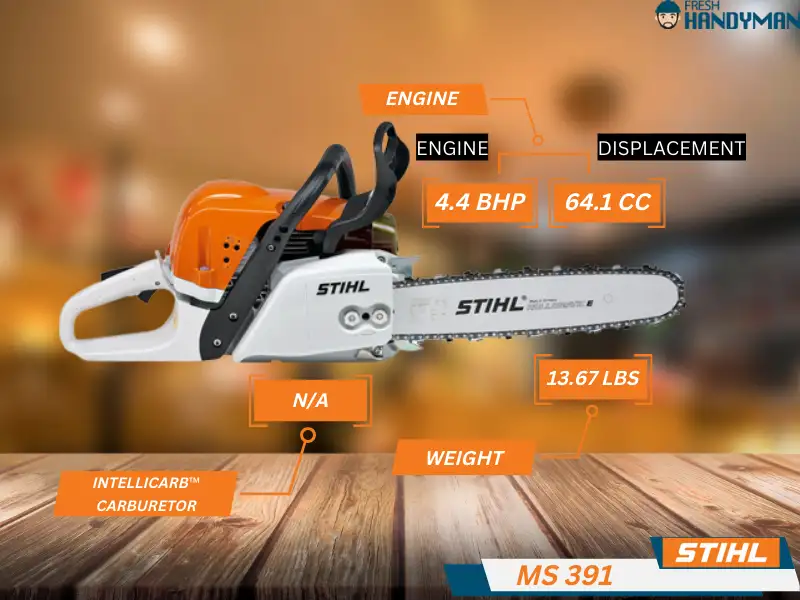 2. Power
One of the major differences between the Stihl 391 and 362 lies in their engine power. The MS 391 runs on a 4.4 bhp engine. On the other hand, the MS 362 boasts a 4.6 bhp engine despite being lighter.
However, there is a little twist. MS 391 chainsaws are 64.1 cc in displacement, while MS 362 models are only 59.0 cc. It means the 391 will definitely have a greater raw power output.
3. IntelliCarb™ Carburetor
A clogged air filter can cause overheating, poor performance, and even the chainsaw failing to start. This is where the IntelliCarb™ Compensating carburetor shines.
When the air filter gets dirty and there is not enough air for the carburetor, the IntelliCarb system kicks in and adjusts the fuel flow to make up for the low airflow.
The Stihl 391 is backed by this technology, meaning you won't face overheating or reduced performance due to an air filter. However, the MS 362 model misses the feature, so it might have such problems.
4. Decompression Valve
The MS 362 is equipped with a decompression valve that makes it easy to start the chainsaw. Unfortunately, the MS 391 lacks this valve. [Read Stihl MS 391 All Problems]
For those who are unaware, the decompression valve, also known as the 'deco,' temporarily lowers the pressure in the combustion chamber when you crank the saw. As a result, you can turn the saw on with a light tug of the rope.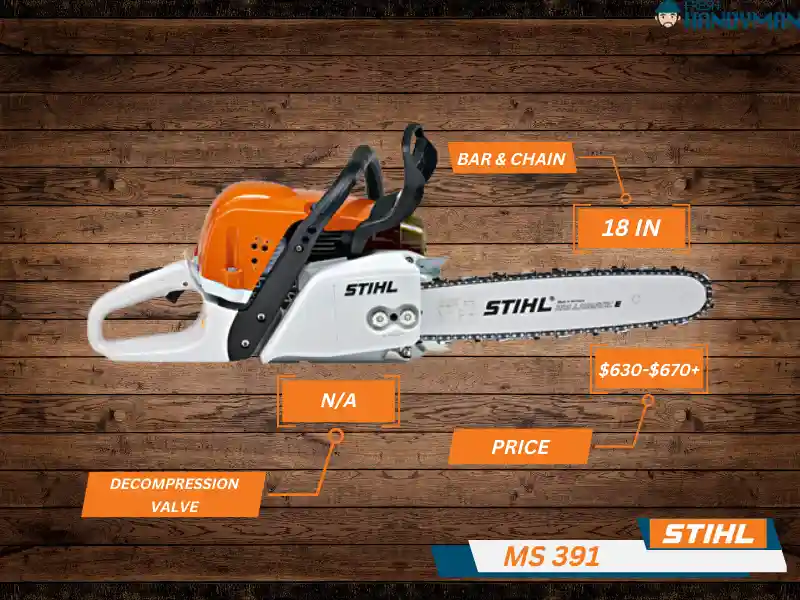 5. Price
Budget is certainly an important factor to consider before buying one of these products.
You will need to shell out around $630 to $670+ for the Stihl 391 saw with an 18-inch bar and chain.
On the other side, the MS 362 is a more expensive option, costing around $870+, and comes with an 18-inch bar as well.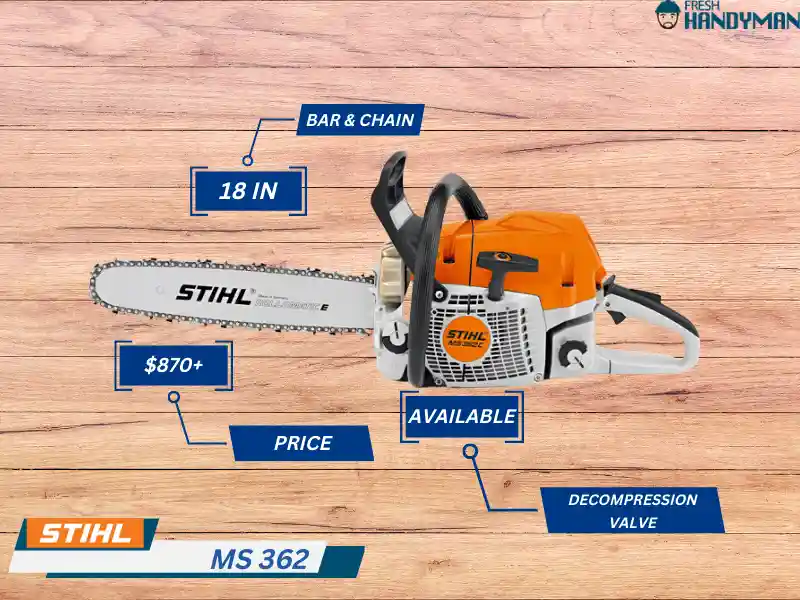 Also Know: Stihl 362 Vs 462
Similarities Between MS 391 and MS 362
The following three similarities between these saws stand out to me the most among others.
1. Gas-powered
Both the 391 and 362 chainsaws are powered by gas. There are a few benefits to using gas chainsaws over electric ones.
Perhaps the most significant advantage is that gas chainsaws can handle heavy tasks like cutting down large trees and turning logs into firewood.
2. Chain
You will have one of the finest chains named the STIHL RAPID™ Super 3 equipped with these products. It allows the user to cut aggressively and accurately with minimal vibration.
In addition, the chain is known for having a very low kickback rate.
3. Air Filtration System
The pre-separation air filtration system is included on both chainsaws. It increases the air filter's efficiency by allowing it to capture less dirt.
As a result, you won't have to clean the filter as often as before.
Pros and Cons of Stihl MS 391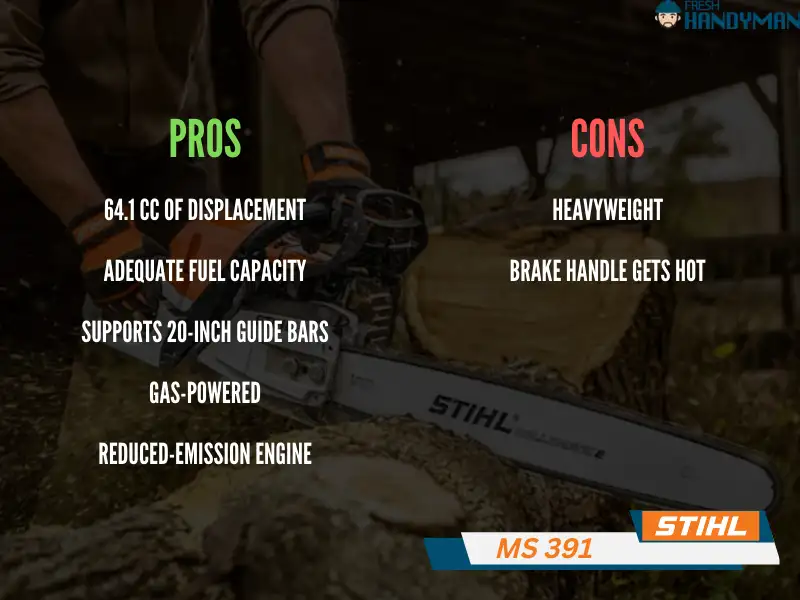 Pros and Cons of Stihl MS 362
Which One Should You Choose?
There are several reasons why the MS 362 is a better choice, including the engine power, decompression valve, and of course, the lightweight.
However, if you want a machine with more raw power and features like the compensating carburetor at a lower price, the Stihl 391 chainsaw is unquestionably a worthwhile investment.
Related: Stihl 311 Vs 391
Frequently Asked Questions
Is a STIHL MS 391 a Pro Saw?
While the MS 391 is not exactly a professional saw, it is still worth considering given its high torque, ease of use, and affordable price.
Is a 362 a Pro Saw?
The MS 362 has a great power-to-weight ratio, solid construction, and decompression valve, making it an ideal professional chainsaw.
What is the Biggest STIHL Chainsaw?
The biggest saw in Stihl's catalog is the MS 881 MAGNUM. This machine weighs around 21.8 pounds and requires a massive 25-inch guide bar.
Besides having the biggest size, it is also the most powerful Stihl chainsaw, with a displacement of 121.6 cc.
To Sum Up
With this article, I hope you have a deeper understanding of the differences between the Stihl 391 and 362. While some differences may seem minor, they will become quite noticeable with time.
Considering the power, lightweight, professional functionality, and decompression valve, the Stihl 362 definitely wins over the 391 in my opinion.
If you want to read more comparison articles, take a look at this one where I compared the Stihl 500i and 462 saws.