Getting a decent chainsaw is not easy. Most chainsaw purchasers are not aware of what to consider when purchasing a chainsaw.
Consequently, they end up overpaying for an unreliable item. It has been the trend in the market, and the users of this tool always end up in regrets.
Considering this massive problem, we bring a manual that will highlight the key aspects that you should look at when purchasing a chainsaw.
This article offers a well-detailed buyer guide; hence it will be easy to spot an effective and reliable tool. Moreover, it gives a sample of the most recommendable chainsaw in the market, the Dewalt 20v chainsaw review. Stick around to get all questions concerning a chainsaw answered.
SPECIFICATIONS
| | |
| --- | --- |
| BRAND: | DEWALT |
| WEIGHT: | 8.8 POUNDS |
| ITEM DIMENSION (INCHES) : | 25 × 9 × 9 |
| MODEL NUMBER: | DCCS620P1 |
| BATTERY: | 1 LITHIUM ION BATTERIES REQUIRED |
| POWER SOURCE: | BATTERY-POWERED |
If you are aiming at taking your profession in cutting to higher this is the ultimate tool you need. It has fantastic features that are greatly enhanced for stress-free operations. The handles and its lightweight ensure it is comfy and you have full control to prevent accidents. Moreover, it has a brushless motor to increase its efficiency.
Dewalt 20V Chainsaw Review
If you have been a regular person in the market, probably, you have heard about Dewalt max compact 12 in. Cordless chainsaw. This fantastic contains every good feature you may require in a chainsaw, making it the commonly used tool. So let's have the Dewalt 20v max chainsaw review to shed light on the excellent construction of this recommendable tool.
First, the Dewalt compact chainsaw has a brushless motor. A brushless motor is effective in chainsaws to increase its efficiency. Thus, this amazingly constructed chainsaw has a higher power output, fast cutting speed, and higher torque. Consequently, this fantastic feature makes it recommendable for both the hardwood and the softwood. If you consider maximizing the run time and doing the cuttings in the shortest time possible, purchase this never disappointing chainsaw.
Also, this excellently has a tool-free tensioning system. You may say that this is a common feature in the chainsaw, but if you get to see the approach of the Dewalt chainsaw, you will think otherwise. The system of this tool is greatly enhanced hence beyond the average level. This admirable system simplifies your interactions with the chainsaw. Thus you got the assurance of a simple operating chainsaw. The auto-tension prevents the over-tightening of the bar and the chain, therefore, guaranteeing their longevity.
Nevertheless, it is not a secret if you want to have a professional-like cut, you will need the Dewalt compact chainsaw. Do you know why? If not, it is because of the high-level bar and chain construction. Moreover, it has an effortless bar tightening knob. Hence, its usage is a walkover and free from any possible breakdowns. Don't you like such an advanced tool? Surely you do. Then also, remember that you don't require a huge budget to get this tool. It has a wallet-friendly price tag and is widely available in the world. Furthermore, the repair parts of this chainsaw are also available in the market; hence no problems at all when you require a repair part.
The Dewalt 20v chainsaw is a user-friendly item with its compact and lightweight design. It weighs just 8.8 lbs. It reduces handling fatigue while using it. Besides, it has a compact design; thus, its storage takes a little space. That rare feature makes it the standard tool for most woodcutters. Also, with its stress-free operations and handling, it is recommendable to amateurs in the cutting industry. Automatically, with its lightweight design, you are assured of clean cuts due to the complete control you have over the tool. Also, you can consider it if you will be spending long hours cutting.
Features
Greatly enhanced the auto-tension system

A compact and feather-light design

Brushless motor for maximum efficiency

Stress-free operations

Fantastic handles for comfort
---
Buyers Guide (Dewalt 20V Chainsaw):
This section highlights the key features that you should look for in a chainsaw if you need a chainsaw that will offer smooth operations to ensure that these features exist in professional crafting.
Lightweight Design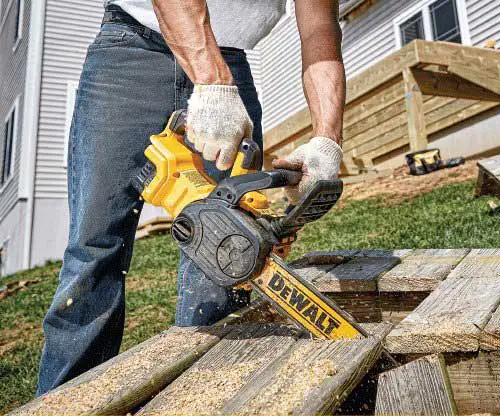 Cut Wood Using Dewalt Chainsaw. Image Source: Amazon
The weight of the chainsaw is very crucial. A heavy chainsaw means excessive fatigue in a short task. Besides, an ultra-light chainsaw reduces fatigue and is recommended for long continuous jobs. A good representation of an ultra-light chainsaw is the Dewalt 20v chainsaw. It weighs only 8.8lbs which is unrealistic for a tool of its level. But, mark you, it offers clean cuts and is very simple to use.
Motor
If you do not trouble with a newly bought chainsaw, ensure that the motor is in good condition. The engine should provide higher power output to ensure it offers fast speed while using it. Besides, the motor should be very sturdy if you cut fully grown and hardwood trees.
Operations Of The Chainsaw
The chainsaw operations are vital, especially to amateurs in cutting. Therefore, the starting of the chainsaw should be pretty simple and very fast. Also, the chainsaw design should promise the user complete control over the tool while using it. Hence, such a tool will ensure your safety and always offer the quality of cuts you require.
Handle Construction
The handle construction should be professional and safe for your hands. Most of the chainsaws have a wraparound design for the handles. Such a design ensures that the tool will not easily slip out of your hands. Also, the handle should be very soft to avoid blisters and friction. To be on the safe side, ensure that the construction of the chainsaw handle is well done.
Frequently Asked Questions (FAQs)
Why should I trust this guide when purchasing a chainsaw?
The trigger of this guide is the countless times that I have bought a disappointing chainsaw. Therefore, I resolved to do outstanding research to ensure that I end these disappointments. The contents in this article come after intensive research with professional users of the chainsaw. Therefore, you can confidently trust this manual and follow the given principles when purchasing a chainsaw.
What should I consider to ensure that my chainsaw is safe from accidents?
Accidents are prone while using a chainsaw if the user does not have complete control over the tool. Also, if it is your fast time to handle a chainsaw, ensure you get guidance from an expert. To validate that you have complete control over your tool, ensure that the construction of the handles is not faulty. The handles should stick in your hands while using the device. Preferably, consider a wraparound design for the grips.
Can I get a fast-speed cutting chainsaw?
Yes, you can get a fast-speed cutting chainsaw. However, there are some factors that you should consider to ensure that. First, fast, have a sturdy motor for your chainsaw. Such an engine increases the power output of the machine and consequently fast speed. Also, a higher torque will be an advantage because it will increase that machine's efficiency.
Which is the most recommendable chainsaw in the market?
The most recommendable chainsaws are from the Dewalt company, specifically, the Dewalt 20v chainsaw. This tool has a construction that is beyond the average level. Thus it meets all the user expectations, and its output is
admirable. To learn more about their chainsaws, you get to take a look at the Dewalt chainsaw review.
Conclusion
Chainsaws are handy tools when it comes to cutting. However, not every chainsaw in the market will meet the user requirements. A user-satisfying chainsaw should be power-saving. It ensures a reduction in maintenance costs. Also, its price should be wallet-friendly. The top unbeatable feature is the motor and the operations.
A recommendable chainsaw should have a brushless motor for higher power output and consequently higher torque and fast cutting speed. Moreover, the operations of the chainsaw should be stress-free. To prove stress-free procedures consider its weight and the handle. It should be ultra-light with a very comfortable grip.
The best representation of a professionally constructed chainsaw that will offer stress-free operations is the Dewalt max XR compact cordless chainsaw. It has all the rare features needed for an expert chainsaw, such as the brushless motor.
Besides, this tool has very comfortable handles and a compact design. So, if you aim to take your skills in cutting to a whole new level, do not hesitate to purchase this chainsaw. Also, you can go through this article to get the answers to the frequently asked questions and the factors you should consider when purchasing a chainsaw.