Short Review
SPECIFICATIONS
| | |
| --- | --- |
| BRAND: | HUSQVARNA |
| WEIGHT: | 9.8 POUNDS |
| ITEM DIMENSION (INCHES) : | 37 × 9 × 11 |
| SERIES NAME : | 460 RANCHER |
| ITEM MODEL NUMBER : | 440E II |
| MOTOR : | 2.4 HP |
| ENGINE DISPLACEMENT : | 40.9 CC |
| IDLE SPEED : | 2900 RPM |
| MAXIMUM SPEED : | 9000 RPM |
| POWER SOURCE : | GASOLINE |
| AIR FILTER : | YES |
| CHAIN SIZE : | 16 INCH |
| ENGINE TYPE : | 2 CYCLE |
| TOOL-LESS CHAIN TENSIONING : | YES |
| HANDLE TYPE : | REAR HANDLE CHAIN SAW |
| START TYPE : | PULL START |
| CASE INCLUDED : | NO |
| WARRANTY : | 2 YEARS LIMITED |
---
Husqvarna 440E is the successor of another popular X-Torq gas chainsaw, the 440. While most of the features of 440E are identical to the 440, there are a few differences that set the latter apart.
As far as performance is concerned, anyone looking for some yard cleanup or light pruning should pick this chainsaw up. The 440E is an amend-mistakes version of the 440.
That was a general opinion, though. I'll outline all the nitty-gritty details of this chainsaw in this Husqvarna 440E review. The aspects I'm going to highlight are as follows-
Motor Power

Cutting Performance

Safety Features

Tasks Suitable for this Chainsaw

Additional Features
So, you'll get a comprehensive idea about what this chainsaw can bring to the table in terms of performance for the price paid. But, then, let's get down to business.
However, there are a lot of different Husqvarna chainsaws with distinct features. The 440E is just another mid-range chainsaw in the massive arsenal of Husqvarna.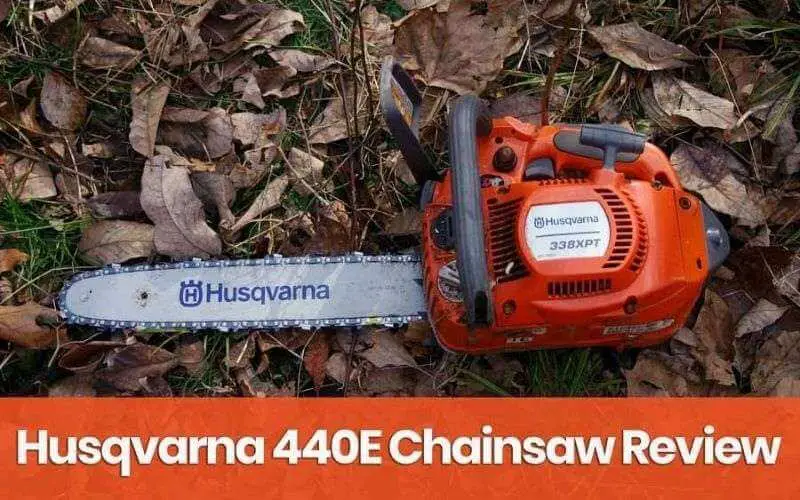 Product Overview (What Makes Husqvarna 440E Chainsaw Stand Out)
As I've said earlier, the Husqvarna 440E is a 16-inch gas-powered chainsaw, and it's the updated version of 440. Husqvarna made some modifications and made it better than previous models. This little chainsaw is full of nifty features and a user-friendly operating system.
Anyways, this 440E Husqvarna review will cover everything you should know about this chainsaw to make an educated decision. All the aspects I've mentioned earlier will be covered in extensive detail.
It's Lightweight & Efficient (Flexible Cutting Performance)
The Husqvarna 440E is just 9.8 pounds in weight, making it a highly portable chainsaw ideal for house-owners who want something reliable for doing simple cutting jobs. What the 440E offers are simplicity.
That's why it's viral among non-professional users, especially homeowners who prioritize safety over everything else.
Besides, the 440E chainsaw comes with Husqvarna's patented X-cut chain and an X-force chainsaw bar. These two features are put together to increase the chainsaw's cutting efficiency.
As I mentioned before, this saw is just around 9.8 pounds. Therefore, it's lightweight and portable. So, thanks to the minimal weight of this chainsaw, the user can move around the yard/garden to get some serious work done.
When I used the chainsaw, I didn't feel the weight bog me down. As a result, I was able to get some precision cuts in without putting in a lot of effort.
However, the weight does compromise performance a bit. Compared to the Husqvarna 445 (a few models ahead of the 440E), the 440E takes a hit on the motor power.
Iconic X-Torq Feature (Husqvarna's Signature)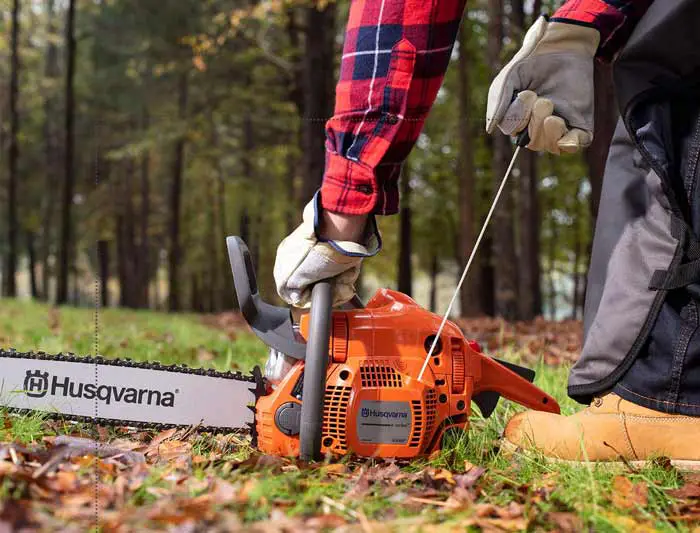 Husqvarna Chainsaw Start System
The "X-Torq®" technology is a signature Husqvarna feature, and the Husqvarna 440E is also equipped with it. The X-Torq tech is what makes Husqvarna chainsaws a cut above the rest.
What the X-Torq® technology does is that it makes the motor extraordinarily fuel-efficient and reduces the toxic fumes production. Fuel efficiency helps you reduce your cost, and you get a better user experience with fewer emissions.
Besides, it helps to keep the environment clean. So, when you're working with this chainsaw, you can do it without any guilt of harming the environment.
With that said, the X-Torq boosts the chainsaw's starting capacity as well. The saw can dive into action almost immediately when you pull the cord.
However, as you use the chainsaw over time, the instant start will lose some of its magic.
It's natural- no matter how much you maintain the chainsaw, it's a machine, and age will take a toll.
Anyways, the easy start that X-Torq brings to this chainsaw is helpful for beginners. You know, most chainsaws need a few yanks to get started, but the Husqvarna 440e with this technology gets started in 2 jerks (depends on your upper-body strength*).
It's a noticeable advantage for a chainsaw because starting a chainsaw can sometimes be tricky! Any seasoned chainsaw user is probably familiar with this issue.
Finally, the "X-Torq®" technology is equipped with a stop-controlling system that ensures the safety of the saw engine and reduces the risk of oil leaks in the machine.
As a result, the engine lasts longer than other ordinary chainsaws. Besides, different versions of the Husqvarna 450-rancher are also blessed with the X-Torq tech.
Powerful Engine (Everything about the Motor Power)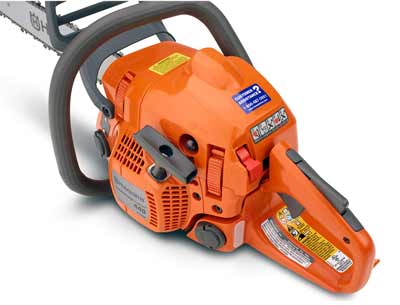 The Husqvarna 440E chainsaw is equipped with a powerful 2.4 HP motor that produces an idling speed of 2900 RPM and a maximum speed of 9000 RPM.
The motor is powerful enough to do simple light to medium tasks. However, the 440E isn't just a light-duty chainsaw.
I've used it to cut right through a 15-inch-thick log. It took me a while, but it was a job well done.
The engine displacement of this chain saw is 40.9 cc. It has a 2-cycle engine with one cycle using gas and the other operating on fuel. However, the fuel-to-gas has to be appropriately maintained for maximum performance.
Most of Husqvarna's X-Torq-based chainsaws prefer gas to oil ratio of 50:1. So, so that's the number you need to keep in mind.
Also, the gas you use for this chainsaw should have a high-octane rating. I know people want to cut corners here, but the chainsaw will suffer in the long run if you follow a cut-corners route. So, the minimum octane rating should be 87.
However, if you want your chainsaw to serve you for years, the octane rating should hit 89 or higher. This chainsaw is designed primarily for light jobs, not heavy or medium-duty works.
However, given enough experience and skill, you can take a shot at handling relatively challenging cutting projects.
Still, the design is catered to homeowners for cutting small trees or tree branches around the yards. And this chainsaw excels at it. That's why it's so popular among DIYers.
Easy Operating System (Suitable for Beginners)
The Husqvarna 440E offers easy-to-use handling and operation.
This chainsaw is designed for mainly non-professional users, and that's why Husqvarna has a simple and easy operating system so that even a beginner can easily use the chainsaw.
In addition, this chainsaw comes with a guide bar as well. So, there will be less friction loss and more accurate cuts.
This saw also offers an automatic chain oiler. This system maintains a steady supply of bar and chain oil. So, constant oil delivery ensures safe and effective use and prolongs the life of the chainsaw.
So, you don't need to spend a lot of time on maintenance. You just need to refill the oil bar from time to time.
Then, the oiler should take care of the rest. I am a big fan of this feature. Other brands like Poulan also offer a similar automated chain oiling feature.
However, Husqvarna's system seems to have the edge. So, in this Husqvarna 440E 16-inch review, I must admit, that this is a convenient feature.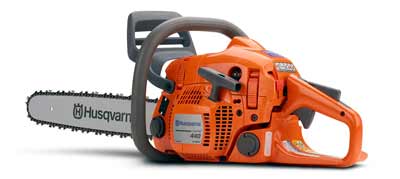 Anti-Vibration Technology
Vibration is a universal problem faced by thousands of chainsaw users, and I must say- Husqvarna did a commendable job this time about keeping it to a minimum.
The rear handle vibrates around 4.3 m/s2, while the number for the front end is 3.9 m/s2. Husqvarna uses the LowVib technology to keep the vibration numbers at a minimum.
Still, as the chainsaw ages, the vibration-controlling features will grow weaker. So, if you keep working for long hours, it can bite your hands pretty hard. That's why I would suggest looking into anti-vibration gloves to be on the safe side.
Safe and Secure (The Many Safety Features)
As I mentioned earlier, this saw's "X-Torq" technology offers some safety features. However, as homeowners often aren't comfortable using a chainsaw, Husqvarna paid for safety. So, they added a few bonuses as well.
The 440E chainsaw comes with an inertia-activated chain brake. This brake ensures the user's safety while operating the tool. Besides, there is a right-hand guard that'll protect your hands from any unwanted broken-chain accidents.
If you're afraid of sudden unintentional chainsaw startups, the throttle trigger lockout is there to put your mind at ease. Finally, a chain catcher is placed as backup protection if the chain ever falls off from the guide.
Quick-Release Air Filter
The Husqvarna 440E comes with a quick-release air filter facility. As the name suggests, the air filter prevents dust and debris from clogging up the engine or chain.
On the other hand, quick-release refers to the relative comfort with which you can reach the air filter. So if you want to maintain the chainsaw, just go through a few plastic clips, and you'll find the air filter.
Let's not forget about the centrifugal air injection. It provides an added layer of protection. The air-filer is the secondary protector. The air injection blows off debris, dust, and other particles before it can reach the air filter.
Tool-Free Adjustment
This feature is the core difference maker between the 440 and 440E. While the 440 has its perks, the tool-free adjustment gives 440E an advantage over its predecessor. This feature does that- it allows you to adjust the chain tension without using any external tool.
The process for adjusting the chain tension is finding the bar clamp, loosening it by pulling a handle adjacent to the clamp, using the thumbwheel mechanism to find the proper chain adjustment, and putting things as they were before.
While this feature won't come in handy in every situation, it's still a convenient addition. It allows you to take the chainsaw out for a spin without carrying a toolbox around you all the time.
Maintenance Made Easy
This chainsaw is not only easy to operate, but it's also easy to maintain too. You don't need to spend much time on it. With the automated lubricator, tool-free chain adjustment, and quick-release air filer, the tedious maintenance process becomes manageable.
If you're a beginner, I'd suggest reading the manual carefully before breaking the chainsaw down. Don't worry. The process is simple, and the detailed instructions are enough to help you out.
Still, it can take up considerable space in your garage, but not as much as the 440 because of the 16-inch chain length. On that note, you have the option of using chains ranging from 13-inches to 18-inches.
It only measures 37x9x11 Inches. So, you can store it in your garage easily while not in use. You can buy a case for the saw separately and put it inside. It will add to the cost and protect the chainsaw from rust and corrosion. Plus, it'll make it easier to move the big machine around.
Product Features (Husqvarna 440E Chainsaw):
X-Torq®: Husqvarna's iconic technology for fuel efficiency and reduced fume emissions.

Tool-Free Adjustment: Simple side-mounted chain tensioning system for quick chain adjustment without tools.

Air Filter: Quick-release air filter for easy cleaning and maintenance.

LowVib: LowVib tech reduces vibration and offers longer use time.

Automated Lubricator: Automatic chain oiler keeps the chains lubricated with minimal supervision.

2-Cycle: 2-cycle motor packs enough power for light to medium jobs. It can take care of heavy-duty tasks provided the user has sufficient experience.

Chain Brake- Chain brake prevents kickback and accidental chain snag/tear.

Air Injection: Pushes dust and debris away before reaching the air filter. Works as an added layer of protection.
Husqvarna 440 vs Husqvarna 440E – Which One to Buy?
As the Husqvarna 440 and 440E are almost the same, people often ask, "Husqvarna 440 vs. 440E – Which one should I buy?"
If you want a complete breakdown of the two chainsaws, feel free to check out my comparative analysis.
Anyways, I'll still try to answer this question briefly. The Husqvarna 440 is one of the oldest 16-inch chainsaw models from Husqvarna. During its prime, it was a highly successful chainsaw for beginners and house-owners
. After a particular time, Husqvarna brought an upgraded version of their 440. They brought 440E with some new features because the users' requirements get diverse with each passing day.
The upgraded model is the one I'm looking at today, the Husqvarna 440E. So, according to the laws of natural evolution, the 440E is a better version.
However, if you need a budget saw for simple jobs around your yard, I'd recommend the Husqvarna 440. It's good enough for simple light jobs and provides decent value for money. Although it's old, the performance is still kickass.
On the other hand, if you need more than just a simple saw and are equipped with modern features, the latest Husqvarna 440E should be right up your alley.
As I was saying, Husqvarna 440 and 440E are two different versions of a single chainsaw model. Husqvarna designed the latest version according to the needs of the users. Then, they adjusted the newer version according to user feedback.
So, if you are in a pickle about which one to choose between 440 and 440E, think carefully about your needs first. Match your needs with what each chainsaw has to offer before deciding. But if both can fulfill your requirements, I think you should go for 440. That's because there is no need to spend extra bucks!
If you aren't on board with the Husqvarna line of chainsaws, you can always look into Echo's collection. A comparative breakdown between the two brands will give you a clearer idea.
Frequently Asked Questions (FAQ):
Does it come with a carrying case?
– Unfortunately, no. It doesn't come with a carrying case. You can buy that separately. However, it comes with a bar guard.
Does it come with a chain or do I have to buy it separately?
– This chain saw comes with a pre-installed saw chain. If you need to replace it, you must buy a chain compliant with the Husqvarna 440E separately.
Does this chain saw come with a tool-less chain tensioning system?
– Yes- the Husqvarna 440E offers an easy chain tensioning system.
Does this saw need any other tools?
– Well, you'll get everything you need in the box, including a scrench for tensioning the chain.
What is the power source of this saw? Gasoline, battery, or electricity?
– This chain saw model runs with the power of gasoline.
Final Verdict
The Husqvarna 440E has some quality-of-life improvements when compared to the older 440. I'm not saying the 440 is obsolete, but the latest version has a few neat tricks up its sleeve.
This Husqvarna 440E review should give you a comprehensive idea of the merits and shortcomings of this chainsaw. Now that I've reached the finish line, I will sum the whole thing up again.
If you have the budget and want a versatile chainsaw capable of performing not only yard cleaning tasks but some heavy-duty tree felling as well, the 440E should be the go-to option. It gives you more cutting options, has many safety features, and the tool-free adjustment makes it somewhat of a multi-purpose chainsaw.
I hope this in-depth discussion has given you some insights into the Husqvarna 440E. Now, think on it, sleep on it, and if the stars align (your needs and the chainsaw's offerings), you know what you should do. Cheers!
---
Read Also: