We know that choosing the right chainsaw can be a tough job, and it gets harder when there's Echo 501p Vs Stihl 261. And a common argument any chainsaw user has to make is which one tops the other. Even if you're an experienced user, you're likely to be torn between these two powerful chainsaws.
The Echo 501P is a lightweight chainsaw that's easy to work with due to its rubber grip handle. On the contrary, the Stihl 261 is an environment-friendly chainsaw that incorporates a few advanced features for an improved woodcutting experience.
In this article, we'll be going through the other differences in detail so that you can make an informed decision about which one is better than another. And then you can just pick the one that suits you.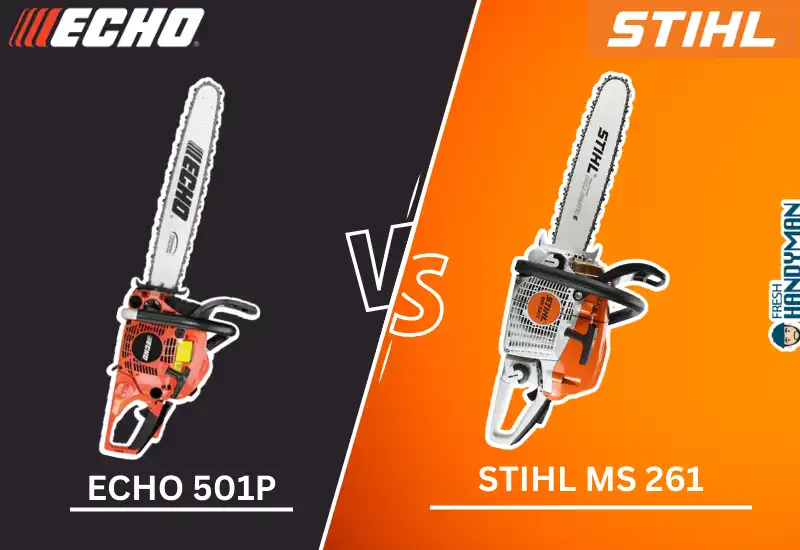 Comparison Table of Echo 501P and Stihl 261
The Echo 501P and Stihl 261 are two of the most popular chainsaws on the market, and they're both pretty great. But which one is right for you?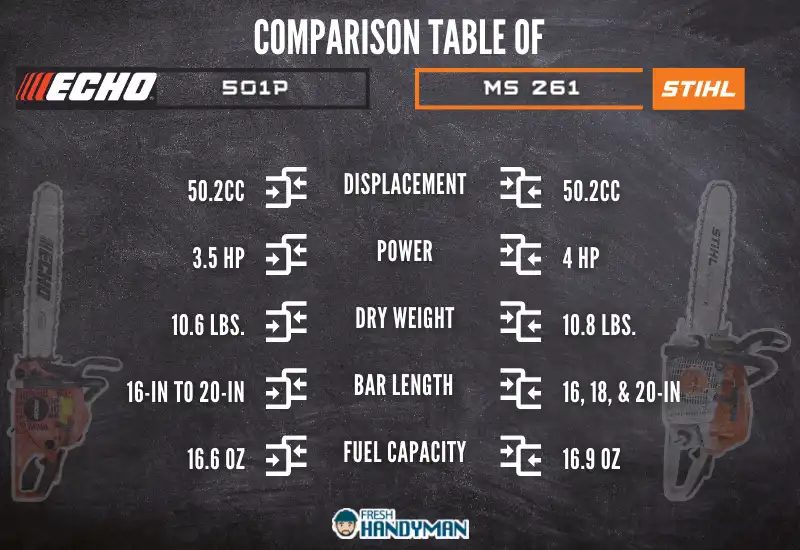 To help you decide, here's a side-by-side comparison table of their specs:
| Key Factor | Echo 501P | Stihl MS 261 |
| --- | --- | --- |
| Displacement | 50.2cc | 50.2cc |
| Power | 3.5 hp | 4 hp |
| Dry Weight | 10.6 lbs | 10.8 lbs |
| Bar Length | 16-inches to 20-inches | 16, 18, and 20-inches |
| Fuel Capacity | 16.6 oz | 16.9 oz |
| Price | CHECK LATEST PRICE | CHECK LATEST PRICE |
Differences Between Echo 501P vs Stihl 261: In-Details
Both of these chainsaws are both powerful, durable chainsaws that are great for professional use. However, there are some differences between the two that you should consider before making your decision.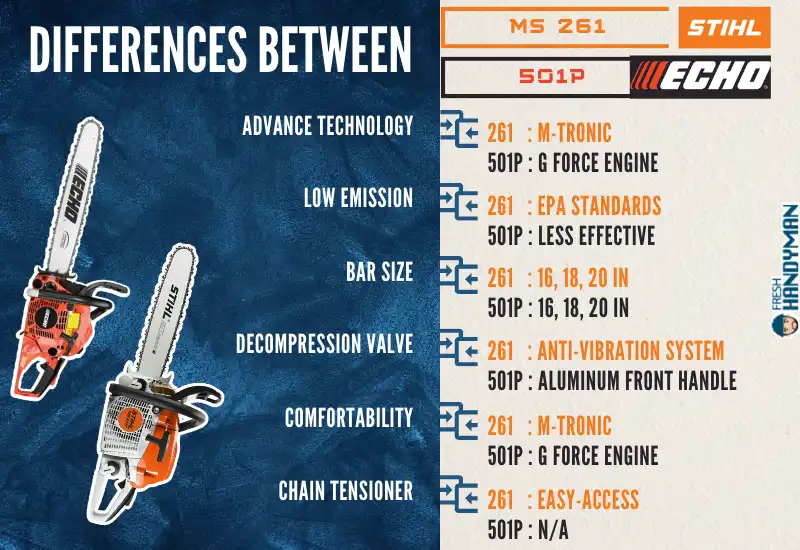 Advance Technology
The first difference is the technology used in these chainsaws. For instance, the Stihl 261 has an advanced technology called "M-Tronic" which automatically tunes your chainsaw to optimal levels. This is a helpful feature because it can save you time and money in the long run. 
The Echo 501P doesn't have this feature, however, it comes with a G Force engine that helps to extend the life of the air filter.
Low Emission
The Echo 501P and Stihl 261 Chainsaws are both built with powerful engines. But the Stihl has a low-emission engine that meets EPA standards, while the Echo's emission control is slightly less effective.
Bar Size
One of the most important things that separates one chainsaw from another is the size of the bar. The Stihl 261 is a powerful saw that can handle most types of wood with ease. It comes with a 20-inch bar, but you can fit an 18-inch or even a 16-inch bar if you need to.
Meanwhile, the 501P gives you plenty of choices when it comes to choosing which size is right for you as it comes with a 16- or 18-inch bar and a 20-inch bar option. So, they both can accommodate equal sizes of bar so far. 
Decompression Valve
When you're using a gas-powered chain saw, you want to be able to start it up as easily as possible. That's why both the Echo 501P and Stihl 261 have decompression valves—to make starting your saw easier and less time-consuming.
Comofrtability
The Echo integrates a front handle made of aluminum so that you can maneuver it with comfort. This is especially important if you're trying to get through a lot of work, or if you're working in a large space.
On the other hand, the Stihl 261 lacks an ergonomic handle. It does, however, include an anti-vibration system to help reduce the effects of vibration on your hands and arms.
Chain Tensioner
Tensioning the chain of a chainsaw is significant. And you can do that pretty easily with the Stihl 261 by utilizing a bar wrench, thanks to its easy-access chain tensioner.
The Echo, however, does not have this feature and instead requires you to do ½ turn to the two bar nuts in order to adjust the chain tension.
Comparisons Between Echo 501P and Stihl 261
Both of the Stihl 261 and the Echo 501P are excellent chainsaws, but several important distinctions may make one more enticing to you.
The Echo 501P and Stihl 261 chainsaws have a few things in common. Both are extremely lightweight with a subtle difference, weighing only 10.6 lbs. and 10.8 lbs., respectively. And you can start both chainsaws with ease.
Along with that handling and operating both the saw is a breeze, though Stihl stays ahead because of its anti-vibration mechanism. 
501P Vs 261: Which is Better?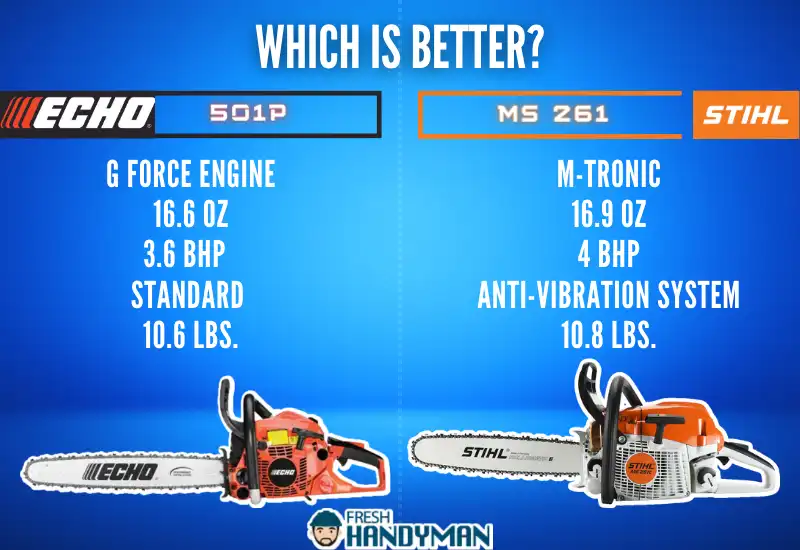 We're going, to be honest: we love both of these chainsaws.
But we do have to say that the M-Tronic system in Stihl 261 is a definite plus. It boosts performance, and it's something you don't get with the Echo 501P. On the other hand, Echo 501P has a G Force engine that makes the air filter last longer.
Plus, when it comes to the power of their engines, the Echo chainsaw offers 3.5 HP motors and Stihl 261 has a 4 HP motor. This means that you can use 261 to power through thicker wood with ease, and it won't bog down or slow down as easily when you're working with larger pieces of wood.
However, 501P also does offer enough power for most applications and is still able to cut through hardwoods with ease. In addition, it'll let you work with less fatigue while working outdoors over long periods of time.
FAQs
Can I cut wet wood using Stihl 261 chainsaw?
Yes, you can cut wet wood using the Stihl 261 without the fear of moisture making any adverse effect to the chopping process. Moreover, it doesn't confront the chainsaw with any more resistance, and cutting through it doesn't demand any extra work.
At which angle should I sharpen the chain of an Echo 501P chainsaw?
You should sharpen the chain of your chainsaw at 25-degrees and 35 degrees along with the pitch of the file being roughly 5 degrees off horizontal. This angle has the finest balance of cutting ability and endurance.
Wrap Up
If you're a person who enjoys working with wood without spreading harmful emissions in the air, you're surely likely to get the 261. At the same time, the 501P is for folks who want comfort while working for a long time.
With a little difference in specifications, the Echo 501P and the Stihl 261 are fantastic options for anyone looking to buy a chainsaw. These two wood chippers are sure to offer great performance year after year.
So, which one should it should be between Echo 501P vs Stihl 261? Well, it's up to you.