When viewed from a distance, the Stihl 441 and 461 seem somewhat alike. There is almost no difference in their weights, bar lengths, or chains. So, where does the difference exist?
The Stihl MS 441 and 461 chainsaws are vastly different regarding their displacement, fuel capacity, engine management system, and fuel consumption. They also differ significantly in how they deal with vibrations.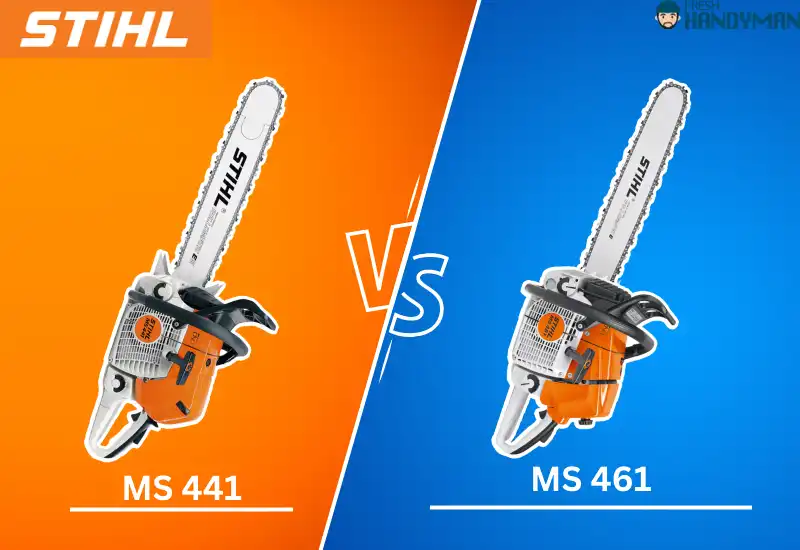 In the article, I will discuss each of these differences more thoroughly. I will also recommend a chainsaw from a personal standpoint and explain why I chose it.
Let's dive right in!
Features of Stihl MS 441
Here are a few of the key features of this chainsaw.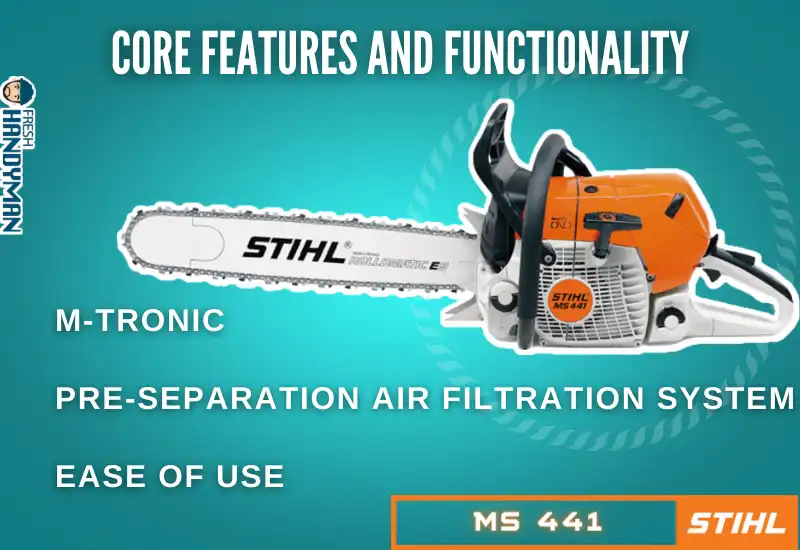 M-Tronic
The 441 CM uses Stihl's M-Tronic engine management system. It adjusts the engine automatically for optimal performance, enabling you to get the most out of your chainsaw.
Pre-Separation Air Filtration System
One of the features that caught my eye was the Pre-Separation Air Filtration System. It prevents contamination of the filter due to dust and debris from the cutting process.
Hence, you do not need to regularly clean the air filter.
Ease of Use
In terms of comfort, the Stihl 441 leaves no room for disappointment. The ergonomic design facilitates operation and use.
The power tool also features a low-vibration system that reduces fatigue.
Features of Stihl MS 461
Here are a few of the key features of this chainsaw.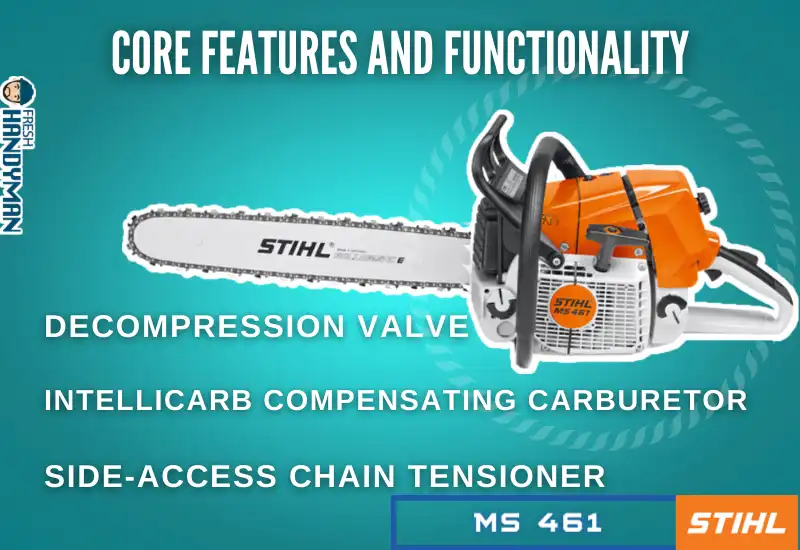 IntelliCarb Compensating Carburetor
The IntelliCarb system is one of the defining features of the Stihl MS 461. It optimizes the air-fuel mixture based on the conditions to ensure maximum performance.
Decompression Valve
Another significant selling point of the 461 is its decompression valve. This helps you start the chainsaw more easily by reducing the force required to pull the starter rope.
Side-Access Chain Tensioner
I have never found the guide bar to be an ideal location to tension the chain. Thankfully, the 461 unit offers a side-access chain tensioner. You can now tighten the chain with a wrench quickly.
Comparison Table with Specs for Stihl 441 and 461
| Key Factor | Stihl MS 441 CM | Stihl MS 461 |
| --- | --- | --- |
| Fuel Capacity | 24.5 oz. | 27.1 oz. |
| Displacement | 70.7 cc | 76.5 cc |
| Fuel Efficiency | Inconclusive fuel economy data | 20% better fuel economy |
| Engine Management System | M-Tronic Intelligent Engine Management | Doesn't have an automatic engine management system |
| Anti-vibration System | Spring anti-vibration | Rubber anti-vibration |
| Price | CHECK LATEST PRICE | CHECK LATEST PRICE |
Stihl MS 441 CM Vs 461: Key Differences
The following are six characteristics that make these chainsaws unique.
Displacement
What is the first factor you consider when evaluating a chainsaw? That's right; it's performance. And there is no better way to determine how well a saw performs than to consider displacement.
461 and 441 have a huge difference in displacement. The Stihl 461 packs an incredible 76.5 cubic centimeters of power, making it one of the most potent chainsaws available.
The 441 unit's 70.7 cc displacement is nowhere near the worst, but it falls far behind its competition.
Winner: STIHL MS 461
---
Fuel Capacity
The larger the fuel capacity, the less time you will spend refiling. Hence, I always check the fuel capacity to ensure it is sufficient.
The 441 features a tank with a capacity of 24.5 ounces. It's terrific, no doubt, but wait until you hear this.
With the 461 model, you get an enormous 27.1-ounce fuel tank. This container eliminates the need to refill during working hours constantly.
Winner: STIHL MS 461
---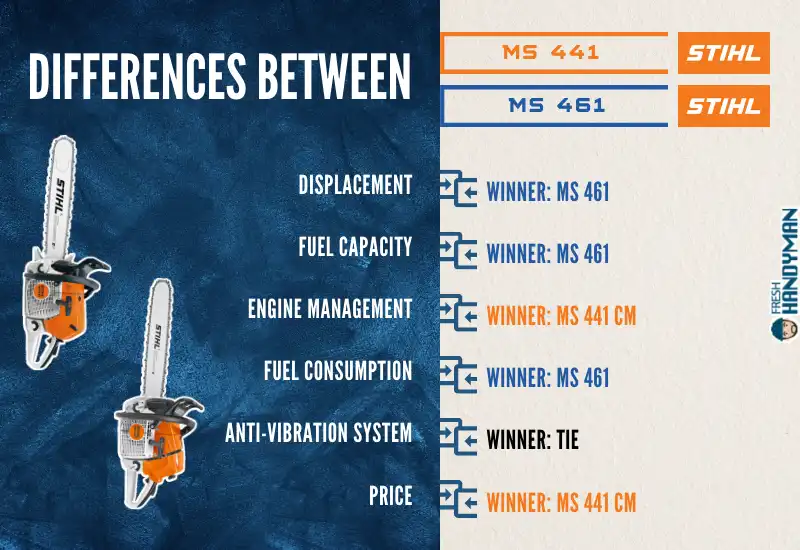 Engine Management
I acknowledge that the Stihl 441 lacks in several aspects in comparison with the 461. However, the 441 is simply unbeatable in one area. That's the M-Tronic feature.
It refers to an Intelligent Engine Management that performs the following functions:
Eliminates the need for carburetor speed adjustments
Makes up for dirty air filters
Adapts to fuel quality changes to maximize engine performance
In other words, with M-Tronic, the 441 becomes an autotune chainsaw that requires very little manual adjustment.
As for the 461 saw, it comes with IntelliCarb for adjusting the fuel/air ratio automatically. Nonetheless, this tech isn't as useful as the one included with the 441.
Winner: STIHL MS 441 CM
---
Fuel Consumption
Power tools are becoming more efficient as time passes. They are delivering more power while consuming less fuel than before.
One of those products is the Stihl 461 chainsaw. It will cut your fuel costs by 20% in comparison to previous chainsaws from Stihl. And by previous, I mean the 441 as well.
Winner: STIHL MS 461
---
Anti-vibration System
If you are a beginner with chainsaws, you probably don't realize how dangerous their vibration can be. When exposed to vibrations, loggers may experience hand fatigue, pain, and cyanosis.
It is also worth noting that Raynaud's disease can affect some people in severe cases.
Thank goodness, both of these chainsaws come with excellent anti-vibration systems.
The one in the 441 model is called spring anti-vibration, whereas rubber anti-vibration is used in the 461 model.
Winner: Tie
---
Price
The price is what matters most in the end. No matter what features you desire, the budget you have won't allow you to go beyond it.
There is a fair amount of difference in price between these saws. Featuring a 16-inch bar, the MS 461 will set you back $1019.
On the other hand, you could go for the Stihl 441, a more affordable option. It is around $150 cheaper than its competitor at $879, and that too with a 16-inch bar.
Winner: STIHL MS 441 CM
---
Which Is The Better Chainsaw?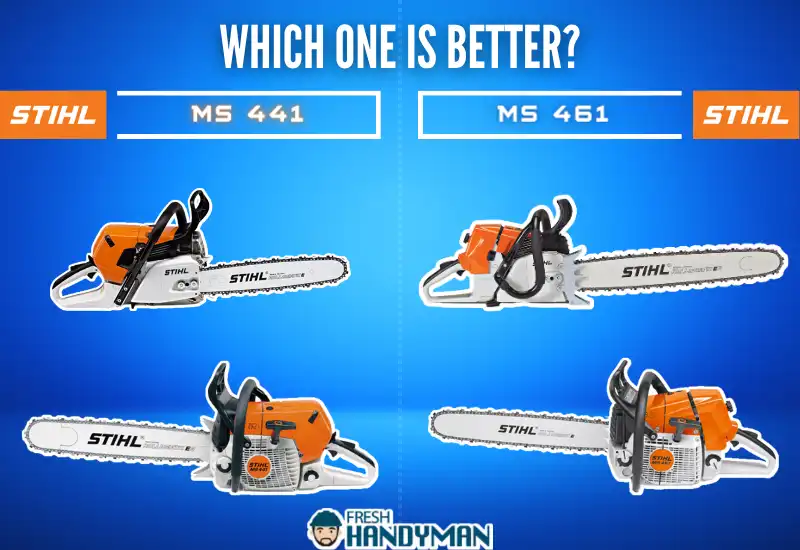 The Stihl MS 441 is certainly an outstanding chainsaw, and its M-Tronic technology is simply unparalleled, particularly for loggers. They will definitely appreciate the fact that the carburetor doesn't need to be tuned frequently.
However, if it were up to me to pick the superior product, I would choose the Stihl 461. It is more powerful, fuel-efficient, and has a higher fuel capacity than the 441.
All of this contributes to better cutting performance at a lower cost.
Related: Stihl 460 Vs 461
To Sum Up
I hope this article has provided a clear explanation of the differences between the Stihl 441 and 461. They mostly differ based on engine management, performance, and fuel capacity.
Moreover, the 441 has a lower price tag, whereas the 461 is slightly more expensive.