Usually, people are more aware of the high-end chainsaws from Husqvarna. The lower-end models often disappear into oblivion. Among the ones that survived to this day, the Husqvarna 240 is one of them. 
So, it's evident that the 240 isn't made for taking down titan-like trees. What's the Husqvarna 240 meant for –
Light felling and pruning

Casual yard cleanup 

A few heavy-duty tasks with the assistance of another larger chainsaw

And it's really affordable
That's a summary of what the Husqvarna 240 brings to the table. I'll go into the details of this chainsaw in this Husqvarna 240 review.
Overall, the Husqvarna 240 is a small-sized compact chainsaw that is designed for light work. Although this is not as powerful as more expensive models like the Husqvarna 460 rancher, it still gets the job done. This little machine comes in real handy for small jobs. Plus, this chainsaw was made for homeowners who don't need a powerhouse of a saw. 
And I've put it all together in this Husqvarna 240 chainsaw review.  Let's start with a quick rundown of the specs, benefits, and drawbacks before I dive into the thick of things.
Let's explore this machine-
SPECIFICATIONS
| | |
| --- | --- |
| BRAND : | HUSQVARNA |
| ITEM DIMENSION : | 19 × 10 × 13.3 INCHES |
| ITEM WEIGHT : | 10.3 POUNDS |
| MOTOR : | 2 HP |
| ENGINE DISPLACEMENT : | 38.2 CC |
| CHAIN SIZE : | 14 INCH |
| POWER SOURCE : | GASOLINE |
| ENGINE TYPE : | 2 CYCLE |
| HANDLE TYPE : | REAR HANDLE CHAIN SAW |
---
Husqvarna 240 Chainsaw Overview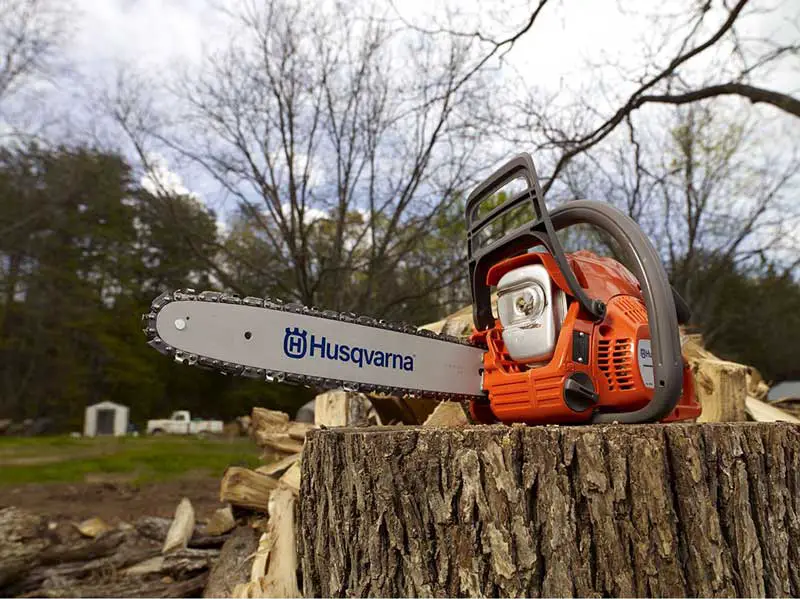 Powerful Enough for Casual Tasks Around the Yard
I'll be blunt. This chainsaw isn't one of the most powerful chainsaws out there. You should head onto the Husqvarna chainsaw reviews if you want to get a complete list of chainsaws with varying power.
Getting back to the Husqvarna 240 – it has a modest motor of 2 HP with 38.2 cc engine displacement. It comes with a 14-inch 2-cycle saw chain. So, how much power am I talking about here?
Well, this little chainsaw isn't designed for heavy-duty tasks or professional applications. This saw is made for light cutting tasks such as slicing down small trees, cutting softwoods, or the small branches of large trees. 
The purpose of this chainsaw is to aid homeowners who need a light saw for simple wood-cutting around the house. And for these types of simple chores, the 240 has more than enough power. You won't have any issues when it comes to power as long as you don't go overboard. So, go for the Husqvarna 240 if backyard cleanup or casual felling is on the menu.
Lightweight (Perfect for Entryt5TV-level Users)
The Husqvarna 240 is just 10.3 pounds in weight (that is – if you exclude the cutting equipment). It's very compact and it's only 19x10x13.3 inches in dimension. 
As far as my experience with this chainsaw goes, it's portable and easy to carry around the yard. I could just walk around for hours without putting a ton of pressure on my shoulder. 
Plus, it's easy to store and you don't need a lot of real estate in your garage for it. So, you probably won't have to move any stuff around to accommodate this little beast.
User-Friendly Design
The Husqvarna 240 comes with Husqvarna's iconic "X-Torq®" technology. The X-Torq is what separates Husqvarna from the rest of the horde.
This technology is effective because it's practical. The X-Torq actually boosts the efficacy of the motor because it cuts down fuel consumption. It also reduces toxic fumes production. So, you would breathe cleaner and safer air.
More importantly, this tech keeps the motor in top-notch condition so you get an immediate kickstart without repeated pulls.
It's a great advantage because most chainsaws need a few yanks (maybe more) to get started. But for the Husqvarna 240, you don't need a few and the machine starts firing on all cylinders. Once I got the hang of it, I just needed two yanks to get it into action.
Also, the "X-Torq®" technology is equipped with a stop-control system that ensures the safety of the engine and reduces the risk of oil flooding.
As a result, the engine lasts longer. On the other hand, this model offers a low vibration feature and for that, you can make your desired cuts easily.
Comfortable to Use
A big, heavy, and vibration-prone chainsaw is like handling a wild animal. It can get on your laid-back nerves pretty quick. And for a non-professional user, it's a pain in the rear.
However, the Husqvarna 240 has a LowVib system. It's lightweight and doesn't have a monstrous vibration.
So, you can use the saw with comfort. This model is designed for light tasks and for non-professional users. And as a non-professional use, you can easily use this saw with comfort because of its amazing user-friendly features.
Easy to Maintain
While operating a chainsaw, its motor may get assaulted by flying debris. And because of the debris, it takes a ton of work to clean the mess up. 
But the Husqvarna 240 offers a centrifugal air system. It collects the debris before they enter the air intake. As a result, the air intake of the saw gets less dirty and is easier to maintain. However, removing the debris from the saw is very easy. Once you follow the instructions, it'll just take a few minutes to break it down. As you can see, this saw requires a little maintenance.
Safe
Safety is a must when it comes to chainsaws. Chainsaw accidents are common, especially with new users who don't know what they're doing. 
The Husqvarna 240 has a couple of decent safety features in place. For instance, the chain bar has a special design to reduce kickbacks. It'll use inertia to prevent any noticeable kickbacks. So, you won't have to always be on your guard while using this machine.
Anti-kickback mechanisms are really important in a chainsaw. You never know when you're going to hit uneven surfaces. So, the automated kickback protection will keep you safe.
Inexpensive
The price is an important factor in any product. And in this case, the Husqvarna 240 has a great advantage. This chain saw is an entry-level saw that is made for light cutting tasks and comes at a very affordable price. As a household tool, the price point is amazing.
The Husqvarna 240 is a completely reasonable investment as a household power tool. You'll get decent performance without paying a ton of green.
---
Other Features
I've already discussed most of the features pertaining to the Husqvarna 240. Unfortunately, there isn't anything special in this chainsaw. Now, don't let this put you down. You should know that it's an entry-level chainsaw that's cheap. So, it's likely to be pretty average, considering the price you're paying.
What I have to say though is that – the Husqvarna 240 is a cheap chainsaw with an average performance. It's meant for light, household tasks. So, I'm not going to blow it out of proportion here by calling this the greatest chainsaw ever. But I'll tell you this – it does what a chainsaw under $200 should do.
If you want more power, more flexibility, and more features, feel free to look into the Husqvarna 450 rancher review. 
Husqvarna 440 Chainsaw Product Specifications
| | |
| --- | --- |
| BRAND : | HUSQVARNA |
| ITEM DIMENSION : | 19 × 10 × 13.3 INCHES |
| ITEM WEIGHT : | 10.3 POUNDS |
| ITEM MODEL NUMBER : | 240-14 |
| MOTOR : | 2 HP |
| ENGINE DISPLACEMENT : | 38.2 CC |
| CHAIN SIZE : | 14 INCH |
| POWER SOURCE : | GASOLINE |
| AIR FILTER : | YES |
| BAR SECURITY : | NUTS |
| ENGINE TYPE : | 2 CYCLE |
| HANDLE TYPE : | REAR HANDLE CHAIN SAW |
| START TYPE : | PULL START |
| CASE INCLUDED : | N |
---
Frequently Asked Questions (FAQ)
1. Does the Husqvarna 240 chainsaw require a battery?
No, this model is gas-powered and it does not require batteries.
2. Does the Husqvarna 240 model have a bar scabbard?
Unfortunately, no. This model does not have a bar scabbard. It has a specially designed chain bar to reduce kickback.
3. Is the Husqvarna 240 powerful enough to cut down a large tree?
– No, this model is an entry-level chain saw which is made for light cleanup. You can cut small trees or cut the branches of large trees, but it's not powerful enough for cutting a large tree.
It's made for non-professional users who need to clean the yard by cutting small trees or branches of large trees. If you need to cut down a large tree, then you can consider the Husqvarna 455 Rancher.
4. What size chain does a Husqvarna 240 chainsaw take?
The recommended chain length is between 13-16 inches. I've used it with a 14-inch chain and it worked without any hiccups.
5. What CC is a Husqvarna 240?
It's 38.2cm3. Compared to other chainsaws, the number isn't great. But you don't need more than this to complete some light cutting tasks.
6. Does the Husqvarna 240 come with an included case?
No, this model doesn't come with an included carrying case. But you can buy one for it separately.
7. Is the bar of the Husqvarna 240 chainsaw secured with nuts?
Yes, the bar of this chain saw is secured with nuts.
---
Final Verdict
The Husqvarna 240 14-inch gas-powered chainsaw is an entry-level chain saw which is made for non-professional and beginners. This saw is pretty impressive for small tasks and it can be a pretty great little machine if you get the hang of it. 
Everything you need to know about this chainsaw is discussed in this Husqvarna 240 review. You should go through the specs, advantages, and drawbacks – assess the overall value you're gonna get from the chainsaw – and make a decision.
All I have to say is – it provides great service at a cheap price. If you need a lightweight chainsaw for small jobs around your yard on a minimum budget, the Husqvarna 240 is probably the solution to your messy backyard needs. 
---
You May Also Like: