I was looking for a gas-powered chainsaw to chop up some tough and heavy trees. I decided to consider the MS 500i and MS 462 saws since their prices are close. Their features also seemed pretty similar to mine.
Nonetheless, when I started thoroughly comparing these products, I found out that I was greatly mistaken, as they differ dramatically.
The main differences between 500i and 462 chainsaws lie in their power, weight, and fuel capacity. There are also certain features such as the EFI that are only available on the 500i.
The article will outline all the differences in detail, which you might have overlooked. I will also express my opinion regarding which product seems better to me.
Let's dive right in!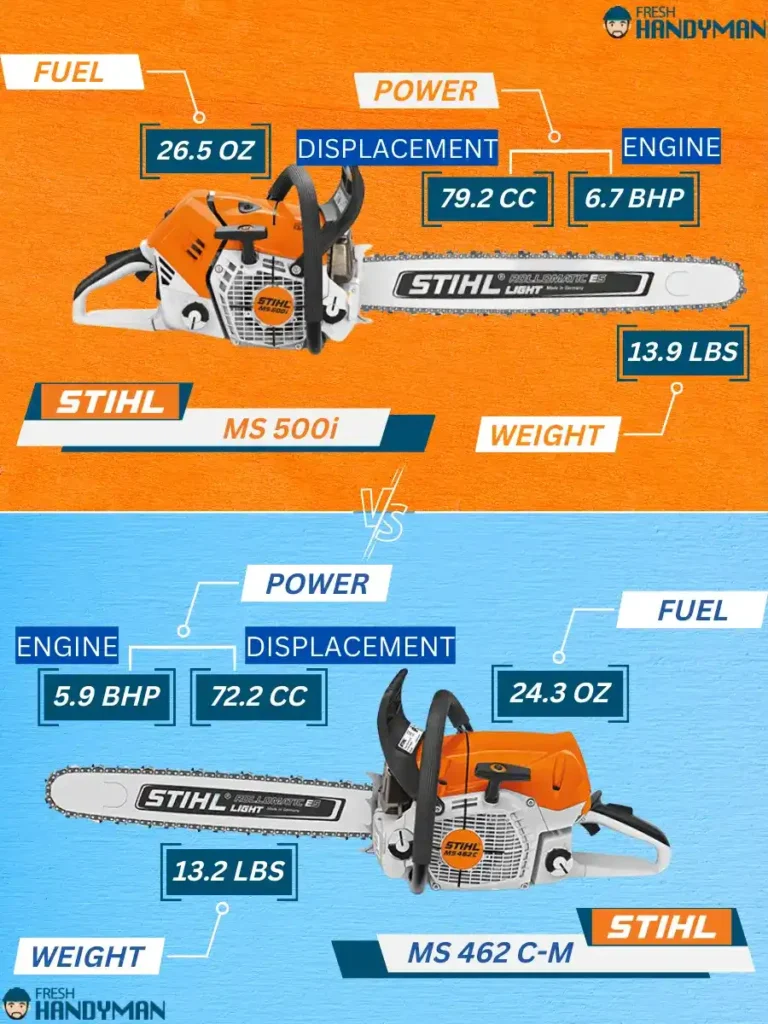 Stihl MS 500i vs 462 Specs and Comparison Table
Stihl MS 500i Chainsaw

Weight: 13.9 lbs.
Fuel Capacity: 26.5 oz.
Chain Oil Capacity: 11 oz.
Power: 6.7 bhp engine and 79.2 cc displacement
Electronic Fuel Injection System: Available
MDG 1 Software: Available
Master Control Lever: Not available

Stihl MS 462 Chainsaw

Weight: 13.2 lbs.
Fuel Capacity: 24.3 oz.
Chain Oil Capacity: 11.5 oz.
Power: 5.9 bhp engine and 72.2 cc displacement
Electronic Fuel Injection System: Not available
MDG 1 Software: Not available
Master Control Lever: Available
Differences Between 500i and 462
The following are the six biggest differences you will experience between 500i and 462 chainsaws.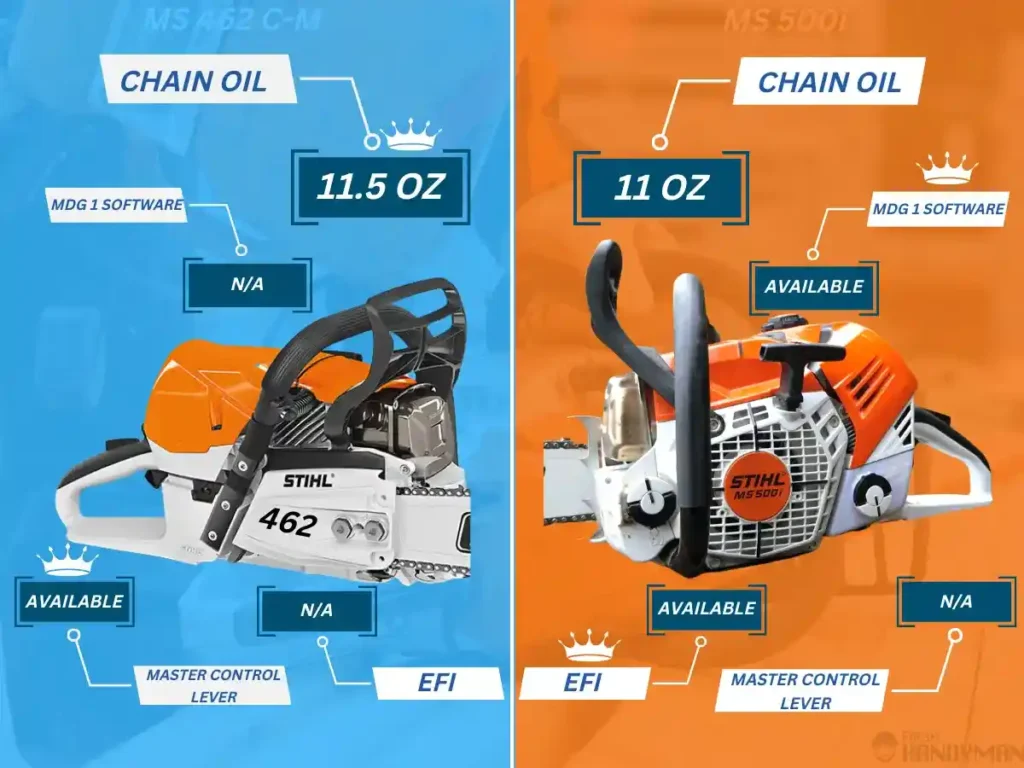 1. Fuel and Chain Oil Capacity
Having adequate fuel and chain oil capacity is crucial. You won't have to worry about repeatedly refilling if the tanks are sufficiently large.
The MS 500i boasts a massive 26.5 oz fuel storage. While the MS 462 does not have an enormous container, the capacity is still quite good at 24.3 oz.
As for the chain oil capacity, 462 chainsaws take the crown. You can fill the storage with 11.5 oz of liquid, whereas 500i saws can only hold 11 oz of oil.
2. Power
You may think your chainsaw is very powerful until you encounter a stubborn tree that refuses to go down. After somehow managing to cut it, you are faced with the challenge of bucking the tree, a task that can take you endless hours.
This occurs when the saw lacks power.
Thankfully, you will be ready with plenty of power with a Stihl 500i saw. It has a 6.7 bhp engine with a displacement of 79.2 cc, more than enough to handle any tree cutting job.
On the other hand, the 462 model is not far off in terms of power. It runs on an engine rated at 5.9 bhp and 72.2 cc of displacement.
3. Weight
Even though the MS 500i has an impressive list of eye-catching features, it cannot compete with the MS 462 weight-wise.
MS 462 models are officially the lightest gas-powered chainsaws from STIHL, weighing 13.2 lbs. The solid construction and high power could not compromise the weight of this product.
The 500i is not the lightest saw out there, but it is not the heaviest either. Due to its weight of 13.9 lbs, it will not feel as comfortable as the 462 does, but it will still be quite easy to maneuver and operate.
4. Electronic Fuel Injection System (EFI)
In case you didn't know, the MS 500i is the first chainsaw to use an electronic fuel injection system.
It is known that the EFI boosts power, thus enhancing the overall performance of an engine. Aside from that, it will reduce fuel consumption and maintenance costs and make saws easier to start.
As I already mentioned, the 500i is the first chainsaw in the world with this feature, meaning it is not available on the Stihl 462 chainsaw.
5. MDG 1 Software
Have you ever had a chainsaw overheat or malfunction for no apparent reason? Such problems are incredibly frustrating, especially when you are in the middle of a big tree-cutting project.
It gets even worse when even the dealer can't figure out what's causing the issue.
This is exactly why the MDG 1 diagnostic software (new gen) of the Stihl 500i is so important. It runs a diagnosis and pinpoints exactly where the problem lies so that you can resolve it.
As unfortunate as it is, 462 chainsaws do not have this vital software compatibility.
6. Master Control Lever
The Stihl 462 saw comes with the much-needed Master Control Lever that has a straightforward use. Thus, even a beginner can use it easily and safely.
It is a single lever that enables the user to operate the choke properly. You can also use it to activate the throttle lock as well as the on-off switch.
Remember to pull the throttle trigger before you move the lever to the position of the choke.
If the lever is something you desperately want in your chainsaw, perhaps a 500i won't be the right choice since it lacks the feature.
If you have a limited budget, take a look at this list of the top budget-friendly chainsaws.
Similarities Between 500i and 462
Since 500i and 462 are manufactured by the same company, they have a few similarities. Here are three of them that I noticed the most.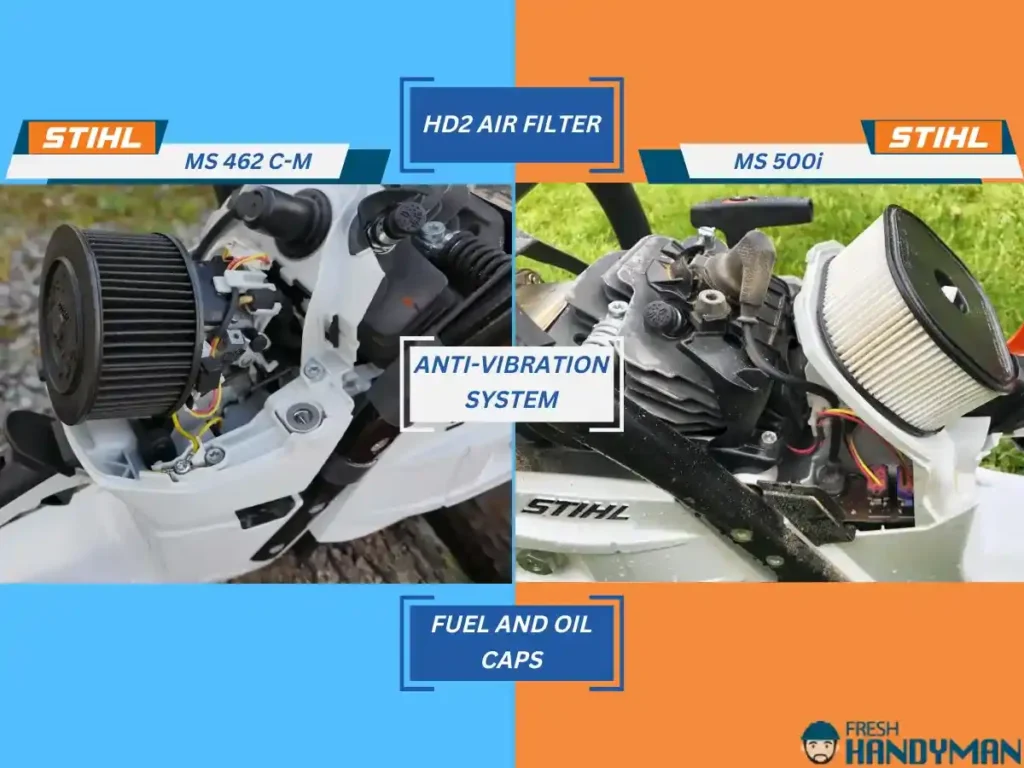 1. Air Filter
Having a dirty air filter can cause your chainsaw to overheat and impair its performance. With both these products, you do not have to worry about that since they contain washable HD2 air filters.
The filters have a large surface area, so they can be cleaned easily. As they stay clean longer than other filters, you won't have to replace them as often.
2. Anti-vibration
Stihl has its own anti-vibration technology that is very effective with power tools. They have also incorporated it into their 500i and 462 chainsaws.
The technology prevents vibration even when the saw operates at a relatively high speed. Hence, these saws won't make you feel as exhausted as other ones.
3. Fuel and Oil Caps
It is common for chainsaw owners to lose their oil and fuel caps. This is the sole reason Stihl includes fuel and oil cap retainers in both of these tools.
The retainers will ensure that the caps are securely attached to the chainsaws so that they don't fall off unintentionally.
Related: Husqvarna 395XP Vs Stihl MS661
Pros and Cons of Stihl MS 500i
Pros
Electronically controlled fuel injection.
Great power-to-weight ratio.
High-performance engine.
Fast acceleration.
Has a decompression valve.
Cons
Lack of proper spike size.
Pros and Cons of Stihl MS 462
Pros
Lightest weight.
Professional-grade chainsaw.
Features a non-electronic carburetor.
Better oil capacity.
High-performing bumper spike design.
MS 500i vs MS 462 (Which one is Worth it?)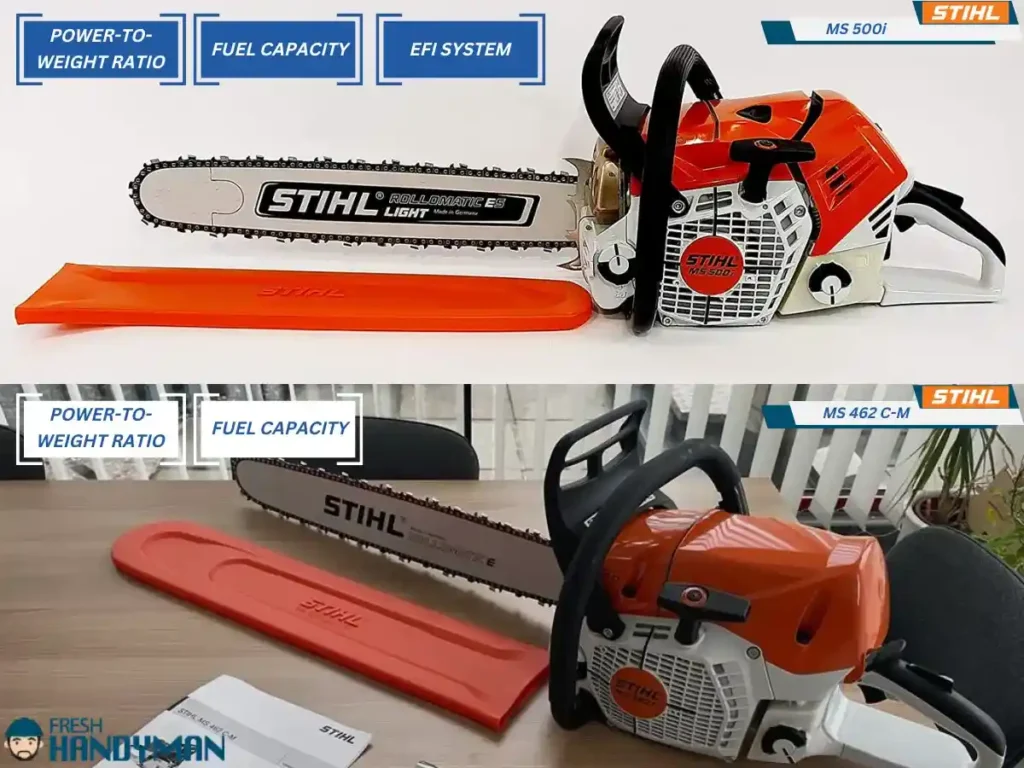 Considering the price, the MS 500i offers great value due to its power-to-weight ratio, fuel capacity, and features like the EFI system. Thus, it is a no-brainer that this product is worth the price.
However, let's not overlook how good MS 462 saws are in terms of weight. Besides weight, they are also powerful enough to deal with most tree-felling jobs.
Depending on your budget and preference, you cannot go wrong with either.
Customer Support
When it comes to feedback about products, Stihl has mixed reviews, as do other brands.
However, they have a dedicated support team to provide customer assistance. You can contact Stihl by phone as well as email, and they are pretty fast to respond, which I really appreciate.
Due to this, I can say you can buy Stihl chainsaws without worrying about their customer service.
Which is Best? Stihl MS 500i or MS 462
If I were to give you a recommendation, I would definitely suggest you go with the Stihl 500i.
The price difference between these two power tools is not massive. Even so, the 500i model is superior in almost all departments, including power, capacity, and the use of new technologies.
Hence, I would choose the 500i chainsaw without a second thought.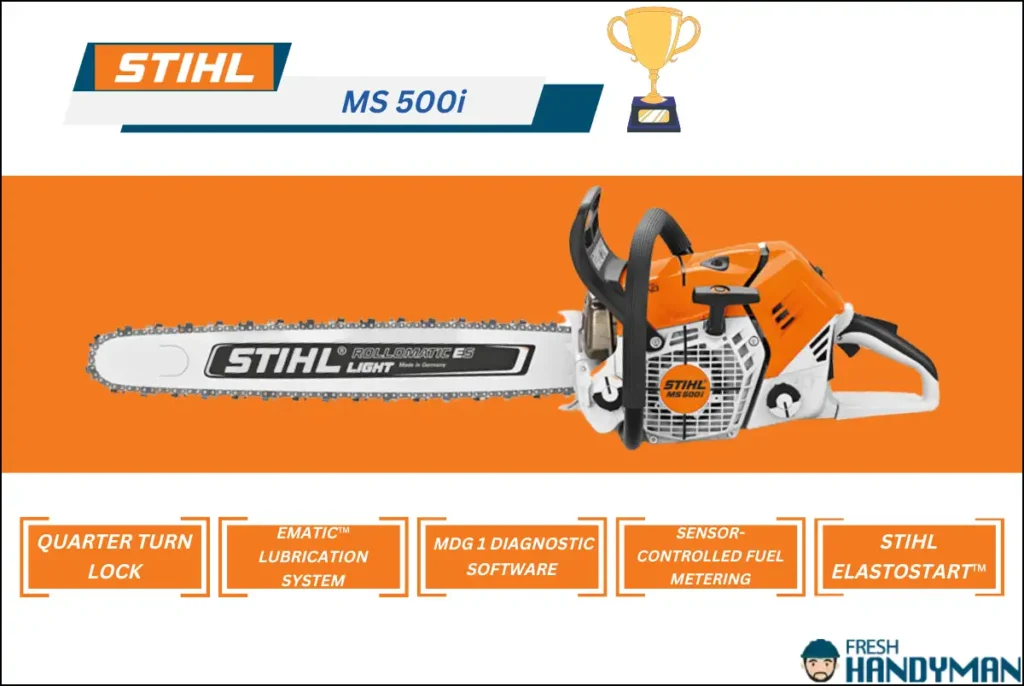 Conclusion
While the units share a few similar features, the differences between 500i and 462 chainsaws are pretty obvious. Despite being the more expensive option, the 500i has some remarkable features. However, the MS 462 is certainly not a deal-breaker either.
Liked this comparison? Here is another one where I pointed out the differences between Stihl 391 and 362.