Stihl is one of the most trusted brands when it comes to producing high-quality chainsaws. The Stihl MS 400 and MS 462 are among their most reliable lightweight models. However, choosing between the two can make a lot of difference in terms of efficiency and productivity when cutting down trees.
Despite coming from the same brand, these two chainsaws have a lot of features and specifications that differ from each other. This makes each one of them suited to a specific need or application.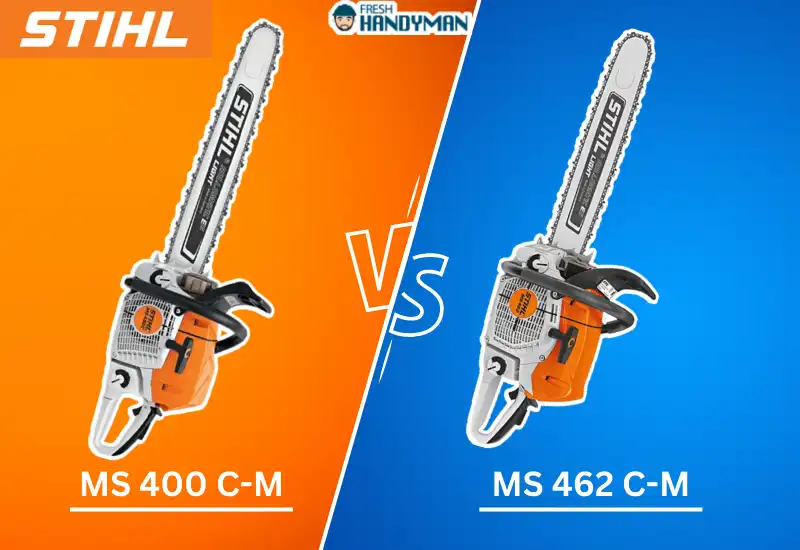 In this article, I will take a closer look at the features of the Stihl 400 vs 462 and see how they compare to each other. So, if you're a professional logger or just looking to purchase a chainsaw for domestic use, then you're in the right place. Let's dive in!
Comparison of Specs Between the Stihl 400 and 462
The Stihl 400 and 462 chainsaws are lightweight machines designed for professionals who regularly cut trees in the forest. However, they have some slight differences. Here is a quick table illustrating the difference in their specifications:
STIHL MS 400 C-M Chainsaw

Engine Power: 5.4 hp
Displacement: 66.8 cc
Recommended Guide Bar Length: 20 inches
Weight 5.8 kg 6 kg
Fuel Capacity: 20.3 oz
Fuel Type: Gas
Sound Power Level: 118 dB
Chain Pitch: 3/8″
Speed at Maximum Power Um: 10,000
CO2 g/kWh: 656

STIHL MS 462 Chainsaw

Engine Power: 6 hp
Displacement: 72.2 cc
Recommended Guide Bar Length: 25 inches
Weight: 6 kg
Fuel Capacity: 24.3 oz.
Fuel Type: Gas
Sound Power Level: 119 dB
Chain Pitch: 3/8"
Speed at Maximum Power Um: 10,000
CO2 g/kWh: 697
Differences Between the Stihl 400 and 462 in Terms of Technical Specifications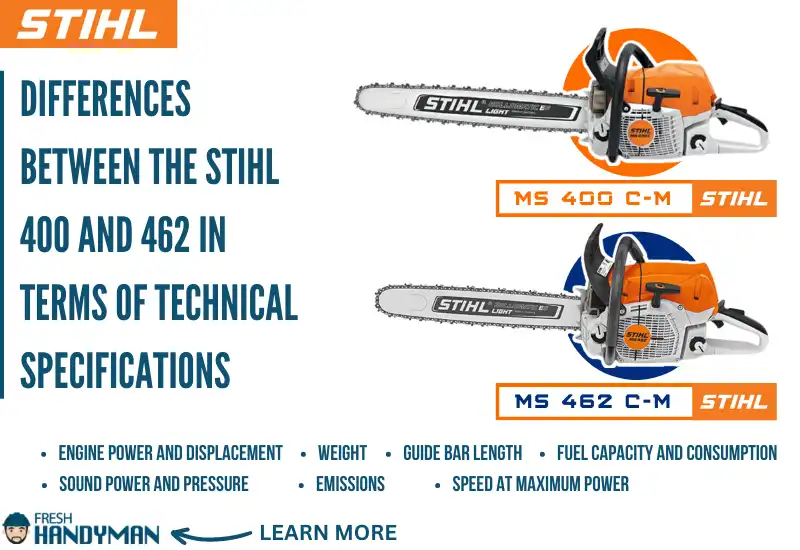 Here is a breakdown of how the Stihl MS 400 and MS 462 match up when it comes to technical specifications:
Engine power and displacement
The Stihl 400 comes with a 66.8cc engine that produces 5.4 horsepower. On the other hand, the Stihl 462 boasts an engine that has a displacement of 72.2cc and produces 6 horsepower.
When it comes to engine power, the Stihl 462 has a slight edge over the Stihl 400. This makes it more suitable for cutting trees in the forest and general trimming jobs.
Weight
Weight is an important factor if you're going to use the chainsaw for several hours at a time. Although both chainsaws fall into the lightweight category, the Stihl 462 is a bit heavier than the Stihl 400. The former weighs 6 kg, while the latter weighs 5.8 kg.
This means that the Stihl 400 is easier to handle and less tiring to operate. Although the difference is small, you will definitely notice it after using the Stihl 462 for a prolonged period.
Guide Bar Length
The MS 400 comes with a recommended guide bar length of 20″, while the MS462 has a 25″ recommended bar length. Why is this parameter so important? Because it will determine the maximum cutting depth of your chainsaw and impact the types of tasks that you use it for.
Thus, if you need greater cutting depth, then you may prefer the longer guidebar of the Stihl 462 However, if you want something that is lighter and easier to maneuver, the MS 400 will do you good.
Fuel Capacity and Consumption
Fuel capacity and consumption play a major role when choosing a chainsaw since they determine how much you will spend operating the saw and the runtime.  The Stihl 400 has a fuel tank capacity of 20.3 oz, while the Stihl 462 has a 24.3-liter capacity.
Consequently, you can operate the MS 462 for longer periods without refilling it. However, the MS 400 consumes fuel at a rate of 2.265 l/h and the MS 462 at 2.387 l/h. So, in terms of fuel efficiency, I'll give it to the MS 400.
Sound Power and Pressure
The Stihl 400 has a sound power level of 118 decibels, while the Stihl 462 produces a higher sound power of 119 decibels. When it comes to sound pressure, the Stihl 400 generates 107 decibels and the Stihl 462 108 decibels.
I would recommend you wear proper ear protection when using either of the two chainsaws since they are both relatively loud.
Emissions
Stihl designs all its chainsaws with EPA emissions regulations in mind. So, if you're concerned about environmental impact and emissions control, then these saws would be perfect for you.
However, the Stihl 400 has a slightly lower emission output of 656 g of CO2 per kWh as compared to that of the Stihl 462 (697 g per kWh).
Speed at Maximum Power
The speed at which a chainsaw operates at maximum power determines its cutting efficiency. A saw with a higher speed allows for faster and more efficient cutting performance, especially when handling tough wood.
Both the Stihl 400 and 462 have a speed of 10,000 um when operating at full speed, which means that they can rival each other when it comes to cutting efficiency.
Read Also: Stihl MS 250 Vs Stihl MS 251
Common Features of the Stihl 400 and Stihl 462
The Stihl 400 and 462 have many similar features, which makes it a bit difficult to determine which saw is better than the other. These features include:
Stihl M-Tronic
Every Stihl chainsaw, including the MS 400 and MS 462, comes with an intelligent engine management system called the M-tronic system. It is designed to adjust engine functionalities, such as ignition and fuel timing, based on factors such as altitude, temperature, and fuel quality.
Subsequently, this eliminates the need for manual carburetor adjustments. Stihl chainsaws' engines are able to run more smoothly thanks to this system, thus improving their performance while decreasing fuel consumption.
Stihl 2-Mix-Engine
Another impressive feature that is present on both the Stihl 400 and 462 is the Stihl 2-Mix engine. Unlike conventional 2-stroke engines, this engine is designed to improve fuel efficiency and reduce emissions.
You can reduce your fuel costs by up to 20% and decrease emissions by as much as 50% thanks to the 2-Mix Engine.
Ematic Lubrication System
If you're worried about your chainsaw consuming a lot of lubricants, then the Stihl 400 and 462 will surprise you. With Ematic Lubrication Systems, these saws are able to deliver oil to the bar and chain at very steady rates.
This, in turn, reduces oil consumption by as much as 50% and lubricates the bar and chain adequately.
Anti-vibration System
Fatigue and discomfort are very common when using a chainsaw for long periods. However, the Stihl 400 and 462 have curbed this issue by incorporating an Anti-vibration system. It uses a system of dampers that minimizes the vibration before it reaches your hands and improves user comfort.
Master Control Lever
This is another feature that makes it easy to operate Stihl chainsaws. You can use the master lever if you want to quickly start, stop, and control the speed of the MS 400 or MS 462. On top of that, this feature allows you to operate everything with one hand since all the controls are in one spot.
Pre-separation Air Filtration System
Both the Stihl 400 and Stihl 462 have a pre-separation air filtration system that ensures the engine remains free from dust and debris. The system separates larger particles of debris before they reach the air filter.
This prevents the filter from clogging and keeps it clean, improving the engine's overall performance. It also eliminates the need for regular cleaning of the chainsaw.
Stihl Quickstop
The Stihl Quickstop feature helps to prevent accidents when using the Stihl 400 or Stihl 462. How does it work? It activates a chain brake when you release the throttle trigger or when the chainsaw kicks back.
This stops the chainsaw quickly and makes the MS 400 and MS 462 safer to use.
Stihl Elastostart
Starting up chainsaws is no walk in the park. However, Stihl has made it simpler by including the Elastostart feature in the MS 400 and MS 462. This feature reduces the amount of strain that you feel in your hands and arms when cranking up the saw.
There is also a decompression valve in both chainsaws that reduces the amount of compression in the cylinder when pulling the starting cord. This makes it easier to start the saw.
HD2 Filter
The HD2 filter, which is present in both the Stihl MS 400 and Stihl MS 462, is another component that keeps the engine clean and free from debris. This filter is made of reusable polyethylene material. It also has very fine pores to prevent any contaminants from passing through.
Thanks to this feature, you can be sure that your Stihl MS 400 or 462 will give top-notch performance and need less maintenance.
Adjustable Automatic Oiler
For smoother operation of the chain, the MS 400 and 462 come with an adjustable automatic oiler. This feature enables precise and consistent lubrication of the chain and bar.
It automatically varies the amount of oil released depending on the type of wood being cut, the length of the bar, and the chain pitch. Proper oiling prevents premature wearing out of the chain, thus increasing the saw's lifespan.
Side-access Chain Tensioner
You can easily adjust the tension of the Stihl MS 400 or 462's chain without removing the sprocket cover. This is due to the chain tensioner that you can access easily from the side. A well-tensioned chain increases efficiency and prevents it from coming off the bar.
Differences Between the Stihl 400 and 462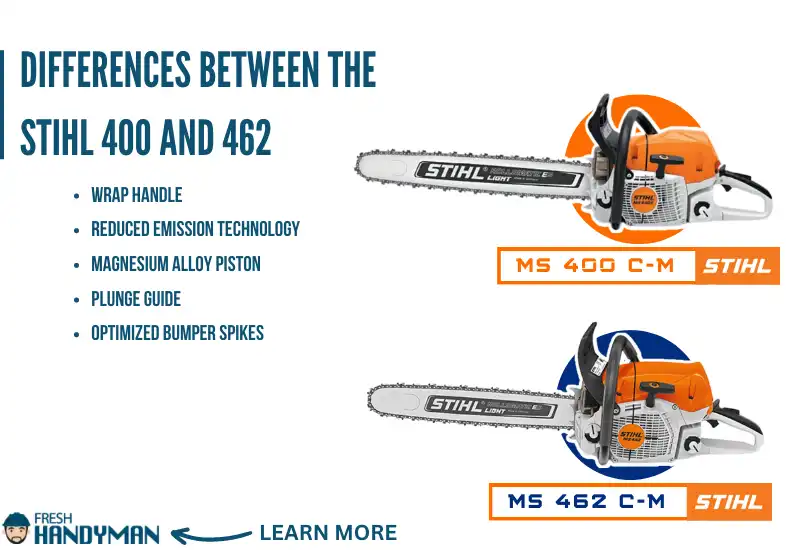 Although the Stihl 400 and 462 have many features in common, there are a few that are unique to each chainsaw. I have mentioned them below to help you make a more guided decision when choosing between the two:
Wrap Handle
The wrap handle, which is present in the MS 462 but absent in the MS 400, is designed ergonomically to fit comfortably in your hands and provide a secure grip.
After using the MS 462 a couple of times, I can say that the wrapped handle is very comfortable, and it helps to control the saw better. However, the MS 400 is still lighter and has less power, making it easier to handle than the MS 462.
Reduced Emission Technology
If you are someone who cares for the environment, then the reduced emission engine technology of the Stihl MS462 will come in handy. This technology significantly reduces exhaust emissions by as much as 70%, which ensures that the saw meets current emission standards.
Notably, this feature is not present in the MS 400, making it a little less environmentally friendly compared to the MS 462.
Magnesium Alloy Piston
One helpful feature that the MS 400 has is its magnesium alloy piston. Magnesium is not only resistant to wear and tear but also light in weight, allowing for faster acceleration of the engine.
Its high heat conductivity also helps dissipate heat from the combustion chamber more effectively. This leads to cooler engine operations.
On the other hand, the MS 462 uses the conventional aluminum piston, which is a bit heavier, lasts for a shorter period of time, and dissipates less heat than the magnesium one. Generally, this makes the Stihl 400 lighter and easier to maintain than the 462.
Plunge Guide
It is important to be as accurate as possible when making plunge cuts, especially when dealing with dense materials such as hardwood or frozen wood. That is why the MS 462 comes with a plunge guide on the fan housing to guide the bar into the material being cut.
The Stihl MS 400 doesn't have this feature. So, if you're going for a saw that will produce cleaner and more precise cuts, then the MS 462 might be a better choice.
Optimized Bumper Spikes
The MS 462 comes with bumper spikes that have been designed to provide improved stability and control. These spikes are located at the bottom of the chainsaw, and they help anchor the saw to the material being cut. This prevents it from slipping or bouncing during use.
There is no such feature in the MS 400, which means that the MS 462 will serve you better, especially in wet or slippery conditions where the risk of accidents or injury is higher.
Advantages and Disadvantages of the Stihl MS 400
Like every other chainsaw, the MS 400 has its upsides and downsides. Here are some of the main ones:
Pros
Powerful performance: The Stihl MS 400 is equipped with a powerful engine that can deliver efficient cutting performance.
Lightweight design: Despite its powerful engine, the Stihl MS 400 still weighs less than most of its competitors. This makes it easier to handle and maneuver when undertaking cutting tasks such as felling trees.
Durable: The MS 400 is made from high-quality materials that are resistant to wear and tear. This reduces the need for regular maintenance.
Cons
A bit expensive: Like any other premium chainsaw, the Stihl MS 400 is relatively expensive, which may not be feasible for all users.
High noise levels: The MS 400 can be quite loud during use due to its powerful engine. You will need to wear hearing protection gear to prevent damage to your ears.
Pros and Cons of the Stihl MS 462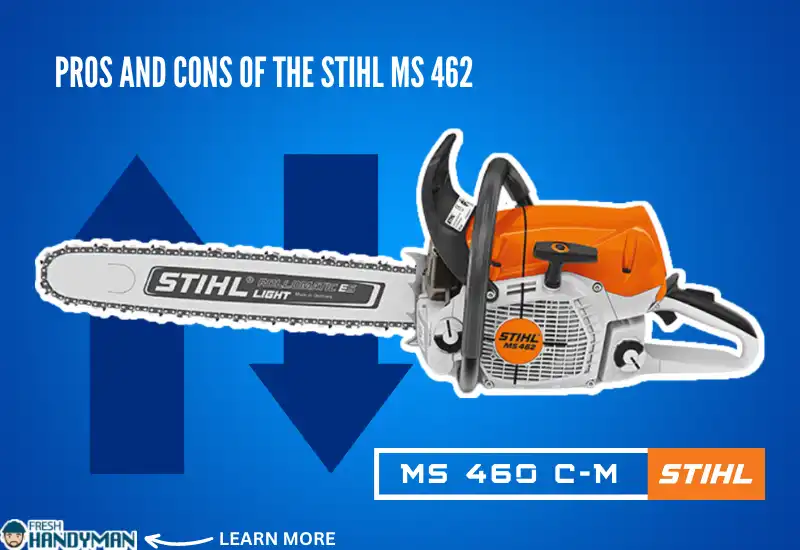 Despite its numerous marvelous features, the MS 462 still has its drawbacks. Below are the major pros and cons of this machine:
Pros
High power and chain speed: The Stihl MS 462 comes with a powerful engine that is suited for demanding cutting tasks such as felling trees.
Reduced vibrations: User comfort is Stihl's top priority. That is why this saw comes with an anti-vibration feature that makes it possible to work for longer periods of time.
Easy maintenance: The Stihl MS 462 was designed to be easy to use and maintain. Features such as the adjustable automatic oiler and the side-access chain tensioner will help you perform routine maintenance tasks.
Lightweight: For a saw with its capabilities, the Stihl MS 462 is pretty light in weight. This makes it a great option for both casual users and professionals.
Cons
High price: The MS 462 has several attractive features, but its high price point may put off several consumers.
Not suitable for beginners: The power that this chainsaw produces might make it difficult for first time users to operate.
You might also be interested in: Stihl 462 problems and solutions.
Who is Best Suited for the Stihl 400 Vs 462?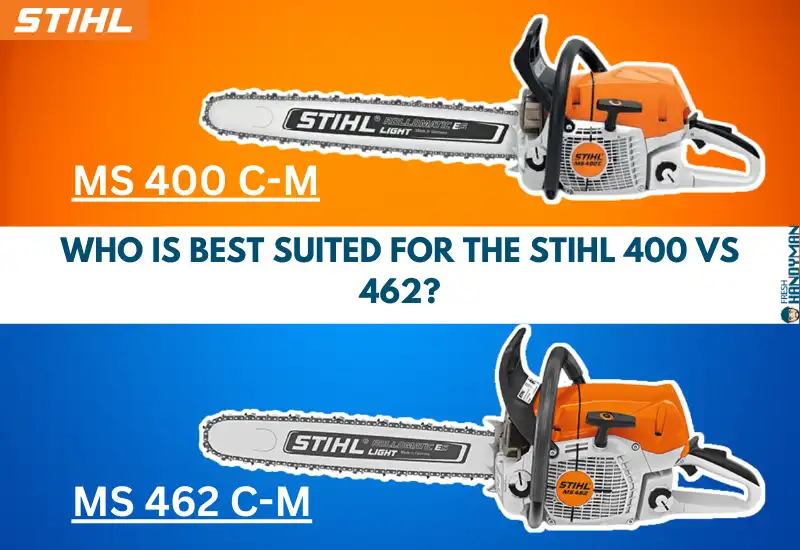 One thing that the Stihl 400 and 462 have in common is that they have both been developed for professional use. However, there are some key differences that make them better suited for different applications.
The Stihl MS 400 is a lighter-weight chainsaw with a shorter guide bar length. This makes it ideal for lighter tasks such as limbing, bucking, and felling smaller trees. It is also easier to handle and maneuver, making it suitable for beginners and casual users.
On the other hand, the Stihl MS 462 is a more powerful saw designed for heavy-duty cutting tasks such as felling large trees and other forestry jobs. It is a bit heavier than the MS 400 and produces more power and torque.
However, it may not be the best choice for inexperienced users, as it can be difficult to handle.
Customer Feedback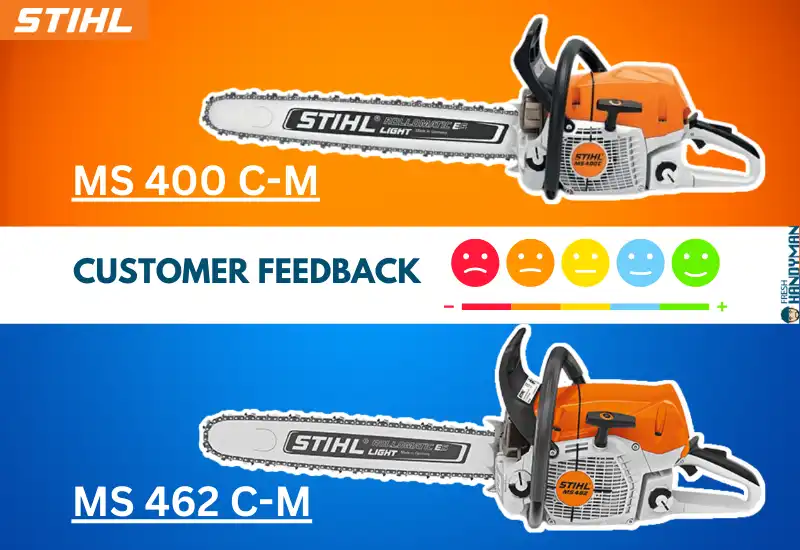 Many consumers who left feedback on Stihl's official website gave the Stihl 400 a thumbs up. One user said that it was one of the best saws he ever owned as it was lightweight and powerful. He added that it produced smoother cuts compared to what he owned before.
Another user said that it was an upgrade to the Stihl 360 magnum that he had. He said that he used it to clean up leftovers from hurricane damage and a few tree limbs, and it never disappointed. A few users have complained about how the MS 400 can be difficult to start for newbies.
The Stihl 462 has many pleasant reviews. Seasoned professionals recommend it for a variety of heavy-duty cutting tasks. A satisfied user commented that the MS 462 really revved up quickly compared to conventional saws and also produced more power. The only concern was that the chain dislodged from the bar easily, which was risky.
Frequently Asked Questions
What is the power output difference between the Stihl 400 C-M and MS 462 C-M?
The Stihl 400 comes with a 66.8cc engine that produces 5.4 horsepower. On the other hand, the Stihl 462 comes with a 72.2 cc engine that delivers 6 horsepower.
Which chainsaw model is better suited for heavy-duty or professional use?
The Stihl MS 462 is more suitable for heavy tasks such as cutting through dense vegetation and felling large trees. This is because it has a more powerful engine and a larger fuel tank capacity.
How do the weight and ergonomics of the MS 400 and MS 462 compare?
The Stihl 462 is a bit heavier than the Stihl 400, as it weighs 6 kg while the latter weighs 5.8 kg. Both saws have been ergonomically designed, but the MS 462 has a wrapped handle for a firmer and more secure grip.
Conclusion
Overall, the Stihl MS 400 and MS 462 are both reliable professional-grade saws that deliver top-notch performance. The MS 400 is lighter in weight, shorter in terms of guide bar length, and produces fewer emissions.
When it comes to raw power, the MS 462 outshines the MS 400. It also comes with a larger fuel tank and oil capacity. That is why professionals prefer it. Your intended usage will help you choose between these two saws, but from my personal experience, I would pick the MS 462 any day.