Almost everyone is aware that the Stihl MS 251 is the successor to the wildly popular MS 250 chainsaw. But did Stihl really make any changes to the 251, or is it the same as before?
As it turns out, quite a few changes have been made to the 251 chainsaw, which sets it apart from the MS 250.
A few of the main differences between the Stihl MS250 and the Stihl MS251 include fuel capacity, performance, fuel economy, and emission levels. They also differ in weight by about one pound.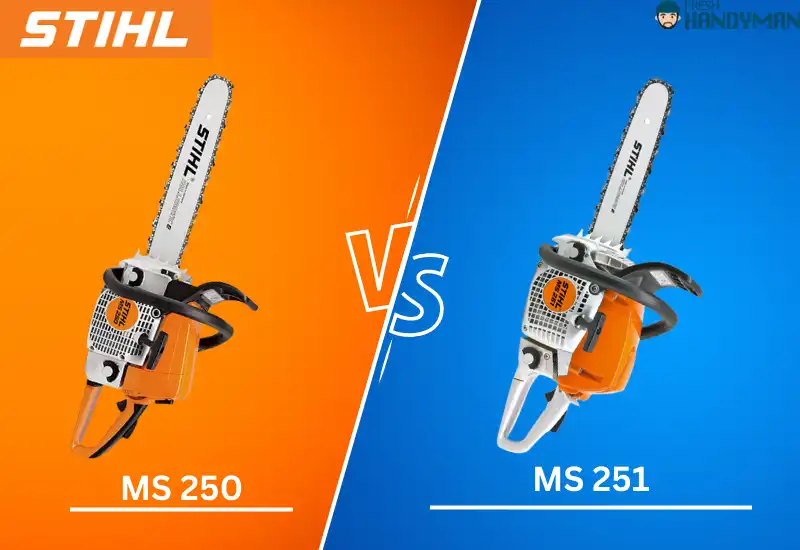 In the article, I examine each difference in depth to determine which chainsaw offers the best value. I will also answer a few relevant questions about these saws at the end.
Let's get things started!
Comparison Table With Specs for Stihl MS250 and MS251
STIHL MS 250 Chainsaw

Powerhead Weight: 10.1 pounds
Displacement: 45.4 cc
Fuel Capacity: 15.9 oz.
Fuel Efficiency: Not fuel efficient

STIHL MS 251 Chainsaw

Powerhead Weight: 11.0 pounds
Displacement: 45.6 cc
Fuel Capacity: 13.2 oz.
Fuel Efficiency: 20% more fuel efficient than previous models
Features of STIHL MS 250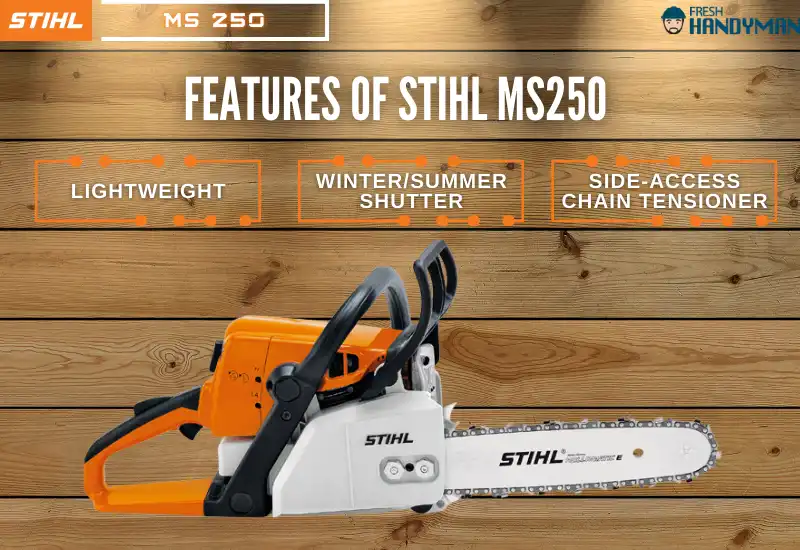 Lightweight
With a weight of just 10.1 pounds, the MS 250 requires little effort to maneuver. Furthermore, it has an ergonomic design that is comfortable to use.
If your main concern is the comfort of operating a chainsaw, the product will not let you down. Combined with its lightweight and ergonomic construction, this saw provides unparalleled ease of use.
Winter/Summer Shutter
One of the highlights of the Stihl MS 250 chainsaw is its Winter/Summer Shutter. This enables the carburetor to operate at optimal temperatures regardless of the weather.
Many loggers inhabit cold-weather regions. Their chainsaws could ice up due to the freezing temperatures. This is where the shutter comes into play by preventing carburetor icing.
Side-Access Chain Tensioner
I hate seeing the chain tensioner attached to the guide bar adjustment screw. This complicates the tension adjustment process.
Fortunately, the Stihl 250 has a side-access chain tensioner. Therefore, you can adjust the chain tension easily with a bar wrench.
Read Also: Stihl MS250 Won't Start
Features of STIHL MS 251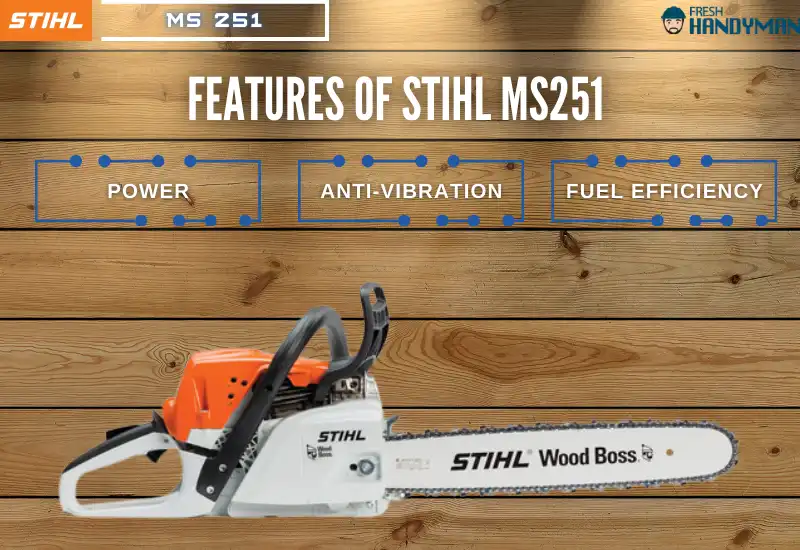 Power
There is plenty of power on the 251 chainsaw for most tree-cutting tasks.
It is powered by a 3-bhp engine with a displacement of 45.6 cc. The power is more than adequate to fell small trees and prune firewood.
Anti-vibration
Vibrations are a major problem when handling a chainsaw. You will find it difficult to cut accurately under vibrating conditions.
If you are tired of saws that vibrate excessively, consider buying a Stihl 251. It uses anti-vibration technology to limit vibrations as much as possible.
Fuel Efficiency
It would be nice to save a little money on fuel, wouldn't it? To do that, you must use a chainsaw that isn't overly thirsty.
An MS251 is one such product. It uses 20% less gasoline than previous Stihl chainsaws, helping you reduce your fuel expenses.
Read Also: Stihl 211 VS 251 (All the Major Differences)
Differences Between STIHL MS250 Vs STIHL MS251
Here it is, the part you've all been waiting for. The following are seven factors that set these chainsaws apart from one another.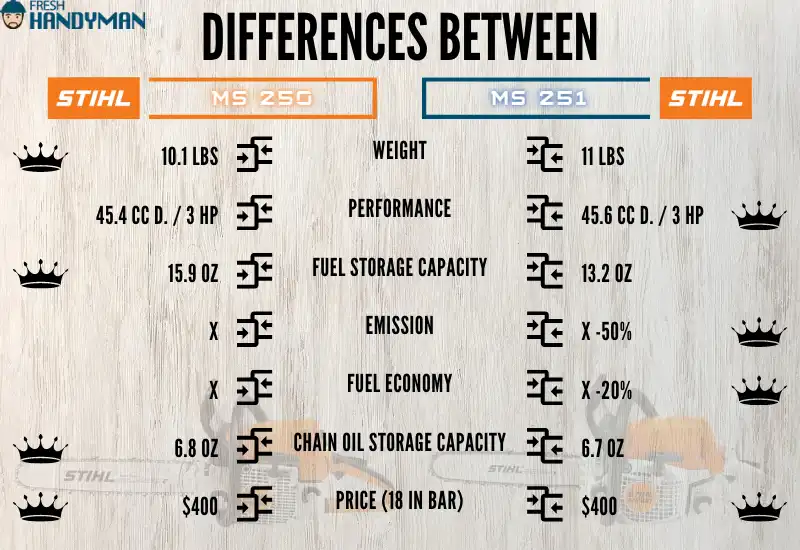 Weight
Light and heavy chainsaws both have strengths and weaknesses. A light saw allows you to maneuver it more quickly without exerting as much energy.
On the other side, a heavy chainsaw can exert more pressure on the tree and cut it more effectively.
The MS250 is only 10.1 pounds in weight. Despite having a high power output, I was surprised at how lightweight it was.
Unfortunately, MS251 saws are heavier by almost one pound at 11 pounds. While 1 pound may seem trivial, it will definitely feel heavy during long work sessions.
Winner: STIHL MS 250
---
Performance
Whenever I need to assess the performance of a chainsaw, I check its horsepower and displacement. In my opinion, they provide a clearer picture of power output than any other figure.
In terms of horsepower, both chainsaws produce an equal output – 3 bhp. Does it mean that the two saws will perform the same?
No, that's not the case. There is a twist in the story.
You see, although there is no difference in horsepower, the Stihl 250 has a displacement of 45.4 cc as opposed to the 251's 45.6 cc.
In other words, the 251 unit will have a slightly better raw performance.
Winner: STIHL MS 251 (by a slim margin)
---
Fuel Storage Capacity
For chainsaws, especially gas ones, fuel capacity is crucial since they consume a lot of fuel. Even some power saws will consume an entire tank and run for only about an hour.
Hence, you should always choose a product with a large fuel capacity.
An MS251 chainsaw's tank can hold 13.2 ounces of fuel. It is good, but if you require more, I strongly recommend the 250.
The saw boasts an enormous 15.9-ounce fuel tank. This prevents you from having to refill the tank repeatedly during work.
Winner: STIHL MS 250
---
Emission
No one can deny that chainsaws release greenhouse gasses into the atmosphere. In addition to harming the environment, this can also be fatal for the operator.
The 251 chainsaw reduces emissions by 50% in comparison to earlier models (including the MS 250). Without a doubt, this marks a significant milestone.
So if you want a chainsaw that isn't environmentally harmful, go for the 251.
Winner: STIHL MS 251
---
Fuel Economy
As I pointed out earlier, chainsaws are notorious for their thirst for gasoline. Even with a full tank, you may not be able to run a saw for a long time.
This is precisely why chainsaw fuel economy is so important.
Stihl makes no mention of the 250's fuel-saving capabilities. As a result, you should not expect the saw to be fuel-efficient.
Thankfully, Stihl has made improvements to the MS 251 that reduces fuel consumption by over 20% compared to its predecessor.
Winner: STIHL MS 251
---
Chain Oil Storage Capacity
In case you didn't know, the chain on a saw also needs fuel. When it is well lubricated with oil, a chain functions efficiently and does not overheat. So, where do you get this oil?
Chain oil storage is the source of it.
The MS 250 has a chain oil container capable of holding 6.8 ounces of oil. On the other hand, the 251's capacity is not far behind at 6.7 ounces.
Winner: STIHL MS 250 (by a slim margin)
---
Price
It doesn't matter what your demands are for a saw. In the end, you have no choice but to consider your budget.
Even though they have many differences, Stihl 250 and 251 both retail for $400.
It is important to note that the 251 chainsaw is available in two models. The Wood Boss variant costs $400. Another variant is the C-BE, priced at $440.
Please be aware that I listed all prices based on 18-inch bars.
Winner: Tie
---
Related: Stihl MS250 VS MS271
Which Is Better, Stihl MS250 Vs MS251?
The Stihl 250 is a great all-around chainsaw that has a large fuel capacity for all-day use. It is also lightweight and includes some handy features, such as a winter/summer shutter as well as a side chain tensioner.
Having said that, the 251 chainsaw does not fall short either. At times, I would even consider it to be better. Why?
Although the difference is not huge, you are likely to experience better performance from the 251 saw because it has more displacement. Furthermore, this unit is incredibly fuel-efficient, which modern chainsaws are in desperate need of.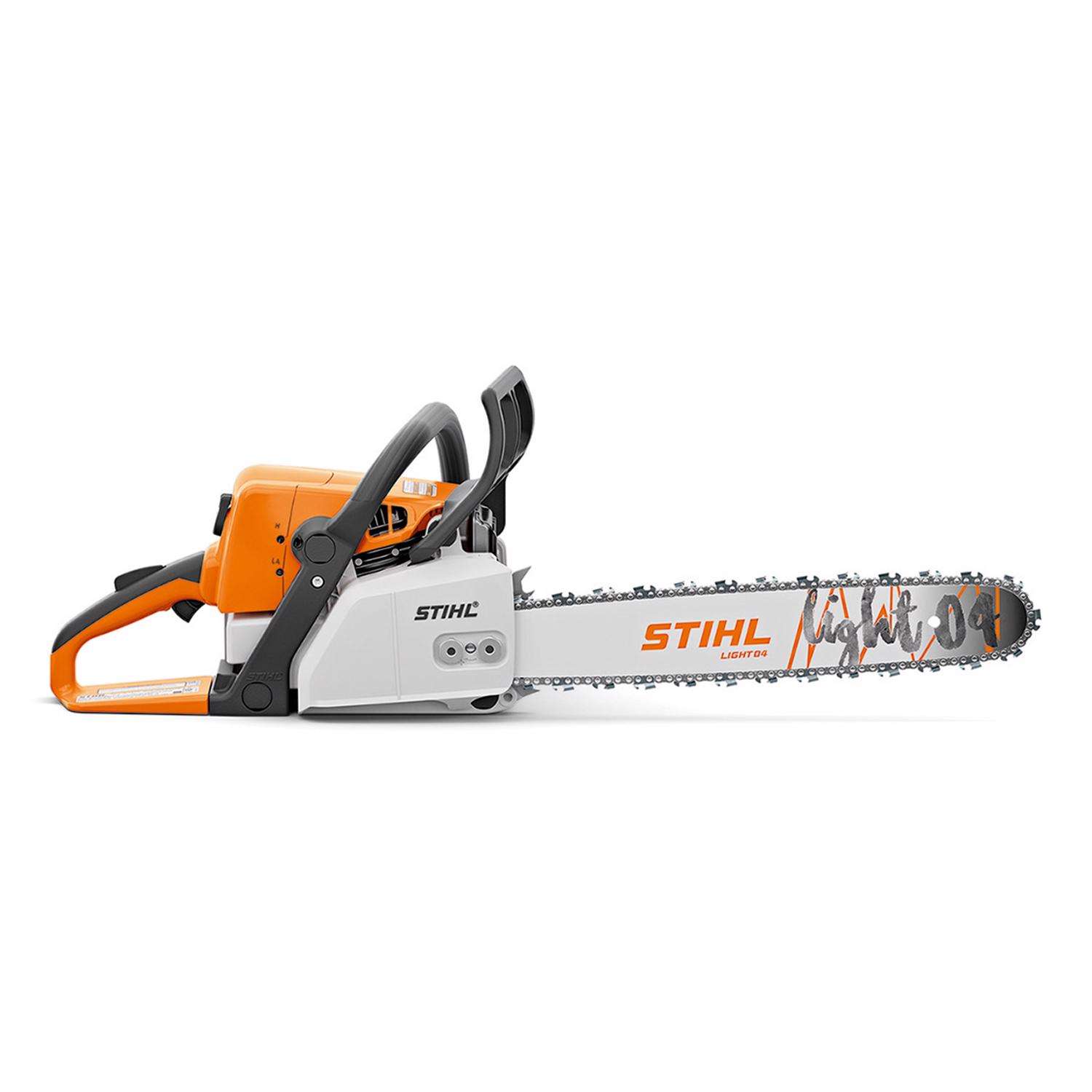 Stihl MS 250 [WINNER]
VIDEO | Comparison Between Stihl MS 250 and MS 251 Chainsaw
Frequently Asked Questions
What size chain is on a Stihl MS251?
The Stihl MS251 is a powerful and versatile saw equipped with a chain measuring .325 inches. It is known as the Stihl Rapid Micro 3 chain, sometimes referred to as RM3.
The chain is ideal for chopping up wood, trimming trees, and even felling them.
How much is a Stihl MS250 worth?
A Stihl MS250 chainsaw is worth $400 with an 18-inch bar. In this price range, a mid-sized saw like this is an excellent investment for home projects like cutting firewood.
Keep in mind that the final cost varies based on the features and options you choose, as well as the condition of the saw. A new Stihl MS250 typically sells for about $400, but you can often find used ones for less.
How good is an MS 250?
The Stihl 250 is a pretty good chainsaw considering it only weighs 10.1 pounds. The saw is a breeze to maneuver, making it suitable for prolonged use.
Moreover, it can handle a full day of work thanks to its 15.9-ounce fuel capacity.
Last but not least, the Stihl MS 250 is capable of generating 3 horsepower, enough to perform light to medium work.
How big is a STIHL MS 250?
There is an 18-inch bar on the MS 250 chainsaw. It should give you a clear idea of how big the tool is.
Most chainsaws use this bar size because it is suitable for a wide range of jobs. However, a longer bar might be a better choice if you intend to cut extremely thick branches or logs.
To Sum Up
As the article explains, these chainsaws differ in a lot of ways. Nevertheless, they are both great in their own right.
The MS 250 offers good fuel capacity, is lightweight, and comes at an affordable price.
On the other hand, the MS 251 chainsaw is a superb choice if you are looking for power, fuel economy, and eco-friendliness.