I am quite familiar with chainsaws, especially those from Stihl. I was, however, utterly baffled when one of the friends asked which Stihl saw was better between the 291 and the 311.
The only thing I said to my friend was that I would reply soon. Upon digging deeper into these saws, I discovered that there are many differences between them that make one superior to the other.
The Stihl 291 and 311 chainsaws are different based on their power, fuel efficiency, weight, and emissions. They surprisingly also differ when it comes to their chains.
Let's describe all the differences in a more comprehensive manner.
Comparison Table with Specs of Stihl 291 and Stihl 311
| Key Factor | Stihl MS 291 | Stihl MS 311 |
| --- | --- | --- |
| Weight | 12.3 lbs. | 13.67 lbs. |
| Fuel Capacity | 16.9 oz. | 20.3 oz. |
| Chain Oil Capacity | 8.12 oz. | 11.8 oz. |
| Power | 55.5 cc displacement and 3.76 bhp engine power | 59.0 cc displacement and 4.2 bhp engine power |
| Chain | Rapid Micro 3 | Rapid Super 3 |
| Emission Control | Available | Not available |
| Price | CHECK LATEST PRICE | CHECK LATEST PRICE |
Differences Between MS 291 and MS 311
The following five differences seem to set 291 and 311 saws apart the most.
1. Fuel Economy
Although the MS 291 is a top-of-the-line chainsaw, it is nowhere near the 311 saws in terms of fuel efficiency. In Stihl's own words, the 311 has 20% better fuel economy than any chainsaws they have previously manufactured.
An increase of 20% in fuel efficiency will save you a great deal of fuel, which ultimately means you will be saving more money with the 311 models.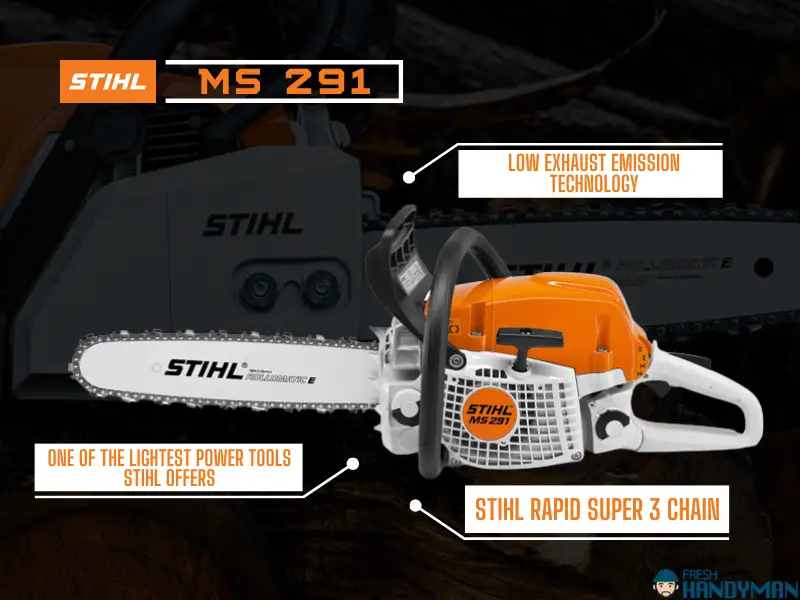 2. Weight
Regardless of how good a saw is, it will not be the most comfortable to use if it is too heavy.
The 291 chainsaw is one of the lightest power tools Stihl offers. It only weighs 12.3 lbs, whereas its nearest rival, 311, weighs 13.67 lbs.
If you fell trees continuously for an extended period of time, you will experience less fatigue with the lightweight 291 model.
3. Power
The MS 311 chainsaw is way more powerful than 291 saws. It is powered by a 4.2 bhp engine and a solid displacement of 59 cc.
Unfortunately, the MS 291's engine is only rated at 3.76 bhp. The 55.5 cc displacement is also not up to the mark, considering how power-hungry some tree-cutting tasks can be.
4. Chain
The recommended chains for 291 and 311 saws are different.
You get a .325-inch Rapid Micro 3 chain with the 291 unit. Besides providing low kickback, it also has minimal vibrations to make tree-chopping comfortable.
Moreover, the chain is known for its soft cutting and virtually no chatter.
On the other side, the 311 power tool is fitted with the STIHL RAPID Super 3, which is also a vibration-reducing and kickback-free chain. However, more importantly, it is one of Stihl's newest and most feature-rich chains.
It can also cut aggressively and quickly, something that RM3 chains are incapable of.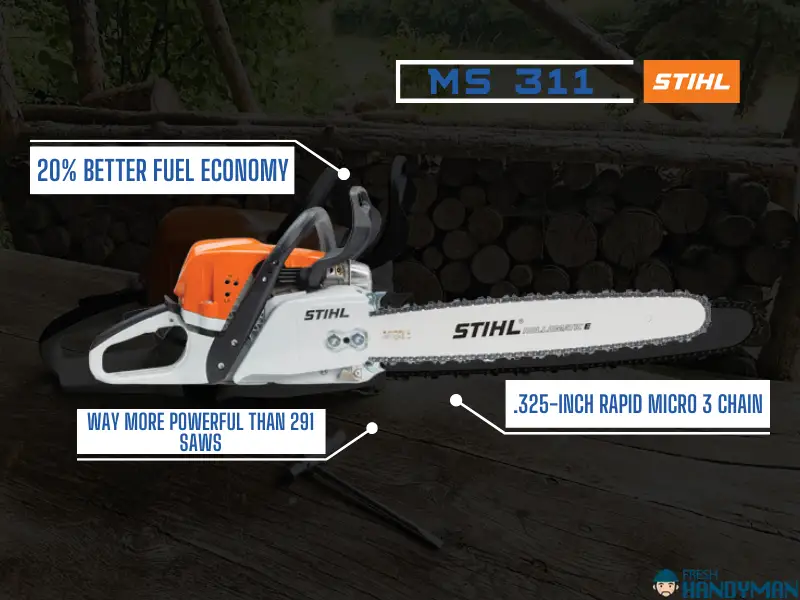 5. Emission
For those who believe in protecting the environment through emission control, the 291 saw has to be the right choice for them.
Stihl has incorporated its low exhaust emission technology into the product. The technology is even better than the EPA and CARB standards.
The 311 unit is not notorious for its emissions, nor does it have an exclusive technology for reducing emissions.
Similarities Between MS291 and MS311
The following are three of the most significant similarities between the 291 and 311 chainsaws.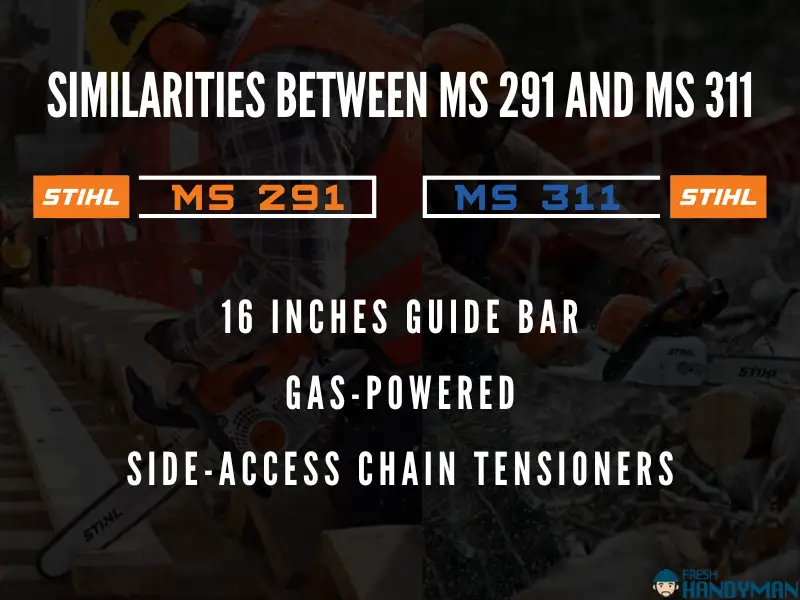 1. Bar Length
The bar lengths that Stihl recommends for these chainsaws are the same. If you already have a 16 inches guide bar, you don't have to purchase another separately.
Just equip it with one of these saws, and you are good to go chop some trees.
2. Gas-powered
The electric saws might be lightweight and easier to start. Nevertheless, if you are faced with a heavy tree, the chances are that the electric saws will fail to cut it down to even an inch.
This is where gas-powered chainsaws shine, thanks to their tremendous power and fast-cutting capabilities. They are more durable too.
Thankfully, both the 291 and 311 chainsaws have a gas power source.
3. Chain Tensioner
Isn't it awfully annoying to use the guide bar screw for chain adjustment? This is exactly why I prefer saws with side-access chain tensioners.
They simply allow you to tighten and loosen the chain with a bar wrench. And you can do that with these two chainsaws as they both have chain tensioners.
Pros and Cons of Stihl MS 291
Pros:
Extended run time with low emissions
Lightweight
Durable air filter
Comfortable operation thanks to reduced vibration
Doesn't require regular maintenance
Cons:
Pros and Cons of Stihl MS 311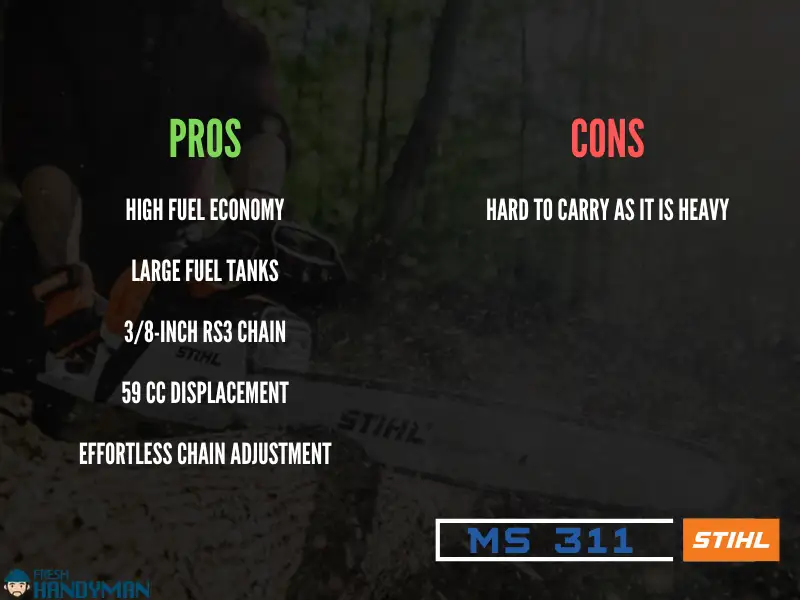 Pros:
High fuel economy
Large fuel tanks
Comes with the 3/8-inch RS3 chain
Powerful with its 59 cc displacement
Effortless chain adjustment
Cons:
Hard to carry as it is heavy
Which One is the Best?
The chainsaw that I would recommend out of these two is the Stihl 311 with closed eyes. It is an incredibly powerful tool not only in comparison to the 291 chainsaw alone but also among the top chainsaws.
Furthermore, the 311 model offers over 20% more fuel economy than the 311 saw, which is a huge cost-saving feature.
When you do not have much heavy-duty feeling to perform, and you prefer lightweight, the Stihl 291 could be the right choice for you.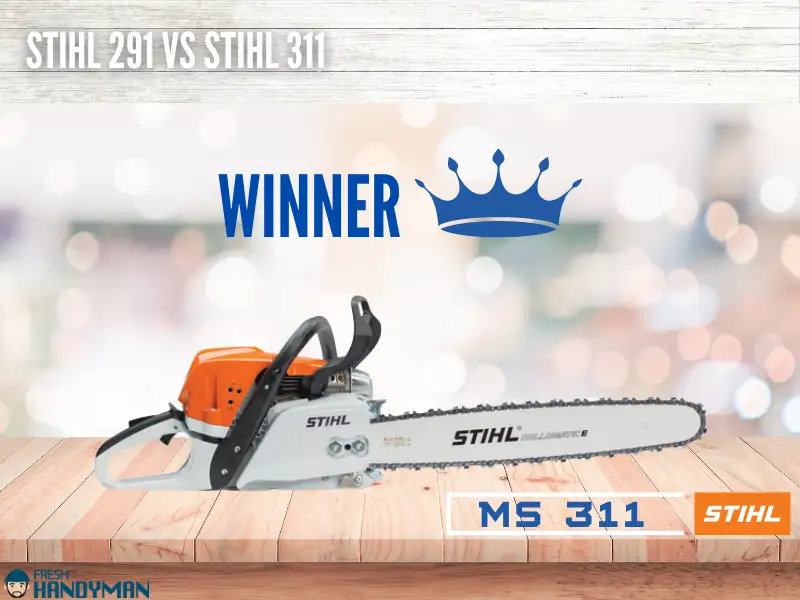 Stihl MS 311 [WINNER]
Also Read: Stihl 311 Vs. 391
Frequently Asked Questions
1. Do Stihl 291 and 311 chainsaws vibrate excessively?
Stihl's anti-vibration mechanism ensures that MS 291 and 311 do not vibrate as much as their competitors' chainsaws. Hence, you won't feel fatigued by operating any of these saws, helping you work longer comfortably.
2. How often do I have to clean the MS 291 and 311 chainsaws?
The pre-separation air filtration system of these saws prevents the air filter from collecting excessive amounts of dirt. As a result, the 311 and 291 saws do not require frequent maintenance or cleaning.
Final Words
I hope this article clarified all the differences between 291 and 311 chainsaws. It goes without saying that Stihl MS 311 is more powerful and overall, the better saw. Nevertheless, the lightweight design of the 291 saws is also a strong selling point.
If you are interested to read more comparisons, have a look at this article to learn the differences between Stihl 362 and 462.