After discontinuing the 880 and introducing the 881, Stihl caught the attention of loggers in a big way. As someone who found the 880 chainsaw to be somewhat lacking, I was intrigued by how many changes were made to its successor.
In my experience with the 881 unit, I was incredibly pleased with all the improvements. So what are those?
The Stihl MS 881 is more eco-friendly, uses less fuel, has a better air filter, and weighs less than the MS 880 saw. The only area where the 880 still excels is its ability to maintain a cool temperature.
In the article, I will discuss the improvements (differences) in greater detail. Before exploring the differences in depth, I will present them briefly in a table.
Let's get down to business!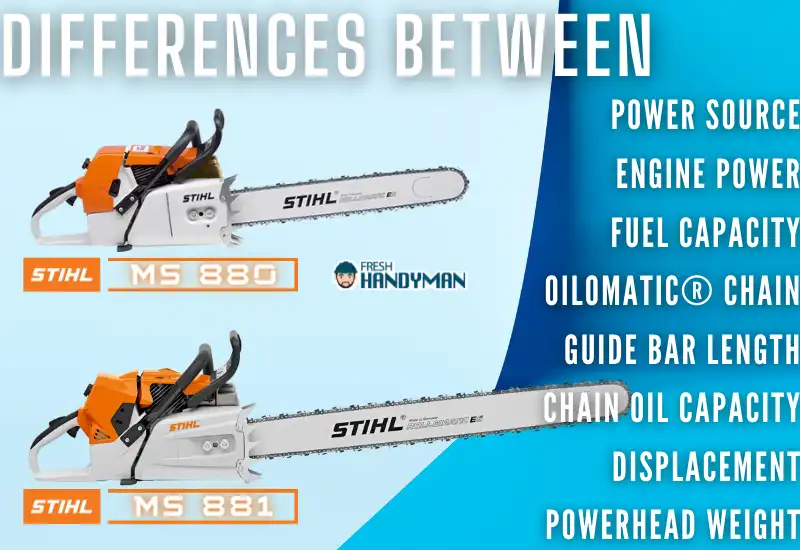 Differences Between MS880 and MS881 – Quick Table
The MS880 and MS881 have a number of differences. Let's check them out in a nutshell.
| Key Factor | Stihl MS 880 | Stihl MS 881 |
| --- | --- | --- |
| Weight | 22.3 pounds | 21.8 pounds. |
| Fuel Efficiency | Not fuel efficient. | Fuel economy has increased by 20-30%. |
| Emissions | Does not meet emission standards. | Fully in compliance with the EU 5 emission guidelines. |
| Heat Output | Doesn't get too hot thanks to a 2-stroke engine. | The upgraded 2-mix engine burns more, resulting in a hotter engine. |
| Air Filter | The air filter is easily clogged. | Comes with the HD2 air filter that stays clean for longer periods of time. |
| Vibration | Vibrates heavily. | There has been a decrease in vibration. |
| Availability | No longer widely available since Stihl has discontinued it. | Availability remains high due to Stihl's continued manufacture. |
What Makes The MS881 Different From The MS880?
Here are all the aspects of the 881 chainsaw that set it apart from the 880.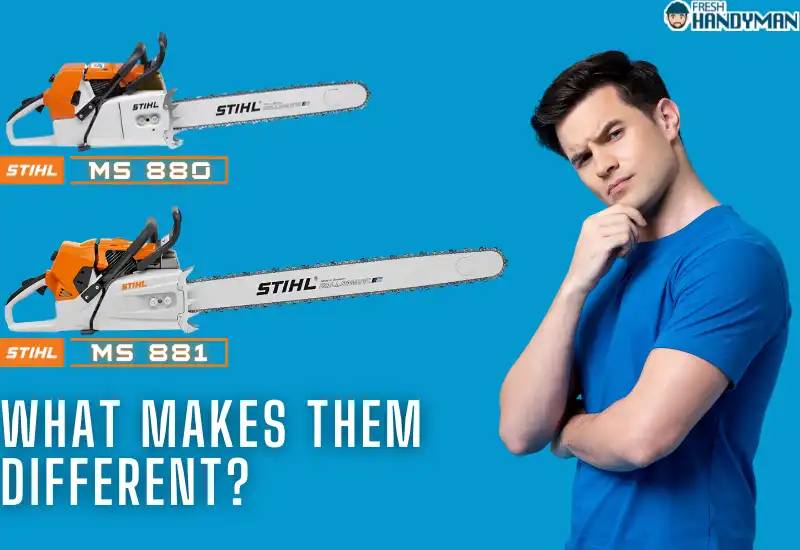 Fuel Economy
If you are familiar with the Stihl 880 chainsaw, you are probably aware of how fuel-hungry it is. For long-term wood-cutting tasks, 880 units are a nightmare in terms of fuel usage and expense.
Stihl has thankfully addressed this problem with the MS881 saw. There is no significant change to the engine, but it now boasts a 20-30% improvement in fuel efficiency.
Emissions
Although the MS880 had the greatest power, it failed to meet emissions standards. As a result, the chainsaw was unavailable in European markets.
To ensure that the successor to the 880 is eco-friendly and emissions-compliant, Stihl equipped it with a 2-MIX motor. Now the 881 model complies with the strict EU 5 emissions regulations and does not cause environmental damage.
Heat Output
There aren't many flaws on the 881 chainsaw, except for one. The tool is likely to heat up after prolonged use. The 2-mix engine is responsible for this.
You see, this engine emits cleaner emissions for the sake of the environment. It is also highly energy-efficient, which saves you plenty of bucks.
However, the 2-mix engine has a much worse burn rate compared to the 880 saw's 2-stroke engine. Hence, it tends to generate more heat than its predecessor.
Weight
Weight is yet another factor Stihl took into account when making the 881 saw.
The MS 880 used to weigh around 22.3 pounds, which was not too heavy for a powerful chainsaw. Even so, Stihl somehow brought this number down to 21.8 pounds.
It means you'll be able to operate, handle, and maneuver the 881 chainsaw more comfortably than before.
Air Filter
The filter on the 880 could use improvement, given how easily it accumulates dirt.
The 881 has been updated with an HD2 filter to fix the issue. It provides a high level of filtering, particularly when dealing with sawmill dust.
Moreover, this air filter rarely gets dirty, and even when it does, the cleaning process is relatively simple.
Vibration
One more complaint about the 880 chainsaw was its vibration. The product was difficult to control due to excessive vibration.
Although the 881 does vibrate as well, it is not as severe that could lead you to lose control of the chainsaw.
Availability
I had to conduct a thorough search to get my hands on a Stihl 880. It is because the product has been officially discontinued since it was found to be non-compliant with emission regulations.
You can still find the 880 model in some stores if you are lucky, but you may have to hunt for it.
On the other hand, as the 881 is officially available, you can purchase it from any Stihl dealer or chainsaw shop.
Related: Is the Stihl MS461 Discontinued?
Frequently Asked Questions
How many cc is a STIHL MS 880?
The STIHL MS 880 is a model that's been around for quite some time. It has a 121.6 cc (7.42 cu. in.) engine that is capable of delivering up to 6.4kW engine power, which means you can cut through any task with ease.
How much does a Stihl 881 cost?
The 881 is the most powerful, versatile, and reliable piece of equipment that you can buy for your lawnmower. The best part? It costs only $2,189.99!
What is the largest bar that can be installed on a Stihl 881?
A 41″ guide bar is the largest bar that can be mounted on a Stihl 881. This allows maximum control on your cutting line, which is critical when you want to ensure that your bars cut neatly and evenly.
Also Read: How To Adjust Stihl Chainsaw Oiler For Optimal Cutting Results?
To Sum Up
As I explained in the article, the 880 and 881 have quite a few differences, even though they appear identical at first glance.
The 881 chainsaw comes with some major upgrades, such as higher fuel efficiency and a more environmentally friendly design.
Although the 880 is still a powerful chainsaw with great features, the 881 offers more value for almost the same price.