A search on the internet reveals that Stihl 461 saws are not available anymore. However, it is still being bought and used by people today. Thus, the entire situation is clouded with confusion.
Nonetheless, the Stihl MS461 was indeed discontinued by Stihl as it wasn't up to par with other chainsaws on the market. It lacked advanced features and was getting expensive to produce, which led Stihl to abandon it.
In the article, I will go over the reasons why Stihl stopped producing the 461 chainsaw. I will also talk about the successor and the new features it offers.
Let's dive right in!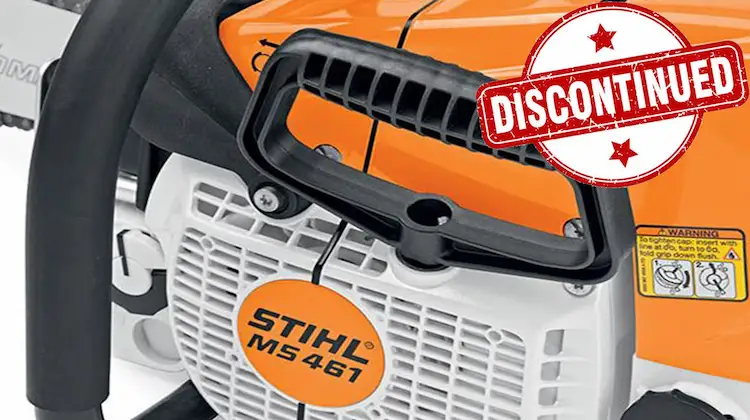 Why Did Stihl Discontinue The 461 Chainsaw?
Stihl decided to discontinue the 461 chainsaw due to low sales. With numerous modern saws on the market, 461 models were too expensive for most people and lacked enough features to justify their high price.
The Stihl MS461 is undoubtedly a powerful saw for professionals. It is gas-powered and has a lot of features suitable for cutting down large trees.
However, the chainsaw has some shortcomings. For instance, it seems too heavy to be marketable at 14.8 pounds.
On the other hand, Stihl was not satisfied with the quality of the MS 461. In addition, production costs were also rising from the use of high-quality components and materials.
All of this contributed to Stihl ceasing to manufacture the saw.
What Is The Replacement For The Stihl MS461 Chainsaw?
The Stihl MS462 chainsaw replaced the MS461. It resembles the 461 in many ways but features a number of improvements for a better cutting experience and greater reliability.
As I have already mentioned, the Stihl MS 461 chainsaw was phased out for not meeting the company's quality standards. It was also expensive to produce, resulting in a higher price tag than other models of its kind.
The 461's successor MS462 is a high-powered saw designed for professional use. It offers a two-stage air filtration system, an anti-vibration system, and tool-free chain tensioning.
What Are The Main Improvements On The Stihl MS462?
The following three improvements make the 462 a superior chainsaw to the 461.
1. Weight
You knew it was coming, didn't you? Due to its massive 14.8 pounds weight, the 461 chainsaw was not ideal for people who prefer lightweight machines.
Thankfully, Stihl took market demand into account and made the MS 462 lighter by 1.6 pounds. Now you can keep working without exhausting yourself with this 13.2-pound chainsaw.
2. Features
A lot of vital features were missing from the 461 while its competitors offered them. Stihl has filled the gap by adding multiple new functions to the 462 chainsaw.
Firstly, there is the Quickstop system. When kickbacks occur, this chain brake helps reduce injuries.
The Winter/Summer Shutter is yet another feature. It is not uncommon for the carburetor to malfunction under adverse weather conditions. The shutter prevents that by adjusting the temperature accordingly.
There are also plenty of other outstanding features, including a unique bumper spike design.
3. Cost
One of the biggest drawbacks of 461 saws was their high price. Fortunately, there has been a substantial $200 reduction in the price of 461's successor.
While the 461 unit used to cost around $1500, you can get the 462 for just $1300. This is a huge improvement made by Stihl.
Also Read: Stihl 461 Vs. 462
Is the Stihl 461 Worth Buying Right Now?
While the MS461 is no longer being manufactured, it continues to be used and cherished by many people. The product is still available from several unofficial vendors.
If you are looking for a powerful chainsaw with durability, then the 461 model is a great choice even to this day. There are many other features as well. Continue reading to find out more.
Key Features of Stihl 461
Here are three reasons that make the MS 461 worthy of your attention.
1. Powerful Engine
The Stihl 461's power is one of the top reasons why you should give it a try. The power tool is equipped with a robust 76.5 cc engine. Hence, whatever heavy-duty cutting you need to perform, the saw is up to the task.
2. Bar Length Compatibility
In the current market, chainsaws that can cut both small and large trees flawlessly are hard to find. This is an area where the 461 excels.
It is compatible with guide bar lengths of 16 inches to 32 inches. With such a vast range of bar lengths, cutting any type of tree is easy.
3. Large Fuel Capacity
Don't know about you, but I'm not fond of constantly refilling the fuel tank. I prefer chainsaws with ample fuel capacity to avoid this problem.
Having 27.1 ounces of storage makes the 461 saw perfect for people who do a lot of cutting. The large capacity allows you to focus more on your work since there is no continuous need for refills.
To Sum Up
It is indeed true that the Stihl MS461 has been discontinued because of a decline in sales. The saw was not as feature-rich as other products considering its high price.
Nevertheless, the 461 remains a top chainsaw even today, thanks to its extraordinary performance.
Having problems cleaning your 461 saw after a long period of use? Take a look at this article for detailed cleaning instructions.