Working with a chainsaw is, of course, always a daunting task. As one of the most potent tools, a chainsaw is not something you want to play around with. For this reason, before you go into the wilderness to cut wood, you must be aware of everything regarding the Stihl 261 vs 271 comparison.
Mainly the difference is in the design. Having a crankcase made of magnesium, the 261 is lighter yet more powerful and easy to work. On the other hand, the 271 has a polymer crankcase making it heavy and pretty challenging to work on.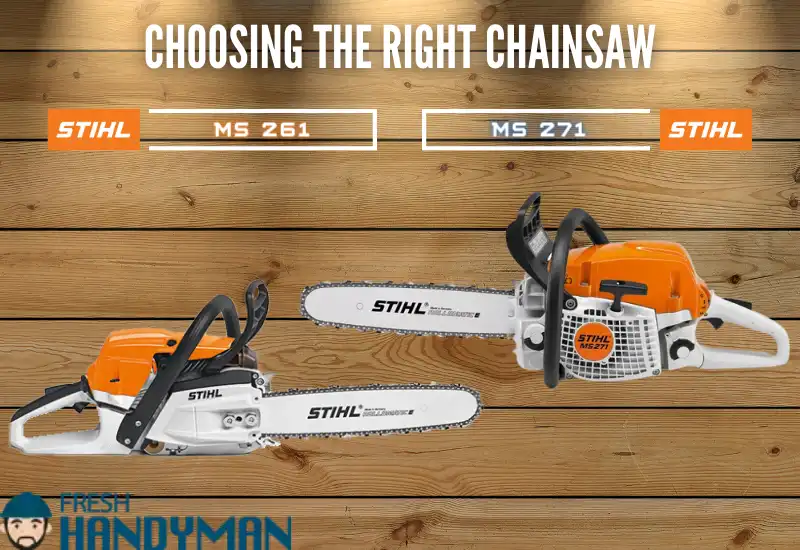 In this guide, I'm going to compare Stihl 261 and 271 comprehensively. My goal is to make it easier for you to pick the perfect chainsaw for your needs. So, hang on…. let's get started.
Stihl 261 Vs 271: Comparison Table
Let's look at the short table to get an idea before I get into a detailed comparison of Stihl 261 and 271.
Stihl MS 261 Chainsaw

Engine Power: 3.0 kW
Displacement: 50.2 CC
Powerhead Weight: 11.6 lbs.
Fuel Capacity: 500 CC
Guide Bar Length: 16 to 20-inches
Chain Oil Capacity: 270 CC

Stihl MS 271 Chainsaw

Engine Power: 2.6 kW
Displacement: 50.2 CC
Powerhead Weight: 12.3 lbs.
Fuel Capacity: 500 CC
Guide Bar Length: 16 to 20-inches
Chain Oil Capacity: 240 CC
Core Features and Functionality of Stihl 261
The Stihl 261 is a powerful, reliable chainsaw that can get the job done in a variety of situations. Let's look at some of its features and how they perform.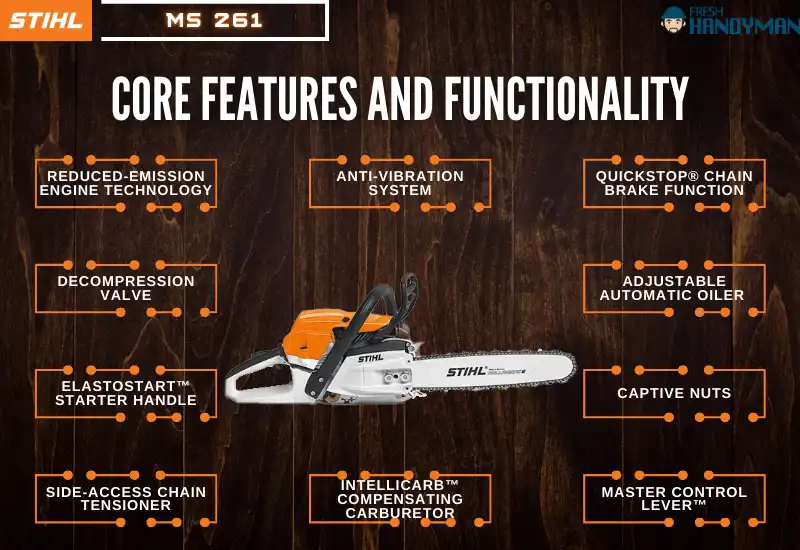 Reduced-Emission Engine Technology
If you're an environmentally-conscious guy, Stihl's 261 with Reduced-Emission Engine Technology is a great choice. This engine technology reduces exhaust emissions to zero or low levels, which means you can keep your conscience clean while getting the job done.
Anti-Vibration System
The system minimizes the vibrations that are transferred to your hands, arms, and shoulders. This helps you maintain control and comfort while operating your machine.
Quickstop Chain Brake Function
Due to its chain-stopping system, when the saw is kicked back, the chain is automatically stopped and locked into place, reducing the chance of injury or damage to property.
Decompression Valve
It's also known as a 'deco valve,' because it permits the machine to start quickly by venting compression in the cylinder. It opens up manually and shuts automatically after the engine starts.
ElastoStart Starter Handle
It's a feature that has been designed to help you start your chainsaw with less effort. It is a starting grip that is equipped with an internal shock absorber that reduces the amount of force required when pulling on the starter cord.
Side-Access Chain Tensioner
You'll find it easier to set the tension of the saw chain using a bar wrench because of this side access.
IntelliCarb Compensating Carburetor
When the air filter becomes blocked or clogged, this design adjusts the ratio of air and fuel to maintain the proper RPM of the engine.
Master Control Lever™
Because of its control, you can easily manipulate the choke, use the single lever, flip the on or off switch, and activate the throttle lock. Furthermore, prior to moving the Master Control LeverTM towards the choke position, you must first move the throttle trigger.
Captive Nuts
The Stihl 261's captive nuts enable tight connections throughout key sections.
Adjustable Automatic Oiler
You can quickly adjust the bar lubricant and chain for varied cutting circumstances and bar lengths.
Core Features and Functionality of Stihl 271
The Stihl 271 has an amazing number of features that make it the perfect tool for any homeowner. So, let's dive deep into this machine.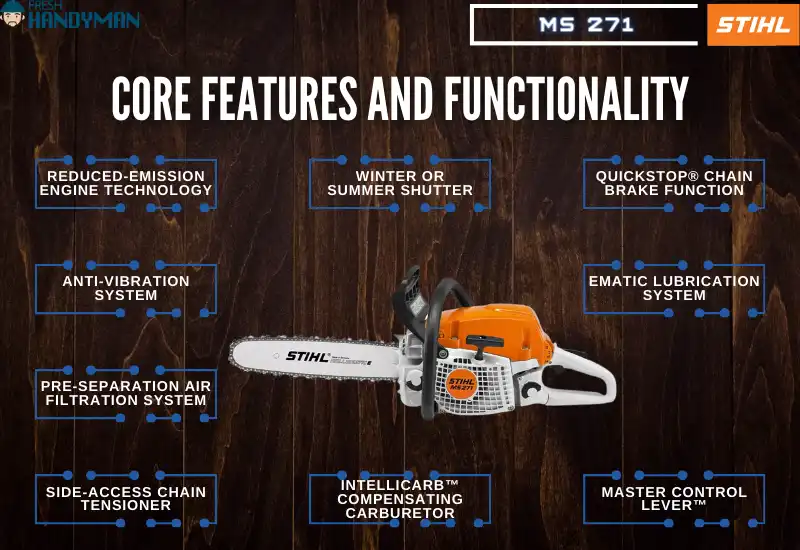 Reduced-Emission Engine Technology – Caring for Nature
It allows you to work without worrying about the environment. This technology reduces emissions and increases fuel efficiency, allowing you to cut down on your carbon footprint. That's why you see the seal "Caring for Nature" on the Stihl products.
Winter or Summer Shutter
This keeps your engine running smoothly all year round and prevents carburetor ice when operating under 50°F (10°C).
STIHL Quickstop Chain Brake System
The Quickstop® chain brake system is designed to stop the rotation of your chain if you activate it, or if the saw kicks back with enough force to engage it. It's a simple idea that can save your fingers and limbs, as well as your workpiece.
Anti-Vibration System
This system is designed to minimize the impact of vibrations on the machine and its operators, as well as reduce physical strain during long shifts.
IntelliCarb Compensating Carburetor
The IntellicarbTM fixes the ratio of fuel and air when the air filter becomes even if partially clogged. So, you don't need to take the pain of adjusting the ratio manually. Plus, it keeps your engine running smoothly by maintaining the proper RPM.
Pre-Separation Air Filtration System
This is a critical component of the Stihl 271 chain saw. It cuts down on the time usually spent on cleaning the engine's filtration system, which in turn improves engine performance.
Side-Access Chain Tensioner
The Side-Access Chain Tensioner makes it even easier to keep your chains well-adjusted by using a bar wrench, with no hassles.
Ematic Lubrication System
It's aimed at providing appropriate lubrication while using less oil than traditional approaches. And when you use it with STIHL OILOMATIC saw chain, it'll help you get the most out of your saw.
Master Control Lever
It's easy to use and works with just one lever. You can use one hand to manage the choke, start the throttle lock, and on/off the switch—no more messing! Just pull the trigger and then move the master lever to the choke position.
Read Also: 7 Most Common Stihl MS 271 Problems and Solutions
Difference Between Stihl 261 and 271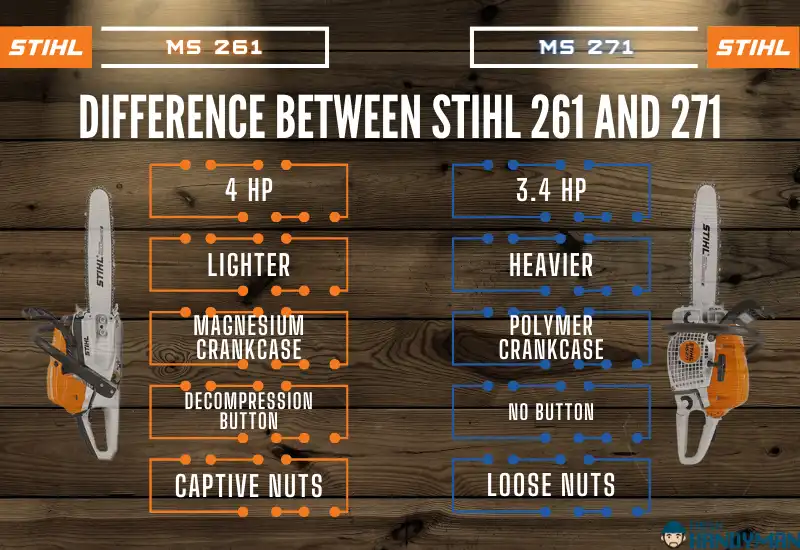 The Stihl 261 and 271 are two of the most popular chainsaws on the market today. Both are excellent choices for homeowners, but there are a few differences between the two that may help you decide which is the right tool for your needs.
| Stihl MS 261 | Stihl MS 271 |
| --- | --- |
| 4 HP | 3.4 HP |
| Lighter | Heavier |
| Magnesium Crankcase | Polymer Crankcase |
| Decompression Button | No button |
| Captive Nuts | Loose Nuts   |
The 261 is lighter and smaller than the 271, which means it's easier to use for long periods of time or in tight spaces. It also has a higher power-to-weight ratio than 271. So, if you're looking for a lightweight machine that can get the job done quickly, this might be your best bet.
Alternatively, there is nothing wrong with choosing the 271 if all you need is a little amount of firewood. Despite having less power than the 261, it still does a good job.
MS 261 Vs MS 271: Which One Is Better for You?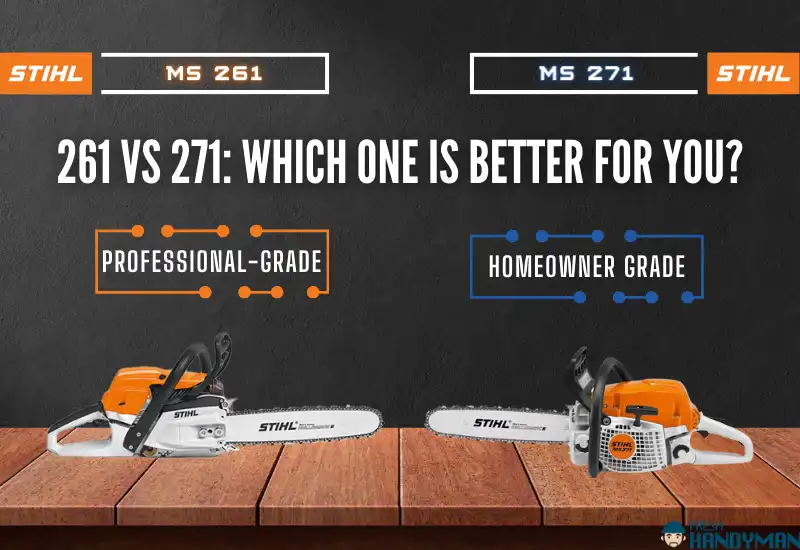 The engines of the Stihl 261 and 271 are identical. Yes, you read that correctly. The catch here, though, is the size and power.
As a result, the Stihl 261 is actually more competent in handling thick forests. Furthermore, the Stihl 261 is somewhat lighter than the Stihl 271, making it simpler to operate in the woods. When using the Stihl 271, however, firewood processing is rather rapid.
In summary, if you want a professional-grade saw, the Stihl 261 is the one to choose. The Stihl 271 is recommended for homeowner grade.
VIDEO | Stihl MS 261 Vs 271
FAQ
How big of a bar can you put on a Stihl 261?
The standard guide bar length for a Stihl 261 is 18-inche. However, if you have an 18-inche guide bar, it may not be long enough for some of the bigger jobs you have in mind. If that's the case, you could use a 20-inche guide bar instead.
Is the MS 261 Stihl a pro saw?
The Stihl 261 is unquestionably a professional saw that takes various bar widths for your comfort when dealing with wood. It also has unique features such as a decompression valve, chain brake system, anti-vibration, captive nuts, and more.
How big of a bar can you put on an ms271?
It's true that the MS271 can support up to a 20-inch bar, but we would recommend going with an 18-inch bar if you're on the fence about which one to get.
Read Also: How To Put A Chain On A Chainsaw?
Conclusion
There are plenty of different factors that need to be taken into account before you make your decision, and this article looks at them just in case you're unsure. Sure, each model differs a little from one another but certain points always remain the same.
I hope that this article has helped you to reach the point now where you can simply choose between Stihl 261 and 271.