If your budget is around $600, Stihl 311 and Husky 460 are both high-quality chainsaws worth considering.
I had a hard time choosing between the two. However, upon researching, I came across a few differences that helped me decide which was right for me.
Stihl MS 311 and Husqvarna 460 differ in terms of displacement, horsepower, bar length, fuel capacity, and the amount of fuel they consume. Their weights are slightly different as well.
In the article, I describe the key features of these two chainsaws and analyze their differences. I will briefly answer some commonly asked questions about the saws at the end.
Let's get started!
Features of Stihl MS 311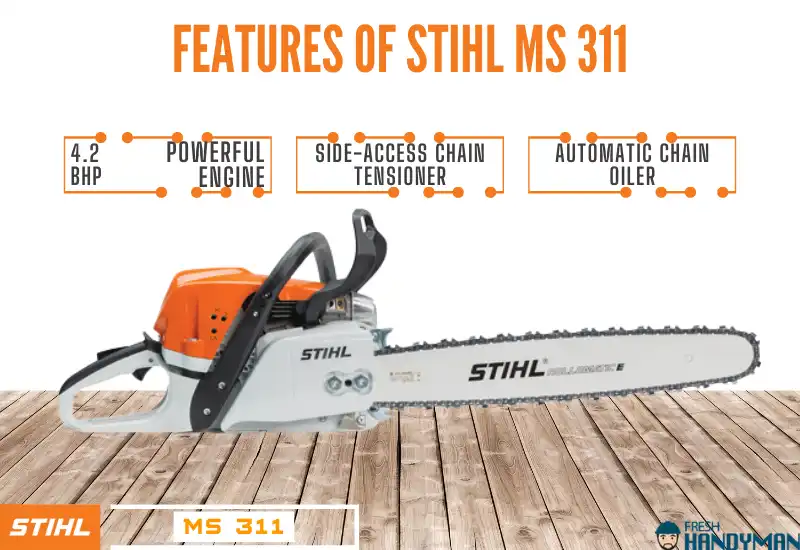 Powerful Engine
A robust 4.2 bhp engine drives the Stihl chainsaw. Moreover, due to the 2-stroke motor, it accelerates and speeds up more rapidly than other engines.
Automatic Chain Oiler
The Stihl MS 311 oiler adjustment takes only a few seconds thanks to its automatic chain oiler. This feature eliminates the need to adjust the oiler on your own.
As a result, the chain does not dull and stays lubricated effortlessly.
Side-Access Chain Tensioner
One of the standout features of the MS 311 is the side-access chain tensioner. It allows you to keep your chain tight without using any tools.
Thus, you will have more time to fell a greater number of trees.
Features of Stihl Husqvarna 460
X-Torq Technology
An excellent feature of the Husqvarna 460 saw is its X-Torq system, which reduces fuel consumption and emissions. Those who are environmentally conscious and want to save money will find this feature useful.
Low Vibration
Another advantage of the Rancher is that it has a low vibration level. You can use the saw for extended periods without experiencing vibration-induced hand and arm pains.
Centrifugal Air Cleaning
Last but not least, the 460 integrates a centrifugal air cleaning system to prevent large dust particles from entering the air filter. Doing so keeps the air filter clean and prolongs its life.
Stihl MS311 Vs Husqvarna 460 Comparison Table
| Key Factor | Stihl MS 311 | Husqvarna 460 Rancher |
| --- | --- | --- |
| Horsepower | 4.2 bhp | 3.62 hp |
| Weight | 13.67 pounds | 13.2 pounds |
| Fuel Capacity | 20.3 oz. | 14.88 fl oz. |
| Displacement | 59.0 cubic centimeters | 60.3 cubic centimeters |
| Fuel Consumption | The percentage of fuel efficiency is not specified. | 20% reduction in fuel consumption. |
| Emissions | Does not lower emissions. | Up to 60% reduction in emissions. |
| Recommended Bar Length | 16 inches | 24 inches |
| Recommended Bar Length | CHECK LATEST PRICE | CHECK LATEST PRICE |
Differences Between Stihl MS 311 And Husqvarna 460
The time has come to take a closer look at the major differences. Let's check them out.
Displacement
The term displacement refers to the amount of air a chainsaw engine can draw in during one cycle. The volume is usually measured in cubic centimeters (cc) or cubic inches (ci).
The higher the displacement, the more power a chainsaw can produce.
The Husqvarna 460 has the edge with a displacement of 60.3 cubic centimeters. Having such a powerful engine will allow you to cut any thick tree.
Stihl 311 saws remain competitive with 59.0 cc displacement.
Winner: HUSQVARNA 460 Rancher
---
Horsepower
Not everyone calculates a chainsaw's power based on displacement. Some folks consider horsepower to be a more accurate measure of power.
For them, the Stihl MS 311 makes more sense. Wait a sec, didn't I say Husqvarna's was more powerful?
Yes, I did. But surprisingly enough, the 311 chainsaw produces more horsepower, despite its smaller displacement.
You are getting about 4.2 bhp from the MS311 versus 3.62 hp from the Husqvarna 460.
Winner: STIHL MS 311
---
Emissions And Fuel Consumption
According to one study, chainsaws and strimmers emit half or more of all airborne particulates. It shows how harmful chainsaw emissions are to the environment.
To minimize this damage, Husqvarna 460 units are equipped with X-Torq engines designed to reduce emissions by as much as 60%. Unfortunately, the Stihl 311 does not feature any emission-reducing technology.
If you care little about the environment, perhaps you should take into account your fuel expenditure.
The 311 model eats up a lot of fuel. Compared to that, Husqvarna 460 chainsaws consume up to 20% less fuel.
Winner: HUSQVARNA 460 Rancher
---
Fuel Capacity
As the name suggests, the fuel capacity of a saw refers to how much fuel it can store. This determines the amount of time the chainsaw can run before needing a refill.
The Stihl 311 comes with a spacious fuel tank of 20.3 ounces. Such a large capacity will enable you to complete all your firewood-cutting tasks in one go.
On the other hand, Husqvarna's 14.88 fl oz fuel capacity fell short of my expectations.
However, do not overlook the fact that the 460 chainsaw has a 20% fuel efficiency. It means refilling won't be necessary that often despite a small fuel reservoir.
Winner: STIHL MS 311
---
Bar Length
You need to pay attention to the length of the bar on your chainsaw. A big bar is more effective at cutting thick trees and wood.
As a rule of thumb, chainsaw bars should be 2 inches longer than the thickness of the timber you're planning to cut.
Husky's 460 model comes with a massive 24-inch bar. Almost no tree or wood is too hard for it to cut. This enormous bar makes the saw an ideal professional tool.
The Stihl MS 311 bar size stands at only 16 inches, which is rather short. Hence, it is incapable of chopping heavy wood.
Nonetheless, bear in mind that the 16-inch length is what Stihl recommends. The saw also accepts bars measuring 18, 20, and 25 inches.
Winner: HUSQVARNA 460 Rancher
---
Weight
You might wonder whether there is any difference in weight between these chainsaws. Yes, but it is barely noticeable.
The Husqvarna 460 weighs 13.2 pounds, whereas the Stihl 311 is 13.67 pounds.
Since the difference is marginal, I have to declare the weight factor as a tie.
Winner: Tie
---
Which Chainsaw Should You Buy?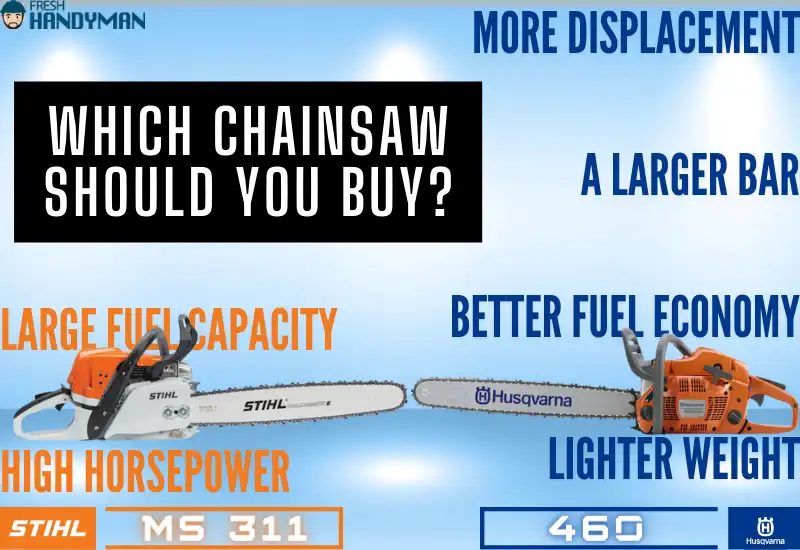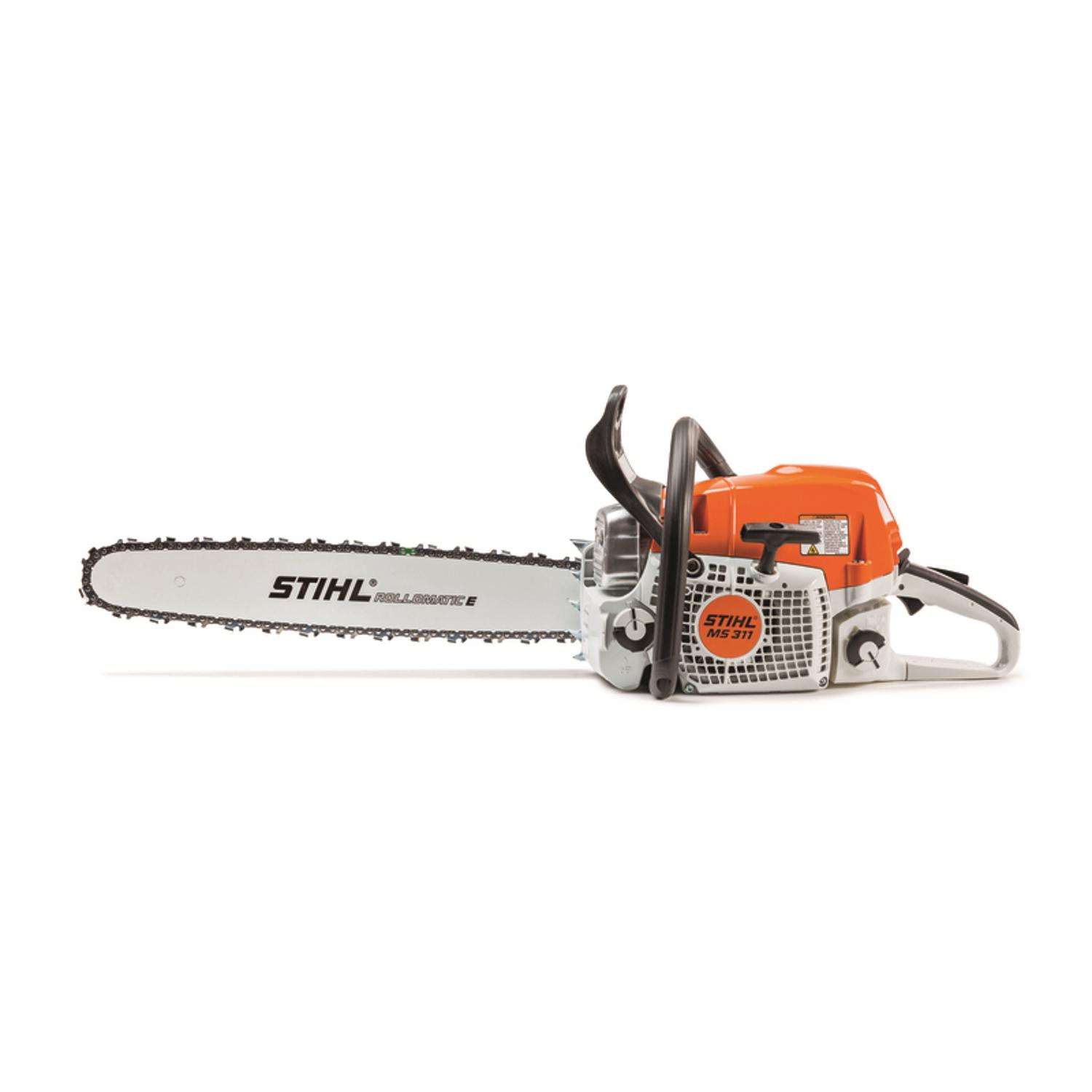 There is no doubt that the Stihl 311 chainsaw is a top-of-the-line product for its large fuel capacity and high horsepower.
Having said that, I would not recommend Stihl over Husky. But why?
The Husqvarna 460 Rancher has everything you're looking for, including more displacement, a larger bar, better fuel economy, and even lighter weight.
Given that both chainsaws cost $600, I definitely recommend the 460 saw because of its versatility.
Frequently Asked Questions
How many cc is a Husky 460 Rancher?
The Husky 460 Rancher is a gas-powered chainsaw powered by a 60.3 cc two-cycle engine. This machine is ideal for cutting firewood, felling trees, and carrying out other heavy-duty tasks.
How many cc's is a 311 Stihl?
The Stihl 311 is a medium-duty saw with a 59 cc engine. It is capable of cutting wood, felling small to medium-sized trees, and pruning.
Is Stihl better than Husqvarna?
Many people prefer Stihl chainsaws for their easy starting, lightweight design, and features like the side-access chain tensioner. Others opt for Husqvarna chainsaws due to their durability, power, and X-Torq technology.
Ultimately, it is a matter of personal preference.
How big are the chains on the Husqvarna 460 and Stihl MS311 chainsaws?
The Husqvarna 460 chain size and the Stihl MS311 chain size have the same measurement of 3/8 inches. However, the 311 supports only RS3 chains, while the 460 supports a variety of chains, including Oregon ones.
Related: Stihl 311 Vs 391
To Sum Up
As you can tell from the article, the Husqvarna 460 and Stihl 311 have a fair degree of differences in their power, capacity, and bar length. If performance is your top priority, the Husky model should be your top choice.
On the other hand, aside from its fuel capacity, the Stihl chainsaw appears to be quite ordinary.