The Stihl 462 chainsaw is a successor to the famous 362 saw. At first glance, I thought Stihl had not made any major changes and that it was all a marketing gimmick.
However, after learning more about these two products, I changed my mind, which led me to write this article.
There are significant differences between Stihl 362 and 462 chainsaws with regard to performance (massively), weight, fuel capacity, etc. Since it is the newest version, the 462 has a lot more advanced features than the 362.
In the article, I will go over all the key differences to help you choose the right product.
Let's begin!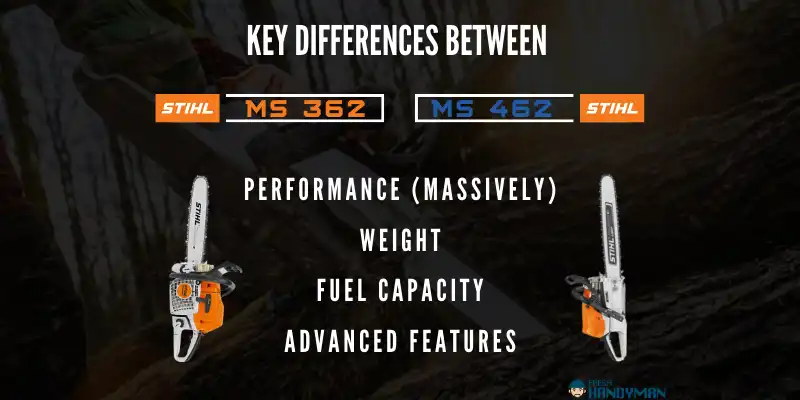 Comparison Table with Specs of Stihl 362 and Stihl 462
| Key Factor | Stihl MS 362 | Stihl MS 462 |
| --- | --- | --- |
| Weight | 12.3 lbs. | 13.2 lbs. |
| Displacement | 59.0 cc | 72.2 cc |
| Fuel Capacity | 20.3 oz. | 24.3 oz. |
| Engine Power | 4.6 bhp | 5.9 bhp |
| Chain Oil Capacity | 11 oz. | 11.5 oz. |
| HD2 Air Filter | Not available | Available |
| Price | CHECK LATEST PRICE | CHECK LATEST PRICE |
Differences Between MS 362 and MS 462
Here are the five biggest differences between the MS 362 and MS 462 chainsaws.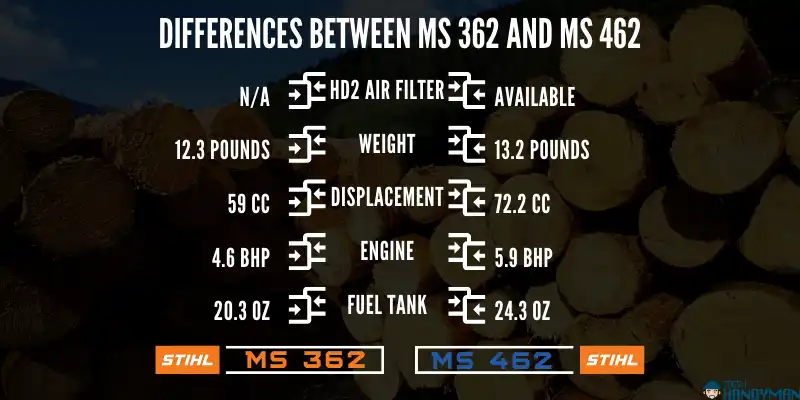 1. Air Filter
The 462 saw comes with a top-notch filter called the HD2 air filter. What makes it special is the amount of space it has.
As it is quite large, you can wash it with minimum effort. With its easy cleaning, the saw is likely to be maintained regularly. This will ensure consistent performance from the tool.
HD2 filters are not available on 362 saws. However, the filter included with this chainsaw remains clean as well. It utilizes a pre-separation technology that keeps dirt from piling up.
Nevertheless, an HD2 air filter is still the better choice.
2. Weight
Despite being the lightest product among professional saws, the 462 failed to surpass its predecessor in terms of weight.
The 362 model weighs 12.3 pounds, which is not too heavy as compared to the 462's 13.2 pounds. It is obvious that the 362 saw will be more comfortable to operate in the long run.
3. Displacement
You may not be aware, but displacement represents a chainsaw's power as a whole.
Undoubtedly, the biggest difference between 462 and 362 chainsaws lies in their displacement figures. The 462 models have a massive displacement of 72.2 cc. There should not be any tree-cutting operation that can't be performed with such power.
Unfortunately, the 362 saws give you an output of 59 cc of displacement. Although it can fall a good amount of trees, the tool is not as potent as its competitor.
4. Power of the Engine
A 4.6 bhp engine powers the Stihl 362. As opposed to that, the engine in the 462 saw produces around 5.9 bhp.
As you can see, the difference in engine power is not as significant as the difference in displacement. However, it is still a big deal since heavy cutting can take advantage of the additional horsepower from the 462 chainsaw.
5. Fuel Tank
Having to refill the fuel tank repeatedly does not seem appealing to me. It is an inconvenience, particularly if you are working nonstop. In that case, a chainsaw with a substantial fuel capacity is preferable.
The MS 462 can accommodate a whopping 24.3 oz of fuel. With a capacity of 20.3 oz, 462 chainsaws aren't much further from its successor.
Similarities Between MS362 and MS462
As you might already know, 362 and 462 saws are quite alike. Let's look at three noteworthy ways they are similar.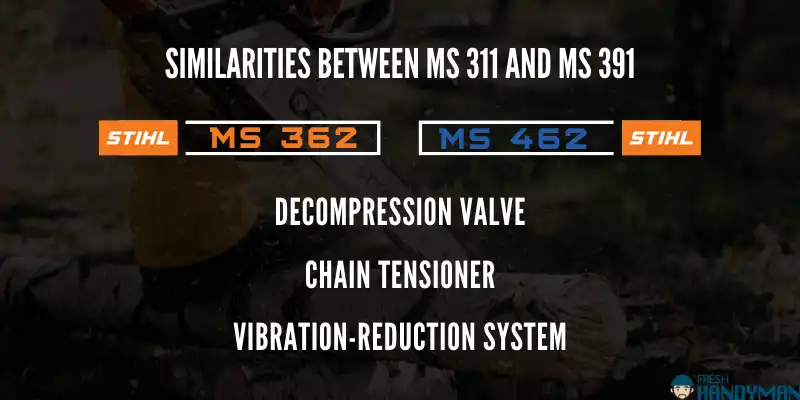 1. Decompression Valve
Decompression valves are one of my favorite features in chainsaws.
They reduce the pressure inside the combustion chamber as the saw cranks. In this way, you won't have to exert much effort when starting the power tool.
Neither chainsaw lacks this crucial feature.
2. Chain Tensioner
If you have ever used a traditional chainsaw, you know how irritating it is to adjust the chain by screwing it in.
With the 362 and 462 units, the problem is resolved with side-access chain tensioners since they allow chain adjustment with a bar wrench.
3. Vibration-reduction System
Stihl produces some of the least vibrating chainsaws on the market. Both of these products are no different.
Their advanced anti-vibration technology ensures that the tools do not vibrate excessively when cutting trees, resulting in a comfortable experience.
Also Know: Stihl 291 Vs. 311
Pros and Cons of Stihl 362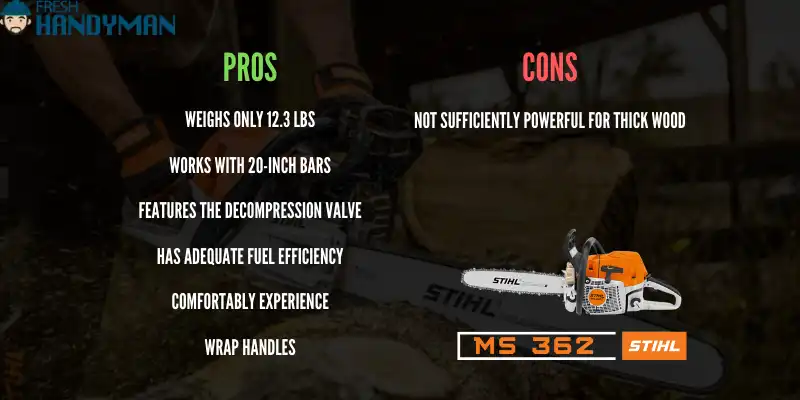 Pros and Cons of Stihl 462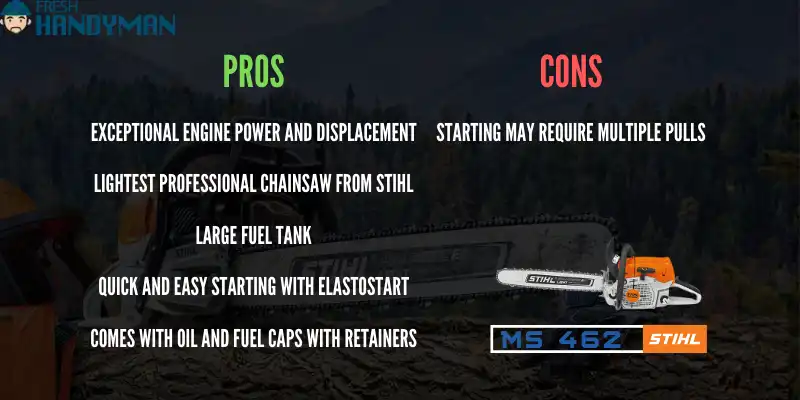 Which One Is the Better Chainsaw?
I have rarely witnessed so many striking differences between two chainsaws as I did here.
There is no doubt that the Stihl MS 462 is the better chainsaw due to its performance, air filter, and fuel capacity. It is also a professional tool with useful features such as fast startup.
Aside from the lightweight factor, there are not many good reasons to opt for the MS 362 chainsaw.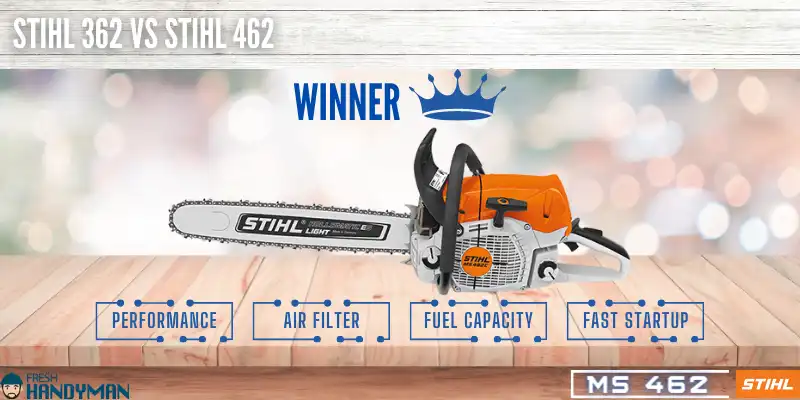 Stihl MS 462 [WINNER]
To Sum Up
Hopefully, I was able to highlight the main differences between the 462 and 362 chainsaws. Their prices are vastly different. Therefore, it is understandable why the 462 is the far superior choice when it comes to power, fuel tank, and filter.
Check out this article to find out how 391 and 362 chainsaws compare.
---
Read Also: