You might have thought the Stihl 461 and 462 were the same. I cannot really blame you since they seem almost identical on paper. However, they differ significantly in some crucial ways.
Among the main differences between the Stihl 461 and the 462 are their performance, weight, fuel capacity, and length of the bar. In addition, the 462 chainsaw comes with a number of modern features that the 461 lacks.
In the article, I will begin by highlighting the noteworthy features of these saws and then discuss their differences. Let's get started!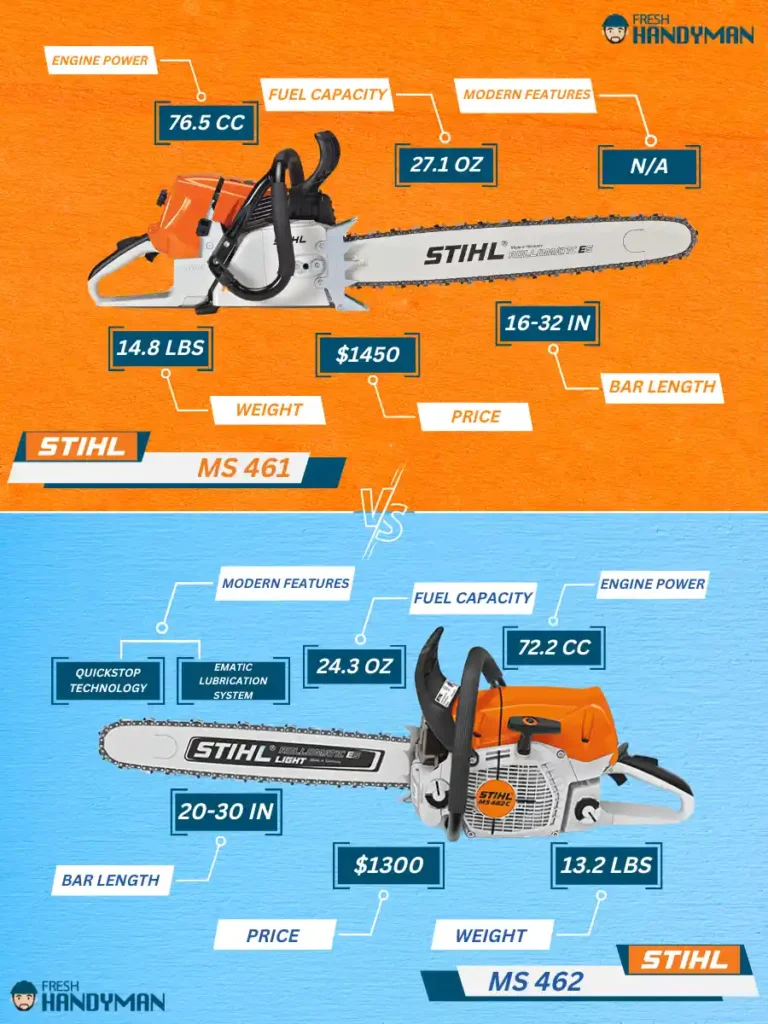 Comparison Table with Specs for Stihl 461 and 462
| Key Factor | Stihl MS 461 | Stihl MS 462 |
| --- | --- | --- |
| Engine | 76.5 cc of displacement | 72.2 cc of displacement |
| Bar Length Range | 16-32 inches | 20-30 inches |
| Fuel Capacity | 27.1 ounces | 24.3 ounces |
| Weight | 14.8 pounds | 13.2 pounds |
| Modern Features | Not Available | Quickstop Technology and Ematic Lubrication System |
| Price | Around $1450 | Approximately $1300 |
Features Stihl 461 Chainsaws
Here are a few standout features of these two chainsaws.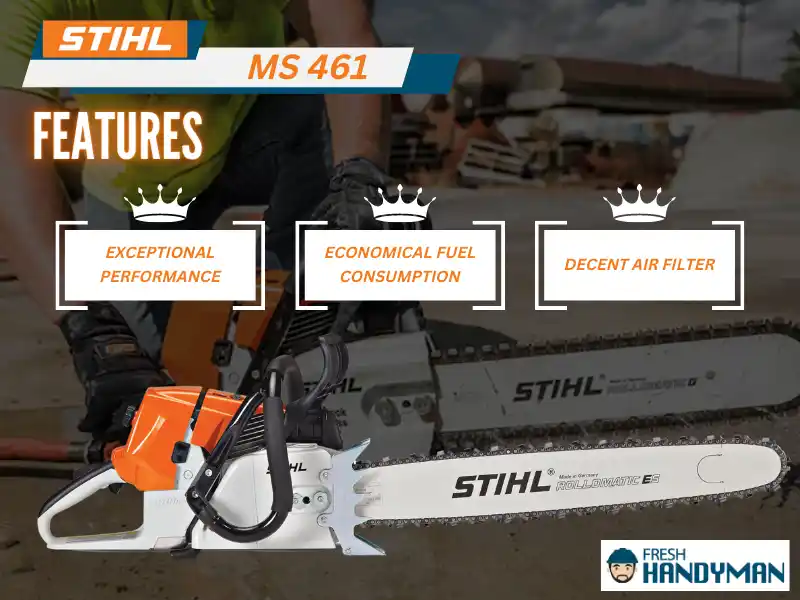 1. Exceptional Performance
Looking for a chainsaw that can pump out high power for heavy-duty cutting? You won't be disappointed with the 461 saw.
It features a powerful engine with 76.5 cc of displacement. The machine is capable enough to take down trees of any size.
2. Economical Fuel Consumption
There are plenty of Stihl chainsaws I like but never use. It is because they can empty my wallet quite fast due to their terrible fuel consumption.
Thankfully, the 461 model has 20% better fuel efficiency than its predecessors. As a result, you won't have to worry about fuel costs.
3. Decent Air Filter
A dirty air filter can impair performance, cause overheating, etc. Nevertheless, cleaning the filter regularly is also time-consuming.
To alleviate your concerns, Stihl includes an HD2 filter with the 461 chainsaw. It ensures optimum performance by maintaining a clean air filter.
Features: Stihl 462 Chainsaws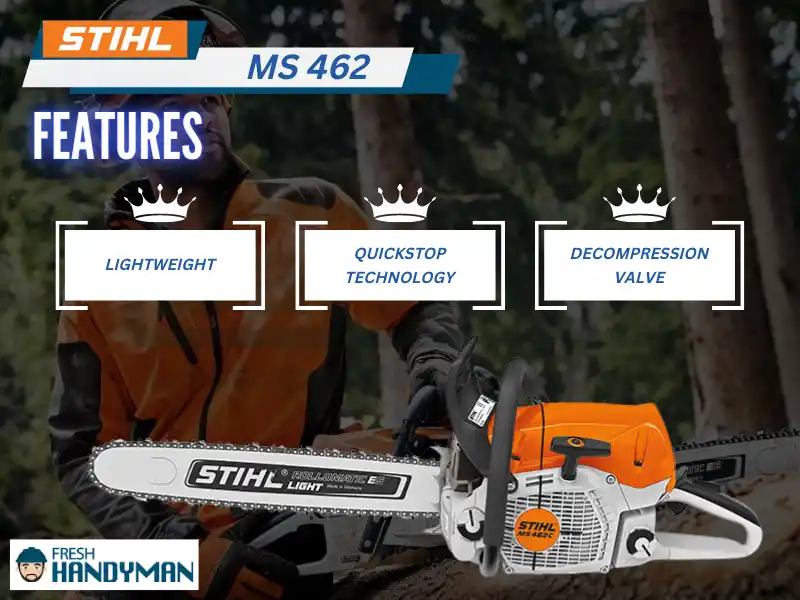 1. Lightweight
It is impossible for me to talk about Stihl 462 saws without mentioning their weight. The power tool is one of the lightest units you can buy right now.
Thanks to 13.2 pounds of weight, you can maneuver it effortlessly. You will also deliver more accurate cuts as the lightweight gives you greater control of the saw.
2. Quickstop Technology
For those who are not aware, most injuries sustained when operating a chainsaw occur during kickbacks. To prevent such injuries, Stihl has developed the Quickstop system.
It is a chain brake that drastically decreases injury risks in case unexpected kickbacks take place.
3. Decompression Valve
Pulled the rope of your chainsaw countless times, but it still failed to start? You probably need a new chainsaw, more specifically the Stihl 462.
It incorporates the much-needed deco valve for effortless starting with fewer pulls.
---
Differences Between Stihl 461 and 462
I have identified the following six differences through extensive research.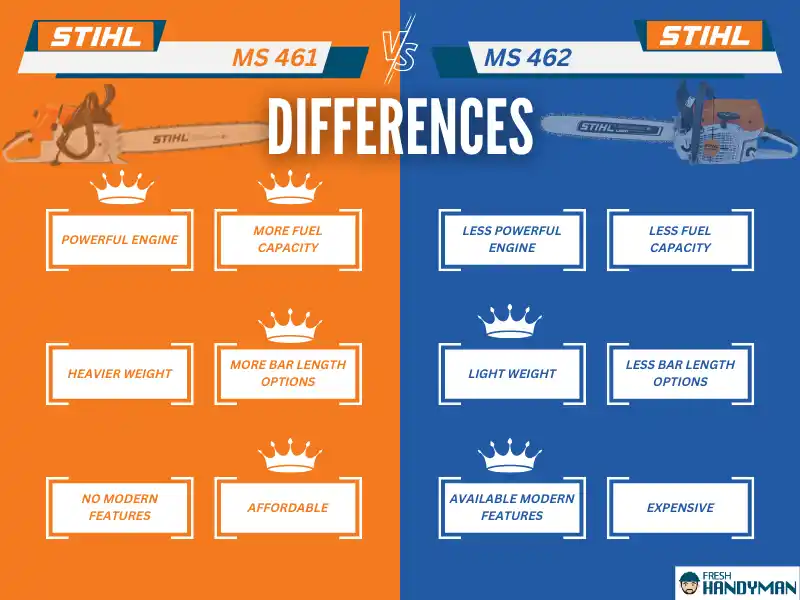 1. Motor
An engine or motor determines how powerful a chainsaw is. It is important to remember that more power makes cutting larger and thicker trees easier.
The Stihl 461 has a powerful motor with an engine displacement of 76.5 cc. For heavy-duty cutting, such power will suffice.
Unfortunately, the 462 falls short due to its 72.2 cc displacement. Although the difference may not seem huge, you can definitely feel the 461 chainsaw's superior performance first-hand.
Winner: STIHL MS 461
---
2. Fuel Capacity
It is vital to consider the fuel capacity of a chainsaw. If your machine can hold enough fuel, you won't have to refill it frequently.
With 461 units, you get a massive tank that holds 27.1 ounces of fuel. It means the saw would run for a long time without requiring oil refills.
On the other hand, a 462 saw comes with a slightly smaller capacity of 24.3 ounces.
As you can see, the fuel capacity difference between these chainsaws is not enormous.
Winner: STIHL MS 461
---
3. Weight
Whenever I intend to purchase a chainsaw, weight is one factor I never overlook. This is because weight greatly influences how comfortable the cutting experience will be.
Weight-wise, the 461 chainsaw cannot compete with the 462 chainsaw. Stihl describes it as their lightest gas-powered chainsaw weighing 13.2 pounds.
With a weight of 14.8 pounds, the 461 saw does not seem too heavy either.
However, a 462 chainsaw will be more comfortable to operate and handle.
Winner: STIHL MS 462
---
4. Bar Length
Chainsaws can work on thick and large trees based on the size of the guide bar. If your job entails cutting, trimming, and pruning small trees, a 16-inch bar will suffice.
However, a chainsaw bar of at least 20 inches is necessary for felling heavy trees. Bear in mind that bigger bars are also heavier.
You have more options with the Stihl 461 as it accepts guide bars of 16 to 32 inches in length.
On the other side, the guide bar lengths for a 462 are limited to 20 to 30 inches.
Winner: STIHL MS 461
---
5. Modern Features
Another difference between the 461 and 462 is that the latter has been improved to be more durable and efficient with advanced features.
The 462 boasts a multitude of new features, including an Ematic Lubrication System, Winter/Summer Shutter, and STIHL Quickstop. All of them enhance your cutting experience significantly.
Since the 461 saw is an outdated model, it does not offer many modern features.
Winner: STIHL MS 462
---
6. Price
Stihl 462 chainsaws are more affordable than 461 chainsaws. Despite adding several new features, Stihl somehow managed to keep the price down for the 462 chainsaw, which is an impressive feat.
As I have already stated, Stihl 461 saws have a more expensive price tag. The extra power may be worth the additional cost for some users.
Winner: STIHL MS 462
---
Related: Stihl 362 Vs. 462
Which One Is Better: Stihl 461 or 462?
If you are seeking a powerful saw designed for heavy-duty cutting, the Stihl 461 is worth considering.
However, I would still recommend the Stihl 462 because of its versatility. It is lightweight yet powerful enough to handle small and large cutting tasks. The tool also offers a lot of advanced features that make your cutting experience more enjoyable.
Regardless of the model you choose, it will be a high-quality saw that will last you for many years.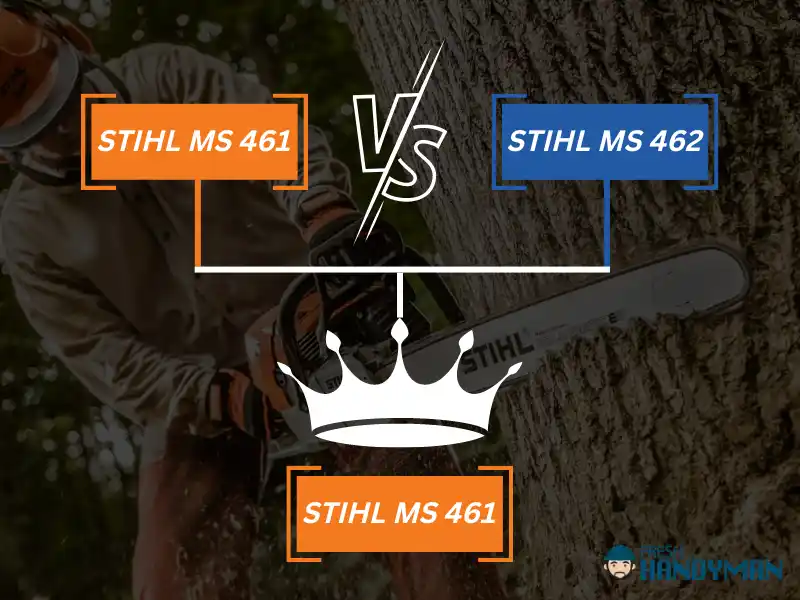 Read Also: Is the Stihl MS461 Discontinued? Is It Still Worth Buying?
Frequently Asked Questions
Is The Stihl MS 461 Discontinued?
The Stihl MS 461 is a professional-grade chainsaw that is no longer being manufactured. It was discontinued and replaced by the MS 462 following its release.
How Much Horsepower Does A 461 Stihl Have?
You will have a power output of 6.0 bhp with a Stihl 461 chainsaw. It is more than enough for most tree-cutting tasks.
To Sum Up
Despite how similar the Stihl 461 and 462 appear on the surface, they differ in several ways. Their main differences relate to their weight, performance, and fuel capacity. The price difference between these two chainsaws is also a crucial factor to consider.
Interested in reading more comparisons of Stihl chainsaws? Here are the differences between the Stihl MS250 and MS271.