Stihl MS 461 and Husqvarna 576 XP are two of the most powerful chainsaws available. While there is no doubt about their cutting abilities, there is a great deal of uncertainty about how they differ.
Stihl 461 and Husqvarna 576 XP are primarily different in terms of their weight, carb adjustment, engine, and sound level. The Husqvarna unit also does a better job of reducing emissions.
In the article, I will present all these differences comprehensively. Here is a comparison of these two products.
Let's get going!
Comparison Table with Specs for Stihl MS 461 and Husqvarna 576 XP
| Key Factor | Stihl MS 461 | Husqvarna 576 XP |
| --- | --- | --- |
| Weight | 14.8 pounds | 15.2 pounds |
| Noise Level | 117 dB | 116 dB |
| Horsepower | 6-horsepower motor | 5.7-horsepower motor |
| Emissions | Does decrease emissions, but the amount is not specified. | 60% reduction in emissions. |
| AutoTune | Not available, which means carb adjustment must be done manually. | Available, so no manual carb adjustment is required. |
| Price | CHECK LATEST PRICE | CHECK LATEST PRICE |
Stihl MS 461 Features
Check out the most impressive features of these chainsaws below.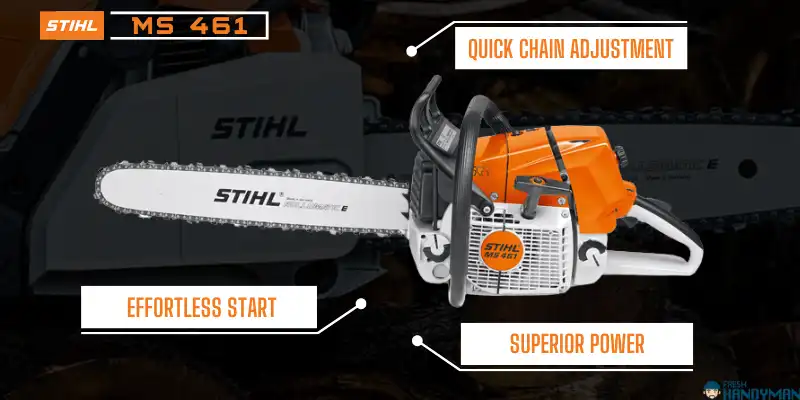 1. Quick Chain Adjustment
Tensioning a chain with tools can be time-consuming and challenging. To save users from this hassle, Stihl has equipped the product with a quick chain adjuster.
It enables you to easily adjust the chain without requiring any tools.
2. Effortless Start
Tired of buying chainsaws that refuse to start after using them once or twice? Consider purchasing the MS 461.
It comes with a decompression valve that ensures a smooth start. Moreover, you can also start the machine with less effort.
3. Superior Power
The 461 chainsaw from Stihl runs on an engine with 6 horsepower. Almost no other chainsaw can match its power.
When the task entails felling large trees, this is the chainsaw you need.
Husqvarna 576 XP Features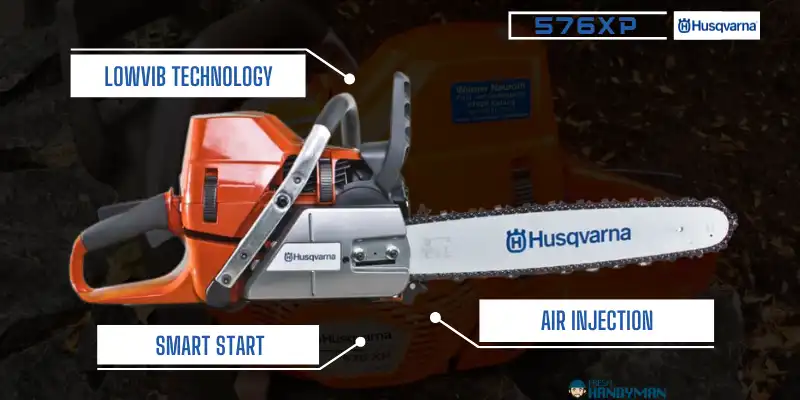 1. LowVib Technology
If your chainsaw vibrates excessively, your cutting quality can be severely compromised. This is why the LowVib system of Husqvarna 576 dampens vibration to the maximum extent possible.
It not only improves your cutting quality but also keeps you comfortable.
2. Air Injection
If you are searching for a chainsaw with a durable air filter, take a look at the Husqvarna 576 XP. It features a centrifugal air cleaning system with air injection. This helps to keep the filter clean and prolongs its life.
3. Smart Start
It is quite common for chainsaws not to start for whatever reason. Husqvarna addresses this frustrating problem through an exclusive feature called Smart Start.
It speeds up the starting process and ensures a more efficient start.
Top 5 Differences Between Stihl MS461 and Husqvarna 576XP
Here it is, the moment you have all been looking forward to. Let's examine the differences in more detail.
1. Weight
Many people focus so much on power that they overlook the importance of weight for chainsaws. Nonetheless, lightweight is an essential feature as it gives users the ability to work for a longer period of time without fatigue.
In this comparison, Stihl 461 stands out as the lighter chainsaw. It weighs 14.8 pounds, which is not too heavy, making the power tool comfortable to use.
Should you be concerned about weight, the Husqvarna 576 will not disappoint either. It is not far behind in the competition at 15.2 pounds.
Winner: Stihl MS 461
---
2. Performance
In terms of performance, I always put horsepower first. Chainsaws with high horsepower have never let me down when it comes to cutting large trees.
The MS 461 boasts a mighty 6-horsepower engine. Even the most obstinate tree will yield to such power. The powerful motor makes this machine ideal for professional use.
On the other hand, the Husqvarna model offers nearly the same performance with a 5.7 hp engine. It can take care of thick trees without a hitch, just like the Stihl 461.
Winner: Stihl MS 461
---
3. Noise Level
Hearing loss is more prevalent among professionals who work all day with loud chainsaws. The best way to avoid becoming one of them is to use a chainsaw that produces minimal noise.
As for these two products, both are rather loud. However, you can experience a milder sound with the 576 XP chainsaw due to its 116 dB sound output.
Compared to that, the 461 has a bit more volume since the level of sound is 117 decibels.
Winner: Husqvarna 576 XP (by a narrow margin)
---
4. Intensity of Emissions
You should know that chainsaws emit a lot of emissions. The emissions are notorious for causing severe environmental damage.
If you disregard the environment, at the very least, you should care for yourself. It is because the gasses emitted from chainsaws can also harm you and those around you.
The Stihl 461 saw has cut emissions, but it is unclear by how much. On the other side, Husqvarna 576 lowers emissions by more than 60% thanks to the X-Torq engine.
Winner: Husqvarna 576 XP
---
5. Carb Adjustment
It is not easy to adjust the carburetor, especially if you are a beginner. Even professionals have trouble doing it.
Unfortunately, the Stihl 461 does not automatically adjust the carburetor. It means you must make the adjustment manually.
Husqvarna's unique AutoTune system is available with 576 chainsaws. It adjusts the carburetor on its own. Moreover, the system can also adjust itself automatically to different fuel types.
Winner: Husqvarna 576 XP
---
Related: Husqvarna 395 XP Vs. Stihl MS 661
Which Chainsaw Should You Buy?
As far as performance is concerned, the Stihl MS 461 has the edge thanks to its 6-horsepower engine. It is also more comfortable to use due to being lighter.
Those looking for a chainsaw with exceptional performance need to look no further than the Stihl chainsaw.
However, if you prefer the extra features like automatic carb adjustment and better emissions and fuel economy, the Husqvarna 576 would be a better choice.
It is important to keep in mind that this saw performs almost on par with that of Stihl.
To Sum Up
Based on the comparison, the Husqvarna 576 XP chainsaw and the Stihl 461 chainsaw are clearly different.
There are some differences worth mentioning, such as the extra horsepower in Stihl and the auto tune in Husqvarna. It is ultimately in your hands to choose which features matter most to you.
Need some lumber milled, but don't know which chainsaw to pick? Here is a list of products that may help you make a decision.