When discussing the Stihl VS Oregon Bar, many will say they are the same thing, either one works. Many others will say they are using a particular brand and it works great.
Let me tell you, as a professional, you need to have a thorough understanding of both chainsaw bars. Even a minor feature can sometimes make a complicated task easier.
Both Stihl and Oregon are very popular brands in the chainsaw market and have been used by users for a long time. Although both chainsaw bars function similarly, there are some subtle differences between them.
In this article, I will discuss both chainsaw bars which will help you choose the chainsaw bar more accurately. Before starting a detailed comparison, first, I would like to explain a little about what a chainsaw bar is.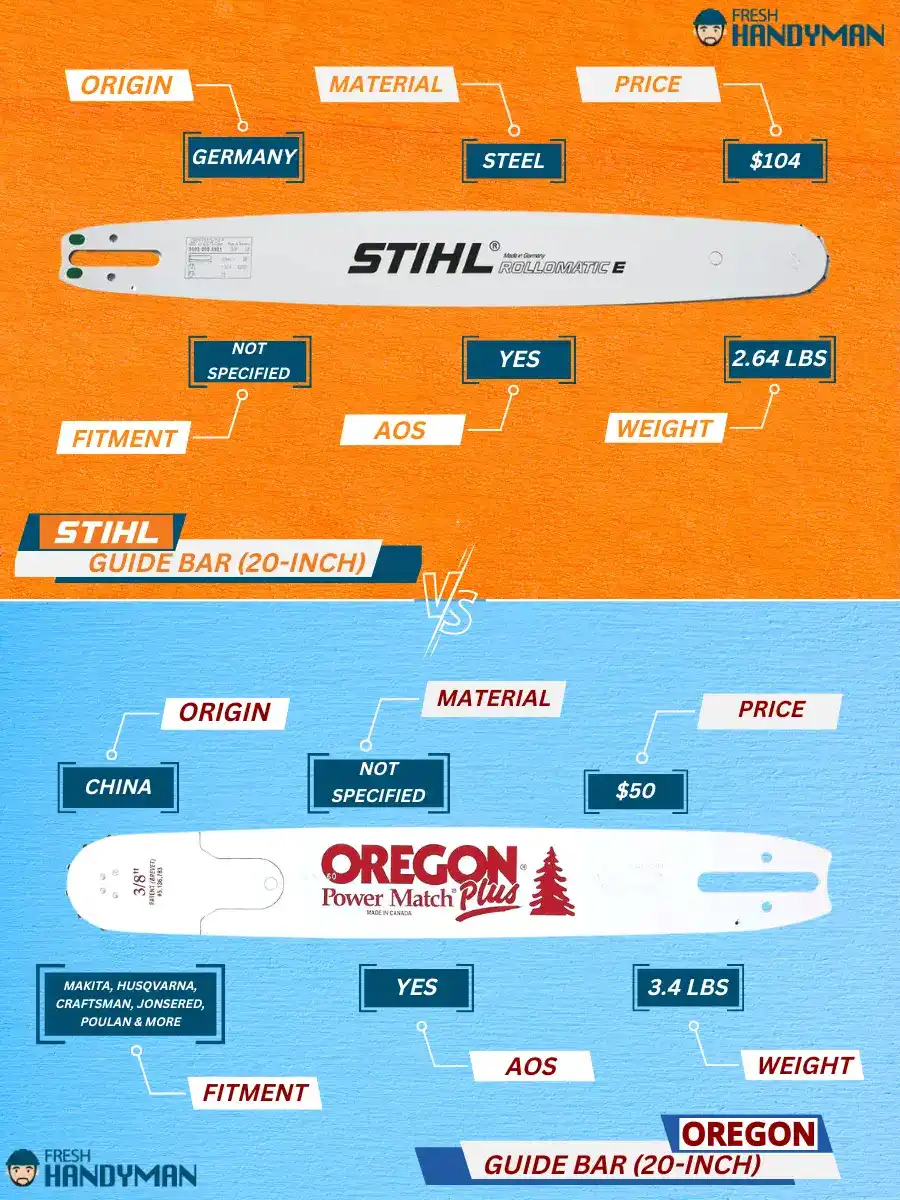 What Is A Chainsaw Bar Actually?
Chainsaw bars are the metal supports of petrol, battery, or electric chainsaws that hold the chain in place. The bar and chain are sometimes collectively called the blade of a chainsaw, even though they are separate components.
Bars can be of different lengths and widths. The length of the bars largely determines the cutting length of a chainsaw. Chainsaw bars are made of metal, but in some cases, we also see wooden or plastic bars.
There are several types of chainsaw bars available in the market, depending on the area of work. These are:
Laminated chainsaw bars
Solid chainsaw bars
Replacement sprocket nose bars
Hard-nose chainsaw bars
Narrow-nose bars
Carving bars
Read Also: 3/8 Vs .325 Chainsaw Chain: Which Is Better?
Stihl VS Oregon Bar: Comparison Table
| Key Factor | Stihl Bars | Oregon Bars |
| --- | --- | --- |
| Country of Origin | Germany | China |
| Weight (20-inch) | 2.64 pounds | 3.4 pounds |
| Materials | Steel | Not specified |
| Automatic oiling system | Yes | Yes |
| Fitment | Not specified | Makita, Husqvarna, Craftsman, Jonsered, Poulan and more |
| Price (20-inch) | Approximately $104 | Approximately $50 |
At this point, I would like to review the features and functionality of both chainsaw bars in detail. Let's take a look at the key features of both bars first.
Key Features and Functionality of Stihl Chainsaw Bars
Stihl chainsaw bars have some unique features that set them apart from other bars. These bars help guide the chain of the saw properly with minimal friction loss. I would like to mention here some key features and functionality of these bars.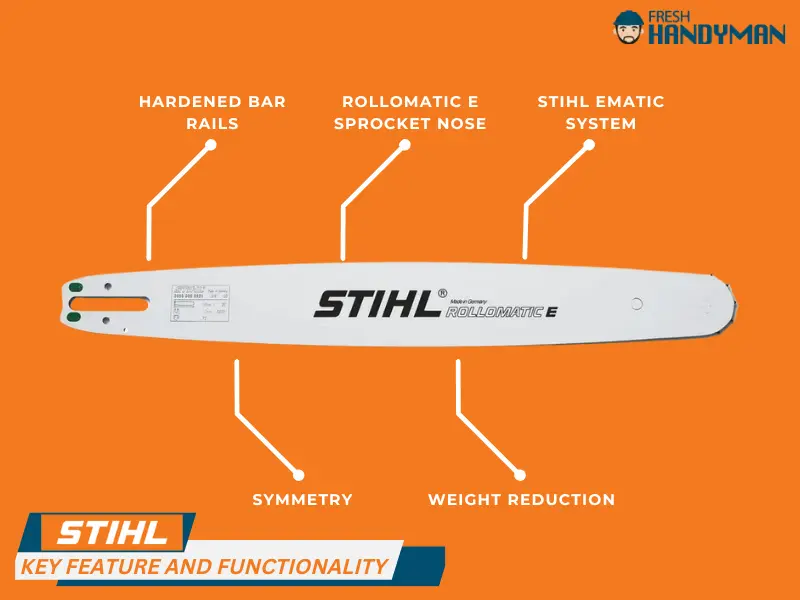 1. Hardened Bar Rails
The first condition for a chainsaw bar to work for a long time is that it should be resistant to various types of wear. The company uses electromagnetic induction to make the entire Stihl chainsaw bars rail assembly more resistant to wear. Therefore, these bars are long-lasting and you can safely use them for many days.
2. Rollomatic E Sprocket Nose
Keeping dirt out and low-wear chain running can play an important role in preventing corrosion. For this purpose, the company uses special features in the Stihl Rollomatic E chainsaw bars. These bars include a sprocket nose with covered roller bearings, which play a role in preventing corrosion.
3. Stihl Ematic System
Modern chainsaw bars feature automatic oiling. But unnecessarily, consistent oiling can be expensive. Stihl chainsaw bars have the Ematic system which works to ensure a variable flow. This means that the system will only supply oil when it needs to be applied, thus reducing oil consumption by up to 50%.
4. Symmetry
Symmetrically shaped chainsaw bars are important for perfect wood cutting. Stihl chainsaw guide bars are perfectly symmetrical, so they are evenly offset. These bars ensure equal stresses on both long sides.
5. Weight Reduction
The company uses a three-part spot-welded laminated method when manufacturing the STIHL Rollomatic E chainsaw bars. That's why they have holes in the middle which save up to 15% weight compared to other bars of similar shape.
Learn More: Stihl 462 Problems and Solutions
Key Features and Functionality of Oregon Chainsaw Bars
The Oregon Chainsaw Bar also has several advanced features that continue to make these bars popular. I would like to mention here some key features and functionality of these bars.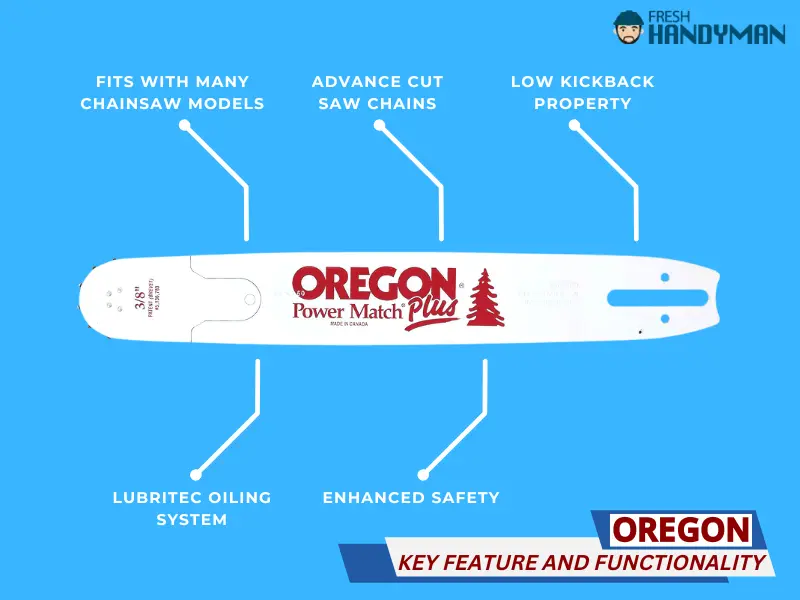 1. Fits with Many Chainsaw Models
Oregon bars fit many models of Stihl chainsaws, including Makita, Husqvarna, Craftsman, Jonsered, Poulan ‍, and more. That's why you can easily update the bar of your chainsaw using these bars.
2. Enhanced Safety
If the chainsaw experiences high levels of vibration during use, it becomes difficult to use and can sometimes be a safety hazard. The chain with the Oregon chainsaw bar produces much less vibration, which is convenient to use. Besides, they are also convenient to maintain.
3. Low Kickback Property
Kickback is a common and annoying problem when using a chainsaw that threatens the safety of the user. The Oregon chainsaw bar's advanced features prevent kickback and the bars meet the ANSI (American National Standard Institute) B175.1-2012 standard. As a result, these bars ensure improved safety for the users.
4. LubriTec Oiling System
The LubriTec oiling system automatically lubricates the Oregon chainsaw bars. As a result, they create less friction during cutting and help bars and chains last longer.
5. Advance Cut Saw Chains
You get an AdvanceCut saw chain in the Oregon bar package. These are ideal for yardwork, especially for private users. If you are a landscaping professional and need to cut occasionally, these AdvanceCut saw chain is also perfect for you.
Also Check: Stihl MS171 VS MS180: Which is Better?
Difference Between Stihl and Oregon Bars
Although Stihl and Oregon Bars are used for the same purpose, there are some differences between them. I present these subtle differences in a chart below.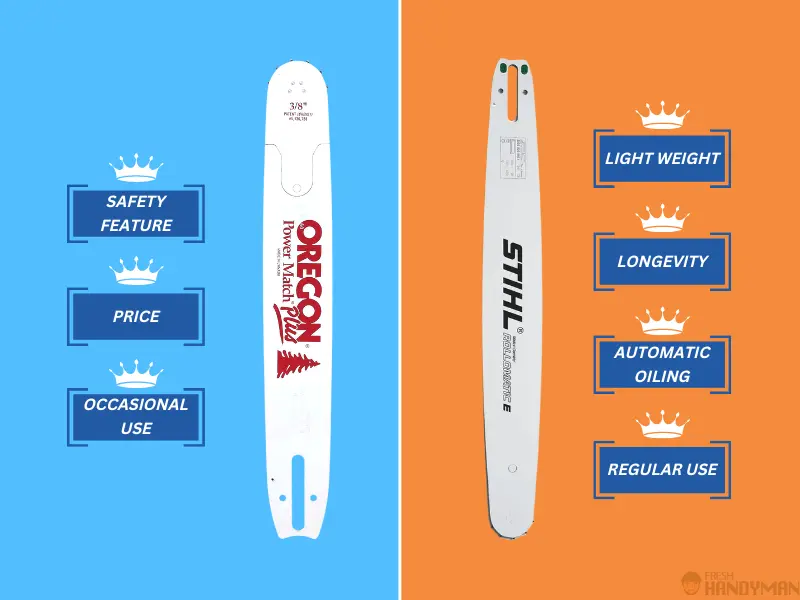 | Key Factor | Stihl Bars | Oregon Bars |
| --- | --- | --- |
| Weight | Lighter than Oregon chainsaw bars. | Comparatively heavier. |
| Safety features | Includes fewer safety features compared to Oregon bars. | Includes optimum safety features. |
| Longevity | Can be used for a long time. | Not as durable as Stihl bars. |
| Automatic oiling capability | Has advanced automatic oiling capability and can reduce 50% oil consumption. | Has automatic oiling features but is not as advanced as Stihl bars. |
| Price | A bit costly. | Cheaper than Stihl bars. |
| Better uses | Better for professionals and regular users. | Better for occasional and private users. |
So, Stihl or Oregon: What Chainsaw Bars Are Better for You?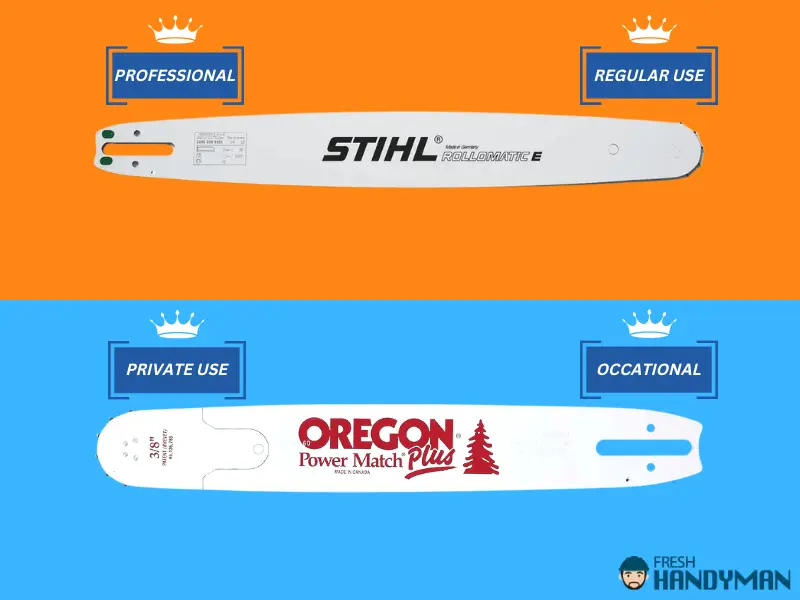 Both bars are actually good and you can use either of them. But if you want to choose the best bar for you, the first thing you need to answer is what kind of user are you, professional or occasional?
If you need to use a chainsaw occasionally, Oregon bars will be best for you.
These chainsaw bars are inexpensive, easy to use, and include adequate safety features. Even an amateur user can use these bars with no hassle.
But if you are a professional user and you have to use chainsaws regularly, then Stihl bars will be best for you.
Although they may seem a bit pricey, in terms of durability, it is not at all expensive.
Stihl chainsaw bars come with several advanced features that reduce oil consumption and reduce operating costs. Also, these bars can make your complicated wood-cutting job smoother.
Related: How To Put A Chain On A Chainsaw?
Frequently Asked Question
A few common questions arise in my mind when describing Stihl and Oregon bars. I think you might also want to know about these questions below.
Will Oregon Bar Fit Stihl Chainsaw?
Yes, Oregon has many bars that fit many models of Stihl chainsaws. That means you can use Oregon chainsaw bars in your Stihl chainsaw. But before buying, make sure that the specified bar is suitable for your chainsaw model.
What Length Of Bars Should You Use?
You need to determine the maximum thickness of wood you will need to cut. If you don't need to cut very thick wood, you may be better off not choosing extra-long bars. Because relatively short bars last longer.
Stihl Bar And Chain Or Off-brand: Which Is The Main Difference?
The fundamental difference between a Stihl bar and chain or an off-brand chainsaw bar is reliability. Stihl bar and chain are time-tested and trusted. You can rely on them. Although an off-brand chainsaw bar is relatively cheap, it may not always be the best.
Final Verdict
Many of us use chainsaws, but not all of us use them for the same purpose. That is why the same type of chainsaw bar can never be prescribed for everyone since there are some subtle differences between the two.
I have presented here the features, functionality, and differences between both Stihl and Oregon bars. Hope this guide you in choosing the right chainsaw bar.
Anyway, if you have any more questions about these chainsaw bars, then you can let me know through the comment section. I'll get back to you as soon as possible.