Sooner or later, you're going to run into some trouble with Stihl MS 271 problems. Whether it's an issue with starting or mid-use, these problems are bound to happen to everyone. And the worst thing that could happen is when your saw fails on you and you're left standing there with a tree that's still standing but needs to come down. 
The most common issues include the chainsaw not starting, tension failure, poor airflow, the chainsaw running rough, overheating, brake failure, and rust accumulation.
However, troubleshooting your MS 271 shouldn't be stressful. That's because I've added several parts to this guide, so please follow along until these problems are solved.
Identifying and Resolving the Stihl MS 271 Problems
If you are having problems with your Stihl MS 271, don't worry—you're not alone. There are several common issues that people run into when they use this chainsaw. Let's look at several problems and their solutions.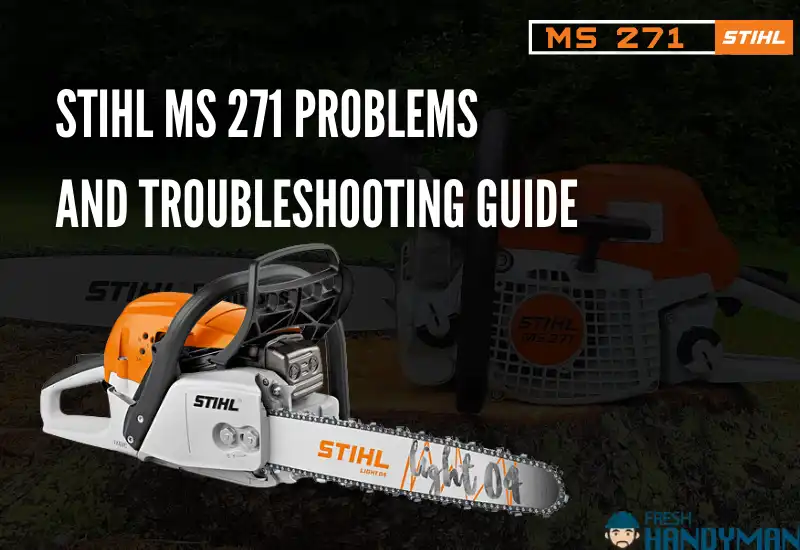 Quick Table-Stihl MS 271 Problems and Fixes
The Stihl MS 271 is a powerful machine that can get the job done in just about any situation, but it's not without its quirks. Let's have a quick look at their common problems as well as the solutions.
| Stihl MS 271 Problems | Fixes |
| --- | --- |
| Chainsaw not starting | Correct switch position, fuel and gas ratio and replace broken seals |
| Tesnion failurel | Fix chain tension, replace tensioning screw |
| Poor airflow | Clean or replace the air filter |
| Rough running | Drain out the fuel |
| Overheating | Inspect oil adjustment screw and sharpen the chain |
| Brake failure | Seek help from a professionalInspect oil adjustment screw and sharpen the chain |
| Rust accumulation | Clean up the chain |
Identifying and Resolving the Stihl MS 271 Problems
If you are having problems with your Stihl MS 271, don't worry—you're not alone. There are several common issues that people run into when they use this chainsaw. Let's look at several problems and their solutions.
Problem 1: Chainsaw Not Starting
Your chainsaw may not be starting for a variety of reasons. 
It's possible that the primary engine isn't receiving enough power. Besides, the switch might be broken or installed improperly. Additionally, a worn-out or broken engine seal might allow fuel to overflow the spark plug. As a consequence, the engine won't start since the spark plug won't function.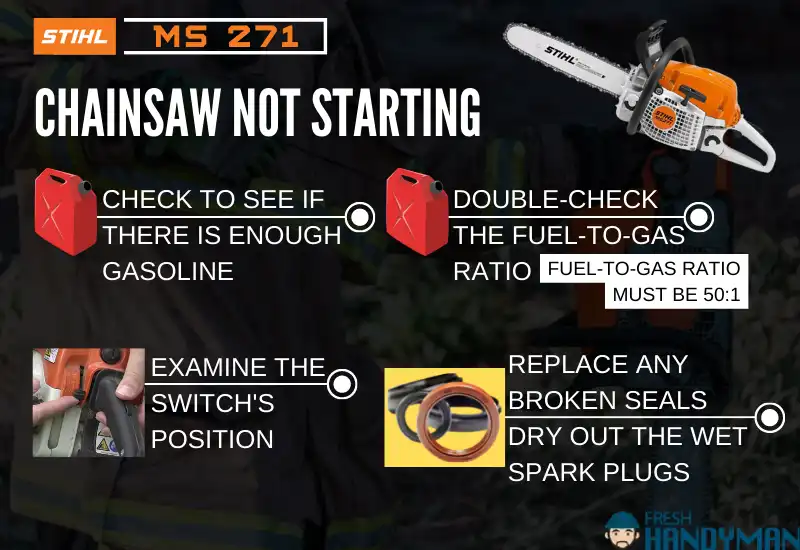 Steps to Resolve
Check to see if there is enough gasoline in the machine to start and operate it.
Examine the switch's position. If it's in the incorrect place, move it.
You must double-check the fuel-to-gas ratio. Because the fuel-to-gas ratio must be 50:1 for the system to work correctly.
Replace any broken seals and, if necessary, dry out the wet spark plugs.
---
Read Also: Stihl 462 Problems and Solutions
Problem 2: Tension Failure
Tension failure is a common problem with chainsaws. The chain will lose its tension over time, which can cause it to bind and stall on the wood. This can pose a serious safety hazard, as well as make it more difficult to cut through the wood. 
Steps to Resolve
Try pulling the chain off the bar slowly by between 1/4 and 1/2 inches until it's tight enough to provide resistance. 
Check its tensioning screws. If they're damaged, replace them immediately.
---
Problem 3: Poor Airflow
When you're out in the woods, it's hard to get a proper airflow going. And when you're trying to cut down a tree with your chainsaw, having good airflow is even more important.
It's the fuel that burns in your engine, and the better the airflow, the more efficiently that fuel will burn.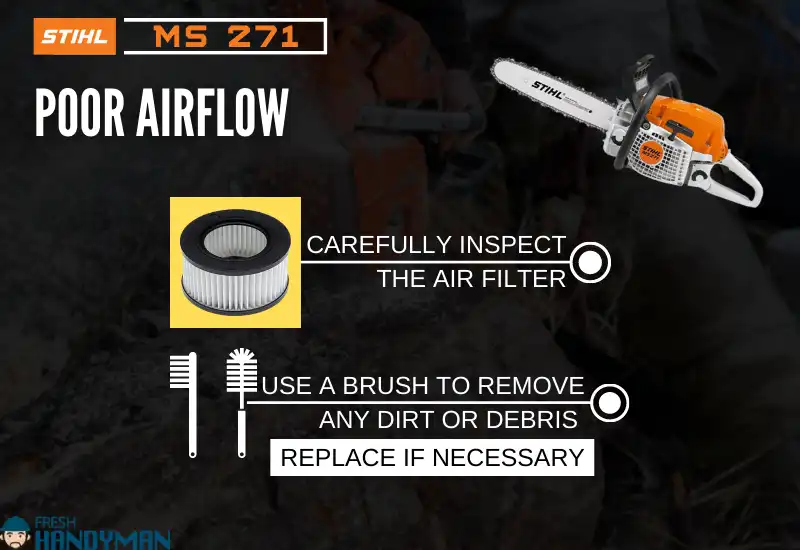 Steps to Resolve
Carefully inspect the air filter.
Use a brush to remove any dirt or debris if there is.
As soon as you feel the need to do so, replace the air filter because doing so is rather inexpensive.
---
Problem 4: Rough Running
This is a rough-running chainsaw because of a fuel system issue. Inconsistent fuel flow means that your saw isn't getting enough fuel, so it's not running smoothly. This is usually caused by air getting stuck in the fuel tank or filter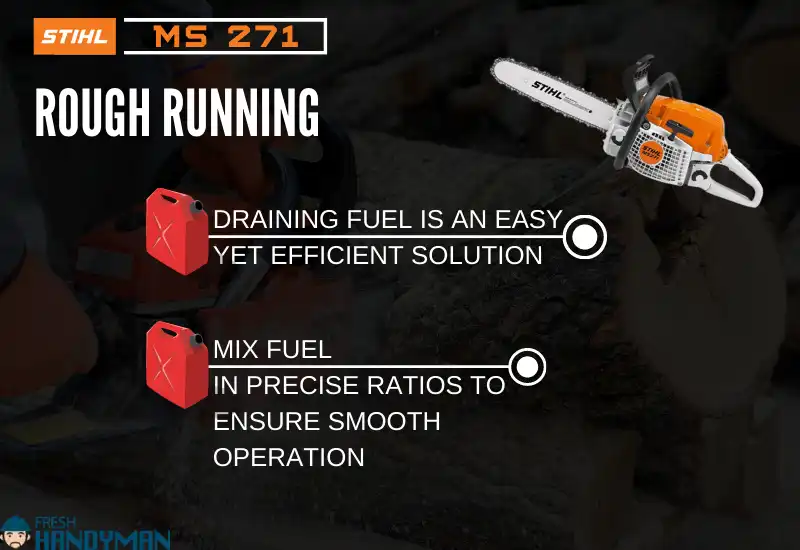 Steps to Resolve
Draining fuel is an easy yet efficient solution to this issue.
Furthermore, you must mix fuel in precise ratios to ensure smooth operation.
---
Problem 5: Overheating
The oil adjustment screw tells you when it needs new bar oil. And when the screw somehow stops functioning, you can't precisely measure the amount of oil required. However, if your chainsaw is overheating, it's most likely an issue with adding bar lubricating oil. 
Plus, if you vigorously use a saw chain for years regularly, the chain gradually gets dull or damaged. The chain itself can cause overheating if it's worn out.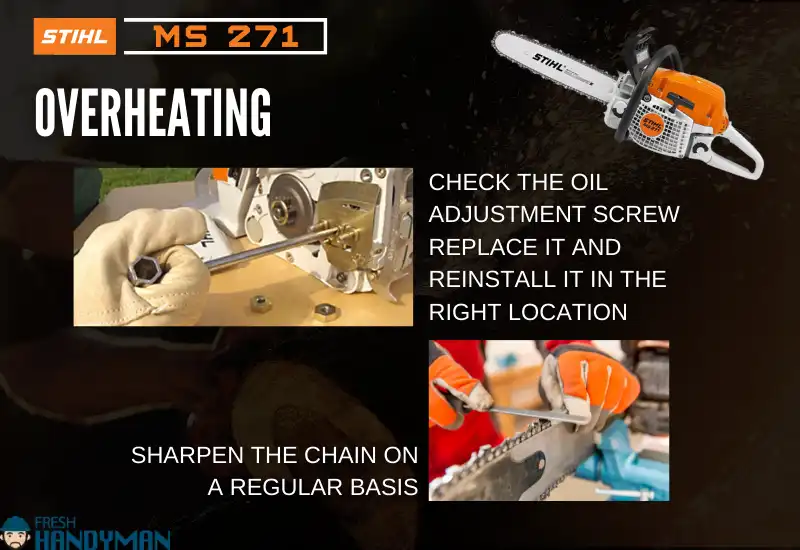 Steps to Resolve
Check the oil adjustment screw. Replace it and reinstall it in the right location.
Sharpen the chain on a regular basis.
If sharpening does not prevent the chainsaw from overheating, replace it.
---
Problem 6: Brake Failure
The safety of this machine is in the hands of its brake system. If the braking system is not properly maintained, it could lead to injury or even death. Brake failure happens when the spring-holding brake system stops working.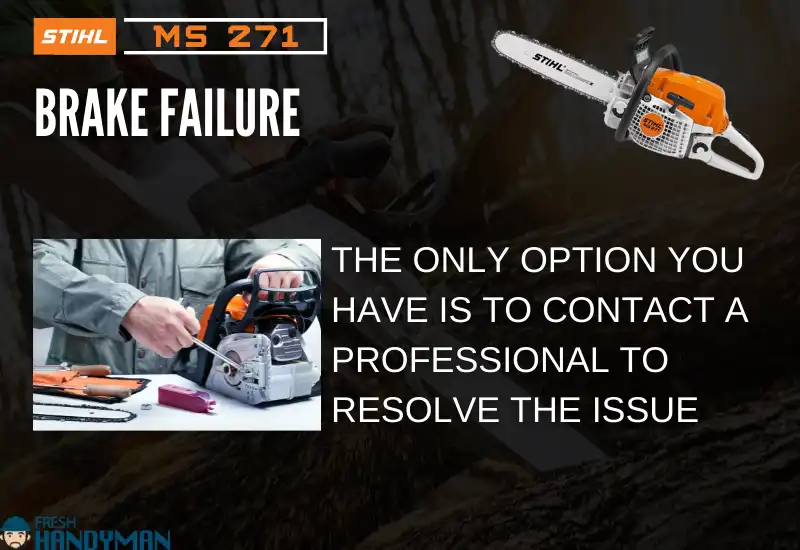 Steps to Resolve
The only option you have is to contact a professional to resolve the issue.
---
Problem 7: Rust Accumulation
Rust begins to form on the surface of the chain when it is not cleaned correctly on a regular basis. Obviously, this will dull the blade, resulting in inefficient cutting.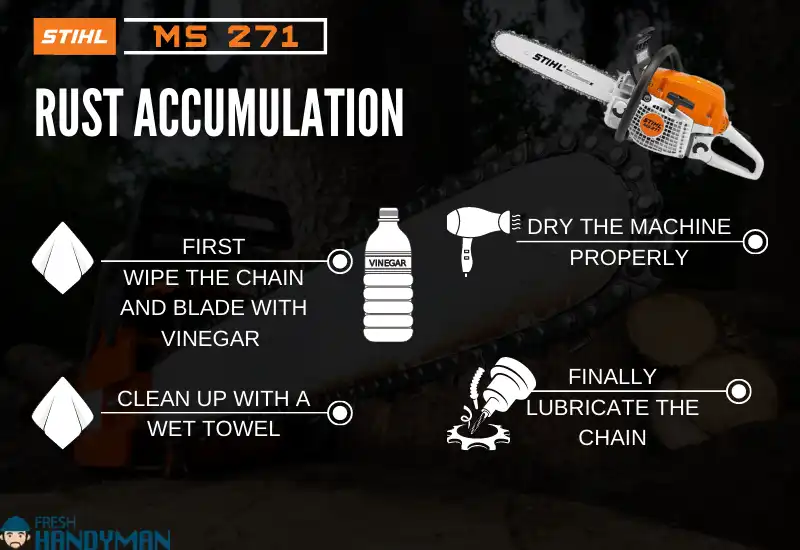 Steps to Resolve
You must first wipe the chain and blade with vinegar to erase the rust.
Clean up with a wet towel. It is more useful to immerse or submerge the machine.
After cleaning, dry the machine properly.
Finally, lubricate the chain to ensure a smooth run.
---
How Can I Prevent Stihl MS 271 Chainsaw Issues?
The Stihl MS 271 Chainsaw is a powerful tool that can help you with all your cutting needs, but it's not without its faults. There are certain issues that occur on this chainsaw. 
The good news is if you don't want to end up spending money on expensive repairs, here are some tips on how you can prevent some common issues.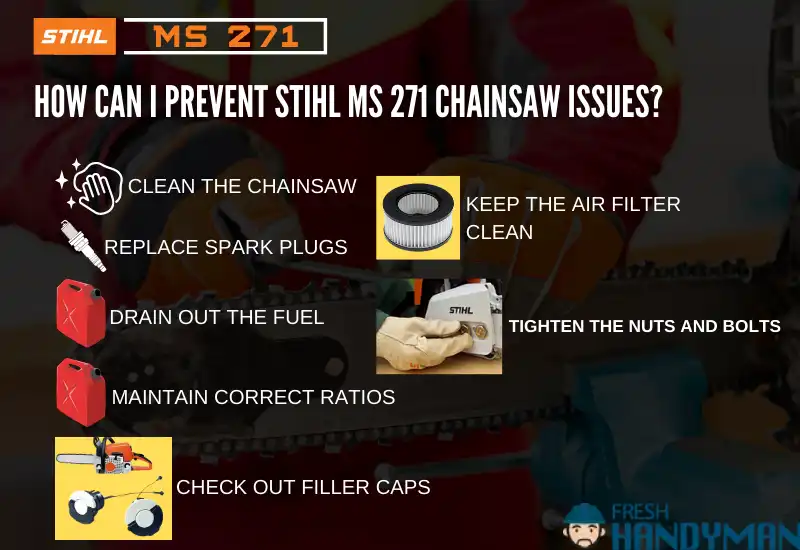 Clean the Chainsaw
Always clean your Stihl MS 271 before storing. That'll keep its fuel tubes from any possible clogging. Read this article to learn more about on how to clean your chainsaw like pro!
Replace Spark Plugs
Better have the spark plugs cleaned and changed before your chainsaw completely quits working. It'd be best for you to examine its system if you find that it isn't operating as it once did. Also, if necessary, replace the spark plugs.
Drain out the Fuel
The air often changes the fuel flow for which you need to empty the fuel. And you can prevent the air from entering the fuel by draining it routinely.
Maintain Correct Ratios
Always mix and fill the gas and oil in a precise 50:1 ratio for all Stihl chainsaws. As a result, you'll achieve the optimum density for supplying steady fuel flow.
Check out Filler Caps
Make sure the filling caps are always tightly closed every time you reload the tank. Additionally, you must replace the caps if you see any cracks in them.
Keep the Air Filter Clean
On a regular basis, inspect the air filter system to verify that no dust, debris, or dirt has accumulated.
Tighten the Nuts and Bolts
Make sure all of the nuts, screws, and bolts are tight before using your chainsaw. If they weren't tight when you first bought them, tighten them now!
How Much Horsepower Does a Stihl 271 Have?
The Stihl 271 chainsaw is a beast of a machine. It boasts a 2.8-horsepower motor that can easily cut through heavy logs and huge trees with ease. This powerful chain saw will help you get through any job, whether you're taking down branches or cutting down trees.
What Chainsaw Has the Highest Power on the Market?
The revolutionary STIHL MS 881 Magnum chainsaw is the most powerful in the world.
This saw boasts a 121.6cc engine, which means it can cut through the toughest of materials with ease. The bar support goes up to 41 inches, so you can take on pretty much any job that comes your way. 
And then there's the HD2 filter, which is an unprecedented feature in a chainsaw. Because of its excellent filtering effect, this filter has a longer service life, so you won't have to worry about maintenance or repair charges!
The redesigned oil pump controls oil distribution and keeps everything working smoothly, allowing you to focus on cutting wood rather than repairing your tool!
Why Is It Worth Buying Stihl MS 271?
Though the MS 271 is not free of problems, it still has a lot to offer.
With a weight of about 10.8 pounds, it is easy to transport and run any place.
It has a length of 23.5 inches, making it a pretty compact chainsaw.
Thanks to the anti-vibration mechanism, you will not experience hand fatigue when working for extended periods of time with the MS 271.
You'll feel at ease using and working with it because of its ergonomic design.
It has 9000 RPMs, which is more than enough to handle practically any woodcutting task.
Conclusion
As with any piece of equipment, there may be some problems that crop up if you don't know how to handle them. Hopefully, this guide has given you some insight into problems that you may experience with your Stihl MS 271.
As we've shown in this guide, it's possible to repair or replace just about anything on this saw rather than take it in for service. And if you take proper preventive maintenance and regular adjustments, it will perform well and last for years to come.
I hope that these troubleshooting tips help you out if you're trying to resolve any of your Stihl MS 271 problems.