The Stihl MS 211 is still considered one of the most popular models for many chainsaw enthusiasts. It forms part of Stihl's mid-range lineup and was built with the brand's trademark quality and durability.
Over the years, it has gained a massive reputation due to its impressive performance, advanced features, and ergonomic design. The MS 211 is an excellent choice for both professional loggers and casual users, as it can handle demanding tasks and light-cutting jobs with ease.
If you're wondering why the Stihl MS 211 is still so popular today, I'll explain why in this post. I will break down all the details of the MS211, including the features, specs, and reviews. So, let's dive in to find out more.
A Comprehensive Review of the Stihl MS 211 (A Feature-Packed Chainsaw with Advanced Engine Technology)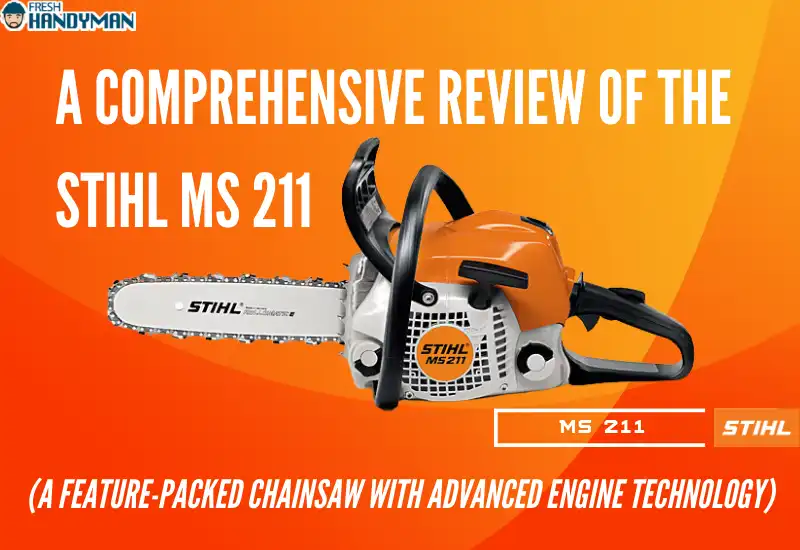 When it comes to pruning, clearing, bucking, and other light-cutting jobs, no other chainsaw comes close to the Stihl MS 211. This chainsaw is considered a must-have commodity for homeowners who are more hands-on when it comes to domestic tasks such as cutting firewood.
Read also: The best chainsaws for cutting firewood
Aside from its low price and a slew of features, here are some of the Stihl MS 211 specifications that set it apart from its competitors.
Overview of the Stihl MS 211 Specs: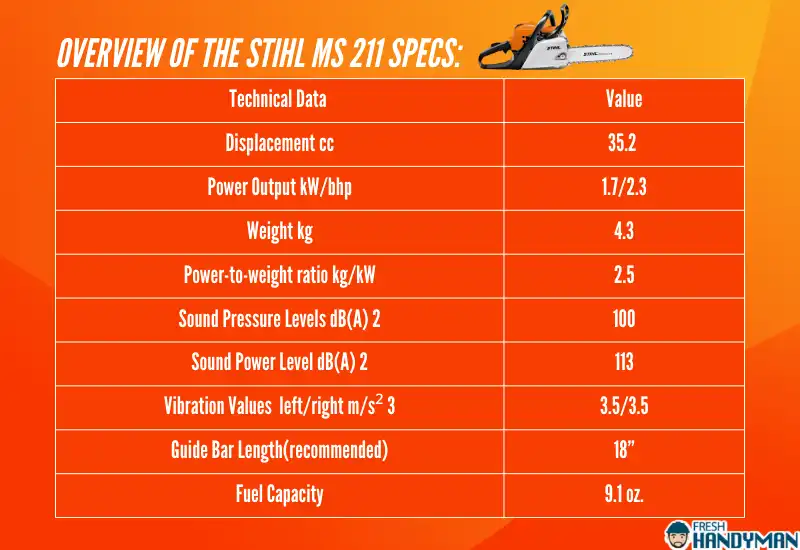 Here is a quick look at the Stihl MS211 chainsaw specs:
| Technical Data | Value |
| --- | --- |
| Displacement cc | 35.2 |
| Power Output kW/bhp | 1.7/2.3 |
| Weight kg | 4.3 |
| Power-to-weight ratio kg/kW | 2.5 |
| Sound Pressure Levels dB(A) 2 | 100 |
| Sound Power Level dB(A) 2 | 113 |
| Vibration Values  left/right m/s² 3 | 3.5/3.5 |
| Guide Bar Length(recommended) | 18" |
| Fuel Capacity | 9.1 oz. |
Stihl MS 211 Features
The Stihl MS 211 is a perfect example of a chainsaw loaded with several features that make it suitable for many tasks. Here are some of the key features and how they give the MS 211 an edge over its competitors:
Dimensions and Weight
The MS 211 is a very compact machine that is easy to transport and maneuver. Weighing a little over 9 pounds, this chainsaw is one of the lighter models in its class. Its guide bar length is 18 inches, which I still find to be very comfortable for me.
However, don't let the compact design fool you. This chainsaw is still powerful and capable of maneuvering tight spaces easily.
Engine Specifications
How many cc is a Stihl MS 211 engine? Its two-stroke engine is 35.2 cc. This engine utilizes 2-Mix technology to reduce fuel consumption by as much as 20% and decrease exhaust emissions by up to 50%.
The Stihl MS 211 engine's performance is quite decent, with a rating of 2.3 bhp and producing 2.3 kW. If you're an environmentally conscious person and need a chainsaw that will give you highly efficient performance, then the MS 211 is for you.
IntelliCarb Compensating Carburetor
One of the standout features of this chainsaw is the Intellicarb Compensating Carburetor.  Its main function is to constantly adjust the air/fuel mixture in order to maximize the engine's performance.
Intellicarb regulates the flow of fuel to the carburetor depending on the amount of clean air available in the filter. Anytime the flow of clean air decreases, Intellicarb automatically reduces the flow of fuel used for combustion, and vice versa. This ensures that the engine is performing at an optimum level.
Quick Chain Adjustments and Bar Length
The Stihl MS 221 features a side-access chain tensioner that allows you to adjust the chain quickly and easily. I find it safer and more convenient since you don't have to come into contact with the sharp chain when adjusting it.
For the bar length, you can choose between two options depending on the magnitude of your cutting task: 14 inches or 16 inches.
Anti-Vibration System
Equipped with an advanced anti-vibration system, the Stihl MS 221 helps reduce the chances of injury while making the saw more comfortable to operate.
This system is composed of several key components, including shock-absorbing mounts that reduce the amount of vibration transmitted to the handles.
I can't count the number of times I felt fatigued or uncomfortable after using my chainsaw for a long period due to vibration. That is why this system came in handy.
The Stihl ElastoStart
Stihl did a great job coming up with the now-patented Elastostart system, which makes it easier to start the engine. Previously, you had to put in a lot of effort to get a chainsaw up and running. However, the Elastostart system reduces the peak forces you usually feel when starting the engine, making the process smoother.
Master Control Lever
Another great feature is the master control lever, which integrates all the important functions like start and stops into one location. This makes it very easy to operate the saw and allows you to focus on your task.
Ematic Lubrication System
With the Ematic Lubrication System, you won't have to worry about over-oiling the bar and chain when trying to lubricate them.
This is because this system has been carefully designed to regulate the amount of lubricant that goes to the sliding faces of the bar, chain links, driver holes, and rivets.
As a result, you will be able to decrease your oil consumption significantly.
QuickStop Super Chain Brake
This chainsaw comes with a Quickstop chain brake system, whose function is to stop the chain when the operator releases the trigger or when the saw kicks back. Your safety should always be a priority given that kickbacks occur frequently when operating a chainsaw.
Thankfully, this system is so efficient that it is able to halt the rotation of the chain within milliseconds. This, in turn, prevents potential injury or damage.
How to Use the Stihl MS 211 Chainsaw
The MS 211 is a fan favorite for a reason, namely how easily you can get it up and running. Remember, all the procedures are provided in the Stihl MS 211 manuals, so make sure you read them first.
Before starting the chainsaw, you should make sure you're wearing protective gear such as ear protection, safety glasses, functional apron chaps, work gloves, and a hard hat.
Additionally, confirm that there are no loose parts or any signs of damage. Keeping these in mind, below are the necessary steps on how to use the Stihl MS 211 chainsaw:
You should start the saw a couple of meters away from the refueling spot.
After that, engage the chain brake.
Next, activate the choke.
Once the choke is activated, press the fuel pump button at least five times.
Ensure that the rear handle of the chain is clamped up between your knees or thighs.
With one hand on the rear handle, pull the starter cord until you hear the chainsaw sputter.
Now, switch the master control lever to the starting throttle position and pull the starter cord again.
Once the engine starts to run, activate the throttle lever for a short period of time.
Move the control lever to the operating position and release the chain brake.
Rev up the engine a couple of times and start using your chainsaw.
When cutting, you want to ensure that your feet are shoulder-width apart and both hands are on the chainsaw. Start the cut using a slow and controlled motion, then gradually increase the speed as you progress.
Finally, once you're done cutting, release the trigger and let the saw idle for a couple of seconds before you switch it off.
As an extra note, I always clean the air filter and check the chain tension once I'm done using the chainsaw. It is generally a good practice that will help prolong the life of your saw. Also, store the chainsaw in a cool, dry place to prevent corrosion and damage.
Maintenance requirements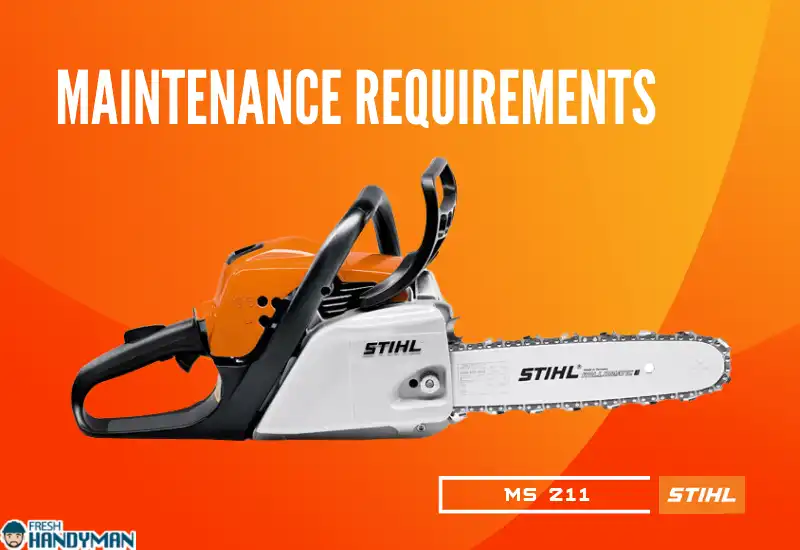 You'll need to regularly maintain this chainsaw if you want to keep it in top-notch condition. I would advise you to read the Stihl MS 211 manuals that come with the saw.
It will help you to get detailed instructions on how to perform routine maintenance such as changing the oil, cleaning the air filter, cleaning the spark plug, and tightening the chain. Subsequently, it will help to extend the life of your chainsaw and also ensure optimal performance.
Accessories
There are several chainsaw accessories that can help you improve the performance and longevity of your Stihl MS 211 chainsaw by making maintenance and upkeep easier. Here are the top ones that you can find on Amazon:
1. Stihl 2-in-1 Easy File Chainsaw Sharpener
You can barely work with a chainsaw that has teeth that are blunt. If you try this 2-in-1 sharpener, I can guarantee that you won't face this challenge anymore. Stihl's 2-in-1 sharpener has round and flat files that sharpen the teeth to the correct angle and depth.
2. Stihl Safety Helmet
This Stihl safety helmet is designed to protect you from flying debris and other hazards while operating your chainsaw. What impressed me more is its protective visor, which you can adjust to any position, and ear muffs for hearing protection.
Additionally, this helmet is light and comfortable to wear. Above all, it reduces the risk of injury when using the Stihl MS 211 chainsaw.
3. Chainsaw Bag
A chainsaw bag is a must-have item if you want to protect your chainsaw during transport. This bag is made of durable and moisture-proof material that shields the chainsaw from dust, sun, snow, and rain.
The manufacturer has also added multiple pockets for storing accessories. You also have strong shoulder straps for carrying the bag easily.
4. Stihl High-Performance Engine Oil
Stihl high-performance engine oil is specially formulated for use in chainsaws and other outdoor power equipment. It is designed to provide superior lubrication so as to improve Stihl MS 211 engine performance. It also provides protection to prolong engine life.
How Does a Stihl MS 211 Cost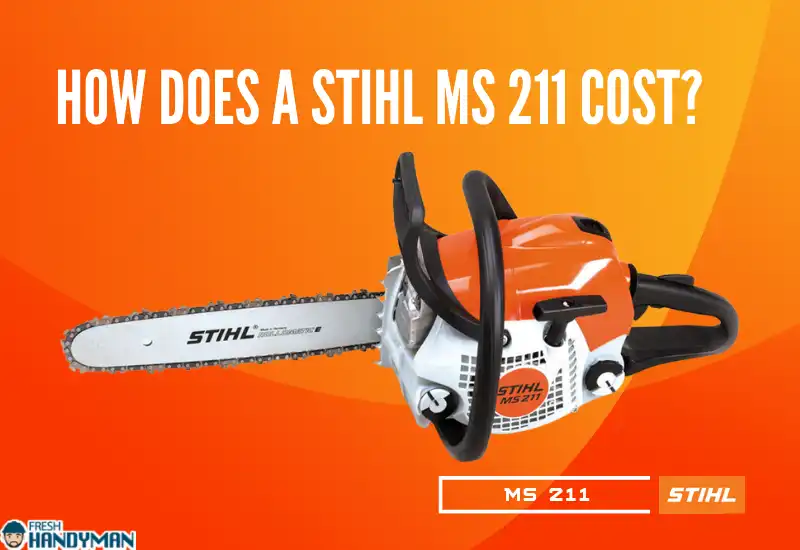 The Stihl MS 211 is worth approximately $250–700, depending on where you're purchasing it from and the options you're getting; 16-inch bar chainsaws are generally pricier than their 14-inch counterparts.
All you need to do is use the Stihl Dealer Locator to find the nearest Stihl chainsaw dealer close to you if you reside in the US. However, there are many other authorized dealers all over the globe that can sell you a reliable machine.
All Stihl products, including the Stihl MS 211, have a 2-year warranty that covers defective material and poor workmanship when you use them domestically. However, if you plan on renting out your chainsaw, the warranty will only cover you for 3 months.
You can also find a secondhand machine still in good condition on sites such as Ace Hardware, but it will not have a warranty.
User feedback and reviews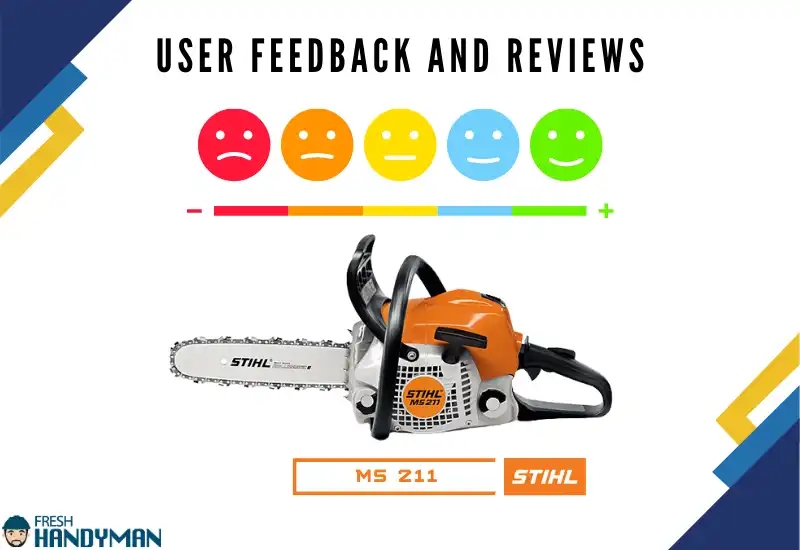 One user mentioned how this chainsaw was perfect for climbing and taking down sections of a 40-foot tree. Another user raved about how easy it was to use and maintain the MS 211, given that he had owned it for several years.
However, a user complained of unresolved problems such as the chain locking up occasionally, but it wasn't clear whether the blame was on the dealers or manufacturers. Generally, there were more positive reviews than negative ones.
You might also like: How to diagnose and fix Stihl MS 221 quickly
Frequently Asked Questions
What is the weight of the Stihl MS 211 chainsaw?
Well, this will depend on the bar length, but it's typically a little over 9 pounds, making it lightweight and easy to use compared to other chainsaws.
What is the power output of the Stihl MS 211?
The Stihl MS 211 chainsaw has a 2-cycle engine that delivers a maximum power output of 2.3 kW. This is just enough to perform tasks such as pruning trees and cutting firewood.
What is the warranty offered on the Stihl MS 211?
The warranty offered will vary depending on the country of purchase, but it usually runs for 2 years for domestic users and 3 months for anyone who plans to rent it.
In Conclusion
The Stihl MS 211 chainsaw is an excellent choice for domestic and professional users.
It features a powerful engine, an advanced anti-vibration system, a side-access chain tensioner, a master control lever, and a Quickstop super chain brake.
Its ergonomic design and wide range of accessories provide enhanced performance and versatility.
However, when it comes to heavier duties, the MS 211 falls short. The MS 250 would be a much better fit.
Hopefully, the details of the Stihl MS 211 that I have provided will enable you to make a more informed purchase. Check out this comparison between the Stihl MS 211 and MS 250.