Stihl 211 and 251 chainsaws caught my eye recently. I was impressed with both of them due to their unique features. However, I noticed right away that they are entirely different chainsaws. One provides a more comfortable operation, whereas the other is more powerful.
To be precise, the differences between the 211 and 251 chainsaws primarily exist in their power output, chain, sound level, and fuel capacity. Despite being so different, their prices are only $20 apart, which is a bit surprising.
In the article, I will describe the major differences between these chainsaws thoroughly. Hopefully, it will help you decide which product is right for you.
Here I go!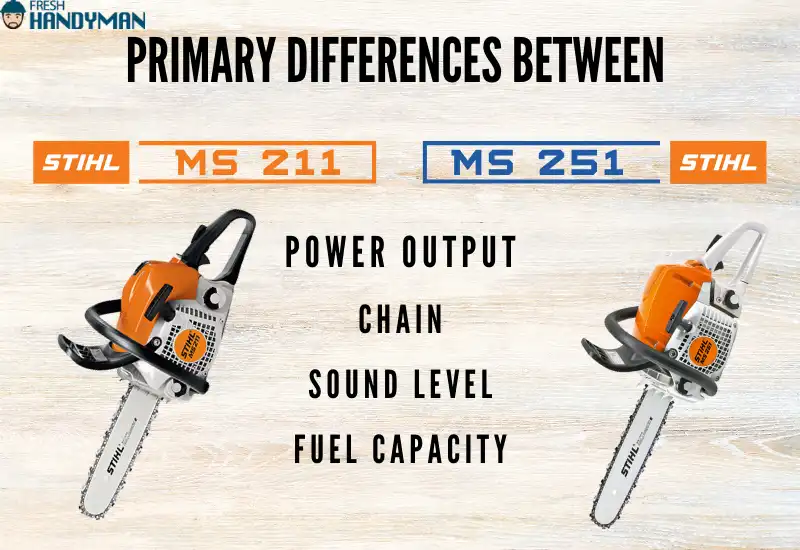 Comparison Table with Specs for Stihl 211 and 251
| Key Factor | Stihl MS 211 | Stihl MS 251 |
| --- | --- | --- |
| Displacement | 35.2 cc | 45.6 cc |
| Horsepower | 2.3 bhp | 3.0 bhp |
| Weight | 9.5 pounds | 11.0 pounds |
| Chain | Picco Micro 3 | Rapid Micro 3 |
| Vibration Level | 3.5 m/s² | 3.9 m/s² |
| Fuel Capacity | 9.1 oz. | 13.2 oz. |
| Price | CHECK LATEST PRICE | CHECK LATEST PRICE |
Stihl MS 211 Chainsaw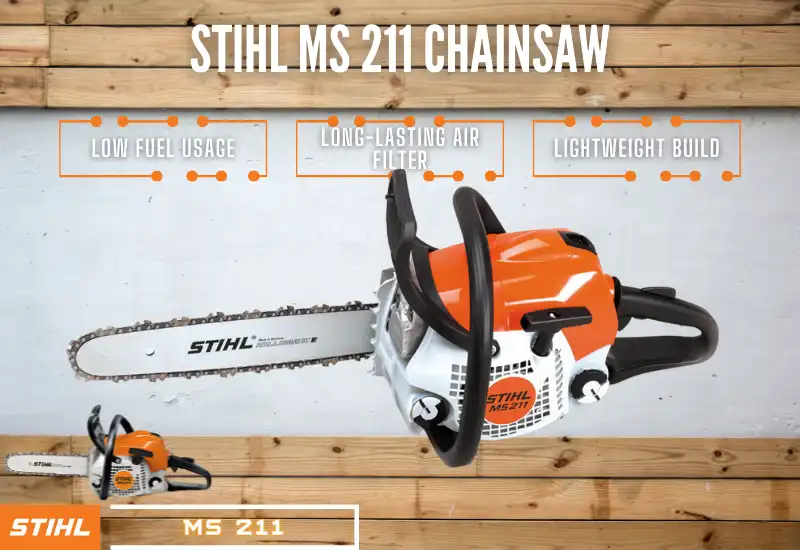 Low Fuel Usage
The fuel consumption of gas chainsaws makes some people hesitant to use them. Not everyone likes spending a lot of money on fuel. The 211 saw is ideal for them.
It utilizes an engine that boasts a fuel-efficient design. As a result, the tool can run for a long time, even on relatively little fuel.
Long-lasting Air Filter
Air filters on chainsaws serve only one purpose: supplying clean air to the engine. Unfortunately, when it is overly dirty or clogged, the filter will do the opposite of what it should.
This is where the pre-separation air filtration system of Stihl makes its mark. The technology gets rid of dirt and prolongs the filter's lifespan by five times.
If you would like to clean the air filter on your own, check out this detailed guide.
Lightweight Build
People have a misconception that gas chainsaws are always too heavy. Stihl's 211 saw is an exception to that.
There are only 9.5 pounds of weight to it. Hence, the product has all the benefits of a gas chainsaw without the weight.
Read Also: All Stihl MS 211 Problems and Solutions
Stihl MS 251 Chainsaw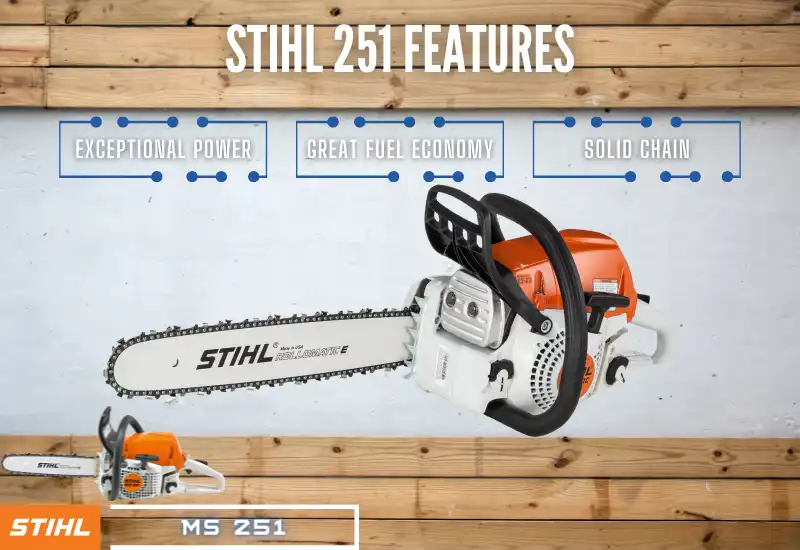 Exceptional Power
If you want a chainsaw that can slice through wood flawlessly, the Stihl 251 has to be the right choice. The 45.6 cc engine is more than capable of tearing down any tree or wood you throw at the machine. It is also worth mentioning that the unit produces three bhp.
Great Fuel Economy
As surprising as it may sound, the chainsaw is more than 20% fuel efficient compared to previous Stihl gas chainsaws. Moreover, the saw's emission is also massively reduced by 50% from before.
With this chainsaw, not only will you save money on fuel, but you will also contribute to protecting the environment.
Solid Chain
You can use the 211 saw to cut trees down, thin them out, and prune them as well. Even cutting firewood does not pose a problem for the chainsaw.
All of this is possible because of the RM3 chain. It comes with a semi-chisel cutter for maximum cutting versatility.
Differences Between Stihl 211 and Stihl 251 Wood Boss
The five biggest differences between the Stihl 211 and 251 chainsaws are outlined below.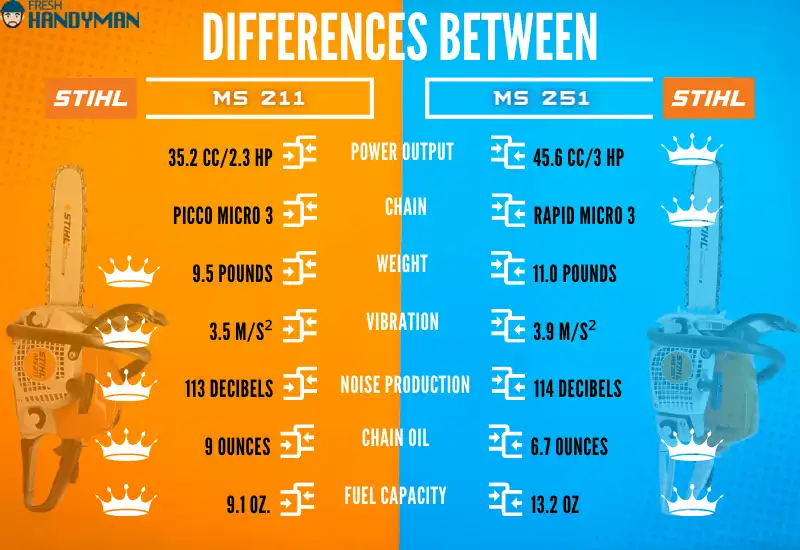 Power Output
I will start by comparing the total power of these two chainsaws since that is where the biggest difference resides.
The 211's engine has a displacement of 35.2 cc, which is quite impressive. For those who are curious about horsepower, it is 2.3 hp. As a whole, this chainsaw produces a decent amount of power.
However, the 251 saw beats the 211 in power by a wide margin. It comes with a whopping 45.6 cc engine that can deliver way more power than its rival. Moreover, you also get a solid three-horsepower from the 251 model.
Needless to say, the 251 chainsaw triumphs in the power output round indisputably.
Winner: Stihl MS 251
---
Chain
I always pay close attention to the chain while buying chainsaws. I mean why wouldn't I? The power tool is literally named 'chain-saw.'
In all seriousness, the chainsaw's cutting ability, kickback, and vibration are directly related to the chain.
The 211 model incorporates the well-known Picco Micro 3 chain from Stihl. It is one of the best chains available for compact saws that ensure the least kickback and vibration. However, you cannot expect the chain to perform heavy-duty cutting.
With the 251, you will have an excellent chain called the Rapid Micro 3. In terms of capability, it can deal with even the most challenging tree-cutting jobs. As a result of the chain's low vibration and kickback, it feels comfortable to work with.
Winner: Stihl MS 251
---
Weight
You don't realize how significant a role weight plays until you are carrying a heavy chainsaw around all day. A lightweight saw not only allows you to work longer but also improves the quality of your work through better control.
The Stihl 211 is one of the lightest gas chainsaws, weighing 9.5 pounds. Thanks to the compact size, you can comfortably handle the tool with enough precision.
On the other hand, the 251 saw is not terribly heavy, but it does weigh more than the 211 unit. Those loggers who are more fond of lightweight may not find its 11-pound weight appealing.
Winner: Stihl MS 211
---
Vibration and Noise Production
Operating a chainsaw that generates unbearable noise and vibration is definitely unpleasant.
The situation deteriorates further when you only use the saw at home. In that case, your neighbor will complain a lot and might even contact the authorities.
Fortunately, both of these chainsaws are relatively quiet. However, their sound levels are different.
The MS 211 has a sound power level of 113 decibels. In comparison to that, the 251 model produces 114 decibels, which is very slightly louder.
Nonetheless, I can safely say that the vibration output between these two products is very different. The 251 chainsaw has a higher vibration rate of 3.9 m/s², whereas the 211 saw only produces 3.5 m/s².
Winner: Stihl MS 211
---
Chain Oil and Fuel Capacity
I am one of those individuals who tend to fill up on fuel in large quantities so that I do not run out of fuel while working.
When you are just like me, you should go for the 251 chainsaw without a second thought. It has a 13.2 oz fuel tank for storing large amounts of fuel. On the other hand, the fuel capacity for the 211 model is only 9.1 oz.
Despite not having a big fuel tank, the chain oil capacity of the 211 saw is quite generous. It holds a whopping 9 ounces of chain oil, which is substantially more than the 251's 6.7 ounces.
Winner: Tie
---
Related: Stihl 026 Vs. 028
Which Chainsaw Is The Best Overall?
If your chainsaw must be lightweight and quiet in operation, I would recommend you the Stihl MS 211 chainsaw.
Nevertheless, in nearly all other crucial areas, the Stihl MS 251 outperforms the 211 saw.
It is more powerful, fuel-efficient, and offers more fuel capacity. You can have all of this for only $20 more than the 211 would cost you.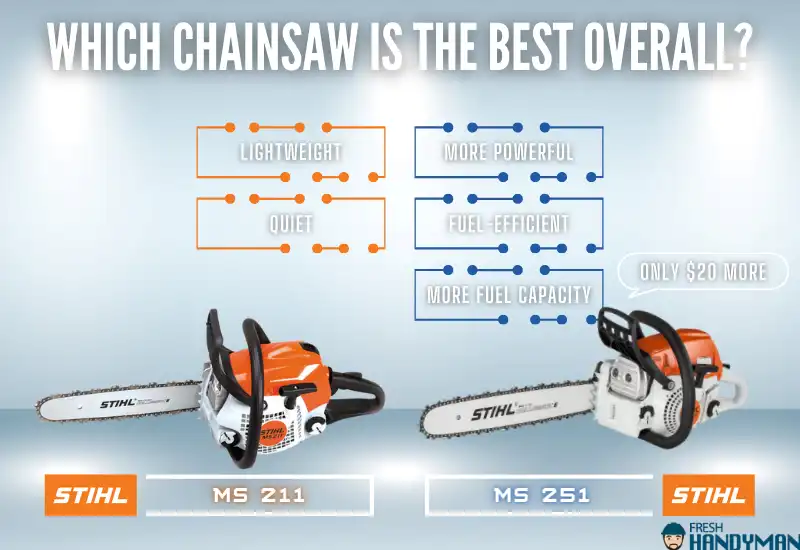 Stihl MS 211 [WINNER]
Final Words
Although most Stihl gas chainsaws resemble each other in some ways, these two products hardly have anything in common. It is impossible to ignore their differences in capacity, power, and weight. Hopefully, I demonstrated all the differences in a clear manner.
Here is another comparison between Stihl 500i and 462 that you might find useful.