It may seem overwhelming to choose a chain for your saw, given the variety of choices. Two options that caught my attention were the Oregon and Stihl chains.
As both manufacturers produce high-quality chains, I couldn't decide which one to go with. However, after some research, I identified several notable differences between these chains that made my decision easier.
Stihl and Oregon chains differ primarily due to their performance, durability, compatibility, and cost. These two chains also have vastly different availability, which is a major factor to consider.
In the article, I will go into more detail about the differences. I will also include my recommendation at the end of the article based on the factors impacting saw chains the most.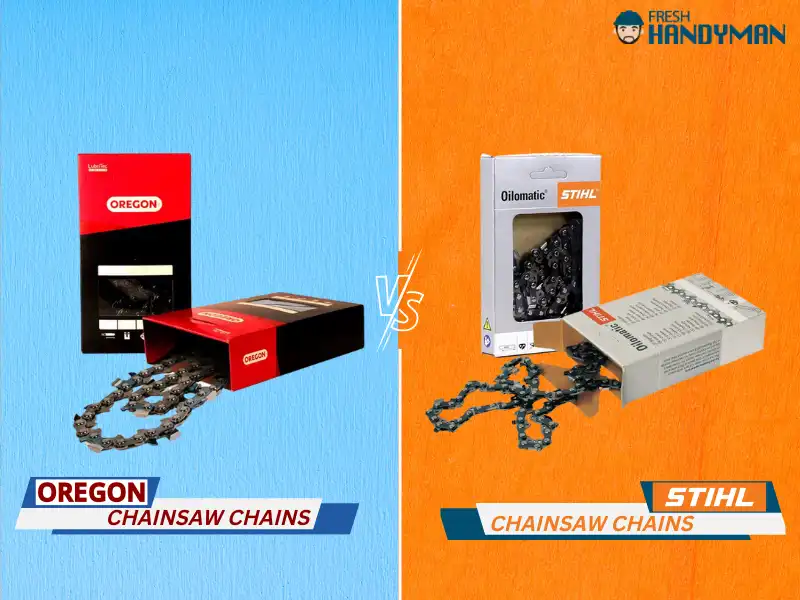 Comparison Table of Oregon and Stihl Chains
| Key Factor | Stihl Chainsaw Chain | Oregon Chainsaw Chain |
| --- | --- | --- |
| Durability | Stihl Chains have hardened steel to make them last longer. | Oregon chains have a lower chance of lasting a long time. |
| Compatibility | Compatible primarily with Stihl chainsaws. | Fits Husqvarna, Makita, Echo, and many other chainsaw models. |
| Performance | Provides better cutting results. | Delivers outstanding cutting performance, but only on PowerCut units. |
| Availability | Available mostly online. | Available everywhere from local stores to online retailers. |
| Availability | Available, so no manual carb adjustment is required. | Not available, which means carb adjustment must be done manually. |
| Price | $15 – $30 | $40 – $50 |
Features of Stihl Chainsaw Chain
Here are a few noteworthy features of the Stihl chainsaw chain.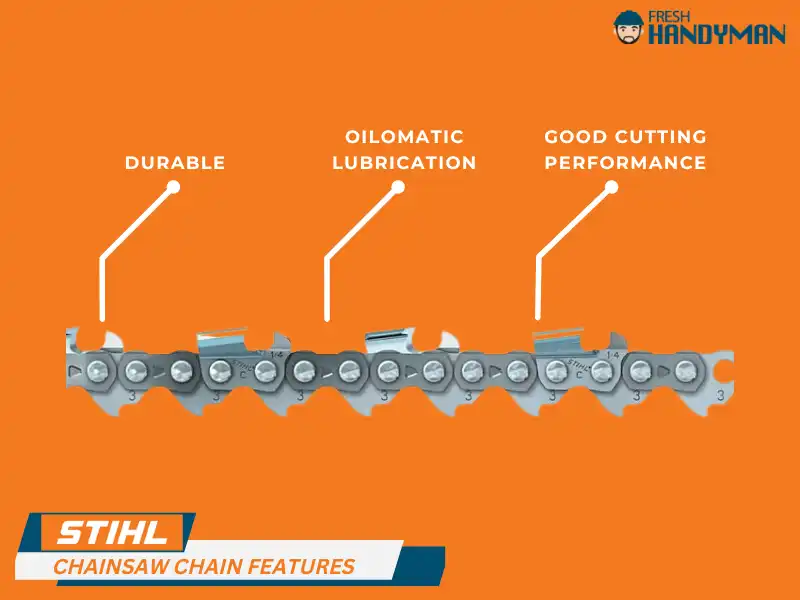 1. Durability
One of the common problems with chains is that they seldom last long. Stihl makes chains from hardened steel to resolve this issue. They also include links with mirror-smooth holes.
The material and holes allow the chains to withstand heavy use and last for a long time.
2. Oilomatic Lubrication
After a certain period of use, saw chains tend to wear out and become more frictional. Such a condition hinders a chain's ability to cut.
Compared to regular chains, Stihl ones are less wear-prone thanks to an oilomatic lubrication system.
3. Cutting Capability
Stihl's semi-chisel cutters provide good cutting performance. Whatever the tree's thickness is, you will have no trouble cutting it with a Stihl chain.
Another big plus of the semi-chisel cutter is its ease of maintenance.
Features of Oregon Chainsaw Chain
Here are a few noteworthy features of the Oregon chainsaw chain.
1. LubriTec Oiling
A chain cannot remain sharp if there is not enough lubrication. Since Oregon's LubriTec oiling system keeps the chain lubricated, you don't need to worry about lubrication.
It not only ensures less fraction but also increases the chain's durability.
2. PowerCut
Oregon manufactures a line of chains called PowerCut, which is known for its performance. They offer full chisel cutters to meet the needs of any logger seeking optimal saw chain performance.
3. Low Kickback
Oregon chains' distinctive yellow labeling shows they meet the low kickback requirements set by ANSI. Furthermore, the vibration is minimal as well.
Low kickback and vibration reduce injuries and make cutting more comfortable.
Differences Between Stihl and Oregon Chains
Let's take a look at what distinguishes these chains.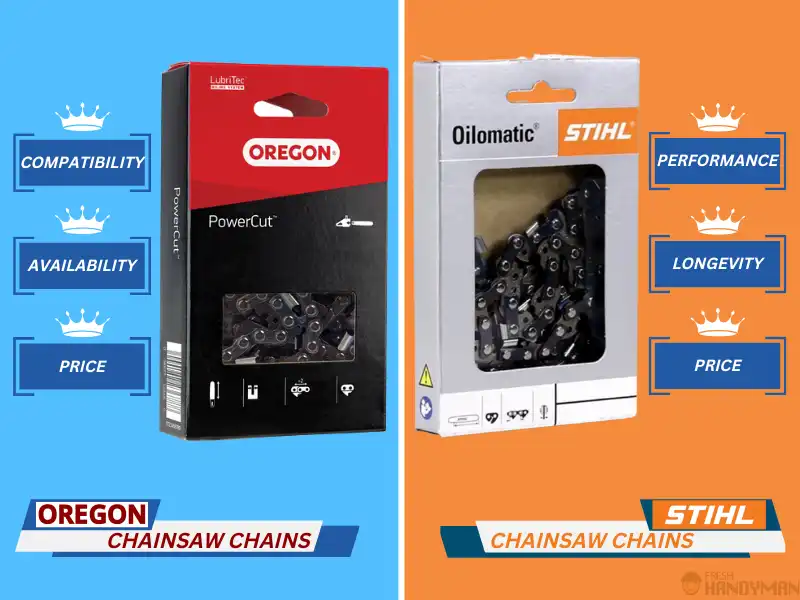 1. Performance
Chainsaw's performance is largely determined by the chain it uses. A saw may have all the horsepower in the world yet perform poorly if the chain is not up to par.
Stihl chains deliver superior cutting performance. Every cutter you see on the chain is crafted from special steel through several stages of production.
Moreover, chrome plating is electrolytically applied to the top plates. All of this contributes to a superb cutting performance.
Oregon chains, in particular the PowerCut ones, offer exceptional performance. However, in comparison with their competitors, they fall short.
Winner: Stihl Chain
---
2. Longevity
Chains are among the least durable parts of a saw. Thus, you should always ensure the chain you purchase has long-lasting features.
Stihl chains lead the way in terms of longevity. These products undergo constant tensile loads during production. Their hardened steel material is also responsible for their durability.
Although Oregon chains provide some attractive features, they are not as durable as Stihl chains.
Winner: Stihl Chain
---
3. Compatibility
While buying a chain, compatibility is of the utmost importance. No matter how well a chain cuts, if it is incompatible with your chainsaw, the item will not be of any use to you.
As much as I appreciate how feature-rich Stihl chains are, I cannot use them outside of Stihl saws. This is a major disadvantage for me since I own chainsaws from various manufacturers.
Thankfully, Oregon chains fit a wide range of saws, including those from Husqvarna, Echo, and even Stihl.
Winner: Oregon Chain
---
4. Availability
Doesn't it feel frustrating when your chain breaks during a crucial cutting process? The situation worsens when you cannot find a suitable chain in your area.
This is precisely why chainsaw chains must be readily available.
As I mentioned previously, Stihl chains are compatible mostly with their chainsaws. Hence, these products are hard to come by, especially in local markets.
You may need to order one online. In that case, the cutting project could be hindered by the long delivery time.
On the other hand, Oregon chains are way more available because they work with most saws. You can even find them at your local hardware store.
Winner: Oregon Chain
---
5. Price
Based on the previous points, it is clear that Stihl chains combine great performance with many features. As a result, they are more costly, usually between $40 to $50.
If these prices are beyond your budget, Oregon could be the answer. They offer so many choices, with prices starting at $15. Even the most expensive Oregon chain does not exceed $30.
Having said that, it is important to remember Stihl chains are much better performing for a higher cost.
Winner: (Tie)
---
Which Chain Is Better Between Stihl and Oregon?
If I had to pick one, I would always choose a Stihl chain for its strength, durability, and performance. The cutting capability it offers is unparalleled.
However, some people may value having more options with Oregon chains. Budget is another area where Oregon has the edge.
Ultimately, do your research before selecting a chain. Both brands manufacture excellent chains, so either option is worth considering.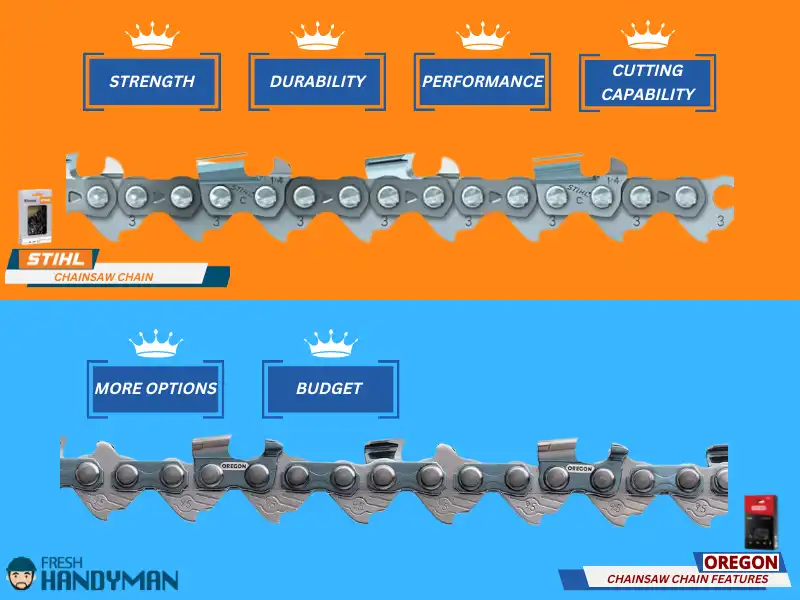 Also Read: Different Types of Saw Chains
To Sum Up
After comparing both chains, it appears that the Stihl chain offers more durability and power, while the Oregon chain is known for its availability, compatibility, and easy maintenance.
The decision comes down to your personal preference and the type of job you are working on. Nevertheless, for heavy-duty tasks, the Stihl chain is undoubtedly superior.
Need help measuring the size of your bar? Here's a tutorial that will help you.
---
>> Check Out Also: