Two of the finest small-medium Stihl chainsaws I recently noticed are the 271 and 291 models. Their features are unmatched for the price they are selling for.
However, you cannot pick both of them, right? I also struggled with deciding between the two. Nonetheless, I eventually made a decision after assessing the differences.
The biggest differences between Stihl 271 and 291 exist in their power-to-weight ratio, displacement, and noise levels. And, of course, their prices differ too.
In the article, I will provide a comprehensive breakdown of all these differences. At the end of the article, I will address some questions related to these products.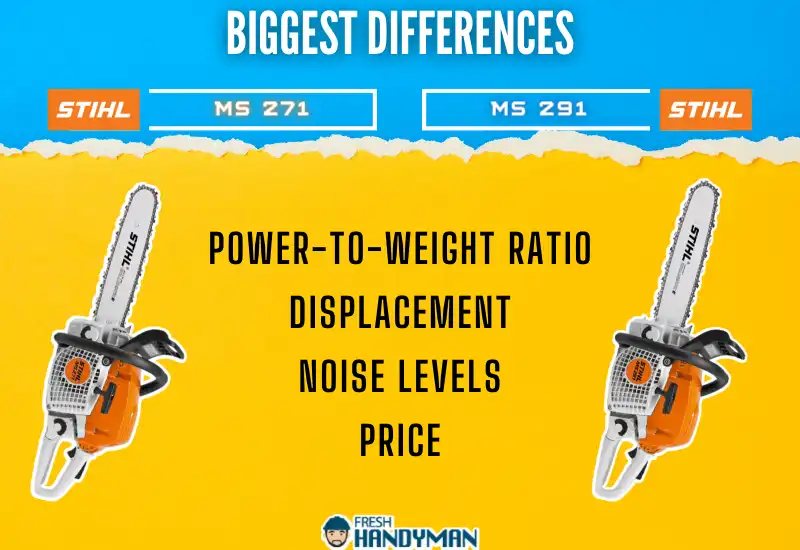 Let's get started!
Features of Stihl MS 271
Let's explore the features this power tool possesses.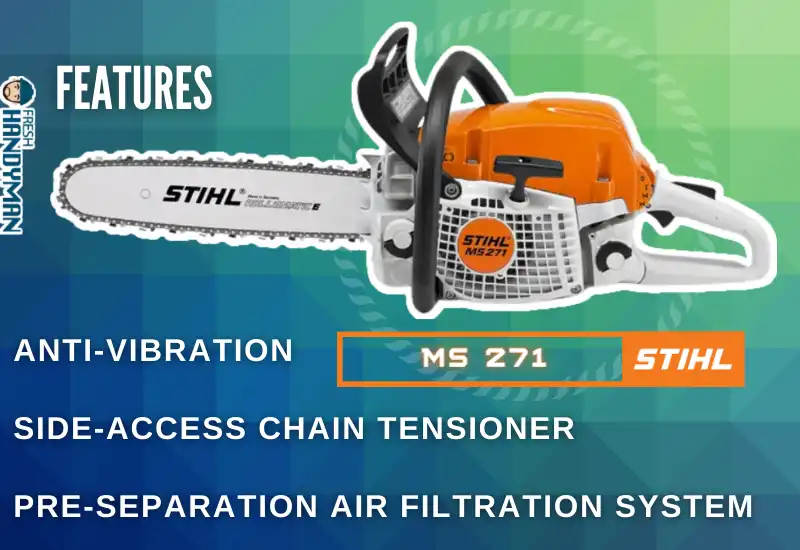 Pre-Separation Air Filtration System
The pre-separation air filtration system in the 271 protects the engine from airborne contaminants by filtering them out before they enter. This prevents dust and dirt from building up inside, resulting in more efficient operation.
Side-Access Chain Tensioner
One of the outstanding features of the MS 271 is its side-access chain tensioner. It allows the user to adjust the chain using a bar wrench.
In case you weren't aware, tensioning the chain from the side is far more convenient than the adjustment screw on the guide bar.
Anti-Vibration
Tired of buying chainsaws that vibrate endlessly? Pick a saw like the Stihl 271.
It boasts an anti-vibration system designed to eliminate unwanted vibrations that may cause fatigue and discomfort. As a result, kickbacks are less likely to occur, thereby preventing safety hazards.
Features of Stihl MS 291
Let's explore the features this power tool possesses.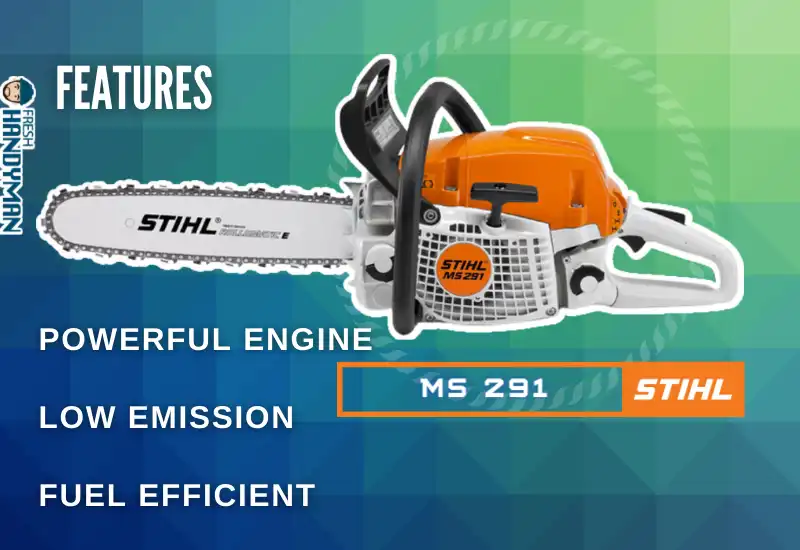 Powerful Engine
The MS 291 offers a high power output of 3.76 bhp, making it suitable for a variety of tasks. Whether cutting tree branches, clearing an overgrown area, or pruning branches, the saw has you covered.
Low Emission
A key feature of the 291 saw is its reduced-emission engine technology. It decreases emissions while providing a cleaner, more efficient combustion.
This makes the unit an ideal choice for those concerned about the environment.
Fuel Efficient
One of the main features of the 291 model is its ability to save fuel. Thanks to its two-stroke engine, the tool can run up to 20% more efficiently than conventional chainsaws.
It means you can use a single tank of fuel for a longer period of time and ultimately save money.
Comparative Table Between Stihl MS271 Specs and Stihl MS291 Specs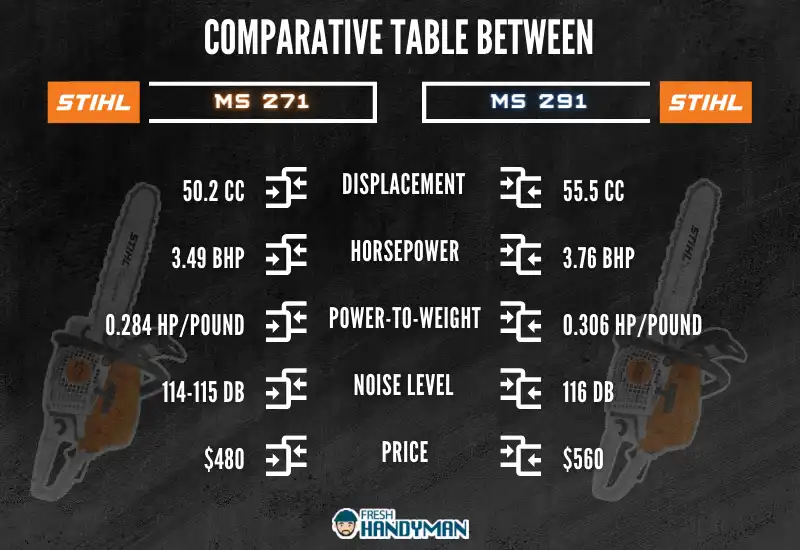 | Key Factor | Stihl MS271 | Stihl MS291 |
| --- | --- | --- |
| Displacement | 50.2 cubic centimeters | 55.5 cubic centimeters |
| Horsepower | 3.49 bhp | 3.76 bhp |
| Power-to-Weight Ratio | 0.284 hp/pound | 0.306 hp/pound |
| Noise Level | 114-115 dB | 116 dB |
| Price | CHECK LATEST PRICE | CHECK LATEST PRICE |
Differences Between Stihl Farm Boss 271 And Stihl 291
Here are the five areas where these chainsaws differ the most.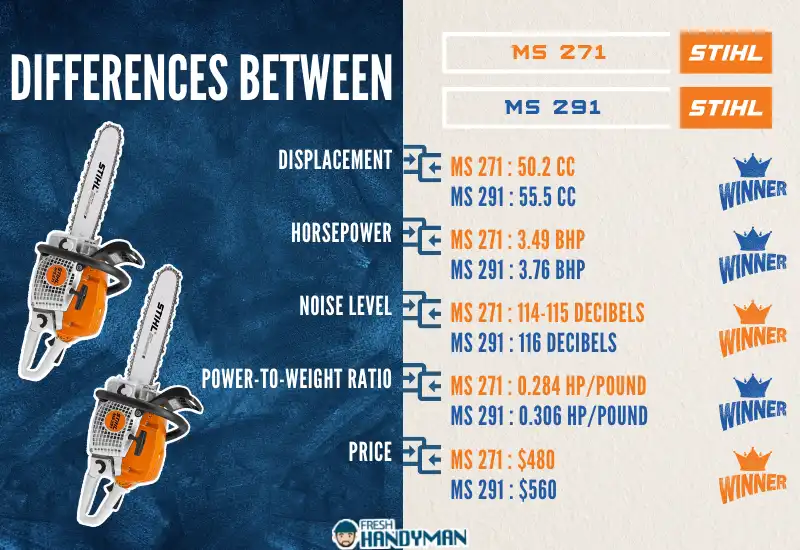 Displacement
Call me old-fashioned, but displacement is what I will continue to consider whenever I measure chainsaw power.
Horsepower certainly matters, but I don't think it's consistent. Therefore, you should rely on displacement when estimating a chainsaw's power correctly.
The Stihl 271 has a displacement of 50.2 cubic centimeters. It is suitable for small-scale tree cutting.
If you need a little more power, check out the 291 model. With 55.5 cc displacement, it gives you plenty of power to cut those stubborn logs.
Winner: STIHL MS 291
---
Horsepower
Those who prefer horsepower as a measurement of a chainsaw's power, don't worry – I haven't forgotten you. Here is how these two products compare based on horsepower.
The 291 saw boasts an impressive 3.76 bhp engine. It's enough for a small to medium-sized chainsaw like the 291 unit.
Unfortunately, the 271 once again falls short with only 3.49 bhp.
Winner: STIHL MS 291
---
Noise Level
People often overlook chainsaw noise levels when purchasing one. This sometimes comes back to haunt them due to the loudness of the saw.
If you want to avoid becoming one of them, make sure you know how loud your chainsaw is.
In this comparison, the 271 unit has a quieter sound power level of 114-115 decibels. On the other hand, the 291 chainsaw produces around 116 dB of sound.
Although the difference seems negligible, remember that even a single dB less sound level reduces noise noticeably.
Winner: STIHL MS 271
---
Power-to-Weight Ratio
In case you didn't know, the power-to-weight ratio in chainsaws is a measure of the power output of a saw relative to its weight. It is expressed as horsepower per pound (HP/pound).
The higher the PWR, the more powerful a chainsaw is for a given weight. The PWR is also an indicator of a tool's efficiency.
You get 0.306 horsepower per pound with the 291 chainsaw. It is simply astounding how powerful the 291 is even though it weighs the same as its competitor.
As for the 271, the power-to-weight ratio is 0.284 hp/pound, making the 291 the clear winner.
Winner: STIHL MS 291
---
Price
You cannot ignore the significance of price since everyone has a particular budget. The 271 chainsaw is sold for around $480 if you opt for the 18-inch bar.
Those who are willing to spend more for more power may want to consider the Stihl 291. The Stihl MS 291 best price ranges from 0-560 for the 18-inch bar model.
Winner: STIHL MS 271
---
Stihl 271 Vs 291: Which Is The Better Option?
Despite not belonging to Stihl's most powerful chainsaw lineup, the MS 291 still makes its mark thanks to its horsepower and displacement. It also excels in terms of power-to-weight ratio.
Overall, I would strongly recommend the Stihl 291 chainsaw without hesitation.
Having said that, the MS 271 is a top chainsaw too, primarily because of its value for money. Besides being $80 cheaper than its counterpart, it also performs well and produces a quieter sound, which many loggers prefer.
Stihl MS 291 [WINNER]
Frequently Asked Questions
How many cc is a 291 Stihl?
The Stihl 291 has a displacement of 55.5 cubic centimeters. That's plenty of power for easily slicing through thick branches and logs.
Moreover, whether you're sawing firewood or any other thick wood, the 291 is up to the task.
How big of a bar can MS271 handle?
The recommended size bar for a Stihl 271 chainsaw is 16 inches. While this is the ideal length, it's possible to go as high as 20 inches. Such a bar will enhance the cutting power and reach of this saw.
However, you should always be aware of potential safety issues associated with using a larger bar.
Is STIHL MS 291 2-stroke?
Yes, MS 291 chainsaws are powered by 2-stroke engines, which means they use two piston strokes during one operating cycle. This makes the power tool more efficient and powerful than others.
Also Know: Stihl 261 Vs. 271
To Sum Up
Now that you understand all the differences between Stihl 271 and 291, you can choose the one that's right for you.
In a nutshell, if you seek more displacement and horsepower, MS 291 is the obvious choice. On the other hand, the MS 271 makes more sense for those willing to forgo power in exchange for affordability.