My neighbor couldn't decide between a Stihl 251 and Husqvarna 445 chainsaw. As they were almost equally priced, he had a hard time picking one.
To save the day, I pointed out all the differences between these two models. Finally, he was able to make a well-informed decision. So what are those?
The most significant differences between the Stihl MS 251 and Husqvarna 445 relate to their power, chain, fuel capacity, and emission levels.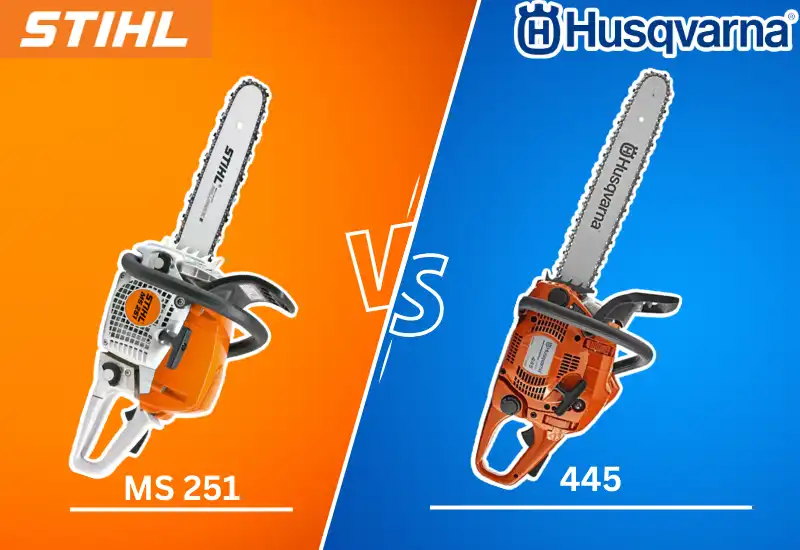 In the article, I present a brief comparison of these two saws. I will then describe the differences and conclude by recommending a product.
Let's kick things off!
Quick Comparison Between Stihl MS 251 Spec and Husqvarna 445 Spec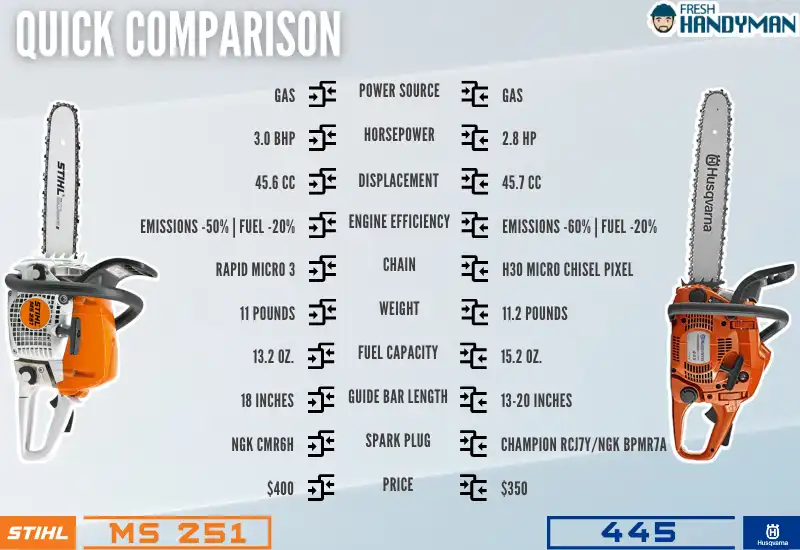 Here is a comparison table that illustrates how the Stihl and Husqvarna chainsaws match up.
| Key Factor | Stihl MS 251 | Husqvarna 445 |
| --- | --- | --- |
| Power Source | Gas | Gas |
| Horsepower | 3.0 bhp | 2.8 hp |
| Displacement | 45.6 cc | 45.7 cc |
| Engine Efficiency | Fuel consumption and emissions are reduced by 20% and 50%, respectively. | Fuel consumption and emissions are reduced by 20% and 60%, respectively. |
| Chain | Rapid Micro 3 | H30 Micro chisel PIXEL |
| Weight | 11 pounds | 11.2 pounds |
| Fuel Capacity | 13.2 oz. | 15.2 oz. |
| Recommended Guide Bar Length | 18 inches | Minimum 13 inches, maximum 20 inches |
| Spark Plug | NGK CMR6H | Champion RCJ7Y / NGK BPMR7A |
| Price | CHECK LATEST PRICE | CHECK LATEST PRICE |
Detailed Comparison of Stihl MS 251 And Husqvarna 445
Let me elaborate on all the key differences between these chainsaws below.
Chain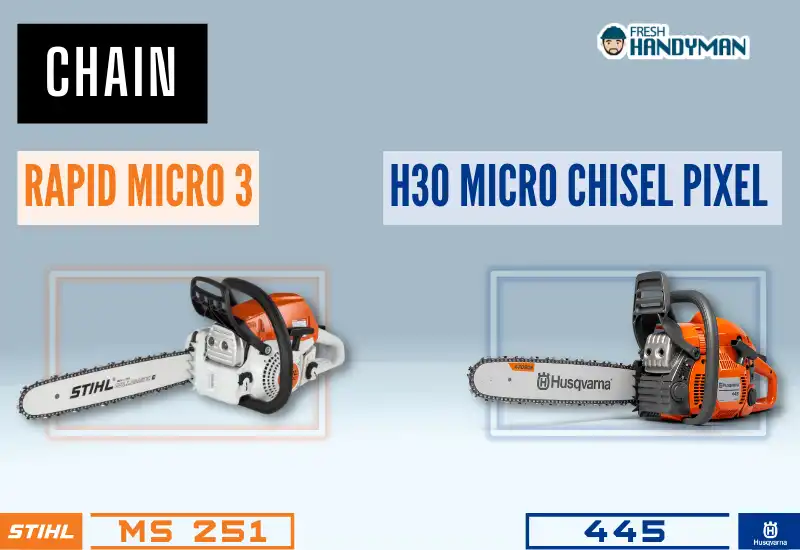 Displacement and horsepower are not the only factors that influence saw performance. Another crucial aspect that contributes to cutting quality is the type of chain you have.
Stihl chainsaws usually use high-quality chains that they manufacture themselves. Similar to its predecessors, the MS 251 also comes with an excellent chain named Rapid Micro 3.
The main benefit of this item is its low kickback and the ability to handle medium-sized tasks occasionally. Moreover, it is a semi-chisel chain, meaning you won't have to sharpen it regularly.
As for the Husqvarna 445, a .325-inch H30 Micro chisel PIXEL chain is available with it. Although it is low in kickback and vibration, the H30 is not capable of cutting heavy wood.
Winner: STIHL MS 251
---
Horsepower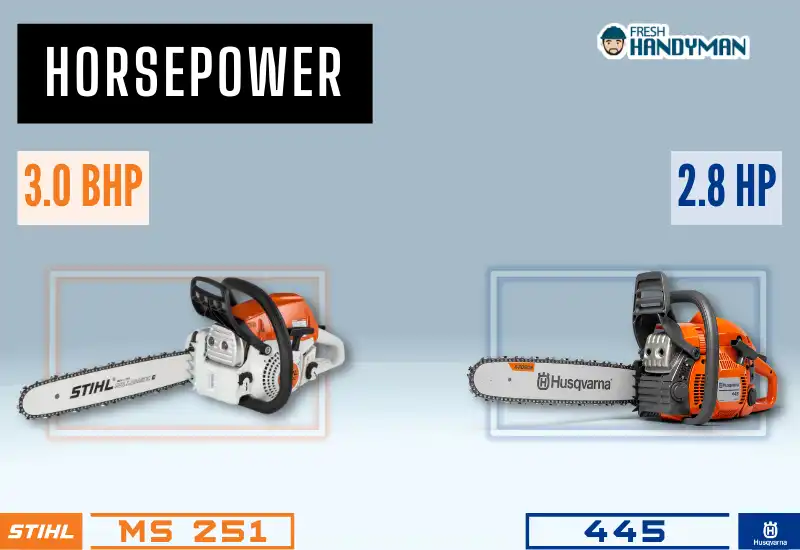 Horsepower is one of the vital criteria when seeking a powerful chainsaw. The Stihl one produces three bhp, which is sufficient for sawing materials like firewood.
In terms of horsepower, the Husky 445 fails to impress by delivering only 2.8 hp. I know the difference isn't huge, but having a slight edge of .2 horsepower makes chopping stubborn trees much more reliable.
Winner: STIHL MS 251
---
Engine Efficiency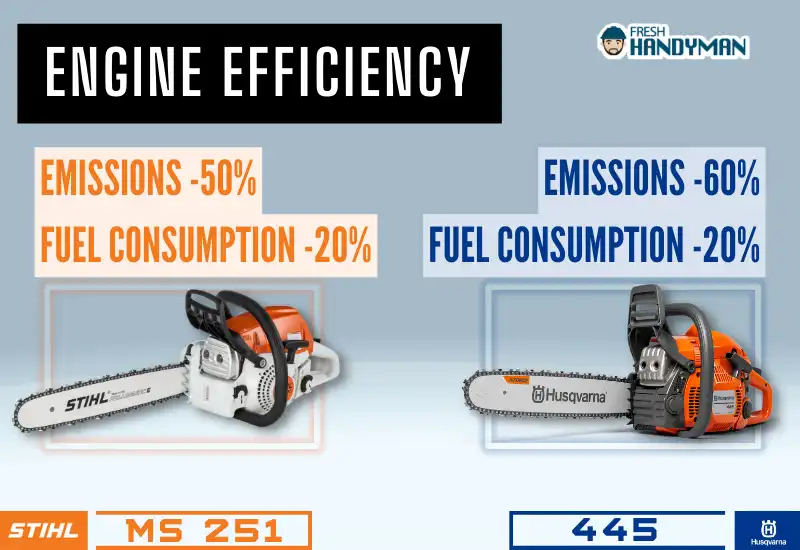 I see a lot of loggers who are too focused on horsepower and displacement that they overlook efficiency. This is a big mistake since inefficient engines will add significantly to your operating costs.
Also, when working outdoors, an inefficient engine causes severe environmental damage.
The good news is that both of these chainsaws are highly efficient. The 251 is powered by an engine that reduces emissions by 50% and fuel consumption by 20%.
Seems pretty impressive, right? But wait until you hear this!
The 445 is also 20% more fuel economical, and its revolutionary X-Torq engine lowers emissions by a whopping 60%. So if you care deeply about the environment, the Husky saw should be on your shopping list.
Winner: HUSQVARNA 445
---
Fuel Capacity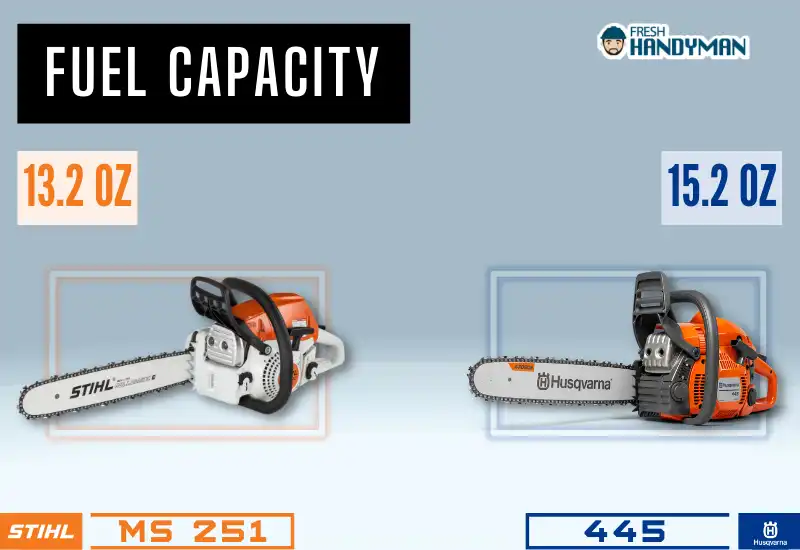 A few days ago, I witnessed a lumberjack losing his job due to a malfunctioning chainsaw. He felt really sad, but what made it even worse was why his tool didn't work.
His chainsaw simply ran out of fuel, resulting in it shutting down. I cannot put into words what that guy's misery was like.
If you do not want to end up like him, ensure your fuel tank is spacious, just like the Husky's 15.2-ounce tank. It provides plenty of time to cut trees before refueling.
The Stihl 251 once again leaves me disappointed by its lackluster fuel capacity of 13.2 ounces.
Winner: HUSQVARNA 445
---
Starting Mechanism
Never neglect to check the chainsaw's starting system before buying it.
I have seen some very powerful power tools with poor starting mechanisms. As a result, their owners devote more time to repairing them than to cutting down trees and wood.
Fortunately, both of these saws possess solid start-up procedures. The Stihl unit comes with a master control lever that simplifies starting. It also facilitates starting during cold weather.
On the other hand, the Husqvarna 445 is backed by its own Smart Start technology. Thus, you will be able to crank the chainsaw with minimal effort.
Since both of them are good at starting, I'm going for a tie.
Winner: (Tie)
---
You May Read Also: Husqvarna 445 Problems
Differences Between Stihl 251 and Husqvarna 445
Here are the major differences between these chainsaws.
| Stihl 251 | Husqvarna 445 |
| --- | --- |
| 3 horsepower | 2.8 horsepower |
| 50% less emissions | 60% less emissions |
| 13.2-ounce fuel capacity | 15.2-ounce fuel capacity |
| Oilomatic Rapid Micro 3 chain | H30 Micro chisel PIXEL chain |
| CHECK LATEST PRICE | CHECK LATEST PRICE |
As you can see in the chart above, the Husky 445 produces fewer emissions. Therefore, you can work outside without having to worry about damaging the environment.
Moreover, the Husqvarna model has a larger fuel capacity to prevent frequent refueling.
On the other hand, you are likely to experience a better overall performance from the Stihl 251 thanks to its superior horsepower and chain.
Stihl MS 251 Pros and Cons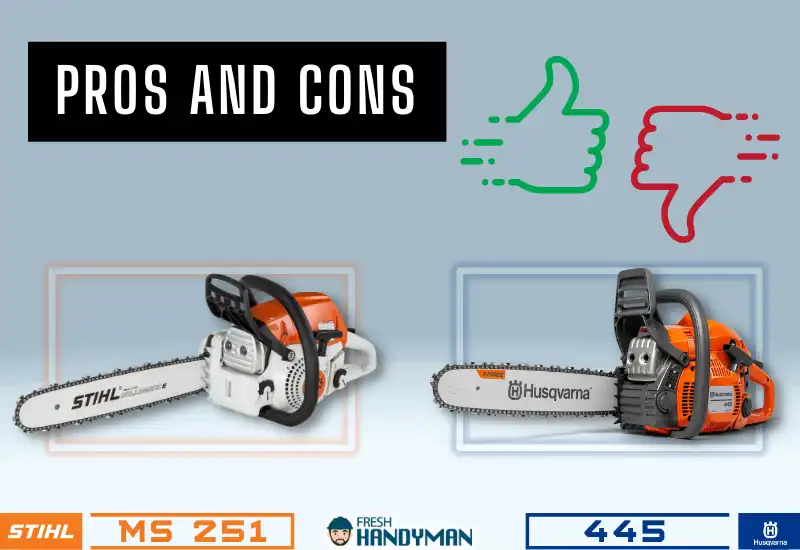 Husqvarna 445 Pros and Cons
Is Husqvarna Better Than Stihl? (Final Recommendation)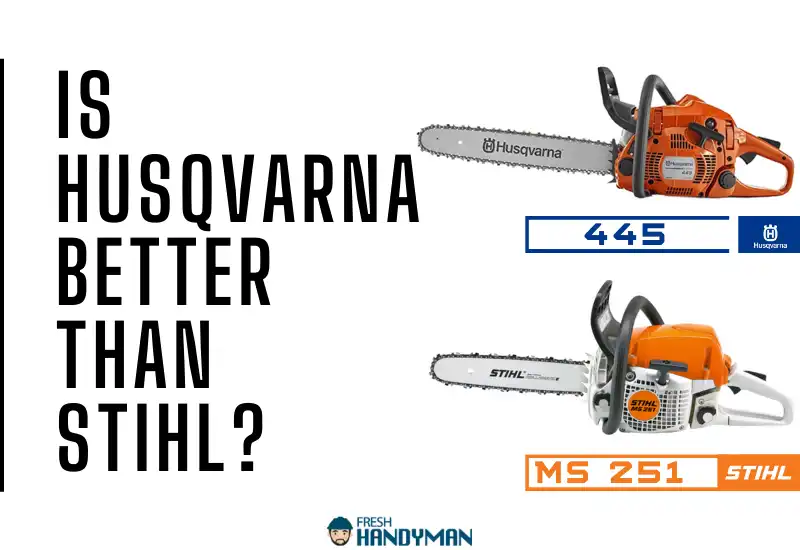 Choosing the superior product between these saws is challenging given that both are of decent quality.
The Husky 445 delivers almost the same performance while emitting less pollution in a $50 cheaper package. It even holds more fuel to keep you going all day long.
Considering all of this, I recommend that you head toward the Husqvarna 445.
Having said that, the Stihl MS 251 still stands out due to its more powerful engine and chain. If you don't mind forking over a little more for increased power, the Stihl option is also worth considering.
Related: Stihl MS250 Vs MS251
To Sum Up
I hope I have given you a clearer picture of what makes the Husky saw distinctive from the Stihl one. The differences in fuel capacity, chain, power, weight, etc., make them vastly different.
Ultimately, it will be up to your budget and personal preference as to which choice fits your needs.