Among the Stihl chainsaw enthusiasts, Wood Boss and Farm Boss have always been a source of confusion. Some believe the latter is superior, while others favor the former.
I found myself in the same boat, so I decided to test the 271 (Farm Boss) saw against the 251 (Wood Boss.) Upon closer inspection, I discovered some interesting differences that could inform you which is the better tool.
The Stihl Wood Boss and Farm Boss differ primarily in power, fuel capacity, the length of the guide bar, and powerhead weight. They are priced quite differently, too.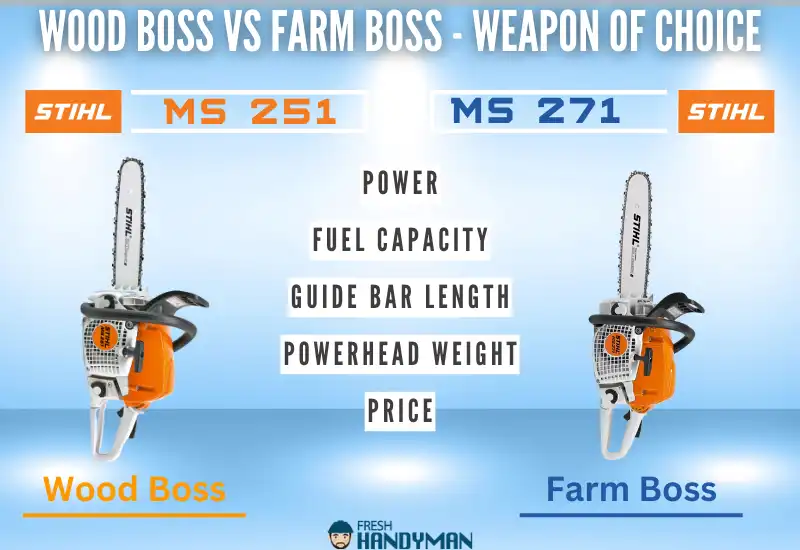 In the first part of the article, I briefly discuss the differences between Wood Boss and Farm Boss. Later, I describe both chainsaws' features in detail to give you an idea of which one is superior.
Let's jump right in!
Differences Between Wood Boss and Farm Boss
Here are some key differences between the two.
Weight
One of the things I noticed was the lighter weight of Wood Boss chainsaws. They also come with a compact design that allows them to fit into narrow spaces.
On the other side, most Farm Boss saws, even the Stihl 271, are heavy and require extra effort to operate, transport, and store.
Performance
The most attention Farm Boss chainsaws receive is because of their power. If you have a lot of thick firewood to handle, a Farm Boss power tool is the ideal solution for you.
Unfortunately, horsepower and displacement are not the strongest points of the Wood Boss saw.
Guide Bar
Even though Wood Boss products have limited power, I like how they still function well when working on heavy tasks. For example, the 251 Wood Boss chainsaw recommends 18-inch guide bars as opposed to 16-inch guide bars on Farm Bosses.
The longer bar facilitates cutting trees more effectively.
Comparison Table Between Stihl Wood Boss 251 and Stihl Farm Boss 271
| Key Factor | Wood Boss 251 | Farm Boss 271 |
| --- | --- | --- |
| Horsepower | 3.0 bhp | 3.49 bhp |
| Displacement | 45.6 cc | 50.2 cc |
| Weight | 11.0 pounds | 12.3 pounds |
| Fuel Capacity | 13.2 oz. | 16.9 oz. |
| Chain Oil Capacity | 6.7 oz. | 8.12 oz. |
| Guide Bar Length | 18 inches | 16 inches |
| Chain Oil Capacity | 6.7 oz. | 8.12 oz. |
| Price | CHECK LATEST PRICE | CHECK LATEST PRICE |
Features of Stihl Wood Boss 251
Here are five things to know about the 251 Wood Boss.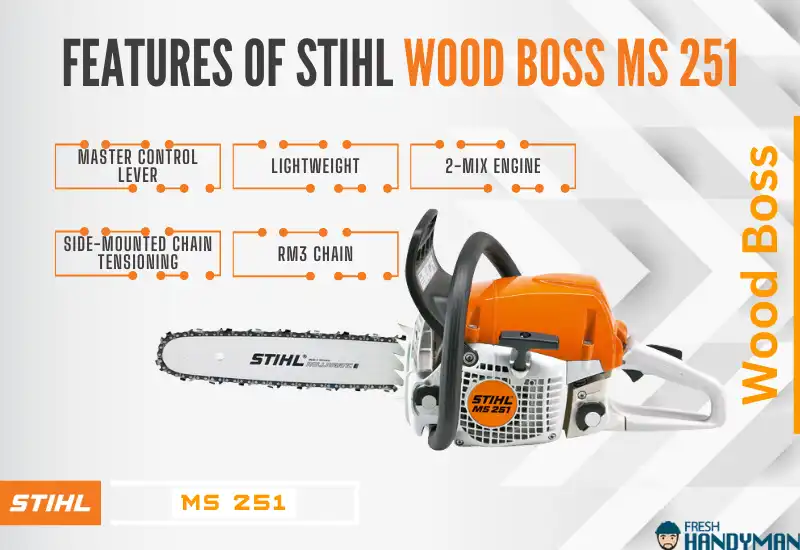 Master Control Lever
The Wood Boss features a master control lever, which controls several saw functions. You can adjust the throttle, engage the chain brake, and switch on and off the machine using this lever.
In case you are unable to find the lever, it is located near the top of the handle, making it easy to reach.
Many loggers switch back and forth between chainsaw functions during the course of the workday. For them, the master control lever is a blessing.
Lightweight
As someone who has cut trees from morning until evening, I know how tiring it is to carry heavy saws all day. A Stihl 251 eliminates such hassles by weighing only 11.0 pounds.
The lightweight design enables you to work for long periods of time without fatigue. Moreover, due to its compact construction, you are able to use the tool in tight spaces and at awkward angles.
Moved your workplace? Now you have to carry the saw to another site? No worries, it's lightweight, so you can transport it effortlessly.
2-MIX Engine
A 2-MIX engine powers the 251 chainsaw. It has numerous advantages over traditional 2-stroke and 4-stroke engines.
One of the key benefits is a 20% reduction in fuel usage. Hence, you will be able to save some cash on operating expenses.
In addition to being fuel efficient, the engine boasts 3 bhp along with a reliable starting system. It helps the saw start smoothly, even in cold weather.
Side-mounted Chain Tensioning
My first step when buying a chainsaw is to find out what kind of chain tensioning it offers. Some products have really complex tightening systems that need expert adjustment.
The 251 is entirely different from them because it has side-mounted tensioning. It is accessible near the base of the bar at the side of the saw.
A good thing about this is that you can adjust the tension without having to use any tools. Thus, there are no safety concerns.
RM3 Chain
The 251 Wood Boss comes with the highly regarded Rapid Micro 3 chain. It is loaded with features that lumberjacks will appreciate, such as low-kickback, taller-profile, semi-chisel cutter design.
All of them contribute to improving the performance in cutting.
One of my favorite aspects of RM3 is its ability to minimize kickbacks. Unlike conventional chains, this one won't charge at you out of nowhere.
Pros and Cons of the Stihl Wood Boss Chainsaw (Stihl 251)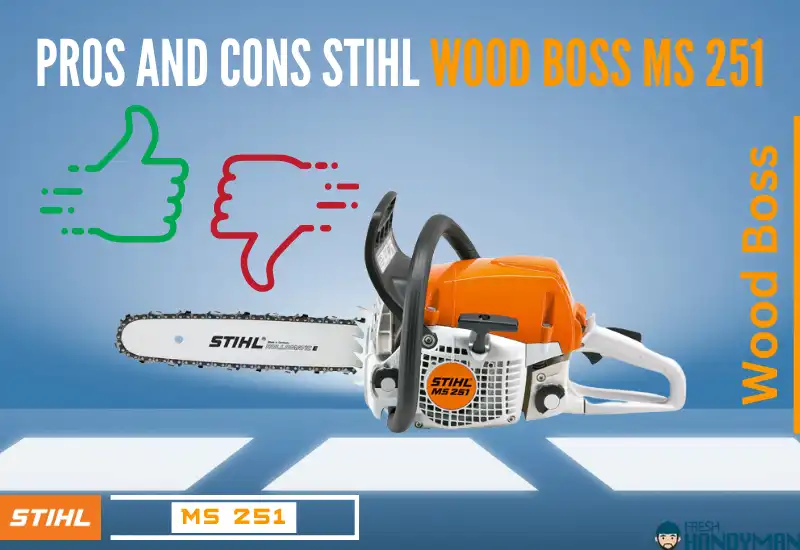 Features of Stihl Farm Boss 271
The following list represents the top five features I appreciate most about the Farm Boss 271.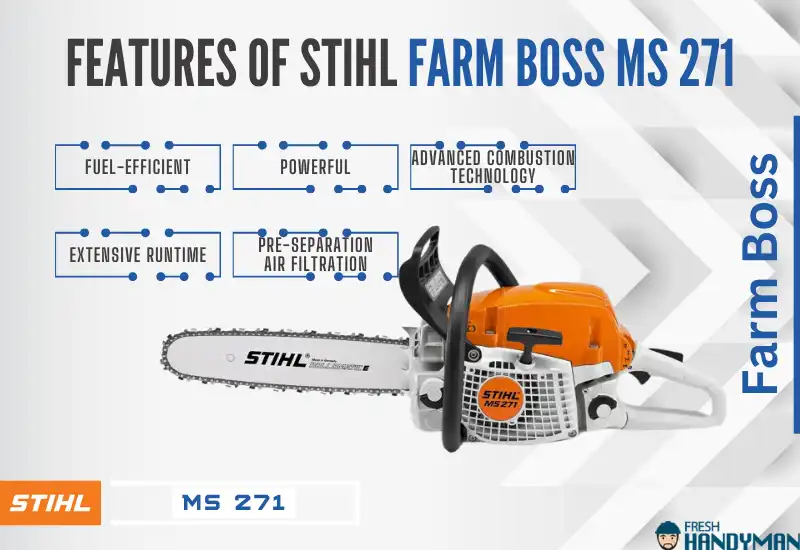 Fuel-efficient
The Farm Boss is fuel efficient to a whole new level. As a result, you can save 20% of the money you would normally lose on fuel.
And that's not all!
According to Stihl, the 271 emits 50% fewer emissions in comparison to older engines. It means you can operate the saw outdoors without worrying about pollution.
The fuel efficiency combined with low emissions renders the 271 model perfect whether you're looking for a chainsaw that's environmentally friendly or economical.
Powerful
With the Farm Boss, you'll enjoy incredible power thanks to its 50.2 cc engine. Such power is capable of taking on even the toughest of jobs with ease.
Having a large displacement means you don't have to spend as much time cutting long trees.
Advanced Combustion Technology
One of the most notable features of this unit is its advanced combustion technology. It optimizes the fuel-to-air ratio and reduces emissions. Here's how:
This technology utilizes four channels for overflow. They stir the fuel-air mix prior to ignition. It leads to optimal combustion and a high level of efficiency.
Consequently, you will experience decreased fuel consumption and high torque across a wide range of revs.
Extensive Runtime
If you need a chainsaw that never runs out of fuel, don't look past the 271 Farm Boss. It has a huge fuel capacity of 16.9 ounces, which guarantees extended runtime.
Thus, you are able to use the saw for extended periods without refueling. This feature comes in handy for those who rarely have time for breaks.
Pre-separation Air Filtration
The Stihl Farm Boss 271 uses a pre-separation air filtration system that protects the engine and improves performance. This two-stage filtration system captures air and centrifugally separates it.
In this way, the system can throw out heavy dirt particles before it reaches the air filter. This, in turn, allows the filter to remain clean for a longer period of time, so it won't need to be replaced as often.
Pros and Cons of the Stihl Farm Boss Chainsaw (Stihl 271)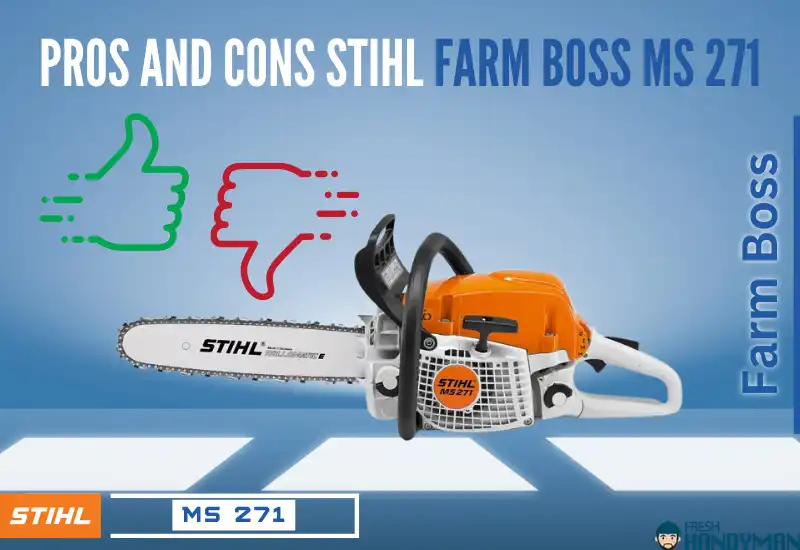 Choosing The Right Boss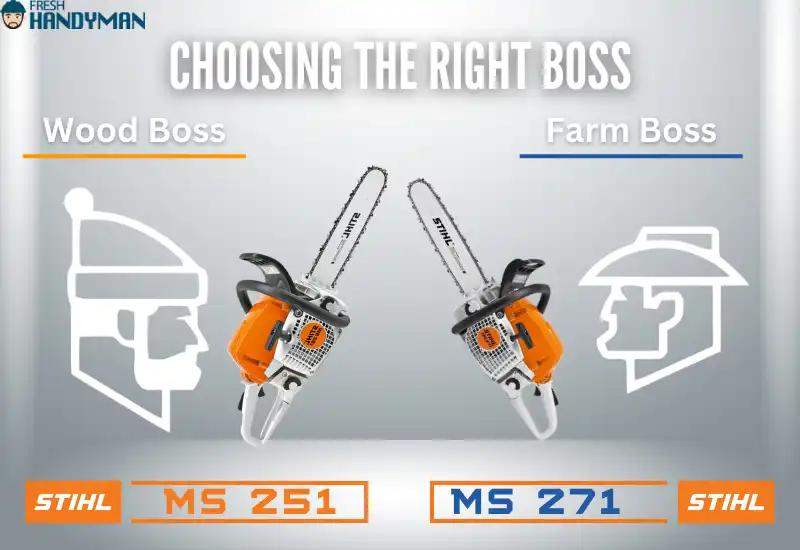 In terms of displacement, horsepower, fuel, and oil capacity, the 271 Farm Boss crushed the competition. Hence, if you don't mind paying a little extra for a more powerful tool, I would recommend the 271 chainsaw.
There are many things I admire about the 251 Wood Boss chainsaw. Two of them are its lightweight and extra-long guide bar.
Both of these attributes make it an excellent choice for regular cutting jobs. In summary, if you are seeking a decent chainsaw at a reasonable price, the 271 is a sensible pick.
Frequently Asked Question
Is Stihl Farm Boss A Pro Saw?
No, the Stihl Farm Boss is not a professional saw. It is a mid-range chainsaw designed for casual use by homeowners, farmers, and ranchers.
It may be able to cope with some tough tasks on occasion, but you shouldn't count on it to handle everything.
To Sum Up
As the article shows, the Wood Boss 251 and the Farm Boss 271 are both extremely reliable saws. However, they do have considerable differences when it comes to power, weight, and other criteria.
If your budget is not a constraint for you, you can go for the 271 chainsaw. On the other hand, 251 units are also of high quality at a lower price.