Stihl is a popular brand for Chainsaw and they got a range of models at their disposal. Models differ in specifications, so use cases differ too. While some are good for cutting branches and bushes, others are good for cutting down big trees.
Stihl's 462 and 661 are no different than this. Their differences are due to their unique specifications.
But, which is better Stihl 462 and 462? Based on features, the Stihl 462 is superior to the Stihl 661. Each tool, however, has its own use cases! Each tool is suitable for a specific situation based on its usability. For heavy woodworking projects, 661 is better while 462 better for lightwork.
That's not all. You need to learn the complete analysis in order to make data-driven decisions. So, if you are interested, come along with me!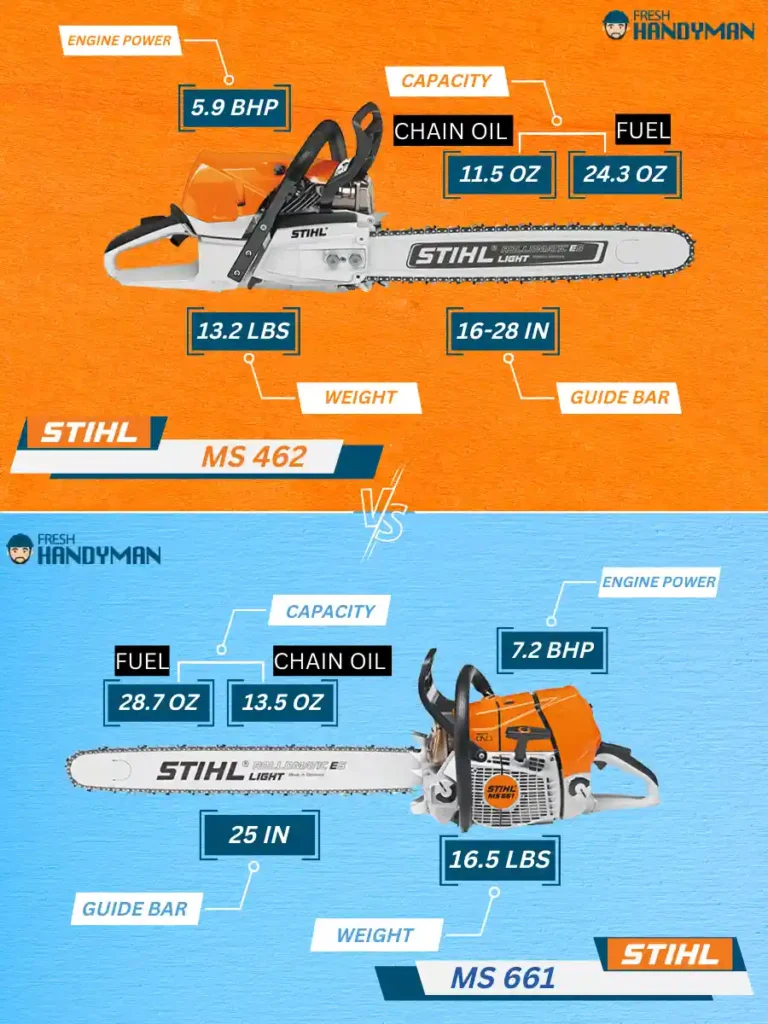 Comparison of Specs Between Stihl 462 and 661
| Key Factor | Stihl MS 462 | Stihl MS 661 |
| --- | --- | --- |
| Chain oil capacity | 11.5 oz | 13.5 oz |
| Engine power | 5.9 bhp | 7.2 bhp |
| Fuel Capacity | 24.3 oz | 28.7 oz |
| Weight | 13.2 lbs | 16.5 lbs |
| Guide Bar Length | 16-28 in | 25 in |
| Price | CHECK LATEST PRICE | CHECK LATEST PRICE |
Stihl MS 462 Vs MS 661: Which Is Better?
So, which is better, the million dollar question? However, I can't just tell you which is better, why?
In order to understand this, you must understand all of the differences between the two. I will cover everything on this topic in this section.
Technical Differences
1. Chain Oil Capacity
Without oil, chains cannot function properly due to constant friction. Overtime this friction can be compounded to burn the chain and make it unusable. It is for this reason that chainsaws have an oil tank for the chain. 
Once the tanker is empty, it needs to be refueled. Generally, bigger tankers can last longer before needing to refuel. So, the higher the chain oil capacity the better.
The chain oil capacity of Stihl 661 is 13.5 oz. and 11.5 oz. for 462. So, Stihl 661 has higher chain oil capacity.
2. Fuel Capacity
Chainsaw runs on fuel backed by an engine. It will therefore run for a longer period of time if its fuel capacity is higher.
So, higher fuel capacity is generally considered better for chainsaw. However, there's a catch. If the fuel tank is larger, the chainsaw would weigh more.
The fuel tank capacity of ms 462 is 24.3 oz. and ms 661 has a capacity of 28.7 oz. 
Therefore, MS 661 can carry more fuel. And, likewise I said, high capacity oil tanker comes with a higher weight.
3. Engine power
Each model varies in engine power. Stihl ms 462 has an engine of 5.1 bhp while 661 has an engine of 7.2 bhp.
Higher bhp means the engine will produce higher horsepower which will power rotate the saw in higher speed. 
This means you can handle bigger trees with Stihl 661 thanks to its powerful engine.
4. Weight
Chainsaws are portable and meant for holding up for a long time. So, if it weigh much, you can't hold it up long time and cause pain in your hand.
So, lower weight is better although when it come to high power engines, the weight increases.
The Stihl MS 462 weighs 13.2 pounds while the MS 661 weighs 16.5 pounds. But, keep in mind, 661's high power increases the weight. And, high engine power is crucial in many use cases.
Read Also: Stihl MS 661 Problems
Features of Stihl 462 and 661
In order to determine the quality and make a purchasing decision, it's probably the features that matter the most. And, in this section, I'll discuss the features of each model. Let's jump ahead.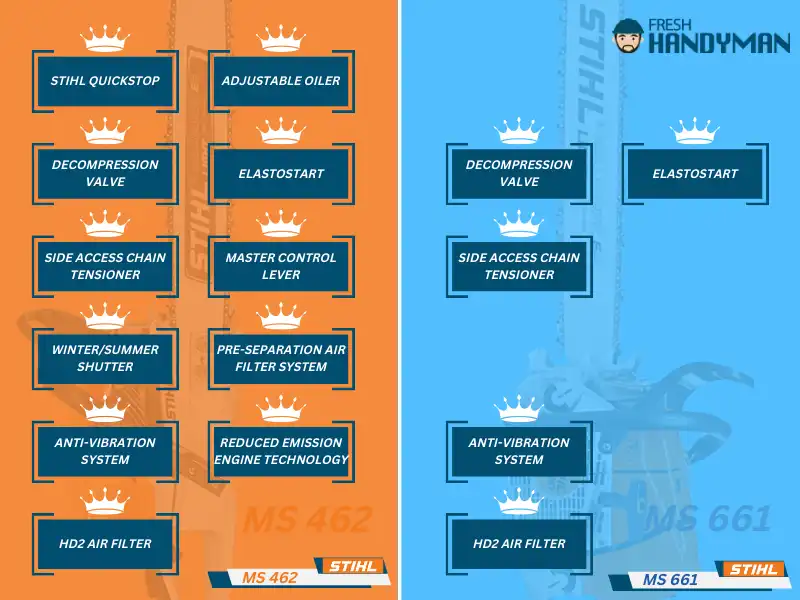 1. Stihl Quickstop
Stihl ms 462 comes with a quickstop feature but no such feature is available on 661.
When the chain kicks back, Quickstop can drastically reduce injury by stopping the chain. The system can stop the rotating motion. Even when the chain automatically kicks back, it can automatically stop the chain rotation. Amazing feature, right?
Safety comes first, isn't it?
Winner: Stihl MS 462
---
2. Decompression Valve
Decompression valve helps the chainsaw engine to start super fast. However, it actually makes pulling the starter rope easier. It actually a handy feature that allows starting the engine without much effort.
Both Stihl 462 and 661 offer these features.
Winner: Tie
---
3. Side access chain Tensioner
It is necessary to change the chainsaw chain frequently. You'll need a wrench for that more conveniently than the traditional method.
Luckily both model comes with this amazing feature.
Winner: Tie
---
4. Winter/Summer Shutter
Carburetor can operate at minimum temperature with a seasonal shutter. It also helps to keep carburetors from icing at temperatures below 50°F.
The Stihl MS 462 has this feature, but the MS 661 does not.
Winner: Stihl 462
---
5. Anti-vibration system

Chainsaws are handheld devices, so you hold them. If you hold it for a long time, it may also cause pain in the hand. And, when chainsaw runs, there is a great deal of friction, which can result in high friction when operated for a long time.
As a consequence, it is almost impossible to run without taking a break if there is no anti-vibration system in place. The system reduces the fatigue level of operators and provides long-term comfort.
Both the model comes with this crucial feature. So, there is no particular winner here.
Winner: Tie
---
6. HD2 Air Filter
Both the model comes with HD2 air filter. What's special in it?
Well, this filter is washable, provides long lasting filter life, and lower the maintenance cost. So, its really amazing to have HD2 air filter in chainsaw.
Winner: Tie
---
7. Adjustable Oiler
You need to change the lubricant of the guidebar, but it's manual, so you have to do it yourself.
An adjustable oiler eliminates the need for manual work and does the job automatically.
Despite both models offering adjustable features, the MS 462 oiler offers a higher level of technology than MS 661.
Winner: MS 462
---
8. Elastostart
With Stihl's elastostart features, chainsaw cranks produce sudden peak forces that are absorbed by the shock, reducing starting effort dramatically.
Elastostart is available on both models.
Winner: Tie
---
9. Master control lever
It does what its name suggest! You can control a variety of thing through the master control lever. Of them you can control the choke, throttle lock, and on-off switch.
How amazing is that?
But, unfortunately not either of the models comes with this handy feature. You will only experience this feature if you get Stihl 462.
Winner: Stihl MS 462
---
10. Pre-separation air filter system
There are some amazing features available through this advanced feature! Such as increased engine performance, and cleaning time which end up cleaning more dirt and dust particles. Pre-saturation filters thus reduce the necessity of frequent cleaning and maintenance.
However, this technology only offers by MS 462!
Winner: Stihl MS 462
---
11. Reduced emission engine technology
With the growing concern about environmental safety and compliance, the need for an emission control system grows as well.
What if chainsaw engine comes with emission control technology? Just like that Stihl ms 462 comes with reduced emission engine! It could be better if 661 would also offer this.
Winner: Stihl MS 462
Related: Chainsaw won't start has spark and fuel: How to fix it
---
Stihl MS 462 Vs MS 661: Here's the Winner
You might be freaking out to know which is better between this two? Which one should I get or which one would get the most out of my need?
The comparison is over! Its time to announce the champion.
So, before picking the winner I considered 11 features. Most of those features seem to have been won by Stihl ms 462. 
So, the winner is Stihl MS 462.
Finally, I can say Stihl MS 462 is better than MS 661 based on the features.
However, the result won't be the same if I consider it with the end user in mind. Compared to the Stihl MS 661, the Stihl MS 462 has a less powerful engine. So, you can easily cut down big trees with this chainsaw while 462 would be perfect for cutting small trees, bushes and branches!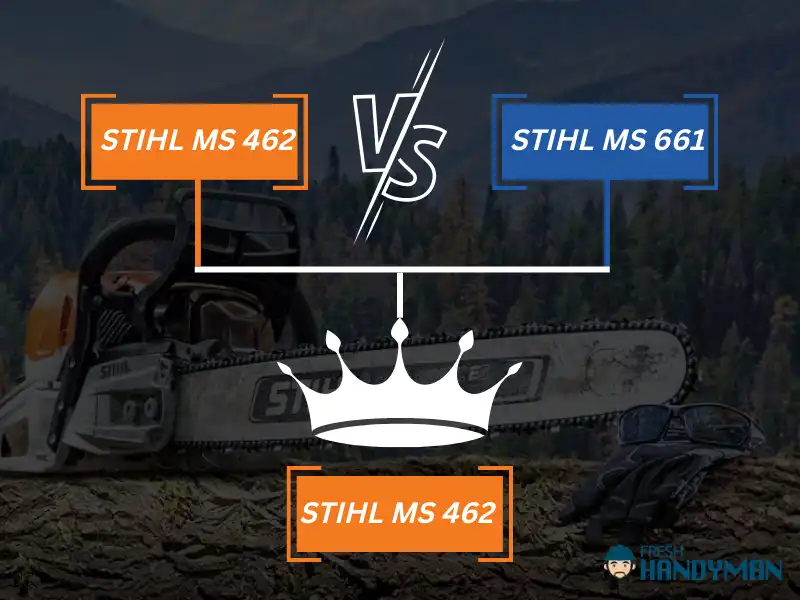 FAQ:
How Big of a Bar Can You Put on a Stihl 462?

The recommended guide bar length for Stihl 462 saw is 25". So, you should always shoot for that length. As long as you stay between 16 and 36 inches, you will be fine. However, 25 inches bar length is the ideal length for cutting smaller trees.

How Big of a Bar Can You Put on a 661 Stihl?

The recommended guide bar length of Stihl 661 is 25 inches! The length of the bar can range from 25" to 38".

How Much Horsepower Does a 661 Stihl Have?

Stihl MS 661 comes with a bigger engine. This makes it ideal for cutting down larger trees. With its engine you can produce 7.1 hp and this power can easily handle your big woodworking project.

How Much Horsepower Does a 661 Stihl Have?

The engine Stihl 462 offers is comparatively smaller than Stihl 661. Consequently, the engine's power will be relatively low. With its small engine however Stihl 462 manage to produce 5.9 bhp which means 5.81 HP.

Is The 462 a Pro Saw?

Yes, 462 is a professional chainsaw. Apart from personal use, you can even use it for professional purposes!
Stihl also mention that 462 is a professional graded gas powered saw. The lightweight design of this power pack saw is perfect for pros.

How Much Is a Stihl 462 Worth?

Depending on the bar size, the price varies. Generally, the Stihl 462 comes with an 18″ bar and chain starting at $1299.
Final Verdict
Neither of the tools is completely better than the other. If you want to handle light woodworking project you should get Stihl 462 and if you want to handle heavy project Stihl 661 would be convenient.
However, from a neutral perspective and based on the features I have found that Stihl ms 462 is better than 661. MS 462 still has some problems and isn't perfect for all use cases, but I just shared what I've found.
---
Check Out Also: